Perfect Baked Chicken Thighs (Bone-In and Boneless)
This recipe for the Perfect Baked Chicken Thighs shows you how to cook juicy chicken, whether you're using boneless or bone-in, skin on chicken thighs. The spice blend is delicious and versatile too!  Jump to Recipe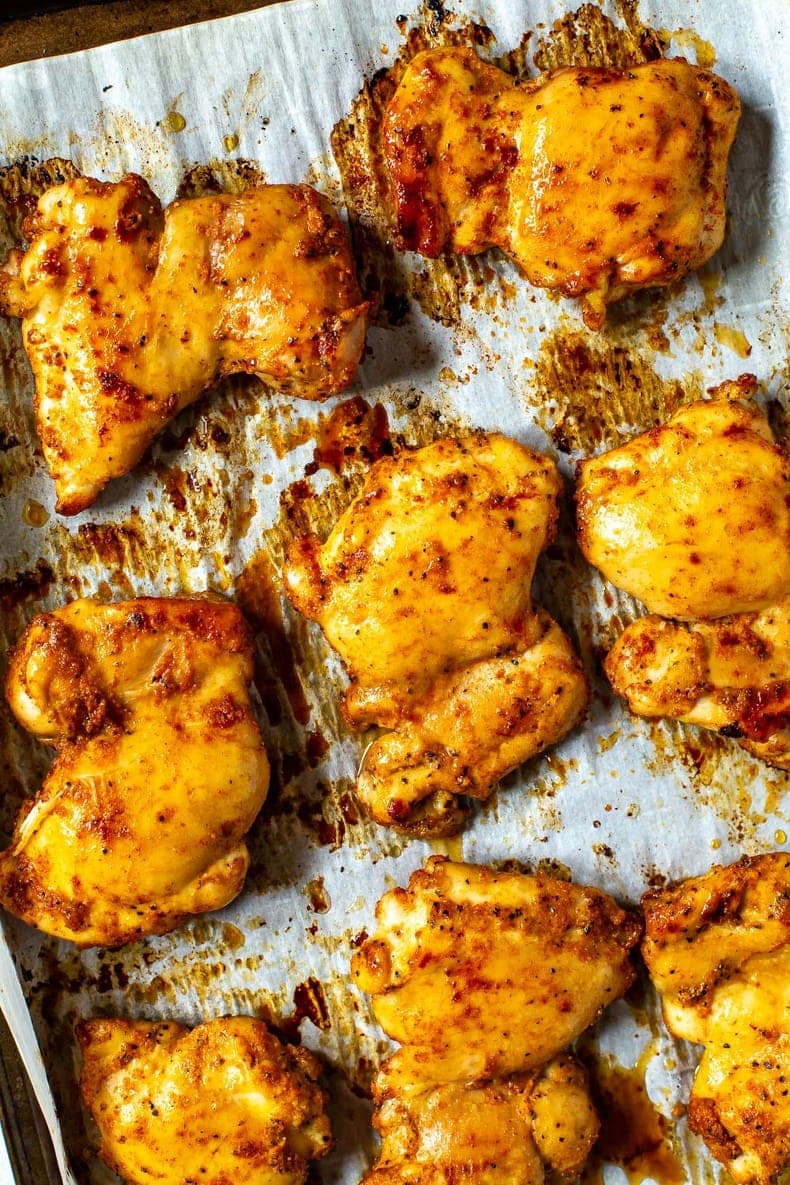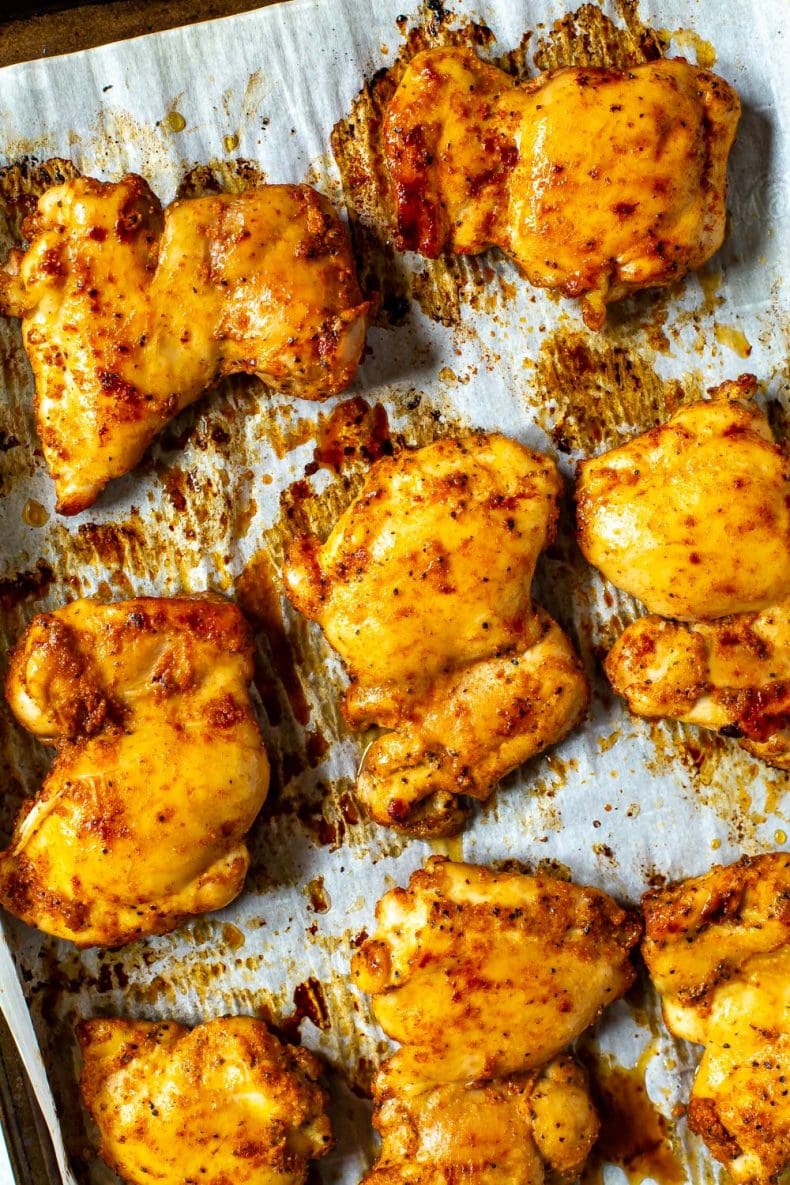 Tips for perfect baked chicken thighs
Before we get started, I thought I would go over the secrets to getting your chicken thighs just right! These tips apply to both boneless, skinless and bone-in, skin-on chicken thighs. Keep reading to see more specific instructions on the differences between the two, or Jump to Recipe to get cooking!
Whether you use boneless or bone-in thighs depends on your preference. For juicier meat, opt for bone-in. For a leaner dinner, go for the boneless. Personally I prefer boneless as they are less messy to eat and still end up being very tender
Use a parchment-lined baking sheet as the chicken will produce some juices – you can lay the chicken flat on the sheet or use a wire rack to drain some of the fat
Don't add extra oil! It's not needed with chicken thighs as they contain enough fat on their own. Parchment paper will prevent them from sticking to the baking sheet
Use a meat thermometer to make sure the internal temperature reads 165°F
You can use the broiler setting on your oven once the chicken are done cooking to get a crispy outside
Let your chicken thighs rest for 5 to 10 minutes after they are baked to ensure they hold their juices
Easy chicken thigh seasoning
All you need is a mix of paprika, onion powder, garlic powder and salt & pepper to season these chicken thighs. This seasoning works perfectly for boneless or bone-in thighs.
Simply mix the seasoning together in a small bowl, then gently rub over chicken thighs in a large bowl. Add chicken thighs to a parchment-lined baking sheet and bake for 20-25 minutes, depending on the type of thighs used.
As mentioned above, there's no need for cooking spray or olive oil as the chicken has enough fat to keep it juicy and tender on its own.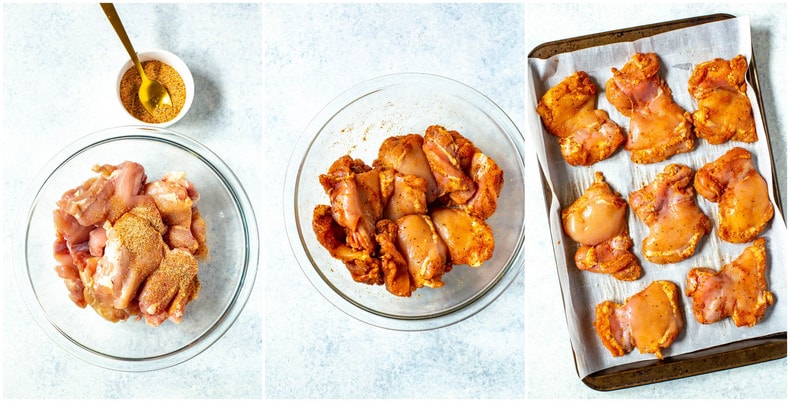 How long does it take to bake chicken thighs?
The time it takes to cook chicken thighs will vary, based on the oven temperature and whether the thighs are boneless or bone-in.
In general, it does take a few minutes longer to cook bone-in chicken thighs than it does to cook boneless chicken thighs. For this baked chicken thighs recipe, the oven temperature is the same for bone-in and boneless – 425 F. It takes about 20 minutes to cook boneless thighs and 25 minutes for bone-in chicken thighs.
Regardless of what type of chicken thigh you use, always make sure the chicken is cooked to an internal temperature of 165F degrees.
Check the temperature by inserting a meat thermometer into the thickest part of the chicken. Be sure that the probe of the thermometer isn't touching any bones.
Baking boneless chicken thighs
With boneless chicken thighs, there's a bit less preparation needed. Just coat the chicken in the spice rub, add to the baking sheet with the tops facing up as pictured below. Bake for 12 minutes, then flip and cook another 8 minutes. Let your thighs rest for 5 minutes then you are ready to go!
Because boneless, skinless thighs emit less fat and juices, you can cook your veggies on the same sheet pan as the chicken. I suggest a blend of broccoli, zucchini and sliced carrots. They can be stirred just once when you go to flip the chicken over.
Baking bone-in chicken thighs
Bone-in chicken thighs require slightly more work but not by much! You'll want to pat the skin dry on the thighs then coat in the spice rub just like you do with boneless thighs. This time, you will place the thighs SKIN DOWN and bake uninterrupted for 25 minutes.
How to get crispy skin
If you want crispy skin, you'll throw the chicken SKIN UP under the broiler on high for 1-2 minutes. You will have to pay close attention here and make sure the chicken doesn't burn. I've seen some recipes that say 5 minutes on broil but that is far too long – you need to keep a close eye to make sure you get the perfect crispy skin. This part of optional but makes the chicken so good!
Is it okay to leave the skin on?
Because chicken skin is very fatty, some people prefer to remove it. It really comes down to your personal preference on texture and meat. I was raised not eating a lot of fat or skin so I'm still getting used to more tender cuts of chicken and meat. However, it can be beneficial to leave the skin on because there's often more flavor. This is because the extra fat helps to keep moisture inside of the meat as it cooks.
Also, chicken bones release moisture. As a result, when you cook boneless, skinless chicken thighs, keep in mind that they tend to dry out more quickly. You really have to watch your cooking time with boneless thighs.
How to reduce fat content
Dark meat chicken gets a bad rap for fat content, but it can still be super healthy for you and part of a well-rounded diet. If you want to reduce the amount of fat with chicken thighs, first of all, you will want to use boneless, skinless chicken thighs. Use the instructions listed below.
However, you can go even further by using a wire rack so any extra fat from the chicken drains from the rack onto the baking sheet. You can employ this method with either boneless or bone-in chicken thighs.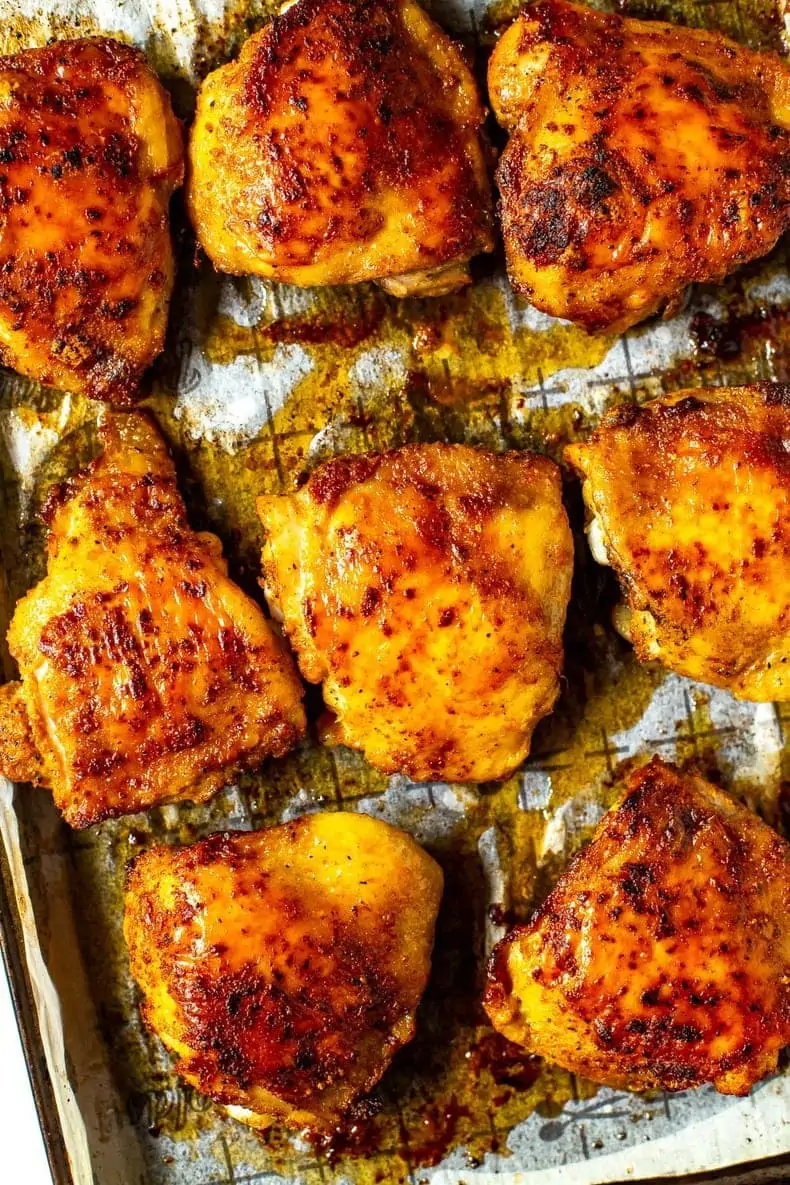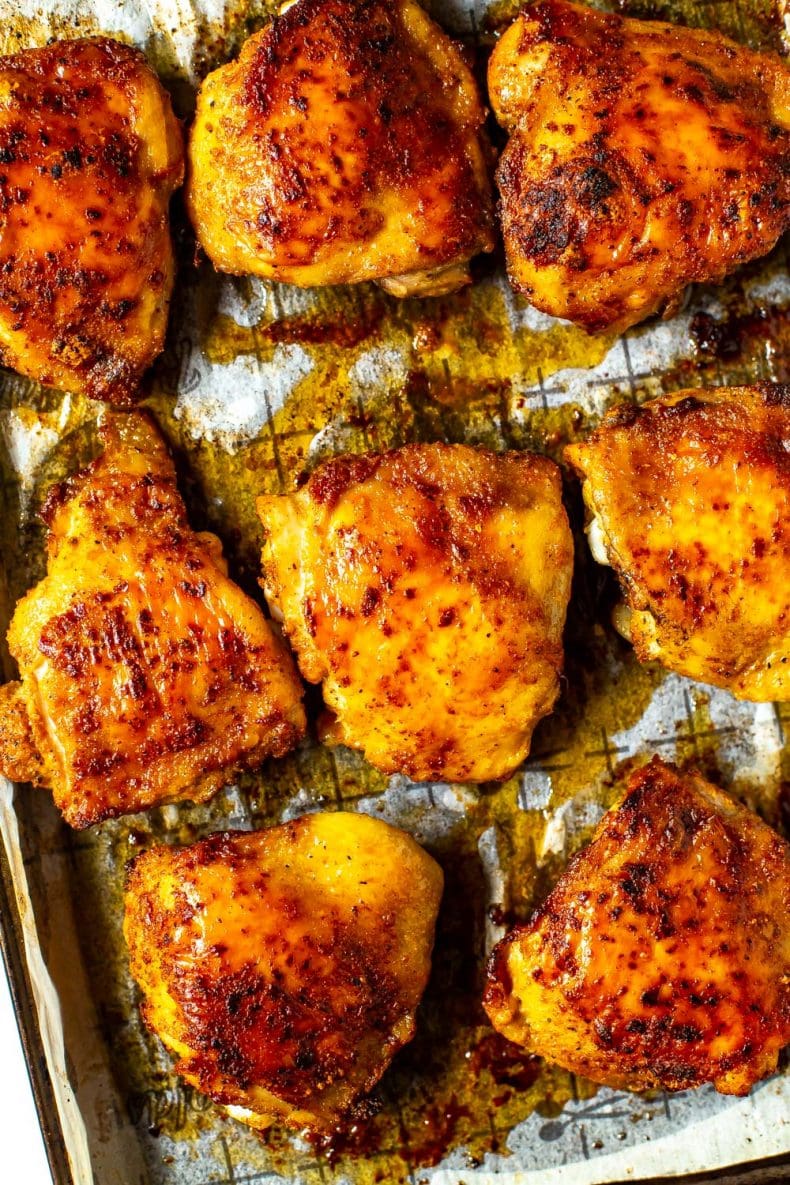 How do you store baked chicken thighs?
Baked chicken thighs can be refrigerated for  four to five days. If you won't be eating them during that time, you can freeze the leftovers for future use.
Freezing chicken thighs
Allow the meat to cool to room temperature.
Divide the leftovers into portions and place them into airtight meal prep containers or freezer-safe bags.
Cooked chicken can be kept in the freezer for up to three months.
Reheating chicken thighs
If reheating after refrigerating, make sure to sprinkle a bit of water overtop and lay a damp paper towel over the chicken. Microwave on high for 1-2 minutes.
If reheating from frozen, you can do the same water and paper towel trick (this reduces the leftover chicken taste), then microwave on defrost mode for 6-7 minutes.
In both cases, this reheat time is for 2 chicken thighs at a time.
How to safely store raw chicken
To avoid the risk of spreading bacteria onto kitchen surfaces or yourself, always handle raw chicken and other forms of poultry properly.
Thoroughly wash your hands with soap and warm water before and after handling raw poultry.
Make sure to promptly wash any surface area that may have come into contact with raw chicken.
Raw chicken should be kept in a leak-proof container. To be extra cautious, I place the chicken into a zip-top plastic bag before setting it in the container.
Store the container of raw chicken on the bottom shelf of the refrigerator and cook the chicken within two days. If the chicken is frozen, it can be refrigerated for up to five days.
Difference Between Chicken Thighs and Breasts
In addition to the obvious difference that the cuts come from different parts of the chicken, there are significant differences as well.
Like all chicken meat, both the chicken thigh and chicken breast are good sources of lean protein. However, chicken thighs are comprised of fattier "dark meat" while the breasts are leaner, "white meat".
As a result, the two cuts differ in their amounts of calories, fat and saturated fat.
Nutrition
A 3.5 ounce (100 grams) serving of skinless chicken breast meat has:
calories: 165
total fat: 3.6g
protein: 31g
An equal sized portion of skinless chicken thigh meat has:
calories: 177
total fat: 8g
protein: 24g
What to serve with baked chicken thighs
These juicy, tender chicken thighs would be delicious served with a healthy salad, rice, your favourite vegetables, roasted potatoes or even a simple pasta dish.
In the last 10 minutes of cook time, I usually add a blend of mixed vegetables to the baking sheet. In this case, I used broccoli, sliced carrots and zucchini. Toss the veggies with about 1 tsp of olive oil and season with salt and pepper.
The veggies can be roasted for 10-20 minutes depending on how crisp you like your veggies. Sometimes it's easier to just throw them on the pan with the thighs and stir halfway through, but if you like them less cooked I would recommend adding them during the last 10 minutes of cook time.
Other chicken thigh recipes to try
If you love tender, juicy baked chicken thighs, here are other chicken thigh recipes to try:
How to bake chicken breast
Once you've mastered chicken thighs, you'll want to try your hand at chicken breasts! If you're looking for the perfect baked chicken recipe and a bunch of spice blend ideas, check out my how to tutorial for baked chicken.
Meal prep tools for this recipe
Meal prep mini course
If you'd like some more help with meal planning, then you'll love my free 5-day meal prep challenge! Over the course of the challenge, I'll send you a free meal planner and shopping list templates so that you stay on the right track with meal prep.
Sign up for free below: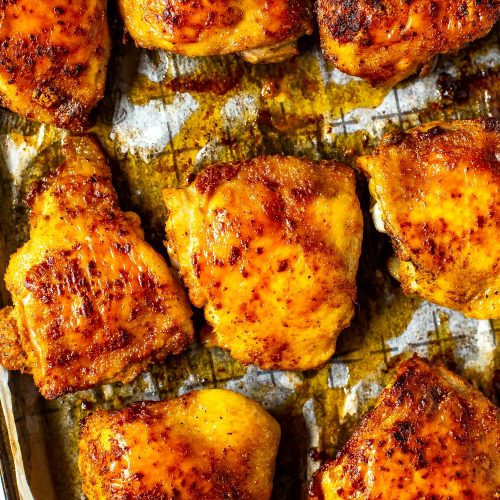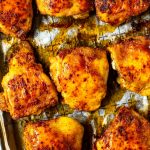 Print Recipe
Perfect Baked Chicken Thighs
This recipe for the Perfect Baked Chicken Thighs shows you how to cook juicy chicken, whether you're using boneless or bone-in, skin on chicken thighs. The spice blend is delicious and versatile too!
Ingredients
BONE-IN, SKIN-ON THIGHS
8

bone-in, skin-on chicken thighs
BONELESS, SKINLESS THIGHS
8

boneless, skinless chicken thighs
Spice blend for both types of chicken thighs
1

tsp

paprika

1

tsp

onion powder

1

tsp

garlic powder

1/2

tsp

each salt & pepper
Optional side dish of mixed veggies
1

head

broccoli, chopped

1

zucchini, sliced

1

carrot, thinly sliced
Instructions
BONE-IN, SKIN-ON THIGHS
Preheat oven to 425 F. Mix together spice blend in a small bowl. Pat chicken thighs dry then cover with spice blend.

Line a baking sheet with parchment paper and add chicken thighs, skin facing down. Bake for 25 minutes, then flip over and broil on high for 1-2 minutes if you're looking for extra crispy skin (optional...watch closely to make sure they don't burn!) Serve and enjoy!
BONELESS, SKINLESS THIGHS
Preheat oven to 425 F. Mix together spice blend in a small bowl. Rub chicken thighs with spice blend.


Line a baking sheet with parchment paper and add chicken thighs with bottom area facing down. Bake for 12 minutes, then flip and bake 8 more minutes. Serve and enjoy!

IF ADDING VEGGIES
Toss veggies with 1 tbsp olive oil and 1/2 tsp salt. Add to baking sheet with chicken about halfway through cooking time (you only want the veggies to cook for about 10-12 minutes). Remove with cooked chicken, then serve and enjoy!
Video
Nutrition
Calories:
461
kcal
|
Carbohydrates:
8
g
|
Protein:
34
g
|
Fat:
32
g
|
Saturated Fat:
9
g
|
Cholesterol:
189
mg
|
Sodium:
183
mg
|
Potassium:
730
mg
|
Fiber:
3
g
|
Sugar:
2
g
|
Vitamin A:
970
IU
|
Vitamin C:
90.4
mg
|
Calcium:
63
mg
|
Iron:
2.1
mg