This Big Mac recipe tastes just like your favourite McDonald's burger with juicy hamburger patties, sesame seed buns and secret sauce.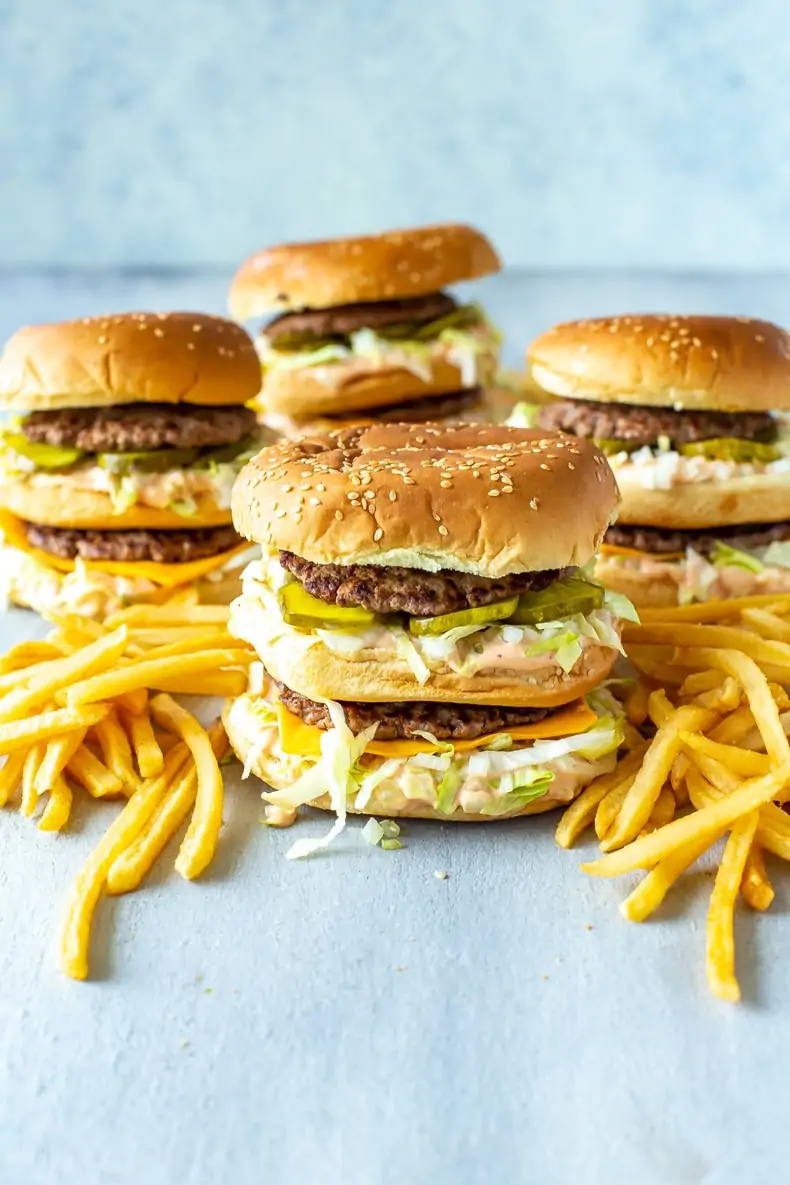 Ingredients and substitutions
Sesame seed hamburger buns – use a whole wheat bun or a lettuce wrap instead.
Extra-lean ground beef – ground chicken or ground turkey are lower-calorie options, or you can use a black bean burger for a vegan option.
Cheese slices – use pepper jack cheese for an added kick or a lower fat option like Provolone or Swiss.
Dill pickles – or any other pickle variety you want.
White onion – yellow onion has a similar flavour.
Iceberg lettuce – opt for healthier options like chopped kale, baby spinach or arugula.
Light mayo – you can use regular mayo, it will just increase the calorie count.
Ketchup – regular or sugar-free ketchup is best.
Relish – dill pickle relish or sweet relish would both work.
White wine vinegar – regular vinegar is also fine or you can leave it out altogether.
Salt & pepper – to taste.
Skip the Ads and Get Right to the Recipes!
ZERO ADS on over 600 recipes!
Weekly Meal Plans, Grocery & Prep Lists
Bonus eBooks
How to make a Big Mac
Prepare your toppings.
Make the Big Mac sauce.
Roll the ground beef into patties.
Fry the patties until cooked.
Assemble the burgers.
Serve and enjoy!
Making the Big Mac sauce
The special sauce at McDonald's is loaded with sugar and fat. My version is a bit lower in fat and you can reduce the sugar by using sugar-free ketchup. It's super easy to make – all you have to do is mix together some low-fat mayo, ketchup, finely-minced onion, pickle relish, white wine vinegar and salt and pepper in a bowl. Blend everything until it's well combined then enjoy!
Frequently Asked Questions
How many calories are in a Big Mac at McDonald's vs. this homemade version?
The calories in this homemade Big Mac will vary depending on the ingredients you use. If you make using identical ingredients to the ones I use, each homemade Big Mac will have approximately 497 calories. In comparison, according to the company website, a McDonald's Big Mac made without any substitutions has 570 calories.
What's on a Big Mac?
A Big Mac at McDonald's has all the same toppings I used including pickles, lettuce, onion and cheese slices. You can substitute the toppings to whatever you're craving or have on hand.
How many carbs are there in this recipe?
This homemade Big Mac has 33 grams of carbs compared to the McDonald's version which has 47 grams. You can make this recipe low-carb by swapping out the sesame seed bun for a lettuce wrap or removing the middle bun so it's a single-layer burger.
Storing and reheating
If you think you may end up with leftovers or extra burgers, keep the ingredients separate and have everyone assemble their Big Mac at the table. Otherwise, you'll have to disassemble them before you can reheat them. Place the burgers and all the toppings in their own airtight containers or Ziploc plastic bag. Store the containers in the refrigerator and use the leftovers within 4 to 5 days.
To reheat the burgers:
Preheat your oven to 375° F. Place the burger patties into a single layer in a shallow baking dish.
Sprinkle some water over top of the patties, and place 1/4 cup of beef broth, stock or water into the bottom of the dish. The liquid will help to keep the patties moist and juicy.
Cover the pan with aluminum foil and cook in the preheated oven for 15 minutes or until they reach an internal temperature of 165° F.
You can also microwave your burger patties for 1 minute, just make sure to sprinkle some water over top so they don't dry out.
Freezing the burger patties
You can freeze the cooked or uncooked burger patties for up to 4 months. to prevent them from sticking together, place a layer of parchment paper or wax paper between each patty and store in a freezer-safe container like an airtight glass container or a Ziploc bag. Defrost in the fridge overnight then follow the reheating or cooking instructions.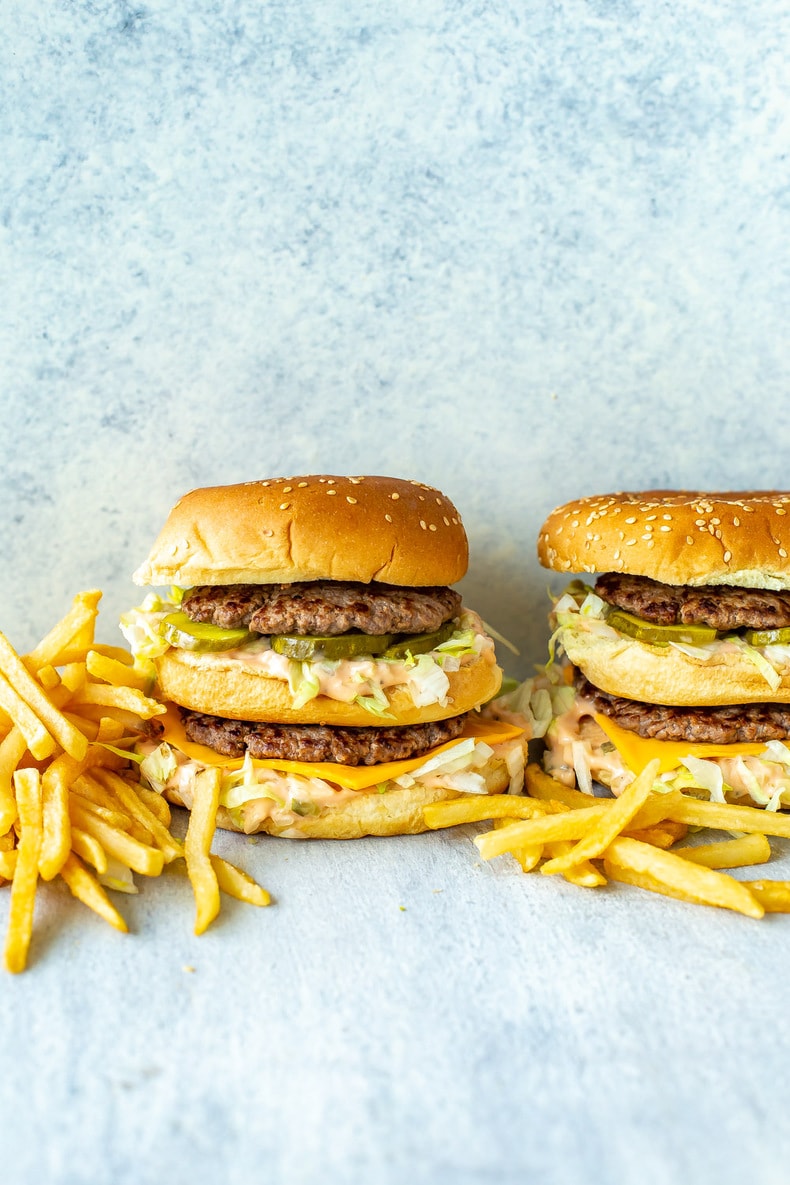 Wanna Learn How To Meal Prep?
My meal planning service, Dinner Prep Pro, removes the guesswork and helps you get dinner on the table in 15-20 minutes each night. My meal prep checklists only take 1 hour each week!
More McDonald's copycat recipes
Meal prep tools for this recipe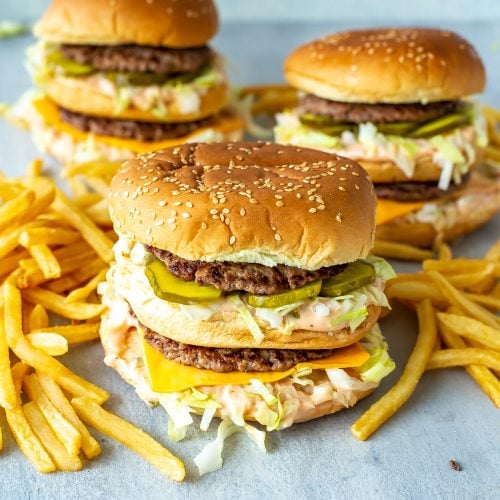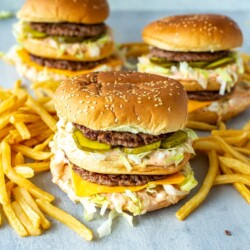 The Best Homemade Big Mac Recipe
This Big Mac recipe tastes just like your favourite McDonald's burger with juicy hamburger patties, sesame seed buns and secret sauce.
Print
Pin
Rate
Click Here to Remove Ads
Servings: 4 servings
Calories: 497kcal
Ingredients
4 sesame seed hamburger buns, plus 4 more bottom buns to act as the middle bun
1 lb extra-lean ground beef
4 cheese slices
dill pickles
white onion finely chopped
iceberg lettuce finely shredded
Big Mac Sauce
1 cup light mayo
1/4 cup ketchup
2 tbsp relish
2 tbsp finely chopped white onion
1 tsp white wine vinegar
salt and pepper, to taste
Instructions
Prepare Big Mac sauce by mixing ingredients together, then prepare onions, lettuce, and pickles for the burgers.

Divide raw ground beef into 8 equal portions, rolling into balls and then flattening as thin as possible on a parchment or wax paper-lined baking sheet.

Heat a large skillet over med-high heat until hot. Cook beef patties four at a time for 1-2 minutes per side.

Assemble burgers by putting Big Mac sauce, lettuce, onion, cheese slice and first hamburger pattie on the bottom bun. Follow with middle bottom bun, then Big Mac sauce, lettuce, onion, pickles and second hamburger pattie. Finish with the final top bun, then serve and enjoy!
Video
Notes
Make your own Big Mac sauce using light mayo, ketchup, relish, white onion, white wine vinegar, salt and pepper. Substitute the ground beef for ground turkey or ground chicken. Enjoy a low-carb meal by swapping out the sesame seed buns for lettuce wraps. Store all your ingredients separately in the fridge for up to 5 days. Reheat the burger patties then assemble your burgers. Freeze the burger patties cooked or uncooked for up to 4 months with a piece of parchment or wax paper in between each patty so they don't stick together.
Nutrition
Calories: 497kcal (25%)Carbohydrates: 33g (11%)Protein: 34g (68%)Fat: 25g (38%)Saturated Fat: 8g (50%)Cholesterol: 92mg (31%)Sodium: 1089mg (47%)Potassium: 537mg (15%)Fiber: 1g (4%)Sugar: 8g (9%)Vitamin A: 283IU (6%)Vitamin C: 1mg (1%)Calcium: 231mg (23%)Iron: 4mg (22%)
Join The Girl on Bloor Premium!
ZERO ADS!
Weekly Meal Prep Checklists
Bonus eBooks