These Meal Prep Buffalo Chicken Meatballs are freezer-friendly and a tasty, healthy way to celebrate football season – they're also the perfect party food!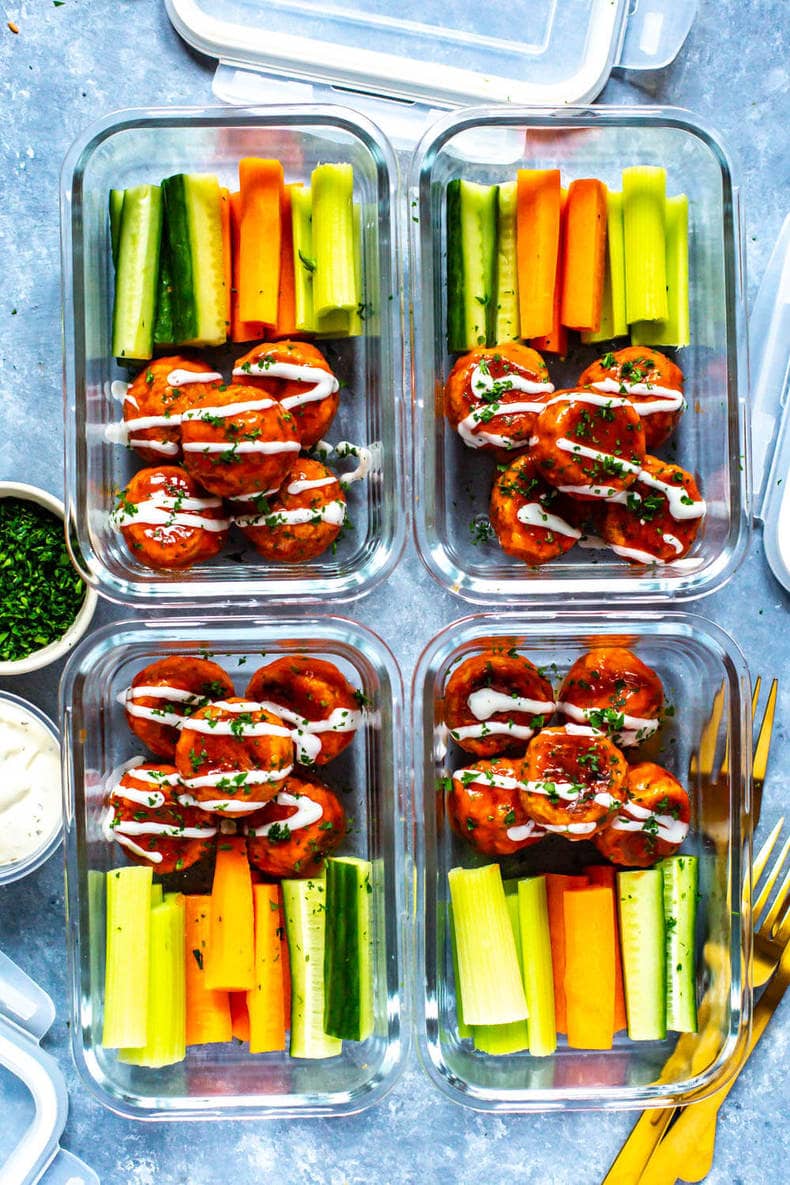 Ingredients in Buffalo chicken meatballs
I use my basic go-to meatball base in these buffalo chicken meatballs. The ingredients are so simple that you likely already have everything on hand that you need.
ground chicken (or you can substitute in ground turkey)
onion
garlic powder
breadcrumbs
egg
salt and pepper
Buffalo sauce
Even if you don't have enough Buffalo sauce for on top of the meatballs and to include INSIDE the meatballs themselves don't fret! The secret ingredient to making the most moist, delicious chicken meatballs on the planet is grated onion. It really takes any meatball to the next level.
You can of course substitute in one teaspoon of onion powder or flakes if you don't have actual onions on hand. But I would highly suggest the grated onion because it makes the flavour so much more delicious and it helps keep the ground poultry from drying out.

How to make Buffalo chicken meatballs
I like to bake these Buffalo chicken meatballs in the oven. It's super simple and doesn't require a lot of hands-on attention or oil that adds extra calories like it would if you were to fry the meatballs in a skillet. Though you can certainly do them on the stovetop too.
Mix all the meatball ingredients together.
Roll the meatballs into about one inch size balls. I find it easier to mold the meatballs when your hands are wet, and I will periodically rinse my hands to get a smooth meatball. You should be able to make about 20 Buffalo chicken meatballs with this recipe, and you will be able to fit them all on one baking sheet.
Bake your Buffalo chicken meatballs for 25 minutes – you don't need to flip them or anything!
Toss with Buffalo sauce and drizzle with Ranch dressing
Making the meatballs ahead of time
This Buffalo chicken meatball recipe is perfect for meal prep. They will last in the refrigerator for up to five days.
For single serving portions, simply divide the meatballs into meal prep containers. Pack the Buffalo chicken meatballs with any veggies you plan to eat on the side.
You can make this ahead of time for a party or potluck as well. When you are ready to serve them, reheat them in the oven for ten to fifteen minutes. It's best to wait to toss them with the sauce until you are ready to serve them.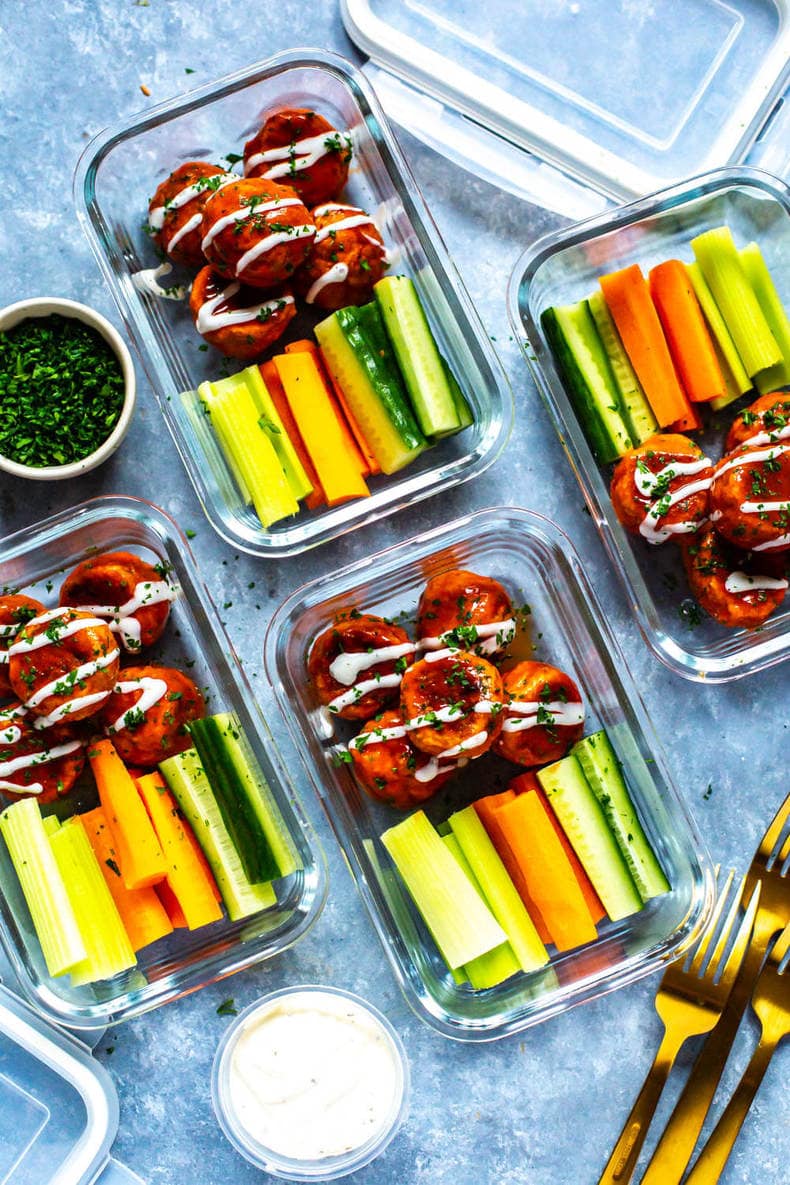 Making them in the slow cooker
You can make these Buffalo chicken meatballs in the slow cooker as well. This is a great solution for keeping the meatballs warm throughout an entire party.
Meatballs do hold together best if they are pan fried or baked in the oven first. The exterior will cook quickly to maintain the round shape. Then the rest of the meat will finish cooking. You can prepare them according to my recipe and them put them in the crock pot with the Buffalo sauce to keep them warm.
You can also cook them completely in the slow cooker if you want. Use some of the Buffalo sauce to keep them from sticking to the bottom of the pot or drying out.
Ingredient substitutions
Feel free to use any kind of ground meat you like in this recipe.
This meatball recipe is a staple. Once you master making meatballs, you can include any kind of flavors you like. Mix them with marinara sauce for Italian meatballs and pasta. Use BBQ sauce, Sweedish brown gravy or Asian inspired soy sauce on top of the meatballs.
What to serve with Buffalo chicken meatballs
I always offer some fresh crisp raw veggies with the saucy meatballs. But there are lots of other options for healthy side dishes.
Blue cheese crumbles
Green side salad
Roasted veggies
Zoodles
Polenta
Buns to turn them into sandwiches
Storing and reheating
These Buffalo chicken meatballs will last for five days in the refrigerator. If you used this is a meal prep recipe, you can reheat the meatballs in the microwave.
If you want to reheat the entire meal, put them in the oven for ten to fifteen minutes.
Can you freeze meatballs?
You can freeze meatballs cooked or uncooked.
If you formed your meatballs and want to freeze them uncooked, put them on a tray in the freezer for about an hour first. This lets them freeze enough that they won't stick together. Uncooked meatballs will last for three to four months in the freezer.
Allow cooked Buffalo chicken meatballs to cool completely. Then you can store them in the freezer for two to three months.
Let the meatballs thaw in the refrigerator overnight before cooking.
More buffalo chicken recipes
Meal prep tools for this recipe
Grab some glass meal prep bowls if you plan on packing these meatballs in the freezer and defrosting in the microwave.
Or these aluminum foil containers are perfect for re-heating straight from the freezer to oven.
I get all my grass-fed beef and free-range chicken from Butcher Box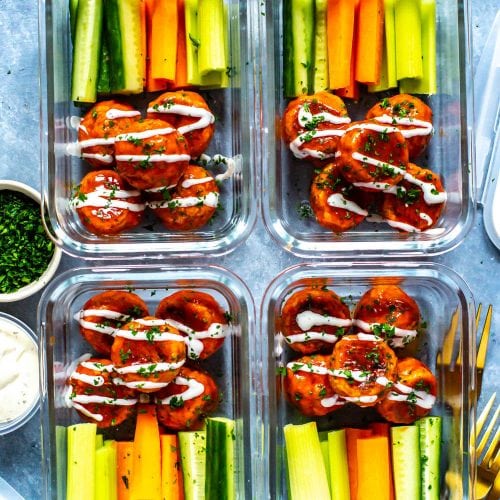 Meal Prep Buffalo Chicken Meatballs
These Meal Prep Buffalo Chicken Meatballs are freezer-friendly and a tasty, healthy way to celebrate football season - they're also the perfect party food!
Print
Pin
Rate
Ingredients
3/4

cup

buffalo sauce

Celery sticks

Carrot sticks

Cucumber wedges

Ranch or blue cheese dressing to serve

Parsley, for garnish (optional)
Meatballs
1

lb

ground chicken

1/3

cup

breadcrumbs

1

egg

2

tbsp

buffalo sauce

1

yellow onion, grated

1

tsp

garlic powder

1/2

tsp

each salt and pepper
Instructions
Preheat oven to 400 F. Mix together ingredients for meatballs, then form into 1-inch balls and place on a parchment-lined baking sheet. Bake for 25 minutes until fully cooked in the center.

Remove meatballs from the oven and allow to cool for 5 minutes. Toss with 3/4 cup of buffalo sauce in a large bowl, then divide among meal prep bowls and add in veggies and containers of dressing. Drizzle meatballs with ranch and garnish with parsley if desired.

Meal prep bowls will keep in fridge up to 5 days - serve and enjoy!

Note: you can make these meatballs up to 3 days ahead of time for parties/potlucks. Make the meatballs and store in the fridge, then reheat in a 350 F oven for 10-15 minutes and toss in warmed up sauce when ready to serve.
Video
Nutrition
Calories:
410
kcal
|
Carbohydrates:
20
g
|
Protein:
26
g
|
Fat:
25
g
|
Saturated Fat:
6
g
|
Polyunsaturated Fat:
9
g
|
Monounsaturated Fat:
8
g
|
Cholesterol:
133
mg
|
Sodium:
740
mg
|
Potassium:
452
mg
|
Fiber:
3
g
|
Sugar:
8
g
|
Vitamin A:
4050
IU
|
Vitamin C:
12.4
mg
|
Calcium:
100
mg
|
Iron:
2.2
mg