Meal Prep Buffalo Chicken Meatballs
These Meal Prep Buffalo Chicken Meatballs are freezer-friendly and a tasty, healthy way to celebrate football season – they're also the perfect party food!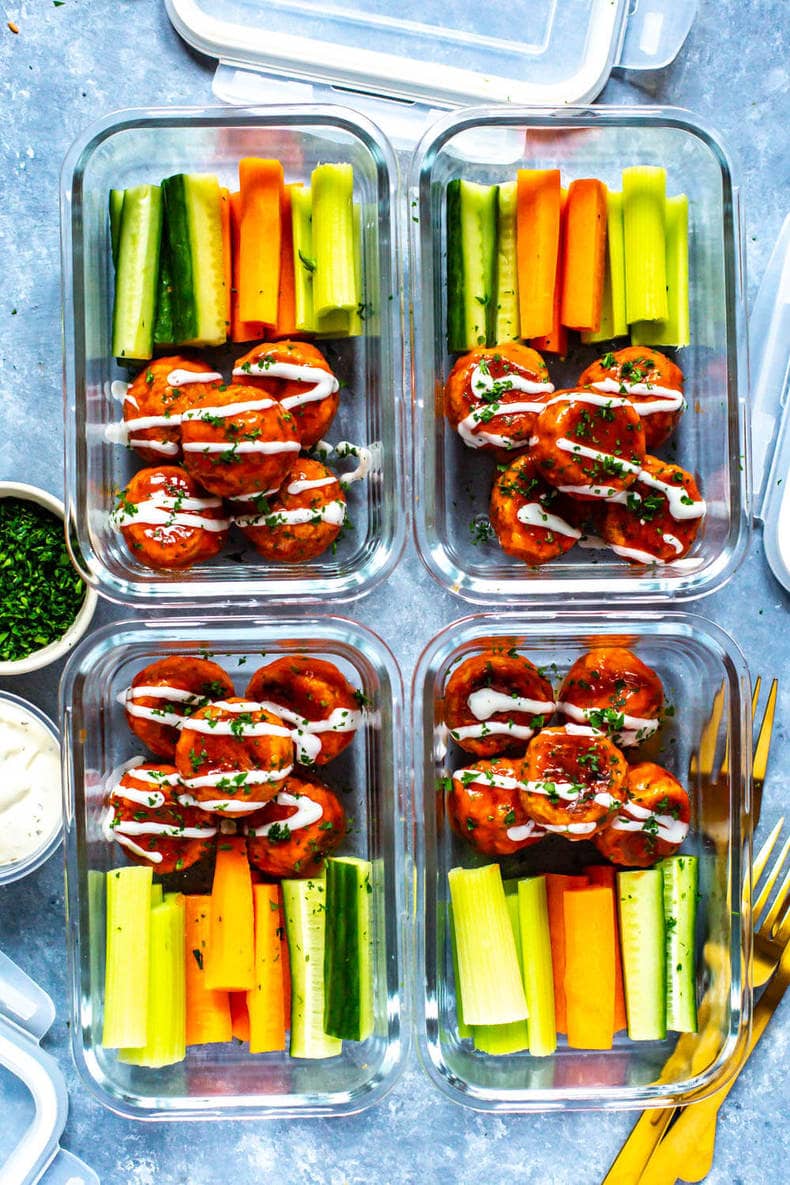 These Buffalo Chicken Meatballs are SO amazing and you're going to love taking them for your weekly meal prep!
I'm writing this blog post just ten days before Christmas, but as a full-time healthy food blogger you already know I'm preparing for January. When I think of the New Year of course healthy eating, meal prepping and getting back to a routine come to mind, but so does the Super Bowl!
And of course what's a Super Bowl party without some Buffalo Chicken Meatballs right?!
Whether you're meal prepping for your work week or looking for something special to bring to your next Super Bowl party, these Buffalo Chicken meatballs will most certainly hit the mark!

I looooooove buffalo chicken anything – can you tell from these Loaded Buffalo Chicken Fries or this Buffalo Chicken Wrap? Yeah, I'll eat this sauce any chance I get! And believe it or not it's pretty healthy too! You're looking at a delicious, low calorie sauce that isn't too spicy but gives a little bit of kick, and let me tell you, buffalo sauce is just MADE for meatballs!
It really couldn't get any easier – just make the meatballs, shape them and place them on a parchment-lined baking sheet, bake for 25 minutes and then coat in sauce. Easy peasy!
They're perfect for a crowd or just for your meal prep and they're freezer-friendly too so you can make them ahead of time and pull them out when you're looking for a quick and easy meal. I'm telling you, meatballs are one of my fave things to meal prep for that reason!
Ingredients in Buffalo Chicken Meatballs
I've used my basic go-to meatball base in these buffalo chicken meatballs, and the ingredients are so simple that you likely already have everything on hand that you need. Here's what you need below:
ground chicken (or you can sub in ground turkey)
1 onion
garlic powder
breadcrumbs
1 egg
salt & pepper
buffalo sauce
Even if you don't have enough buffalo sauce for the meatballs and to include INSIDE the meatballs themselves don't fret! The secret ingredient to making the most moist, delicious chicken meatballs on the planet is grated onion – trust me on this, it really takes any meatball to the next level.
You can of course sub in 1 tsp of onion powder or flakes if you don't have actual onions on hand but I would highly suggest the grated onion because it makes the flavour so much more delicious and I'm convinced it helps keep the ground poultry from drying out.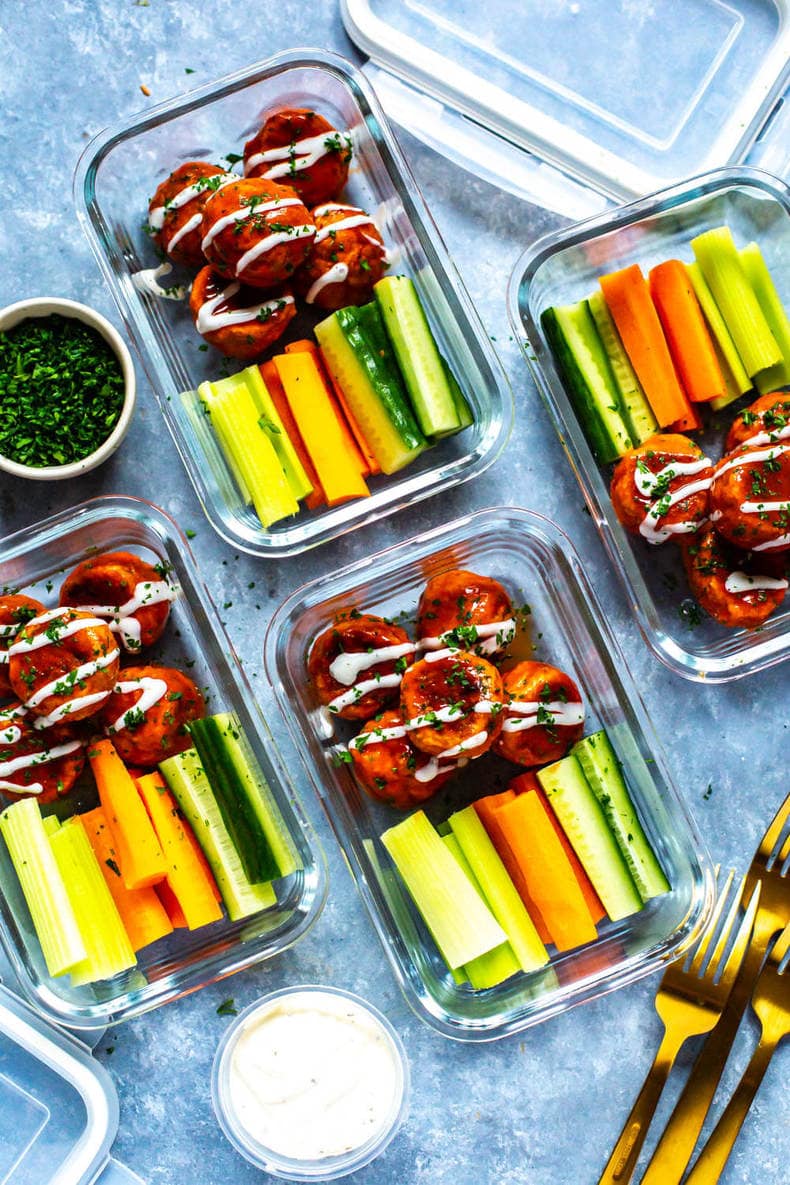 How to Make Buffalo Chicken Meatballs
I like to bake these Buffalo Chicken Meatballs in the oven because it's super simple and doesn't require a lot of hands on attention or oil to add extra calories like it would if you were to fry the meatballs in a skillet, though you can certainly do them on the stovetop too.
I will roll the meatballs out into about 1-inch size balls – I find it easier to mold the meatballs when your hands are wet and I will periodically rinse my hands every now and then to get a smooth meatball. You should be able to make about 20 meatballs with this recipe and you will be able to fit them all on one baking sheet.
Once assembled, bake your buffalo chicken meatballs for 25 minutes – you don't need to flip them or anything!
While your buffalo chicken meatballs are cooking, prep your veggies and place in your meal prep bowls for easy assembly and then drizzle a little bit of ranch dressing over your meatballs to take them over the top.
OMG you guys, SO GOOD!
Will you be making these Meal Prep Buffalo Chicken Meatballs? 
They are so perfect for your weekly meal prep and they will definitely get you in the mood for the big game at the end of the month. BRB I'm about to go run and whip up another batch!
If you try any of my recipes be sure to let me know on Facebook or in the comments – I'd love to see what you come up with!
Grab some glass meal prep bowls if you plan on packing these meatballs in the freezer and defrosting in the microwave.
Or these aluminum foil containers are perfect for re-heating straight from the freezer to oven.
And of course I get all my grass-fed beef and free-range chicken from Butcher Box!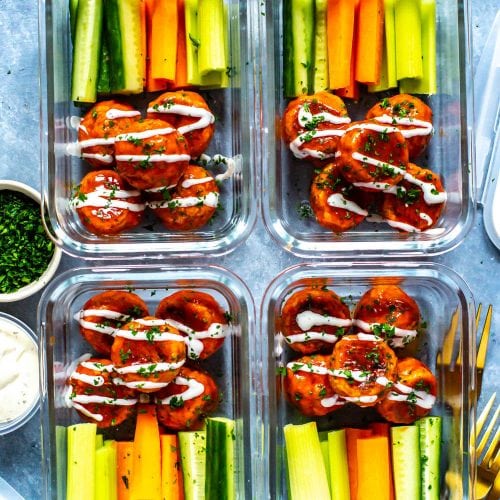 Print Recipe
Meal Prep Buffalo Chicken Meatballs
These Meal Prep Buffalo Chicken Meatballs are freezer-friendly and a tasty, healthy way to celebrate football season - they're also the perfect party food!
Ingredients
3/4

cup

buffalo sauce

Celery sticks

Carrot sticks

Cucumber wedges

Ranch or blue cheese dressing to serve

Parsley, for garnish (optional)
Meatballs
1

lb

ground chicken

1/3

cup

breadcrumbs

1

egg

2

tbsp

buffalo sauce

1

yellow onion, grated

1

tsp

garlic powder

1/2

tsp

each salt and pepper
Instructions
Preheat oven to 400 F. Mix together ingredients for meatballs, then form into 1-inch balls and place on a parchment-lined baking sheet. Bake for 25 minutes until fully cooked in the center.

Remove meatballs from the oven and allow to cool for 5 minutes. Toss with 3/4 cup of buffalo sauce in a large bowl, then divide among meal prep bowls and add in veggies and containers of dressing. Drizzle meatballs with ranch and garnish with parsley if desired.

Meal prep bowls will keep in fridge up to 5 days - serve and enjoy!

Note: you can make these meatballs up to 3 days ahead of time for parties/potlucks. Make the meatballs and store in the fridge, then reheat in a 350 F oven for 10-15 minutes and toss in warmed up sauce when ready to serve.
Nutrition
Calories:
410
kcal
|
Carbohydrates:
20
g
|
Protein:
26
g
|
Fat:
25
g
|
Saturated Fat:
6
g
|
Polyunsaturated Fat:
9
g
|
Monounsaturated Fat:
8
g
|
Cholesterol:
133
mg
|
Sodium:
740
mg
|
Potassium:
452
mg
|
Fiber:
3
g
|
Sugar:
8
g
|
Vitamin A:
4050
IU
|
Vitamin C:
12.4
mg
|
Calcium:
100
mg
|
Iron:
2.2
mg