These Honey-Garlic BBQ Crockpot Meatballs are the perfect appetizer idea and come together with less than 10 ingredients – they're also great for meal prep!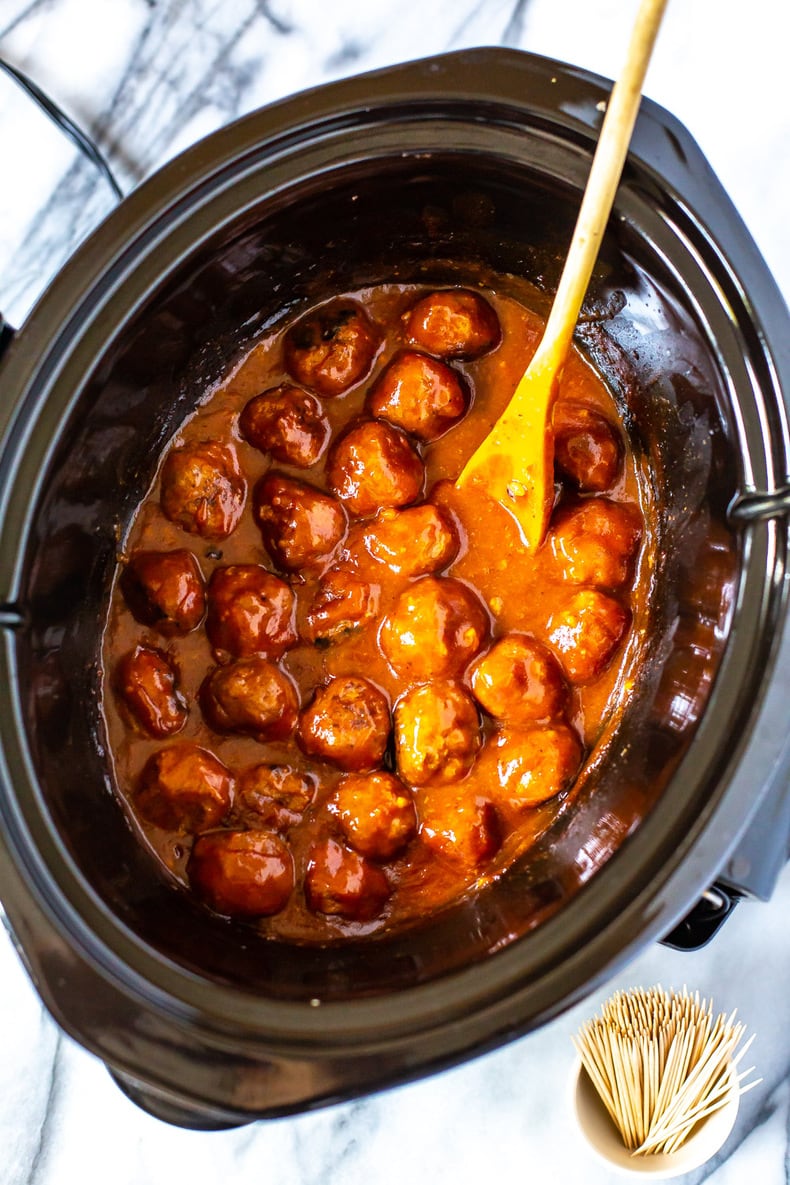 Ingredients in honey garlic BBQ crock pot meatballs
For the meatballs, you will need:
Lean ground beef
Onion
Bread crumbs
Egg
For the sauce, make sure you have:
BBQ sauce
Ketchup
Honey
Garlic
If you're in a pinch, sweet BBQ sauce will do the trick!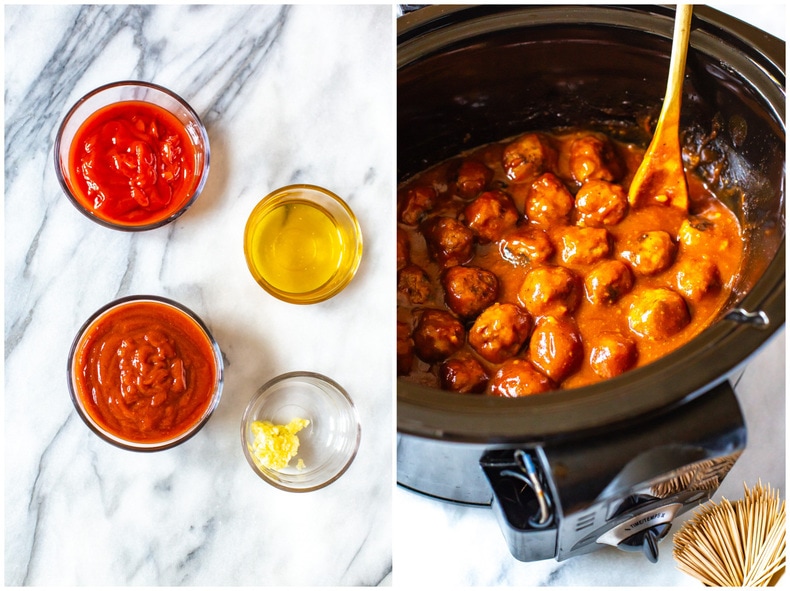 How to make crock pot BBQ meatballs
With just a little bit of prep work, you can let your meatballs cook for hours on their own. Here's exactly how to make them step-by-step:
Mix together the sauce
Mix meatball ingredients and form into balls
Brown meatballs in a skillet – this helps them to hold their shape
Transfer the meatballs to the crockpot and cover with sauce
Cook for two hours on high or four hours on low
Honey garlic BBQ meatball sauce
Once you learn how to make this honey garlic BBQ sauce, you'll be able to enjoy it on any meat. It tastes great on chicken, pork and ribs as well as these meatballs.
Using prepared BBQ sauce makes it much easier. The sauce should be cooked, which we do in the crock pot for this recipe.
If you are just pouring it over already cooked meats, you'll want to simmer it first. That will allow all the flavors to combine nicely. You can store homemade BBQ sauce in the refrigerator for one to two weeks.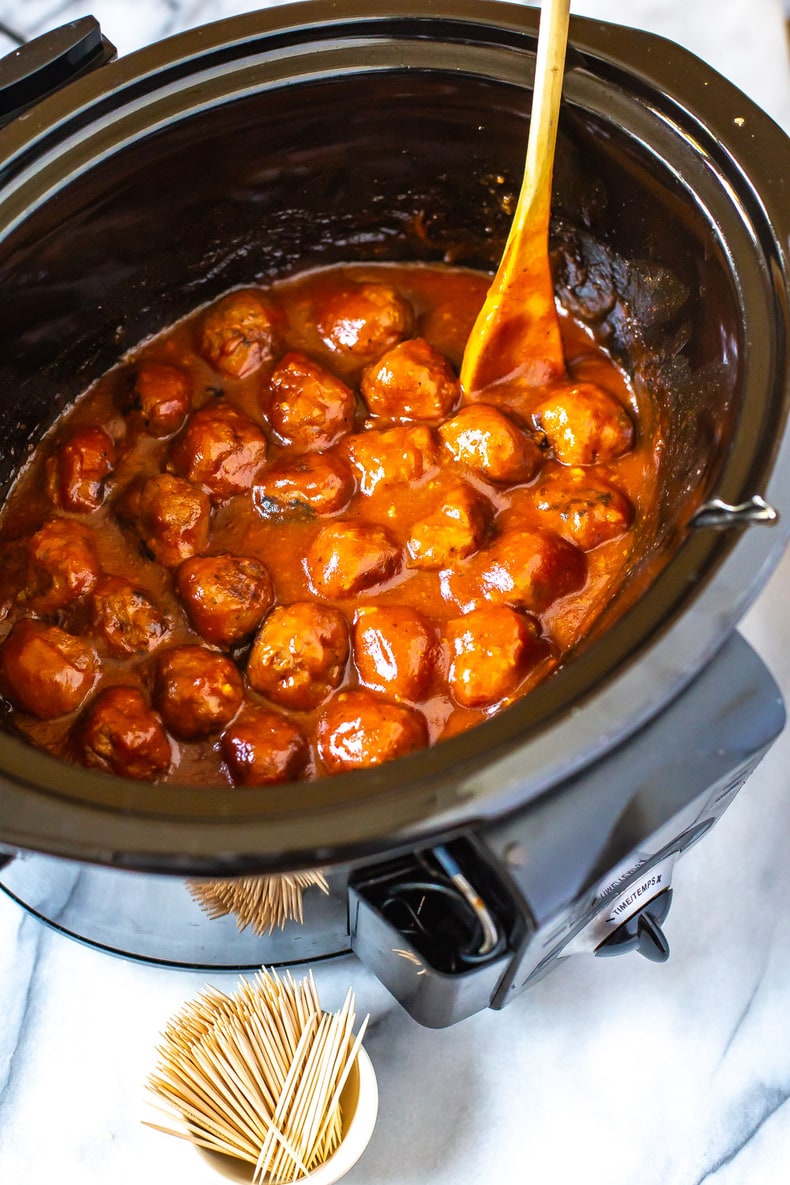 What type of BBQ sauce to use
When choosing BBQ sauce to use, pay special attention to the flavors you want in your meat. There are a variety of BBQ sauces to choose from, and they each have a distinct taste.
Tomato based BBQ sauce is made with ketchup. It is sweet, tangy and thick and can be used on nearly any kind of meat. This is the most common store bought kind of BBQ.
Vinegar based sauces are thinner and spicier. This is used almost exclusively on pork.
Mustard based sauces are usually found in South Carolina. They are thin and spicy and are frequently used on pulled pork sandwiches.
Mayonnaise based sauce is what you find in Alabama white BBQ sauce. The sauce is thinned using vinegar and lemon juice and is perfect on chicken.
Serving crock pot meatballs as an appetizer
Crock pot BBQ meatballs make a great party appetizer. You can adjust the size of the meatball as you make them. With just a few minutes of prep, you can let them cook with no interference so you can enjoy the party. Serve them right out of the crock pot so they stay nice and warm. Just provide toothpicks for your guests to help themselves!
Making meatballs ahead
This is a great meal prep recipe. If you plan to use it as an appetizer to feed a crowd, you can make it in advance and just reheat it the day you want to serve them. You can put them back in the crock pot to keep them warm through the event.
You can also divide the meatballs into single serving size containers. They last in the refrigerator for five days so you can have a weeks worth of protein-packed lunches ready. Just include a side of vegetables. Steamed broccoli tastes great with these meatballs.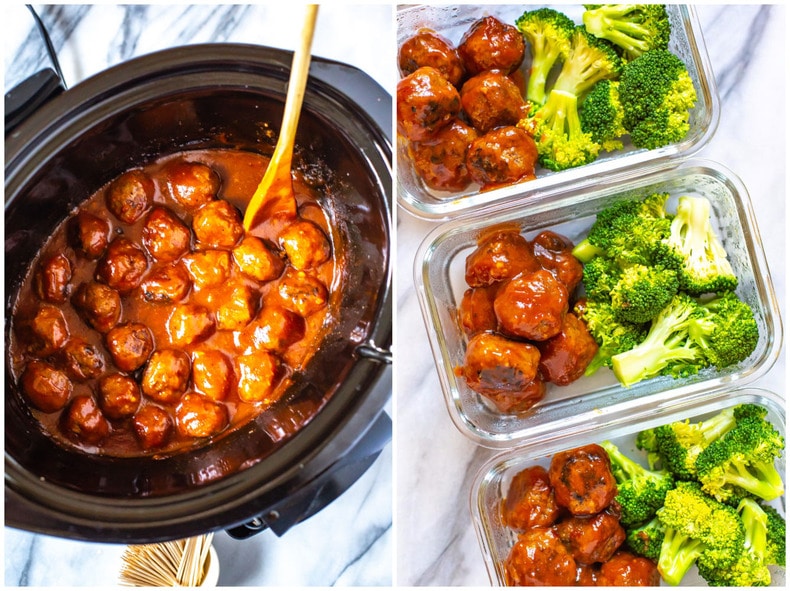 Do you have to brown the meatballs?
The crock pot meatballs will cook completely if you do not brown them first. It is not a food safety issue.
What browning the meat first does do is provide some stability for the meatballs. It will help them keep their shape during the long cooking process in the crock pot.
I like to put them in a pan on the stove top to brown, but you could also put them on a tray in the oven for a few minutes to achieve the same effect.
More crockpot recipes
If you're looking for some more healthy comfort food recipes done in the crockpot, check out these other favourites of mine below:
Storing and reheating meatballs
These crock pot BBQ meatballs can be stored in the refrigerator for up to five days. To reheat, use the microwave, stove or crock pot.
You can microwave with a bit of water overtop for 2-3 minutes – this is the easiest way to reheat them! Just be sure that they are coated in sauce for extra flavour.
Freezing slow cooker meatballs
Slow cooker meatballs freeze very well. You can freeze cooked or uncooked meatballs. They last for two to three months cooked and three to four months uncooked.
The best way to freeze them is to leave the meatballs on a tray for about an hour. After they have frozen, transfer them to a freezer bag. They won't stick together if you do this.
You can freeze them with or without the sauce.
To thaw, leave them in the refrigerator overnight. Reheat a large batch in the crock pot for 2 hours on high or 4 hours on low.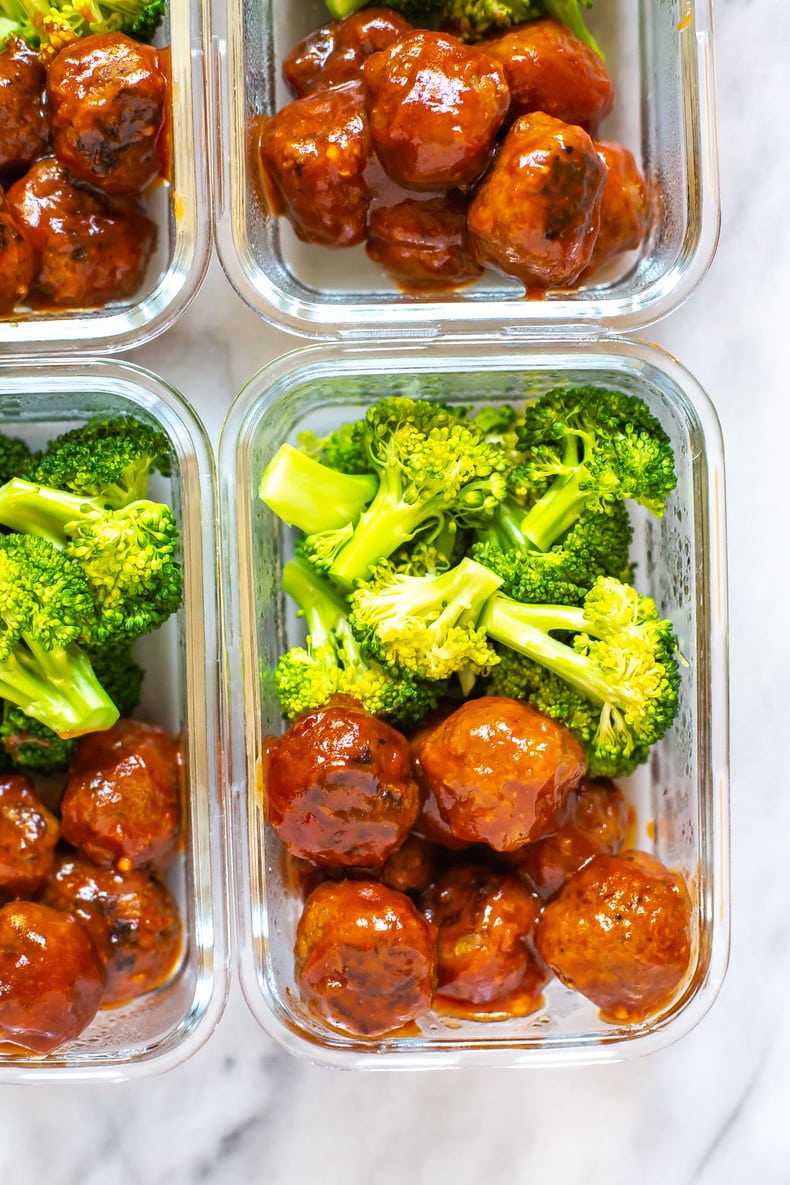 Meal prep tools for this recipe
Meal prep challenge
If you'd like some more help with meal planning, then you'll love my free 5-day meal prep challenge! It's basically a free course that will teach you how to meal prep and cook healthy meals at home with some PDF bonus materials. Sign up for free below: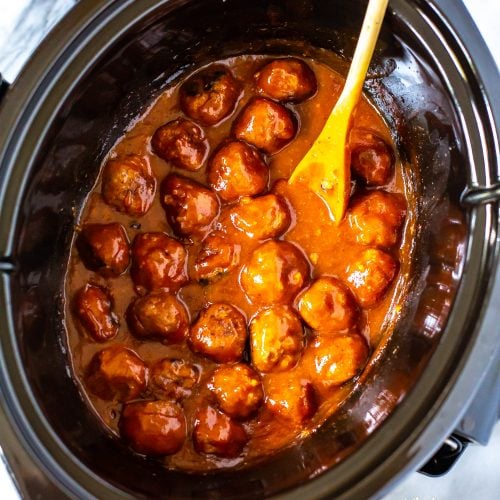 Honey-Garlic BBQ Crockpot Meatballs
These Honey-Garlic BBQ Crockpot Meatballs are the perfect appetizer idea and come together with less than 10 ingredients - they're also great for meal prep!
Print
Pin
Rate
Ingredients
Meatballs
1

lb

extra-lean ground beef

1/3

cup

breadcrumbs

1

egg

1

yellow onion, grated

1

tsp

garlic powder

1

tsp

salt

1/2

tsp

pepper
Sauce
3/4

cup

BBQ sauce

1/2

cup

ketchup

1/4

cup

honey

2

cloves

garlic, minced
Instructions
Mix sauce together in a large bowl and set aside.

In another large mixing bowl, mix meatballs together until combined. Heat a large skillet over high heat then sear meatballs for 2-3 minutes each side until lightly cooked and browned.

Gently add meatballs to crockpot with tongs, then cover with sauce. Cook on high for 2 hours, or on low for 4 hours.

Serve with toothpicks or in meal prep bowls with steamed broccoli. Leftovers will last up to 5 days in the fridge, and meatballs can be frozen up to 3 months. Enjoy!
Video
Nutrition
Calories:
205.5
kcal
|
Carbohydrates:
28.51
g
|
Protein:
14.1
g
|
Fat:
3.81
g
|
Saturated Fat:
1.53
g
|
Cholesterol:
55.61
mg
|
Sodium:
781.5
mg
|
Potassium:
352.1
mg
|
Fiber:
0.79
g
|
Sugar:
21.76
g
|
Vitamin A:
166.71
IU
|
Vitamin C:
1.79
mg
|
Calcium:
30.83
mg
|
Iron:
1.97
mg