These Loaded Chicken Shawarma Fries are topped with lots of fresh veggies and drizzled with a creamy homemade garlic sauce.
Ingredients and substitutions
Crinkle cut fries – use any frozen bag of fries that you like. Though the frozen bag of fries is to limit cook time, feel free to make your own homemade fries as well.
Red vine tomatoes – any other variety of tomato that is finely diced will also work.
Pickled turnips – a great replacement for pickled turnips is pickled cabbage.
Parsley – use fresh parsley to garnish. Feel free to garnish with store-bought or homemade tabbouleh.
Red onion – red onion is recommended but white onion will also work well.
Light mayo – Greek yogurt or sour cream are great replacements for light mayo
Lemon juice – use bottled or fresh lemon juice for this sauce.
Garlic – use fresh or jarred minced garlic. Fresh garlic will be filled with more flavour.
Chicken breasts – chicken thighs will also work well in place of chicken breasts and may be a juicier cut of meat.
Turmeric – dry mustard or mustard powder can be used in place of turmeric for a similar flavour and colour.
Cinnamon – nutmeg or allspice can be used in place of cinnamon.
Nutmeg – mace, cinnamon or allspice can all replace nutmeg.
Coriander – use cumin, garam masala or curry powder to replace coriander.
Cumin – ground coriander, garam masala or caraway seeds can be used to replace cumin.
Smoked paprika – chili powder, regular paprka mixed with cumin or liquid smoke can replace smoked paprika.
Salt & pepper – to taste.
Olive oil – any neutral oil can be used to replace olive oil. Some options are canola oil, vegetable oil, or sunflower oil.
Skip the Ads and Get Right to the Recipes!
ZERO ADS on over 600 recipes!
Weekly Meal Plans, Grocery & Prep Lists
Bonus eBooks
How to make chicken shawarma fries
Cook the fries.
Marinate the chicken shawarma.
Make the garlic sauce.
Sauté the chicken until fully cooked.
Top the fries with the chicken, veggies and sauce.
Serve and enjoy!
Shawarma seasoning
Part of what makes this recipe so delicious is the flavourful shawarma seasoning! You can buy shawarma seasoning at the grocery store, but I like making my own blend using turmeric, cinnamon, nutmeg, coriander, cumin, smoked paprika, salt and pepper. Get the recipe for my homemade shawarma spice blend plus a free printable labels for your spice jars!
Frequently Asked Questions
What is shawarma?
Shawarma is a popular Middle Eastern dish made of meat (like lamb, pork or chicken) that's marinated in a blend of delicious spices then thinly sliced. It's a popular street food that's most often served in a wrap, on fries or on a bed of rice.
How many calories are in this recipe?
This recipe has 618 calories per serving. It has a lot less calories than your traditional street food shawarma fries since it uses baked fries instead of deep-fried fries, fresh veggies, chicken breasts and a homemade garlic sauce.
What should I serve with chicken shawarma fries?
This recipe is a filling dish on its own! If you don't want to serve it with fries, you could also make the chicken shawarma into a wrap or serve it on rice.
Storing and reheating
The leftover chicken can be stored in a meal prep container in the refrigerator and used within 3-4 days. Once you're ready to reassemble your next serving of these delicious fries, you can reheat it in the microwave for 1-2 minutes. You also have the freedom to enjoy any leftover chicken on its own or in another dish.
If you're looking to create another plate of these delicious fries, you can reheat the fries by placing them back in a 350 F oven for 5-10 minutes or so. Then, add your reheated chicken. Once the chicken and fries are assembled, add your toppings and then drizzle the creamy garlic sauce overtop. Enjoy!
Freezing this recipe
Feel free to freeze any leftover cooked chicken that you may have from this dish! It's a great way to easily prepare these fries in advance, or have chicken on hand for a different meal.
To freeze the chicken, place it to an airtight glass container or freezer bag once the chicken has cooled down to room temperature. Cooked chicken can be kept in the freezer for up to 3 months. The night before you're ready to assemble your fries, transfer your chicken to the fridge and defrost overnight. After it has defrosted, microwave them for a couple of minutes before adding to your fries.
Before microwaving, make sure to sprinkle water over the chicken to ensure it doesn't dry out!
Wanna Learn How To Meal Prep?
My meal planning service, Dinner Prep Pro, removes the guesswork and helps you get dinner on the table in 15-20 minutes each night. My meal prep checklists only take 1 hour each week!
More loaded fries recipes
BONUS: Learn how to make chicken shawarma in a pita with all the fixings, with the pickled turnips to boot!
Meal prep tools for this recipe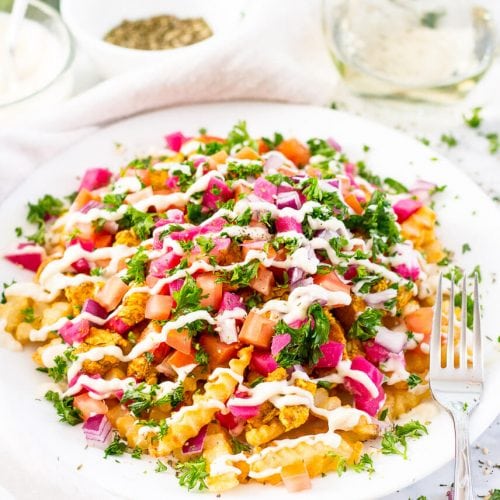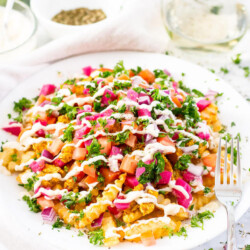 Loaded Chicken Shawarma Fries
These Loaded Chicken Shawarma Fries are topped with lots of fresh veggies and drizzled with a creamy homemade garlic sauce.
Print
Pin
Rate
Click Here to Remove Ads
Servings: 6 servings
Calories: 618kcal
Ingredients
1 bag crinkle cut fries or your favourite variety of oven fries
2 vine tomatoes deseeded and diced
1 cup chopped pickled turnips or pickled red cabbage
1 cup chopped fresh parsley
1/2 cup diced red onion
Easy garlic sauce
1/2 cup light mayo
1 tsp lemon juice
4 cloves garlic minced
Chicken Shawarma
1 lb chicken breasts cut into 1 inch pieces
1 tsp turmeric
1 tsp cinnamon
1 tsp nutmeg
1 tsp coriander
1 tsp cumin
1 tsp smoked paprika
1 tsp salt
1/2 tsp pepper
2 tbsp lemon juice
2 tbsp olive oil
4 cloves garlic minced
Instructions
Preheat oven to 425 F. Bake frozen crinkle cut fries on a parchment lined baking sheet for about 12 min per side, or according to package instructions.

Meanwhile, In a glass bowl, mix all ingredients together under the chicken shawarma heading, then marinate the chicken for 10-15 min and up to 2 days.

Next, prepare veggies and mix ingredients under the garlic sauce heading together. Optional: if desired, add the garlic sauce to a ziploc bag and then cut a small hole in the corner to drizzle fries with the sauce.

Heat a medium-sized skillet over medium-high heat, then saute the chicken for 7-8 minutes until fully cooked.

Remove fries from oven and top with cooked chicken, pickled turnips, diced tomatoes, red onion and parsley. Drizzle with garlic sauce or serve it on the side. Enjoy!
Video
Notes
This is my favourite pickled turnips recipe if you can't find store bought: https://dinnerthendessert.com/pickled-turnips/ 
You can use chicken thighs instead of breasts for a juicier cut of meat (but a higher calorie count).
Use your favourite brand of frozen fries or make your own for a healthier option.
Marinate the chicken in the shawarma seasoning for up to 2 days to really bring out the flavours.
Store all the ingredients separately in the fridge for up to 4 days then reheat in the microwave.
Freeze the leftover chicken for up to 3 months. Defrost in the fridge overnight, sprinkle some water overtop then reheat in the microwave for 1-2 minutes.
Nutrition
Calories: 618kcal (31%)Carbohydrates: 57g (19%)Protein: 22g (44%)Fat: 35g (54%)Saturated Fat: 9g (56%)Polyunsaturated Fat: 5gMonounsaturated Fat: 19gTrans Fat: 1gCholesterol: 51mg (17%)Sodium: 1412mg (61%)Potassium: 1227mg (35%)Fiber: 9g (38%)Sugar: 4g (4%)Vitamin A: 1392IU (28%)Vitamin C: 39mg (47%)Calcium: 64mg (6%)Iron: 4mg (22%)
Join The Girl on Bloor Premium!
ZERO ADS!
Weekly Meal Prep Checklists
Bonus eBooks