These Loaded Chicken Shawarma Fries are the perfect Friday night dinner. Drizzled with a copy cat toum (aka Lebanese garlic sauce) and topped with pickled turnips, you won't have to head to your neighbourhood restaurant for a taste of shawarma!


These Loaded Chicken Shawarma Fries are going to be the death of me. Seriously. You know when you make something and it just turns into one of your favourite new meals, and then it becomes pretty much the only thing you eat for a little while?
Is that just me?
My family and I have a little joke running about my cooking abilities and my dad's ability to enjoy some of my homemade meals. We often end up eating some of the food I shoot for the blog for dinner a few times a week (duh!!!), so we end up eating a lot of what he would consider "exotic", trendy things like Chipotle Chicken Burrito Bowls, Thai Red Coconut Curry Noodle Bowls and Butternut Squash Gnocchi.
Did I mention we eat out of bowls a lot?
Or that my dad much prefers meatloaf or pizza to many of what I would say are my restaurant-worthy creations? (Hahahahaha yeah right, get over yourself Tay!)
Well, whenever I do happen to make something that is just a bit too spicy for him, or has unique flavourings and spices he isn't used to, he is always gracious despite his uncertainties. This is a typical conversation between the two of us:
"So…how was it?"
*Gives a cringing smile*
"It was….tasty."

And then we all laugh because we know what he's really thinking, and he's just too nice to say it. Well, I mean, he's not the one cooking, right?
Though they aren't exactly Terry-approved, these Loaded Chicken Shawarma Fries are my go-to when I'm craving takeout. And I should add that my mom and brother love them. That should count for something.
Right?
I should warn you that the toum recipe I've given here (aka the most delicious sauce on the planet, Lebanese garlic sauce) is totally a lazy white people version. There's mayo in it, it's not at all authentic.
But it sure is good, and it's far easier than trying to emulsify vegetable oil into the frothy, creamy deliciousness that toum is, at least when you've been working all day and you're just too tired to do anything.
However, if you are looking for a weekend project and have some spare time, I highly recommend that you try to whip some up – Tori Avery's got a great guide if you're unsure of where to start. I honestly just let the professionals do it though and cheat by stopping by my local shawarma shop hehe.
Well, we've come to the end of the recipe my dear friends! Be sure to watch the video above if you're looking for step-by-step instructions on how to make these – if you love shawarma, these are a must!!!
But seriously, let me know if you end up making these Loaded Chicken Shawarma Fries! If you try any of my recipes be sure to let me know on Instagram, Twitter, Facebook or in the comments – I'd love to see what you come up with!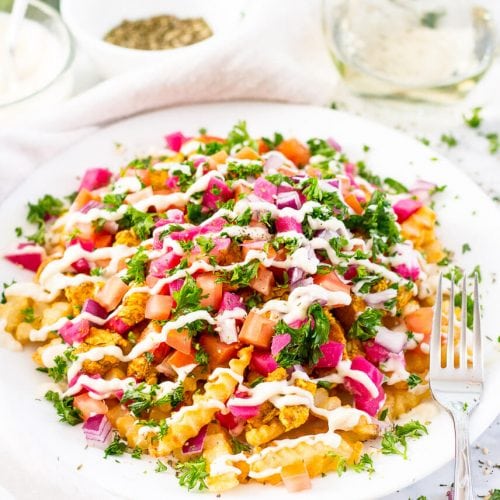 Ingredients
1

bag crinkle cut fries

or your favourite variety of oven fries

2

vine tomatoes

deseeded and diced

1

cup

chopped pickled turnips (you can get sliced ones sometimes in the fancy pickles section of the grocery store...I live in Hamilton

ON right now and got mine at Denningers, a world foods market)

1

cup

chopped fresh parsley

1/2

cup

diced red onion
Copy cat Lebanese garlic sauce
1

cup

mayo

1

tsp

lemon juice

4

cloves

garlic

minced
Chicken Shawarma
3

inch

chicken breasts

cut into 1pieces

1

tsp

turmeric

1

tsp

cinnamon

1

tsp

nutmeg

1

tsp

coriander

1

tsp

cumin

2

tsp

smoked paprika

1

tsp

salt

tsp

½pepper

tsp

½sriracha

1/4

cup

lemon juice

2

tbsp

olive oil

4

cloves

garlic

minced
Instructions
Preheat oven to 425 F.

In a small, glass, oven-safe dish toss chicken with all shawarma ingredients. Let marinate for 10-15 min then bake in oven for 18-20 min. If you're in a rush and want to cook the chicken while the fries are baking, skip the oven step and cook them in a large frying pan over med-high heat for 10-15 min until cooked through. I find the chicken isn't as juicy or tasty this way but it will save you 20 min!

Remove chicken from oven (if applicable) and preheat oven to 450 F. Bake crinkle cut fries on a parchment lined baking sheet for 10 min per side.

In the meantime, prepare veggies and garlic sauce.

Mix mayo, lemon juice and garlic together in a medium-sized bowl. If you want extra creamy garlic sauce, be sure to puree in a personal blender or Magic bullet.

Remove fries from oven and top with chicken, turnips, tomatoes, red onion, parsley and drizzle with garlic sauce. Enjoy!