This chicken shawarma recipe comes complete with tabouli, homemade garlic sauce and pickled turnips, all stuffed into a warm pita.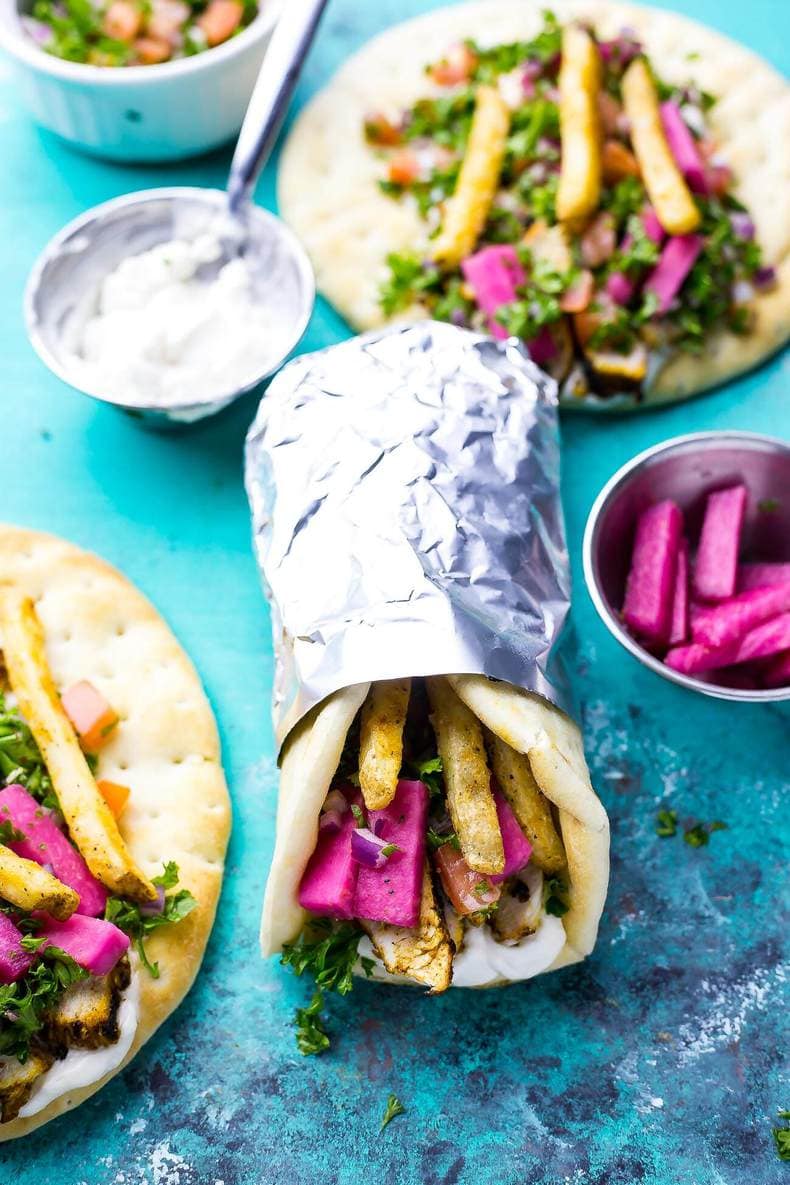 What is chicken shawarma made of?
Traditionally, shawarma is a dish with pieces of well-seasoned meat. The meat can be everything from lamb to chicken, beef or veal. The meat is stacked into a cone-like shape and then roasted in front of a fire on a spit. As the meat on the outside cooks, it is shaved off into thin slices, put into warm pita bread, and topped with a garlicky sauce and mixed veggies.
For my recipe below, thin pieces of spice-marinated chicken breasts are served with homemade tabouli and a creamy garlic sauce, but you could use a rotisserie and whole chicken to get a deeper flavor.
Is this chicken shawarma recipe healthy?
The take-out version of this dish is not always the healthiest (depends on the restaurant and the toppings). But I have found the perfect combination of amazing flavors and healthier ingredients. So, yes! This is a healthier meal you can enjoy any time of the week. Just go light on the garlic sauce and fries 😉
Ingredient substitutions
Pitas – Wrap the fillings up in any flatbread or even a tortilla.
Here's what you can substitute for the remaining ingredients and components of this recipe:
Chicken Shawarma Marinade
Chicken breast – Boneless, skinless chicken thighs work great in this recipe and are something I substitute all the time. Using fresh chicken tenders will also help you reduce your prep time.
Olive oil – Any light-flavored oil adds fat needed to keep the chicken moist when you grill it.
Spices – Turmeric adds the classic yellow color. Cumin, paprika, coriander, nutmeg, and cinnamon are the common spices used to flavor the shawarma. You can vary the amounts of each to your taste. Add some red pepper flakes if you like it on the spicy side.
Tabouli Recipe
Parsley – Use either flat or curly-leafed parsley.
Tomato – Fully ripe tomatoes work best. But in a pinch, use red bell peppers for extra crunch.
Yellow onion – Any type of onion will work. If you want something with a mild, sweet flavour, I recommend Vidalia onions.
Garlic Sauce
Soy milk – You really can't substitute any other type of milk here, as soy milk creates the thickness (trust me on this!)
Sunflower oil – A light oil can work for this sauce but you want to make sure it's got a neutral taste.
Garlic – Use more or less to your taste.
Lemon juice – Apple cider vinegar will work if you don't have lemon.
One little hack I sometimes use and minimizes my prep time is ordering a little takeout container of garlic sauce from a shawarma restaurant.
I know this may seem like you're defeating the purpose of making the dish from home, but if you don't normally use up soy milk or won't go through a large amount of garlic sauce, this can be a great alternative to get the flavors at home without having to buy a bunch of special ingredients.
However, my garlic sauce recipe is SO GOOD you'll probably be looking for excuses to eat it up LOL. I know days after making this recipe I'm usually poking my head around the fridge trying to round up some vegetables to dip, so you have officially been warned how addictive it is…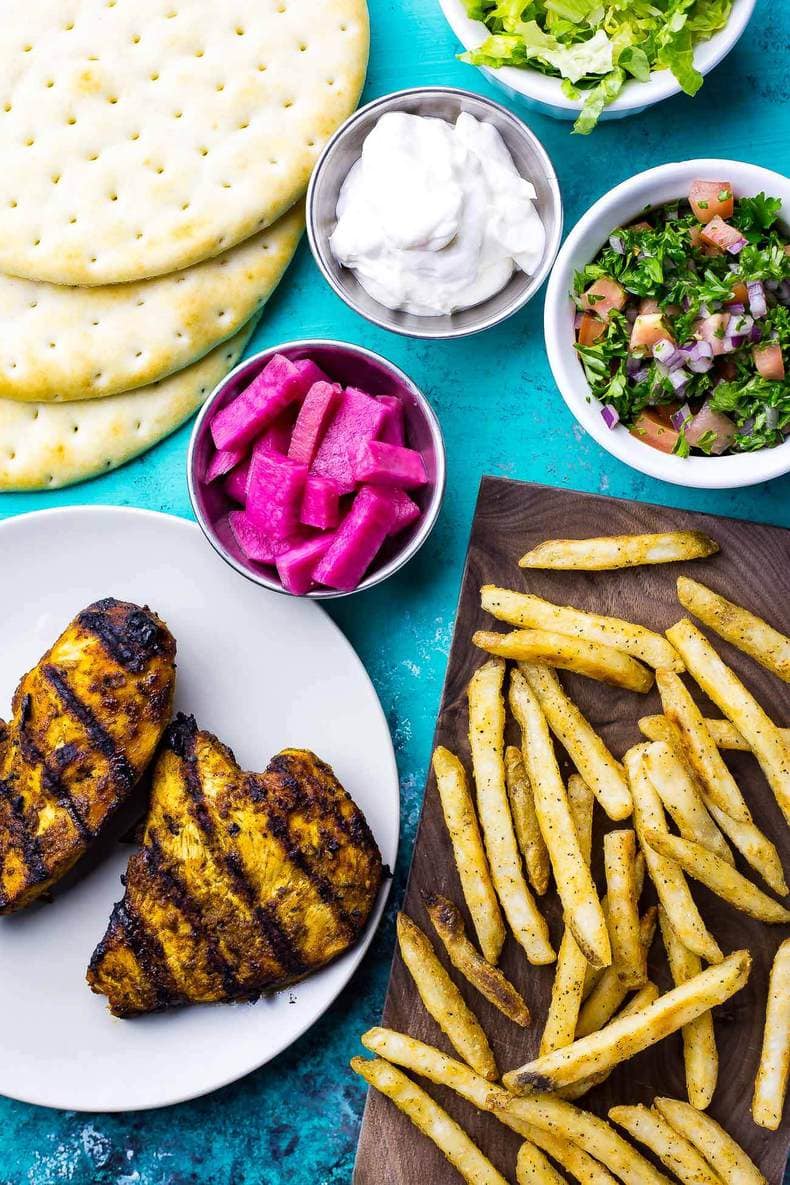 Where do you find pickled turnips?
They can usually be found in specialty grocery stores or sometimes in the condiment aisle, near the pickles.
Pickled red cabbage is a great substitute and more readily available.
If you can't find the turnips but really want to experience the dish in an authentic way, you can make your own fermented pickled turnips.
What to serve with shawarma
All by itself, the meal will probably be enough to fill you up. But if you want a full take-out experience, or if you happen to have a group of your friends over, here are some things you might serve with it:
Storing and reheating
Store the fillings separately in airtight containers. The tabouli and chicken will both last 3-4 days, and the garlic mayo should stay fresh for 7-10 days. Reheat the chicken in the microwave for 30 second intervals so you don't overcook it, sprinkling some water overtop so it doesn't dry out.
You can also throw leftovers into a skillet and reheat them over medium low heat with a bit of water until warmed through.
Freezing the chicken
To prepare the chicken ahead of time, freeze it raw in the marinade in a plastic freezer bag. Take it out of the freezer the night before you want to cook it. It will marinate while it thaws. You can then cook the chicken fresh.
You can also freeze the cooked chicken in a freezer bag or glass bowls. Let the chicken defrost in the fridge overnight, and then reheat accordingly.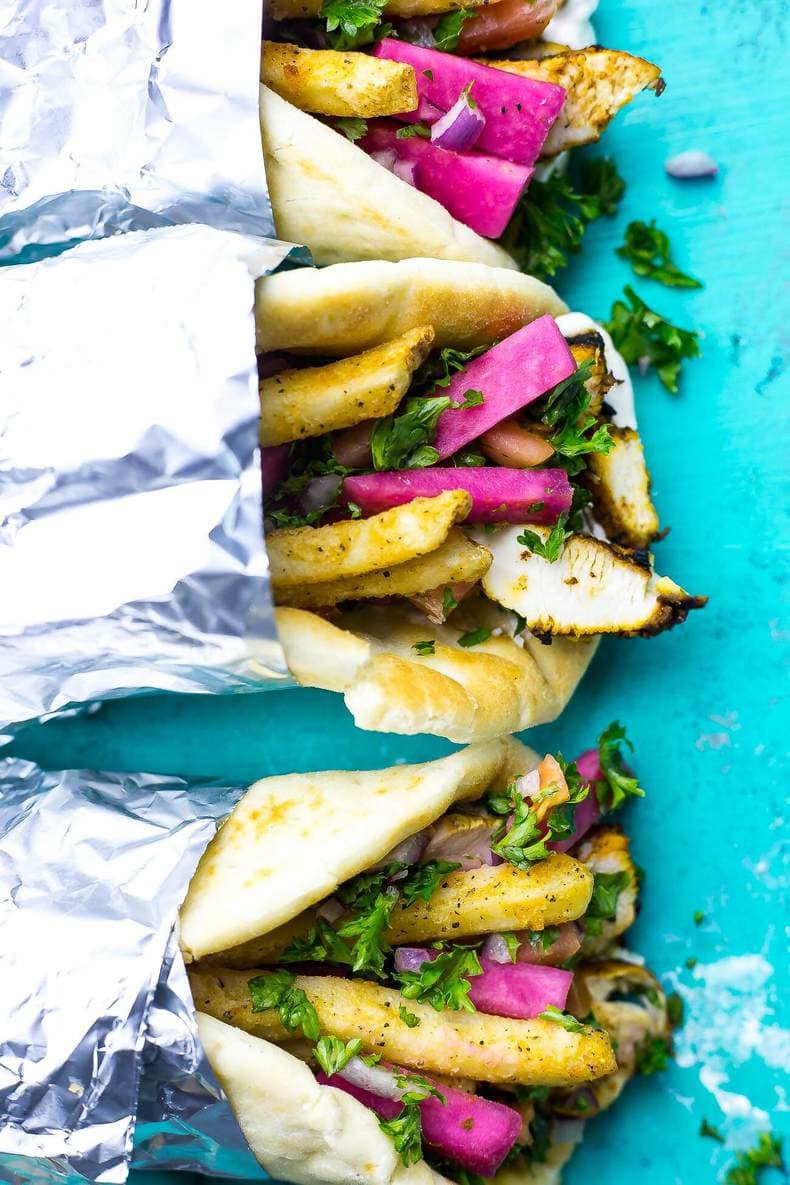 More takeout copycat recipes
Tools to make this recipe
Homemade Chicken Shawarma
This Chicken Shawarma recipe comes complete with taboule, homemade vegan garlic sauce and pickled turnips all stuffed into a warm pita.
Print
Pin
Rate
Ingredients
4

pitas

1

cup

chopped pickled turnips (if you're in a bind, use sliced normal pickles or pickled red cabbage)

1/4

bag

frozen fries
Taboule Recipe
2

cups

chopped parsley

1

small field tomato

diced and deseeded

1

small red onion

diced

1

tbsp

lemon juice

1/2

tsp

salt
Chicken Shawarma Marinade
1

lb

chicken breasts

or thighs

1

tbsp

olive oil

2

tbsp

lemon juice

4

cloves

garlic

minced

1

tsp

turmeric

1

tsp

cumin

1

tsp

paprika

1

tsp

coriander

1

tsp

nutmeg

1

tsp

salt

1/2

tsp

cinnamon
Garlic Sauce
1/4

cup

unsweetened plain soy milk

1/2

cup

sunflower oil

2

garlic cloves, minced

1/2

tsp

lemon juice

1/2

tsp

salt
Instructions
Mix together spices, lemon juice, olive oil and minced garlic. Cut chicken breasts in half, lengthwise down the middle. Pour spice mixture in large freezer bag or bowl with chicken and marinate for at least 15 minutes, and up to 24 hours.

Preheat BBQ to med-high. Grill chicken for 12-15 min, flipping halfway through. Alternatively, you can cook the chicken in an oven-safe dish at 400F for 15-20 min until cooked through.

Meanwhile, prepare taboule by mixing all ingredients together. Make garlic sauce by blending all ingredients in a blender or food processor. Finally, cook fries in the oven according to package directions (usually 15 minutes, flipping once).

At this point, everything should be ready to come together. Heat pitas in oven for a couple minutes to soften them. Thinly slice chicken. Top pitas with garlic sauce, chicken, taboule, pickled turnips and fries. Fold up into a wrap and enjoy!
Nutrition
Calories:
589
kcal
|
Carbohydrates:
61
g
|
Protein:
34
g
|
Fat:
24
g
|
Saturated Fat:
5
g
|
Cholesterol:
73
mg
|
Sodium:
1935
mg
|
Potassium:
1151
mg
|
Fiber:
7
g
|
Sugar:
4
g
|
Vitamin A:
3159
IU
|
Vitamin C:
66
mg
|
Calcium:
154
mg
|
Iron:
5
mg