This Chicken Shawarma recipe comes complete with taboule, homemade vegan garlic sauce and pickled turnips all stuffed into a warm pita. It's a surprisingly healthy copy cat!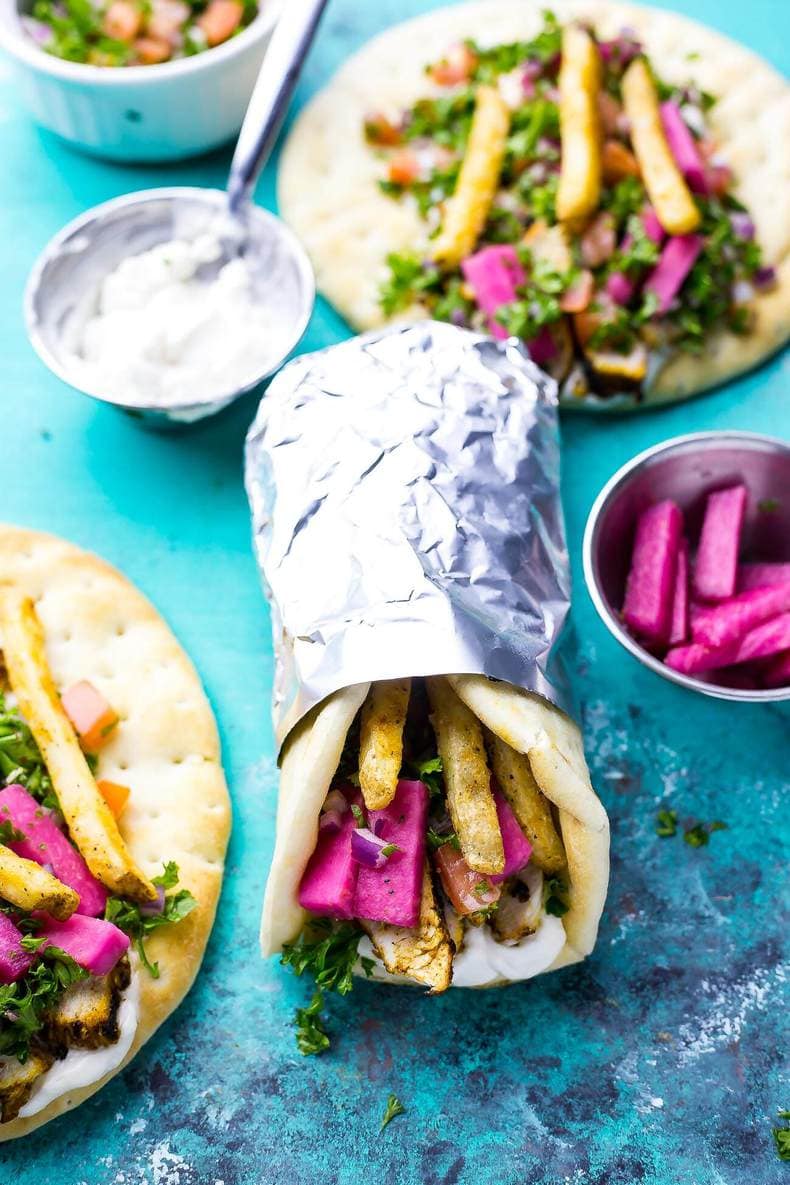 Okay, hold the phone.
Today I'm bringing you THE BEST Homemade Chicken Shawarma recipe EVER.??
Yes, it's EVEN BETTER than my Chicken Shawarma Fries recipe. Haven't you heard? I've become the shawarma queen since then.
According to me, myself and I that is. But I swear, is there is one recipe you end up making of mine and you love shawarma, then this should be it.
This stuff is so good it's making me wanna run into the kitchen at 8:30am as I'm writing this and start whipping up the marinade and getting the whole process started. Like you don't even understand how many years I've been trying to develop a good enough shawarma recipe at home so that I don't have to continue spending tons of money on my favourite kind of takeout. The journey has been epic.
Now unfortunately, I am THAT girl who requests that we stop for drunk food everytime after a night out. I just can't go to sleep after I've been drinking if I don't get some sort of greasy late night dinner into me. And usually my number one go-to is either a burger, or shawarma.
In downtown Toronto, this isn't a problem. You can probably look down the street and see a shawarma joint still open at 2:00am nestled into a block of buildings where every other light is off for the night. It's like a shining beacon of deliciousness in the dark, tempting you to go towards the light.???
In fact, one of my favourite parts about actually going out – whether it's dancing with the girls or having a few drinks at a bar and catching up – is the food at the end. It's food you wouldn't necessarily go out and get in the middle of the day, but it's so good you can't resist after a solid night out on the town.
Well this Homemade Chicken Shawarma recipe – complete with taboule, hummus and tzatziki – is a surprisingly healthy copy cat of the kind at your local shawarma restaurant. It's very flavourful and it makes it easy to load up on your veggies. And you'll want to eat them for breakfast, lunch and dinner. Not just drunk food here people.
I think I have officially perfected the shawarma formula to enjoy at home. Part of that will likely involve a trip to a grocery store that specializes in international foods for the pickled turnips (yep, that's what those bright pink things are!), but honestly it's so worth it. And you'll have the turnips for a long time.
If you're really in a bind, you can usually sub in pickled red cabbage or regular pickles and that's readily available at all of the grocery stores I've been to recently in the pickles aisle, right beside the pickled beets and other pickled veggies (well yes, it's the pickle aisle, DUH Taylor…?)
And pleaseeeeeeeeee don't get turned off by the mention of pickled veggies. I know that really isn't everyone's thing, but between that, the chicken, the parsley and the garlic sauce, you really do need to combine all those flavours to get to the heart of the magic that is this Homemade Chicken Shawarma.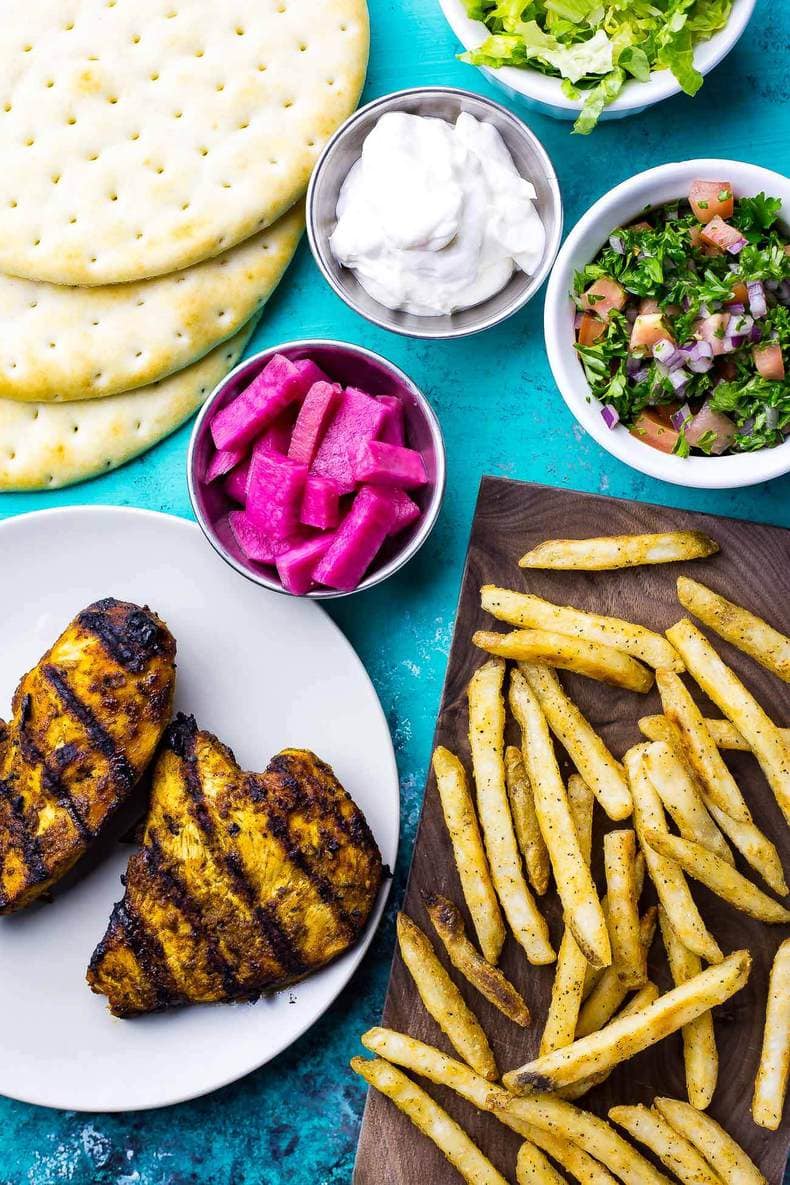 All you have to do to prepare the chicken is to combine a medley of everyday spices that you've definitely already got in your spice drawer, along with some lemon juice, olive oil and minced garlic in a ziploc bag. Make sure you slice the chicken breasts in half lengthwise to get cutlets that can be grilled in a flash.
Of course, the longer you marinate, the more the flavours come out. The key to this recipe is to have a nice marinade and cook the chicken in a way that keeps it juicy – it is best done on the BBQ, especially if you use chicken breasts like me as opposed to chicken thighs, but this can be cooked in the oven or even on the stovetop if you dice the chicken ahead of time as you marinate it. The good news is you can cook this a lot of different ways but I think the most perfect way to go about it is grilling chicken breast cutlets. So there you go: you have the official formula, but you also know the substitutions. 😉
I know that using chicken breast is not normally what you get in a shawarma (it's a mixture of white and dark chicken meat roasted over a spit), but that's usually what I have on hand at my house and it is definitely leaner and lower-calorie. I like to save my calories for the dreamy vegan garlic mayo – which I have to admit is not quite my own recipe.
Sidenote: while I'm obsessed with shawarma, I also really love this small vegan restaurant chain in Toronto called Fresh Restaurants. Everything there is so delicious and creative, and it became a staple of mine in first year university. And I DIE over their garlic mayo. As in, I sometimes used to walk from my condo at Yonge and Bloor 30 minutes in January just to grab some of it as takeout to keep as a condiment in my fridge for the week.
Clearly I'm this crazy, eccentric foodie.
So in my quest to make this at home one day out of desperation since moving an hour away from my old place, I began Googling it to see if I could find a copy cat online. Lucky for me, they published their garlic mayo recipe in a National Post article promoting their new cookbook, Super Fresh. Ever since then, I have made this stuff maybe about a dozen times. And of course I added some to my shawarma.
Granted, this isn't the exact recipe, I have adapted it a bit because I don't think you need the mustard powder or the apple cider vinegar or agave nectar. But if you want to check out the original (and I don't blame you!), you have the link above!
Will you be making this Homemade Chicken Shawarma recipe?
I promise you that shawarma will never be the same once you try this. It's about as close to the real thing as you're gonna get at home – you may even start to prefer it over takeout!
As usual, if you try any of my recipes be sure to let me know on Instagram, Twitter, Facebook or in the comments – I'd love to see what you come up with!
Homemade Chicken Shawarma
This Chicken Shawarma recipe comes complete with taboule, homemade vegan garlic sauce and pickled turnips all stuffed into a warm pita. It's a surprisingly healthy copy cat!
Print
Pin
Rate
Ingredients
4

pitas

1

cup

chopped pickled turnips (if you're in a bind, use sliced normal pickles or pickled red cabbage)

1/4

bag

frozen fries
Taboule Recipe
2

cups

chopped parsley

1

small field tomato

diced and deseeded

1

small yellow onion

diced

2

tsp

lemon juice

1/2

tsp

salt
Chicken Shawarma Marinade
4

chicken breasts (or 1lb chicken thighs)

2

tbsp

olive oil

3

tbsp

lemon juice

4

cloves

garlic

minced

2

tsp

turmeric

2

tsp

cumin

2

tsp

paprika

1

tsp

coriander

1

tsp

nutmeg

1

tsp

cinnamon

1

tsp

salt
Garlic Sauce
1/2

cup

unsweetened plain soy milk

1

cup

sunflower oil

2

garlic cloves, minced

1

tsp

lemon juice

1/2

tsp

salt
Instructions
Prepare taboule by mixing all ingredients together, and cook fries in oven according to package directions. Set aside to use as toppings on your pita.

Meanwhile, mix together spices, lemon juice, olive oil and minced garlic. Cut chicken breasts in half, lengthwise down the middle. You should get 8 cutlet-like chicken breasts. Pour spice mixture in large freezer Ziploc bag with chicken and marinate for at least 15 minutes, and up to 24 hours.

Preheat BBQ to med-high. Grill chicken for 12-15 min, flipping halfway through. Alternatively, you can cook the chicken in an oven-safe dish at 400F for 15-20 min.

While chicken is cooking, make garlic mayo (this can be made ahead of time too - it's an AMAZING condiment to keep in the fridge!) Pour all ingredients into a blender, food processor or Magic Bullet and blend on high for 15-20 seconds until mixture is smooth and creamy and thick.

At this point, everything should be ready to come together. Heat pitas in oven for a couple minutes to soften them. Thinly slice chicken. Top pitas with garlic mayo, chicken, taboule, pickled turnips and fries. Fold up into a wrap and enjoy! Leftover garlic mayo (if you can keep yourself from eating it all that is...) keeps in the fridge for 7-10 days or so, and all the other ingredients will keep for a few days so you can change it up by making salads, sandwiches, etc. ENJOY!!!