This is the Best Homemade Chicken Shawarma made with taboule, homemade garlic sauce and pickled turnips, all stuffed into a warm pita.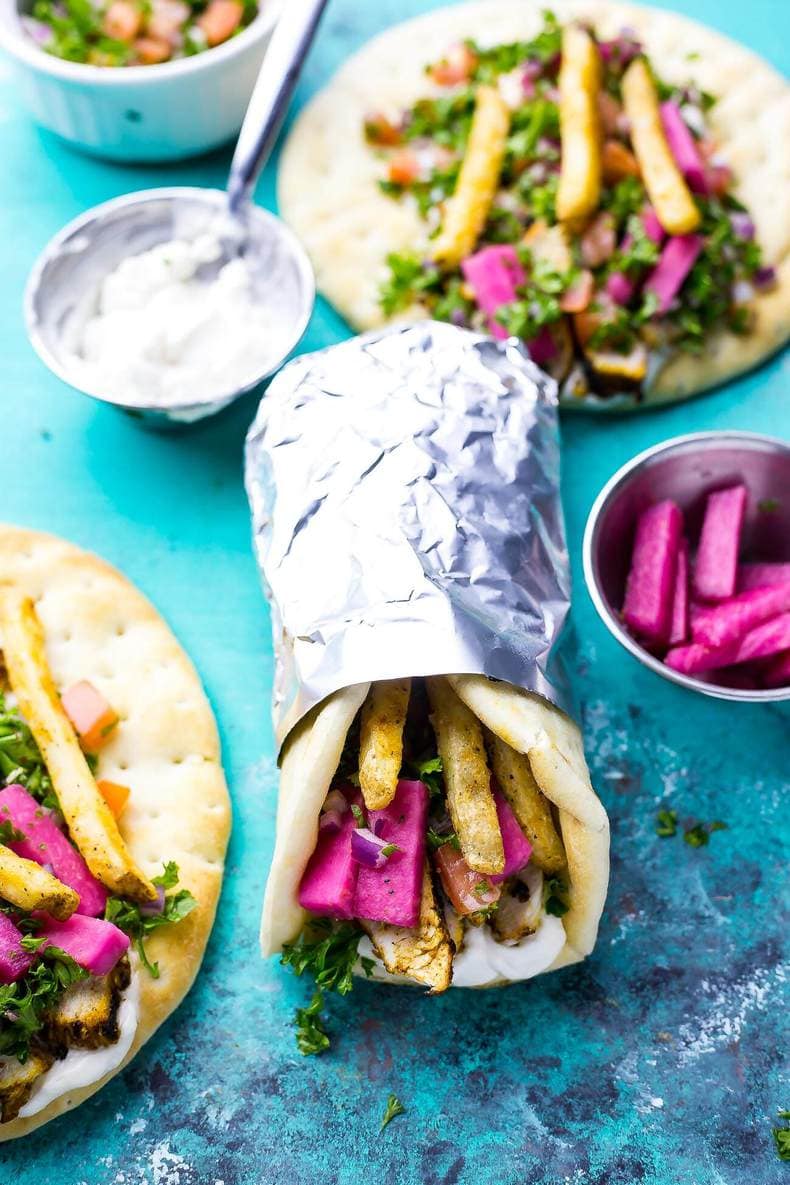 Ingredients and substitutions
Pitas – wrap up the fillings in a flatbread or tortilla instead.
Pickled turnips – pickled red cabbage is a great substitute or you can make your own fermented pickled turnips.
Frozen fries – use your favourite variety of frozen fries or make your own.
Taboule
Parsley – use either flat or curly-leafed parsley.
Field tomato – fully ripe tomatoes work best. But in a pinch, use red bell peppers for extra crunch.
Red onion – swap out for white or yellow onion instead.
Lemon juice – freshly squeezed lemon juice is best but bottled lemon juice can be used in a pinch.
Salt – to taste.
Chicken shawarma marinade
Chicken breasts – boneless skinless chicken thighs would also work or you can use fresh chicken tenders to cut down on prep time.
Olive oil – or any neutral cooking oil like grapeseed or canola oil.
Lemon juice – see substitution notes above.
Garlic – use freshly minced or jarred minced garlic.
Turmeric – saffron would be the best substitute here.
Cumin – coriander will provide a similar flavour.
Paprika – cayenne is a good substitute although it will definitely add more spice to the dish.
Coriander – swap out the coriander for cumin or even garam masala.
Nutmeg – allspice would be the best substitute for nutmeg.
Salt – to taste.
Cinnamon – if you don't have any cinnamon, add in a bit more nutmeg or allspice.
Garlic sauce
Unsweetened plain soy milk – you can't really substitute any other type of milk here, as soy milk creates the thickness (trust me on this!).
Sunflower oil – use another neutral-flavoured cooking oil like olive oil.
Garlic – see substitution notes above.
Lemon juice – see substitution notes above.
Salt – to taste.
Skip the Ads and Get Right to the Recipes!
ZERO ADS on over 600 recipes!
Weekly Meal Plans, Grocery & Prep Lists
Bonus eBooks
How to make chicken shawarma
Make the marinade.
Marinate then grill the chicken.
Prepare the taboule and garlic sauce.
Cook the fries.
Assemble your shawarma with your favourite toppings.
Serve and enjoy!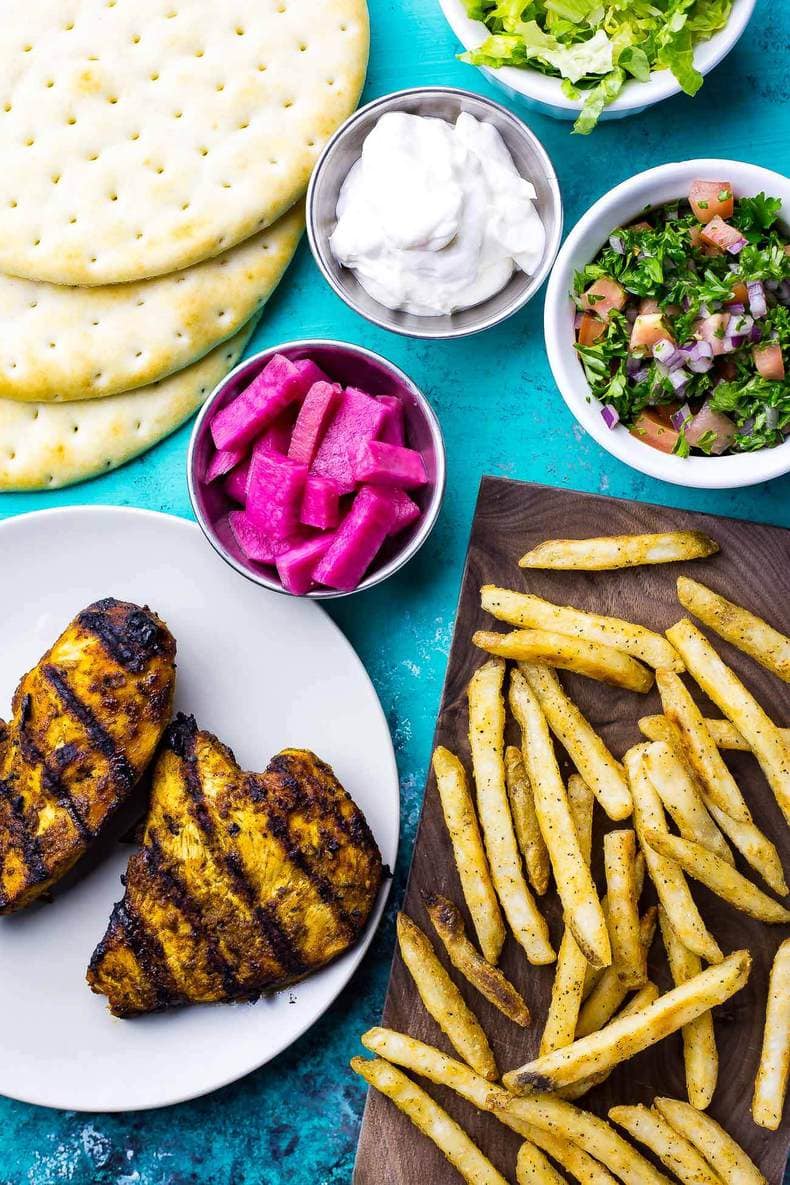 What to serve with chicken shawarma
All by itself, the meal will probably be enough to fill you up. But if you want a full take-out experience, or if you happen to have a group of your friends over, here are some things you might serve with it:
Frequently Asked Questions
What is chicken shawarma made of?
Traditionally, shawarma is a dish with pieces of well-seasoned meat. The meat can be everything from lamb to chicken, beef or veal. The meat is stacked into a cone-like shape and then roasted in front of a fire on a spit. As the meat on the outside cooks, it is shaved off into thin slices, put into warm pita bread, and topped with a garlicky sauce and mixed veggies. For my recipe below, thin pieces of spice-marinated chicken breasts are served with homemade taboule and a creamy garlic sauce, but you could use a rotisserie and whole chicken for a deeper flavor.
Is this recipe healthy?
The take-out version of this dish is not always the healthiest (it really depends on the restaurant and the toppings) but I have found the perfect combination of amazing flavours and healthier ingredients. So, yes! This is a healthier meal you can enjoy any time of the week. Just go light on the garlic sauce and fries. 😉
What is the seasoning made of?
For this recipe, I used a delicious shawarma marinade made with a blend of spices. To make the seasoning you'll need olive oil, lemon juice, minced garlic, turmeric, cumin, paprika, coriander, nutmeg, salt and cinnamon!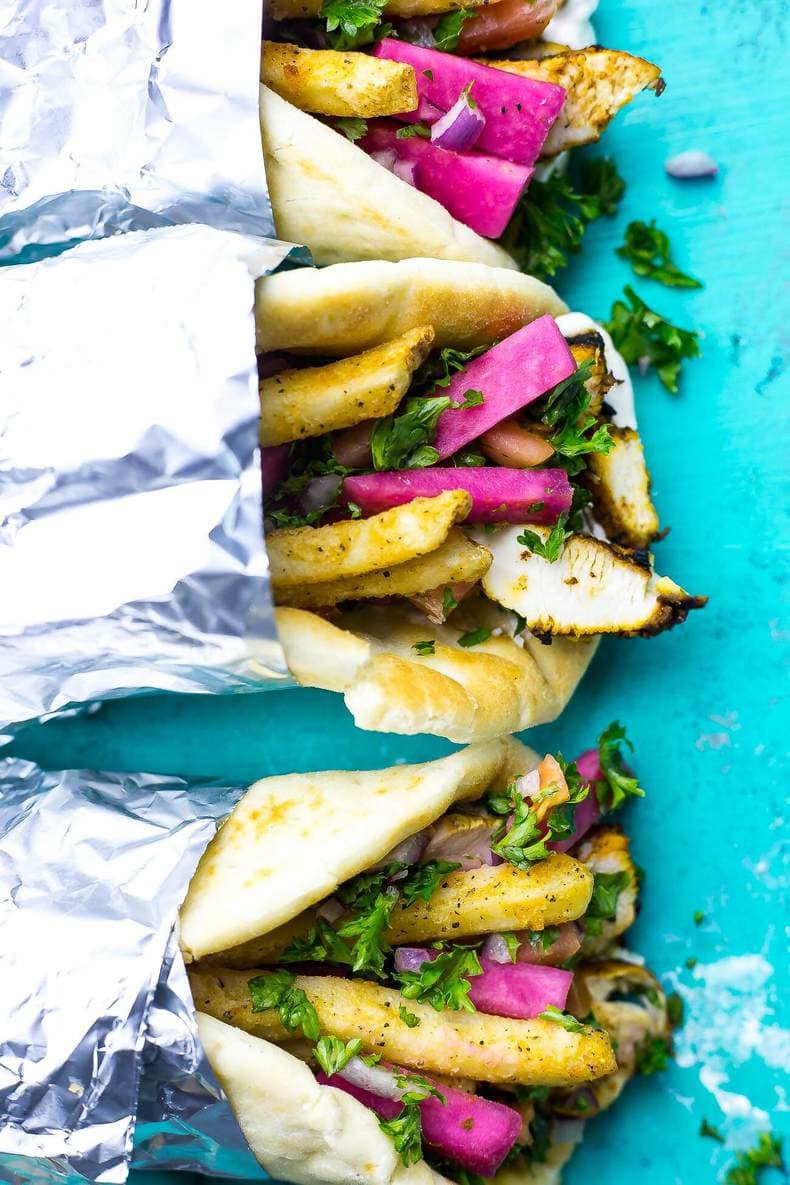 Storing and reheating
Store the fillings separately in airtight containers so they stay fresh for as long as possible. The taboule and chicken will both last 3-4 days and the garlic mayo should stay fresh for 7-10 days. Reheat the chicken in the microwave for 30 second intervals and make sure to sprinkle some water over top so it doesn't dry out.
You can also throw the leftovers into a skillet and reheat them over medium-low heat with a bit of water until warmed through. Then assemble your toppings with a fresh pita and enjoy!
Freezing the chicken
To prepare the chicken ahead of time, freeze it raw in the marinade in a freezer-safe Ziploc bag for up to 3 months. Take it out of the freezer the night before you want to cook it and let it defrost in the fridge overnight (it will marinade while it thaws). You can then cook the chicken fresh.
You can also freeze the cooked chicken in a freezer bag or glass bowls. Let the chicken defrost in the fridge overnight and then reheat following the instructions above.
Wanna Learn How To Meal Prep?
My meal planning service, Dinner Prep Pro, removes the guesswork and helps you get dinner on the table in 15-20 minutes each night. My meal prep checklists only take 1 hour each week!
More takeout copycat recipes
Meal prep tools for this recipe
The Best Homemade Chicken Shawarma
This is the Best Homemade Chicken Shawarma made with taboule, homemade garlic sauce and pickled turnips, all stuffed into a warm pita.
Print
Pin
Rate
Click Here to Remove Ads
Servings: 4 servings
Calories: 589kcal
Ingredients
4 pitas
1 cup chopped pickled turnips (if you're in a bind, use sliced normal pickles or pickled red cabbage)
1/4 bag frozen fries
Taboule Recipe
2 cups chopped parsley
1 small field tomato diced and deseeded
1 small red onion diced
1 tbsp lemon juice
1/2 tsp salt
Chicken Shawarma Marinade
1 lb chicken breasts or thighs
1 tbsp olive oil
2 tbsp lemon juice
4 cloves garlic minced
1 tsp turmeric
1 tsp cumin
1 tsp paprika
1 tsp coriander
1 tsp nutmeg
1 tsp salt
1/2 tsp cinnamon
Garlic Sauce
1/4 cup unsweetened plain soy milk
1/2 cup sunflower oil
2 garlic cloves, minced
1/2 tsp lemon juice
1/2 tsp salt
Instructions
Mix together spices, lemon juice, olive oil and minced garlic. Cut chicken breasts in half, lengthwise down the middle. Pour spice mixture in large freezer bag or bowl with chicken and marinate for at least 15 minutes, and up to 24 hours.

Preheat BBQ to med-high. Grill chicken for 12-15 min, flipping halfway through. Alternatively, you can cook the chicken in an oven-safe dish at 400F for 15-20 min until cooked through.

Meanwhile, prepare taboule by mixing all ingredients together. Make garlic sauce by blending all ingredients in a blender or food processor. Finally, cook fries in the oven according to package directions (usually 15 minutes, flipping once).

At this point, everything should be ready to come together. Heat pitas in oven for a couple minutes to soften them. Thinly slice chicken. Top pitas with garlic sauce, chicken, taboule, pickled turnips and fries. Fold up into a wrap and enjoy!
Notes
Making pickled turnips is SO easy! Get my go-to pickled turnips recipe and make them 5 days in advance.
To save time, you can buy a little container of garlic sauce from your local shawarma spot – but mine is so easy to make!
Store the leftover tabouli and chicken in the fridge for 3-4 days and the garlic mayo for 7-10 days. Reheat the chicken in the microwave then serve.
Freeze the chicken cooked or raw for up to 3 months.
Nutrition
Calories: 589kcal (29%)Carbohydrates: 61g (20%)Protein: 34g (68%)Fat: 24g (37%)Saturated Fat: 5g (31%)Cholesterol: 73mg (24%)Sodium: 1935mg (84%)Potassium: 1151mg (33%)Fiber: 7g (29%)Sugar: 4g (4%)Vitamin A: 3159IU (63%)Vitamin C: 66mg (80%)Calcium: 154mg (15%)Iron: 5mg (28%)
Join The Girl on Bloor Premium!
ZERO ADS!
Weekly Meal Prep Checklists
Bonus eBooks