This is the Ultimate Chili Cheese Fries Recipe! Crispy potatoes are covered in chili, melted cheese and your favourite fixings.
Ingredients and substitutions
Russet potatoes – you could also try making this recipe with sweet potato or another kind of potato of your choice.
Olive oil – or another neutral cooking oil such as avocado or canola oil.
Salt & pepper – to taste.
Chili
Ground chicken or turkey – you can also use ground beef, but it will increase the calorie count.
Olive oil – see substitution notes above.
Yellow onion – red onion, white onion or shallots can be used instead.
Celery – carrot would also be good or you can leave this out altogether.
Green pepper – swap out for another colour bell pepper of your choice. For a spicier option, use green chilies.
Chili powder – use a combination of cumin, paprika and cayenne in a pinch.
Cumin – coriander or extra chili powder is the best substitute here.
Coriander – use cumin instead.
Salt & pepper – to taste.
Sriracha – use any hot sauce of your choice. You can leave this out altogether if you're not a big fan of spice.
Crushed tomatoes – canned diced tomatoes would work if they're all you have on hand. San Marzano tomatoes usually have a bit more flavour.
Toppings
Tomato – fresh or jarred salsa or pico de gallo can be used instead.
Shredded cheddar and mozzarella – or any other cheese blend of your choice.
Green onions – diced chives or red onions would also be good.
Sour cream – use non-fat sour cream for a healthier option.
How to make chili cheese fries
Step 1: Cut the fries.
Thinly slice the potatoes using a mandoline or a very sharp knife.
Step 2: Prepare the chili.
Sauté the meat, veggies, spices, tomatoes and water. Bring the chili to a boil and simmer.
Step 3: Cook the fries.
Toss and season the potatoes, then bake them in the oven, flipping them halfway through.
Step 4: Add chili and cheese to the fries.
Top the fries with chili and cheese, then broil in the oven until the cheese is melted.
Step 5: Prepare any additional toppings.
Step 6: Serve and enjoy!
Add on your favourite toppings and serve!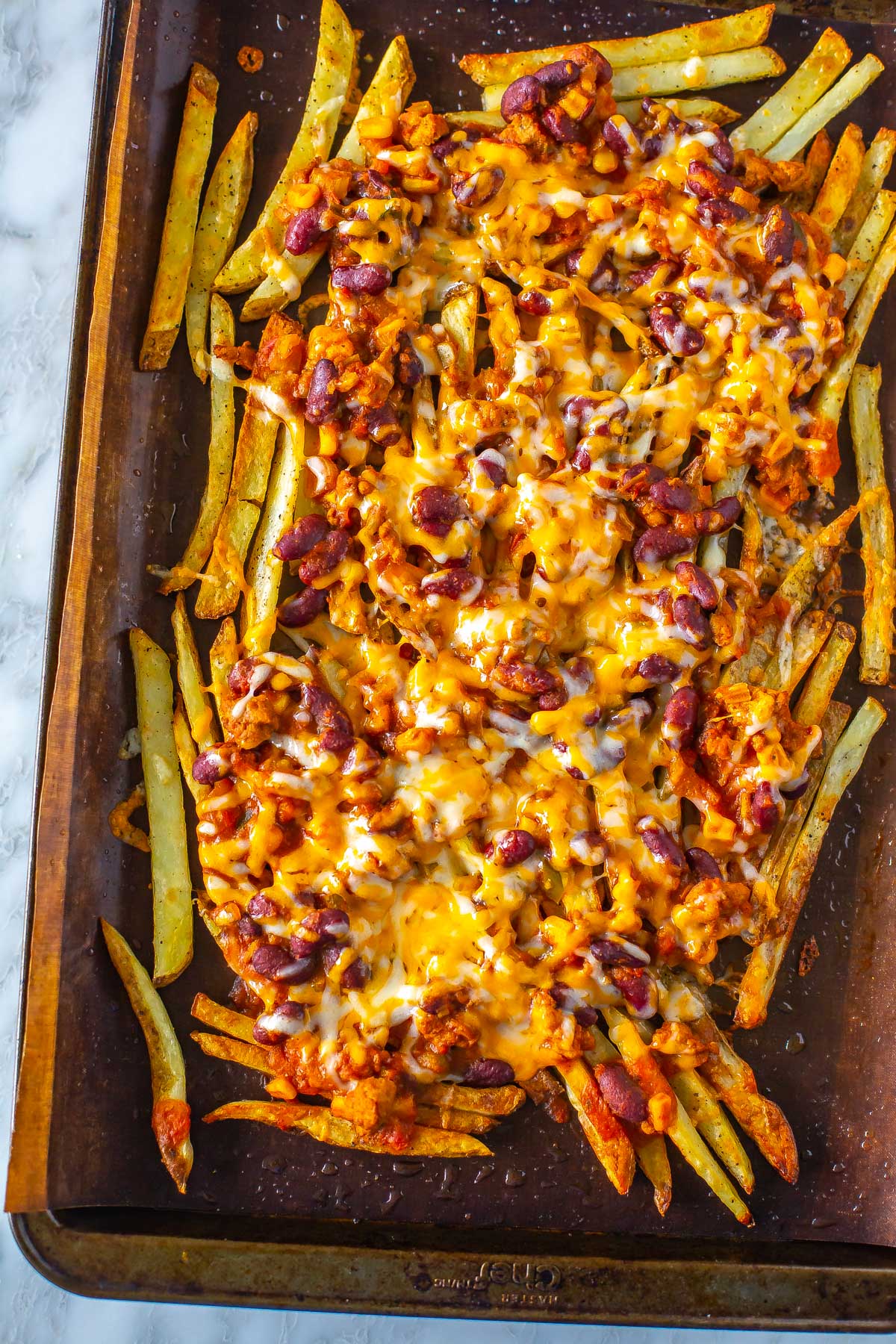 Time saving hacks
There are a few tips and tricks you can use to make these chili cheese fries even easier:
Use frozen fries: I usually make my own homemade fries, but a bag of frozen tries will do the trick as well! You can even try out different types of fries like curly fries, waffle fries or even tater tots.
Make the chili in advance: You can cook the chili ahead of time and store it in the fridge for up to 3 days or freeze it for up to 3 months. Leftover chili might work even better than fresh chili, as it will have time to thicken, which is ideal for loaded fries.
Prep your toppings: Ingredient prep is one of my top meal prep hacks. Prep your additional toppings a couple days in advance then store them in airtight glass containers in the fridge. You can even shred the cheese ahead of time!
Frequently Asked Questions
What are the best toppings for chili cheese fries?
There really isn't a limit to the toppings you can put on your chili cheese fries! Add whatever you would normally use to garnish a bowl of chili or a plate of nachos. Some of my favourite toppings include sour cream, chopped onions, salsa, diced tomatoes, avocado, black beans, jalapeno or corn chips.
How many calories are in this recipe?
This chili cheese fries recipe has 317 calories per serving. Keep in mind that the calorie count will vary based on what toppings you add on.
Can you make them vegetarian?
You can definitely make this recipe vegetarian. Just leave the ground beef out of the chili, and add in extra beans for more protein.
How do you keep the fries from getting soggy?
No one likes soggy fries! To ensure your fries get super crispy, make sure they're not overcrowding each other in the pan while cooking. You can also soak the fries beforehand in water to remove some of the starch and get them extra crispy.
What's the best kind of cheese to use?
I used a blend of shredded cheddar and mozzarella cheese for my chili cheese fries, but you can use any cheese blend of your choice like Monterey Jack or a Tex Mex blend. Freshly grated cheese will give you the best melt, but you can use the pre-shredded stuff if it's all you have on hand.
Storing and reheating
I wouldn't recommend storing the chili cheese fries once assembled – the fries will get soggy under the chili. You can store the leftover chili and fries separately, though!
Any leftover chili should be stored in a covered container in the refrigerator and used within 5 days. You can reheat the chili in a pot on the stovetop or in the microwave for a few minutes. Enjoy it as is, or make a fresh batch of chili cheese fries!
The fries will last in the fridge for up to 5 days as well. You can revive them by placing them back in the oven for 5 to 10 minutes at 350° Fahrenheit – just watch them closely to make sure they don't overcook. Add on the chili and cheese, broil then serve!
Freezing the chili
You can freeze the chili in an airtight container or Ziploc bag for up to 4 months. Unfortunately, the fries cannot be frozen and reused, so make sure you eat them fresh. Before placing the chili into a container, make sure it's cooled to room temperature. This helps to prevent ice crystals from forming on top.
You can then reheat the chili from frozen for around 8 minutes in the microwave, stirring a few times throughout. Alternatively, you can let the chili defrost in the fridge overnight before reheating as normal. Serve on its own or with fresh fries!
Wanna Learn How To Meal Prep?
My meal planning service, Dinner Prep Pro, removes the guesswork and helps you get dinner on the table in 15-20 minutes each night. My meal prep checklists only take 1 hour each week!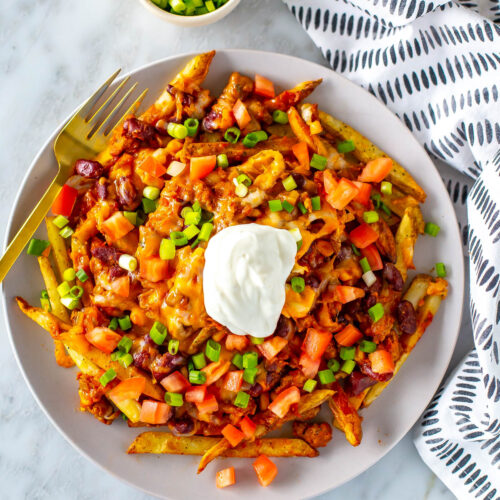 Ultimate Chili Cheese Fries Recipe
This is the Ultimate Chili Cheese Fries Recipe! Crispy potatoes are covered in chili, melted cheese and your favourite fixings.
Print
Pin
Rate
FEELING BURNED OUT?We've got you covered with a December self care plan! Sign up for weekly habit audits, 3 weeks of meal prep plans, weekly goal setting printables + live calls!👇
Join our December ✨Feel Good✨ Challenge!
Servings: 4
Calories: 319kcal
Ingredients
2 Russet potatoes
1 tbsp olive oil
1 1/2 tsp salt
1/2 tsp pepper
Chili
1 lb Ground chicken or turkey
1 tbsp olive oil
1 small yellow onion diced
2 stalks celery finely chopped
Half green pepper finely chopped
1 tbsp chili powder
1 tsp cumin
1/2 tsp coriander
1 tsp salt
1 tsp pepper
1 tsp Sriracha
1 cup crushed tomatoes
1/2 cup water
Toppings
1 tomato seeded and diced
Shredded cheddar and mozzarella cheese
green onions chopped
sour cream
Anything else you may want such as hot peppers, salsa, olives, pickles, lettuce, etc.
Instructions
Preheat oven to 450 degrees.

Using a mandoline or a very sharp knife, slice potatoes so that they are as thin as possible–think McDonald's style french fries!

Toss potatoes in olive oil, salt and pepper, and then spread on baking sheets. You can cook up to four baking sheets at a time so don't be afraid to leave some space on sheets so fries don't become overcrowded. Bake 20 minutes, flipping fries halfway through.

Cook chili while fries are in oven by heating olive oil, adding meat and veggies, adding spices, then tomatoes and water. Bring to a boil and simmer for 20 min.

Chili and fries should be finished at the same time. Change oven settings from bake to broil.

Plate fries by stacking them on top of each other on oven-safe plates. Ladle chili overtop, then sprinkle cheese and place in oven for about 2-3 min until cheese is melted.

Finish with your favourite toppings, and serve right away while the cheese is melted and hot!
Notes
Save time by using frozen fries, prepping the toppings beforehand and making the chili a couple days in advance. Load up these fries with more toppings like salsa, black beans, jalapenos or corn chips. Store the leftover chili in the fridge for up to 5 days. Reheat in a pot on the stovetop or in the microwave. Revive the leftover fries in the oven for 5-10 minutes at 350 F. Freeze the chili for up to 3 months. Reheat from frozen in the microwave for 8 minutes or defrost and reheat as normal.
Nutrition
Calories: 319kcal (16%)Carbohydrates: 29g (10%)Protein: 31g (62%)Fat: 10g (15%)Saturated Fat: 2g (13%)Cholesterol: 62mg (21%)Sodium: 1668mg (73%)Potassium: 1117mg (32%)Fiber: 4g (17%)Sugar: 6g (7%)Vitamin A: 1008IU (20%)Vitamin C: 19mg (23%)Calcium: 58mg (6%)Iron: 3mg (17%)