These Baked Greek Fries with Chicken, Feta & Tzatziki are a healthy dinner idea loaded with Mediterranean-inspired flavours.
I think I have determined that any type of potato is guaranteed to be my favourite food.
They're just so versatile. You can make them just about any way, and they're gonna be good no matter what. Seriously. Fried, baked, grilled, roasted, sauteed…in casseroles, in fry form, as a side…you just CAN'T GO WRONG WITH POTATOES PEOPLE.
And of course since it's the weekend, and we're approaching a few days where people have more time to cook, I'm digging up this Greek Fries recipe from the archives to share with you today because I love them so much!
These Greek style French fries are healthy and oven-baked so you can indulge without any of the guilt of your normal takeout – they're basically a healthier version of cheese fries, combining my favourite Greek salad toppings with deliciously juicy Greek-marinated chicken along with fresh herbs and spices.
I always have a routine when it comes to homemade baked fries, and I have to say I prefer my baked fries to any other type of homemade French fry in the deep fryer. Not only are they way healthier, but I actually find them crispier too! I used to use my mandoline a lot – you can get them fairly cheap at any store that sells kitchen ware, I got mine at Kitchen Stuff Plus for $30.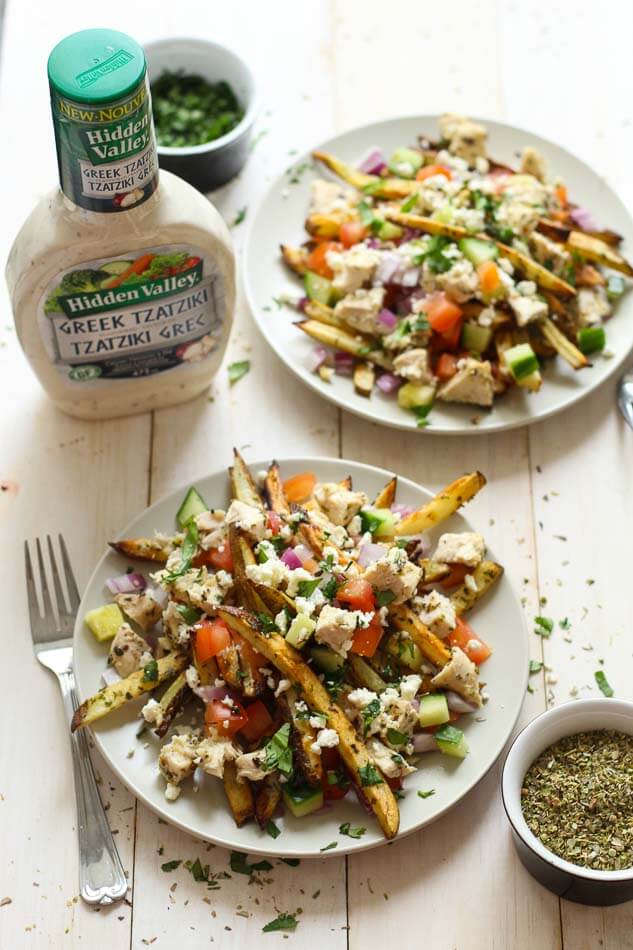 With practice, I've become better at getting my fries thinner so that they come out crispier. You basically want to cut the fries so that they are all the same size. I go with 1/2 inch thick because they can get crispy without getting burnt or overdone, and my secret is going back and thinning out the fries individually if I happen to cut them too thick by accident.
The Greek fries seasoning is a combo of dried parsley, oregano, salt and chili powder and you just toss them with a bit of olive oil and bake on two baking sheets. Make sure you rinse your fries in water to get all the excess starch off, then dry them as much as possible before seasoning and roasting in the oven. It's definitely a process and a little more involved than my other meal prep recipes but this is the type of dinner you'll enjoy making on a Friday or Saturday night with some wine.
I know, I'm crazy, but I actually do enjoy cooking on my days off for the most part if I'm making a super tasty meal like these Greek Fries!
Now the Greek fries sauce is whatever you have on hand; I've used Hidden Valley's tzatziki dressing here because it's easy to drizzle overtop, but I also dollop regular tzatziki overtop and add hummus sometimes. It's up to you to take these Greek French fries to the next level!
We make loaded French fries with different toppings a couple times a month because they are soooo good. It's a fun way to customize our meals and add our own toppings, bringing us together after a long day of work to relax and catch up. If you're like us and loaded oven fries are right up your alley, then you'll probably also love these Chilli Cheese Fries and these Loaded Tater Tots. I mean, who ever gets sick of fries?
These Greek Fries gives you an excuse to step away from Canada where it's blistering cold right now and travel to Greece. I've never been to Greece, but it is at the top of my travel list. I mean, I already love Greek flavours and cuisine so I would fit in there well, right?! Someone wanna send me there this weekend?
Well, at least I got Greek feta cheese fries to tide me over!
Will you be trying this Greek fries recipe?
I think I'm obsessed with these! Baked Feta Greek Fries are seriously the perfect lighter equivalent to cheese fries, the Greek equivalent to poutine you could even say! Crispy baked fries, Greek-marinated chicken, veggies galore and lots of tzatziki…it's the perfect weekend food!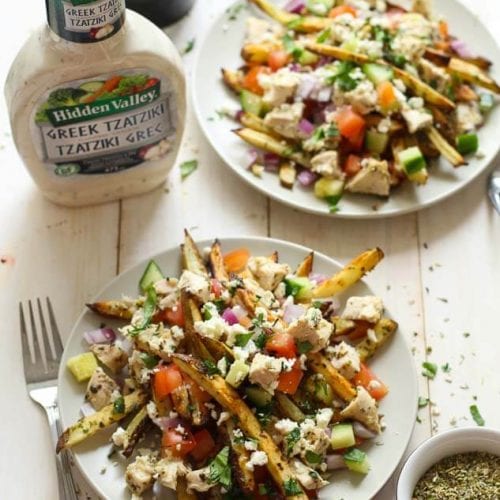 Greek Gyro Fries
These Baked Greek Fries with Chicken, Feta & Tzatziki are a healthy dinner idea loaded with Mediterranean-inspired flavours.
Print
Pin
Rate
Ingredients
Greek chicken
2

chicken breasts

1

tbsp

olive oil

2

tbsp

freshly squeezed lemon juice

2

cloves

garlic minced

1

tbsp

dried oregano

1/2

tsp

salt

1/4

tsp

pepper
Fries
2

Russet potatoes

1

tbsp

olive oil

1

tsp

chili powder

1

tsp

dried oregano

1

tsp

dried parsley

1

tsp

salt
Topping ideas:
red onion

tomato

cucumber

Lettuce

Kalamata olives

fresh parsley

tzatziki

hummus
Instructions
Preheat oven to 450 degrees.

Marinate chicken breasts by mixing together olive oil, lemon juice, garlic, oregano, salt and pepper and letting sit in a plastic bag with chicken for 10 minutes.

Cook chicken in the oven for 20 minutes in an oven safe dish. Remove from oven and cut into 1-inch cubes once cooled a bit. Chicken can be made up to a day or two in advance so all you have to do is make the fries fresh and top them with chicken and veggies.

While chicken is marinating/baking, wash potatoes and cut them into relatively thin (about 1/2 inch thick) fries using a sharp knife or mandolin.

Soak fries in water and rinse away starch, then dry with a clean towel and place into large bowl. Toss fries with olive oil, chili powder, oregano, parsley and salt and place on oven sheet. Cook in oven for 12 minutes each side, flipping fries once.

While fries are cooking, start prepping your toppings.

Top Greek fries with chicken, your favourite toppings, sprinkle with your fave herbs and spices, then finish with tzatziki/hummus. Serve and enjoy!
Nutrition
Calories:
396
kcal
|
Carbohydrates:
27
g
|
Protein:
23
g
|
Fat:
22
g
|
Saturated Fat:
4
g
|
Polyunsaturated Fat:
3
g
|
Monounsaturated Fat:
14
g
|
Cholesterol:
52
mg
|
Sodium:
401
mg
|
Potassium:
783
mg
|
Fiber:
2
g
|
Sugar:
4
g
|
Vitamin A:
300
IU
|
Vitamin C:
38.8
mg
|
Calcium:
60
mg
|
Iron:
2
mg