Instant Pot Teriyaki Chicken Bowls
These Instant Pot Teriyaki Chicken Bowls with rice, broccoli and a 5-ingredient stir fry sauce make for a delicious meal prep idea – just dump everything into one pot and dinner is ready in 30 minutes! Jump to Recipe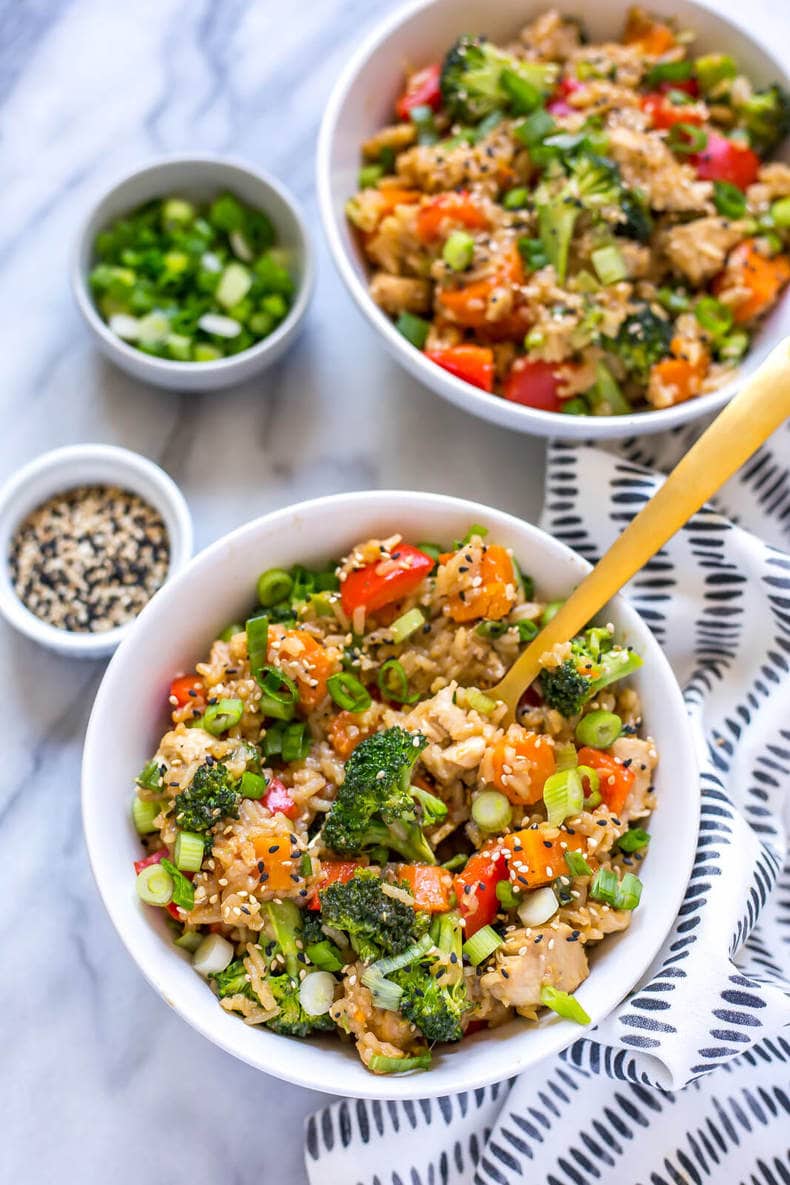 Ingredients in chicken teriyaki bowls
These Instant Pot chicken teriyaki bowls are packed with fresh healthy ingredients.
I recommend using boneless skinless chicken breast for this recipe. You will need to cut the raw chicken into bite sized pieces. You don't want to have to cut around bones and skin. It's messy and frustrating.
For the rest of the Instant Pot chicken teriyaki dish, including homemade teriyaki sauce, you will need:
Soy sauce
Hoisin sauce
Rice vinegar
Garlic
Ginger (I like to use fresh grated ginger, but you can use use powdered ginger instead)
Carrots
Jasmine rice
Broccoli
Red pepper
Green onions
Sesame seeds
How to make Instant Pot chicken teriyaki
The amazing thing about this Instant Pot chicken teriyaki recipe is that everything is cooked together. You don't need separate pans for the chicken, rice and sauce. This is by far the easiest way I've ever made chicken teriyaki.
Dice the chicken into one inch pieces
Put the olive oil, chicken, hoisin sauce, rice vinegar, garlic, ginger, carrots and water into the Instant Pot.
Put the rice in last. It will float on top of the other ingredients.
Set the Instant Pot to cook for two minutes.
Perform a quick pressure release.
Add the broccoli, red pepper and green onions and put the lid back on for five minutes. These veggies will get soggy if you cook them under high pressure. Letting them sit with the other hot ingredients for a few minutes will steam them just enough.
Garnish with green onions and sesame seeds.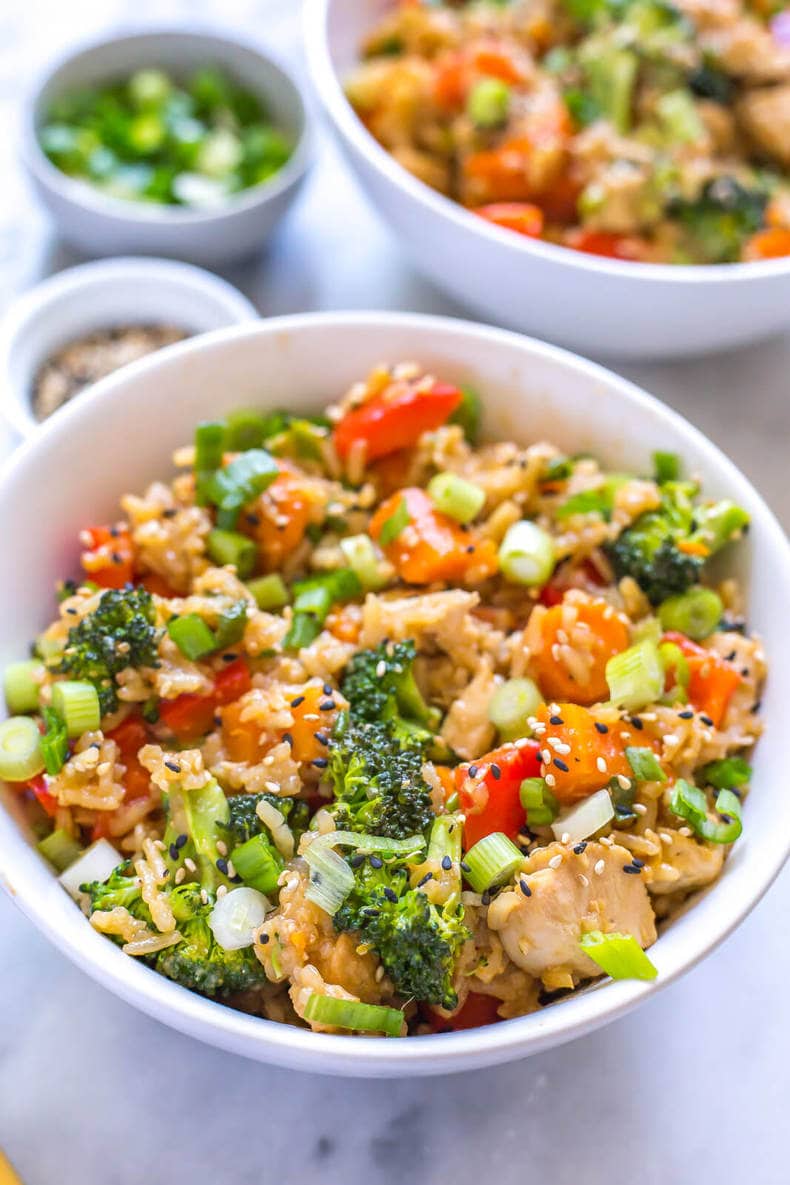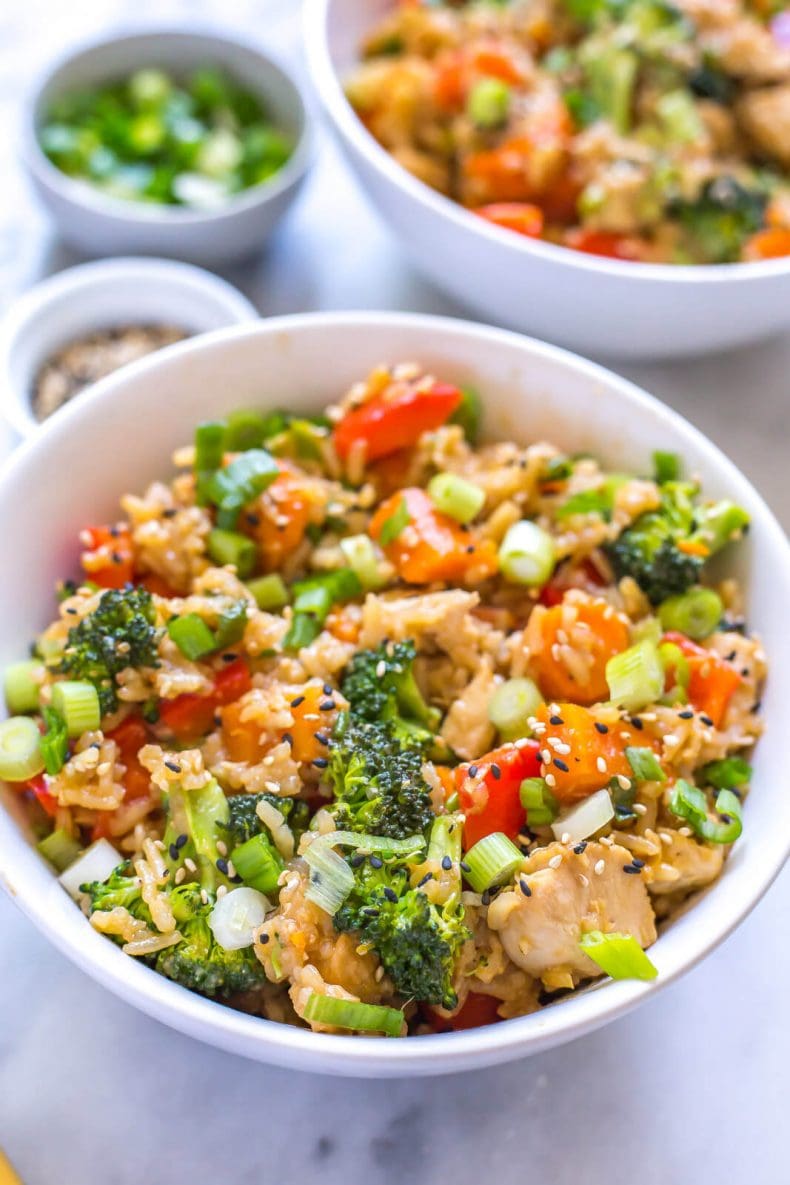 Ingredients substitutions
You can change up the veggies you use in this Instant Pot chicken teriyaki dish each time you make it! Try any of these:
Snap peas
Bok choy
Baby corn
Bell peppers
Asparagus
Edamame
Green beans
Pineapple
Most of your veggies you will just want to cut into small pieces and let steam in the hot dish after it has finished cooking. For this recipe, I only cook the carrots under pressure. Most other veggies will fall apart.
You can use other kinds of rice as well. Just keep in mind that some may take longer to cook. Brown rice always takes longer than white rice. You don't want hard rice, but you also don't want overcooked, dry chicken. You'll need to balance the two factors if you use brown rice.
Do you need to marinate the chicken?
You could marinate the chicken for these Instant Pot chicken teriyaki bowls if you want, but you certainly don't have to.
The point of a marinade is to infuse the meat with flavor. It will also help to retain some of the moisture during cooking.
In this recipe, the chicken is cooked in the sauce so has little risk of drying out. The homemade teriyaki sauce provides lot of flavor for the dish without the need to marinate it.
However, if you want to, you can allow the chicken to marinate for 30 minutes. Chicken breast does not need long because there is no skin or bones.
What do you serve with Instant Pot chicken teriyaki?
This one dish can provide a complete meal all in one so all you have to do is dump and press start! It has protein, starch and veggies. But here are some ideas to serve with chicken teriyaki:
Grilled veggies
Green salad
Corn on the cob
Brussels sprouts
Lo mein
Fruit
Storing and reheating
You can store this Instant Pot chicken teriyaki in the refrigerator for five days. This makes it great for meal prep. It's so fast and simple to make. Then you can divide it into four individual meal prep containers. Since it all cooks in one pot, it's easy to separate into portions.
To reheat, put it in the microwave for a minute or two. You can add a splash of water to the bowl to ensure that the rice does not dry out.
If you love this homemade teriyaki sauce, you can make the sauce itself and store it in the refrigerator. It will last for about a year. Then you can use it anytime you want an exciting flavor on your meat or veggies!
Freezing Instant Pot chicken teriyaki
One of the best ways to freeze chicken teriyaki is as a dump meal. Put all of the raw ingredients that will be cooked together in the Instant Pot in a freezer bag. This will last for three months in your freezer. When you are ready to use it, thaw it over-night in the refrigerator. Then dump it all in the Instant Pot and cook!
You can also freeze Instant Pot chicken teriyaki after it has been cooked. Make sure you allow it to completely cool before putting it in the freezer. Any condensation in the container will ruin the food.
More Instant Pot recipes
Meal prep tools
Meal prep challenge
If you'd like some more help with meal planning, then you'll love my free 5-day meal prep challenge! Sign up for free below: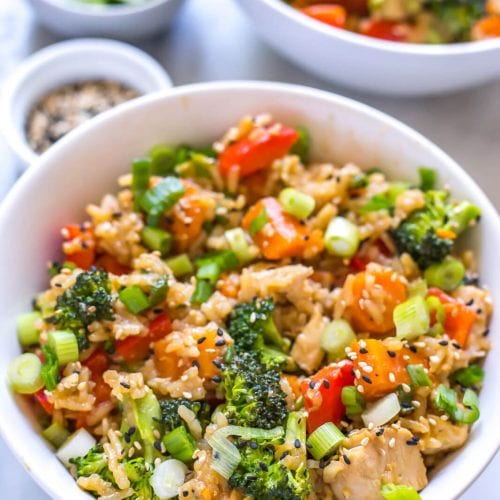 Print Recipe
Instant Pot Teriyaki Chicken Bowls
These Instant Pot Teriyaki Chicken Bowls with rice, broccoli and a 5-ingredient stir fry sauce make for a delicious meal prep idea - just dump everything into one pot and dinner is ready in 30 minutes!
Ingredients
1

tbsp

olive oil

2

medium-sized chicken breasts, diced into 1 inch pieces

1/4

cup

low-sodium soy sauce or tamari

1/4

cup

hoisin sauce

2

tbsp

rice vinegar

4

cloves

garlic minced

1

tbsp

grated fresh ginger

2

carrots, chopped

1 1/2

cups

water

1

cup

jasmine rice

1

head

broccoli, cut into small florets

1

red pepper, chopped

4

green onions, sliced

1

tbsp

Sesame seeds for garnish
Instructions
Dump olive oil, chicken, soy sauce, hoisin sauce, rice vinegar, garlic, ginger, carrots, water and rice into Instant Pot in that order leaving rice to float on top of other ingredients. Place lid on and cook for 2 minutes on high pressure.

Instant Pot will take about 10 minutes to come to pressure then cooks on high pressure for two minutes. Do a quick pressure release and remove lid when safe to do so. Stir in broccoli, red pepper and green onions, then replace lid and let sit another 5 minutes.

Serve among four bowls and top with more green onions if desired and sesame seeds. Enjoy!
Video
Nutrition
Calories:
391
kcal
|
Carbohydrates:
53
g
|
Protein:
25
g
|
Fat:
11
g
|
Saturated Fat:
2
g
|
Polyunsaturated Fat:
3
g
|
Monounsaturated Fat:
5
g
|
Cholesterol:
41
mg
|
Sodium:
1038
mg
|
Potassium:
523
mg
|
Fiber:
4
g
|
Sugar:
8
g
|
Vitamin A:
6900
IU
|
Vitamin C:
116.3
mg
|
Calcium:
60
mg
|
Iron:
2.2
mg