This Green Goddess Vegan Broccoli Soup is going to quickly become one of your new fall favourites – topped with crunchy, savoury kale chips and packed with tons of leafy greens, you won't even notice it's dairy-free!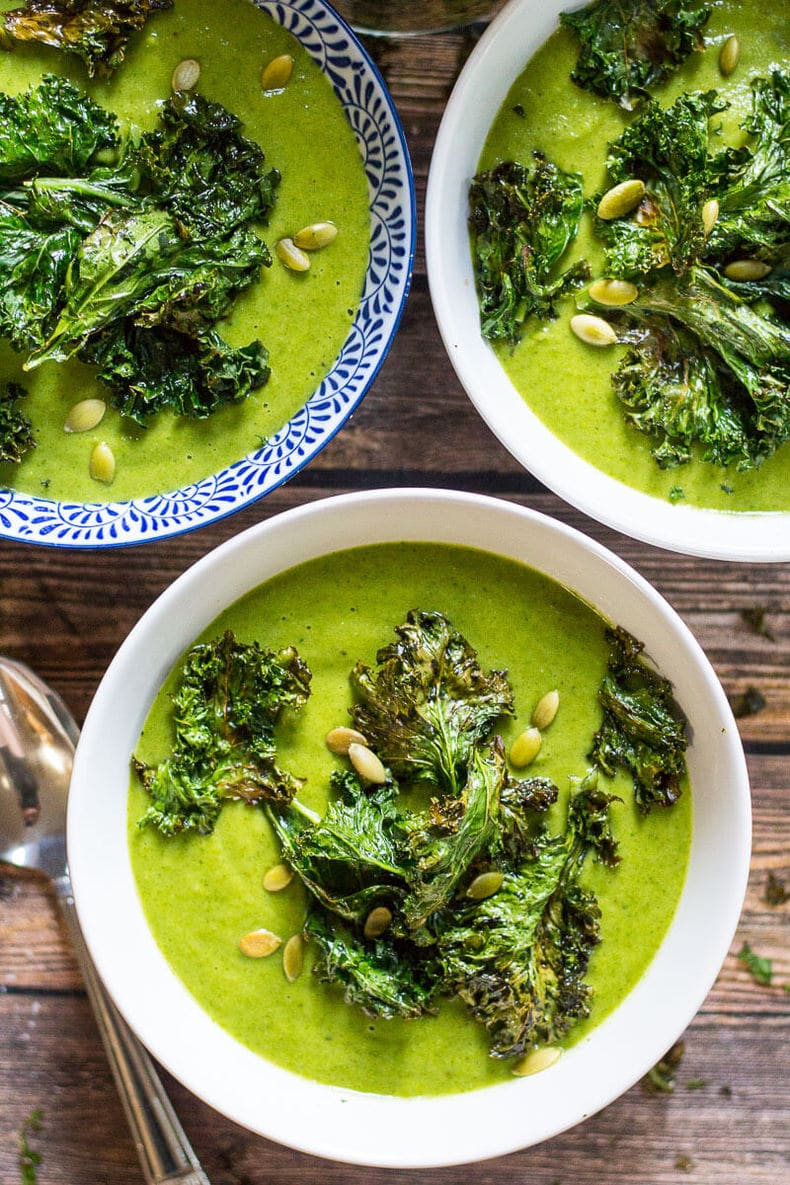 Green Goddess everything – it's no secret that that's what I'm all about these days.
Heck, I've even made a Green Goddess Grilled Cheese and a Green Goddess Pea Pesto before, and there's probably even more delicious green recipes to come if we're going based on the latest trends.
The latest trends being my latest health food crazes that is…
You know what though? I've been doing a stellar job of keeping on top of my healthy eating.
I've been going to the gym six times a week, eating plenty of fruit and veggies and lean proteins and sneaking only one or two cookies at bedtime, and I've been sleeping well…I guess you could say I've been a real adult lately. A healthy one.
BUT while I've really been trying to recommit myself to health and fitness lately, I have been neglecting to eat as many greens as I should – and we all know that dark leafy greens are the best possible veggie for you.
But what you may not know, is that they can also be the most delicious. 😉
As we leave summer and the endless BBQs and parties during the good weather, I always look forward to nourishing myself again in the fall with endless rounds of butternut squash soup and warm, hearty kale bowls.
There's just something about fall comfort food that makes for a very special time of year.
As the air becomes more crisp and cool and the leaves change colour, I look forward to the change in seasons that fall represents – a change toward what is comfortable, kind and good to us. But it's also a time of change: you usually start a new school year, find new work after the slump in business that is summer…
This fall, I'm experiencing a new change unlike any other: I'm now working full-time, and as a small business owner at that.
I have days that are lonely and anxiety-ridden, sitting at my computer feeling lost in a competitive industry that requires constant content creation, idea generation and bottomless amounts of creativity…it can seriously get overwhelming.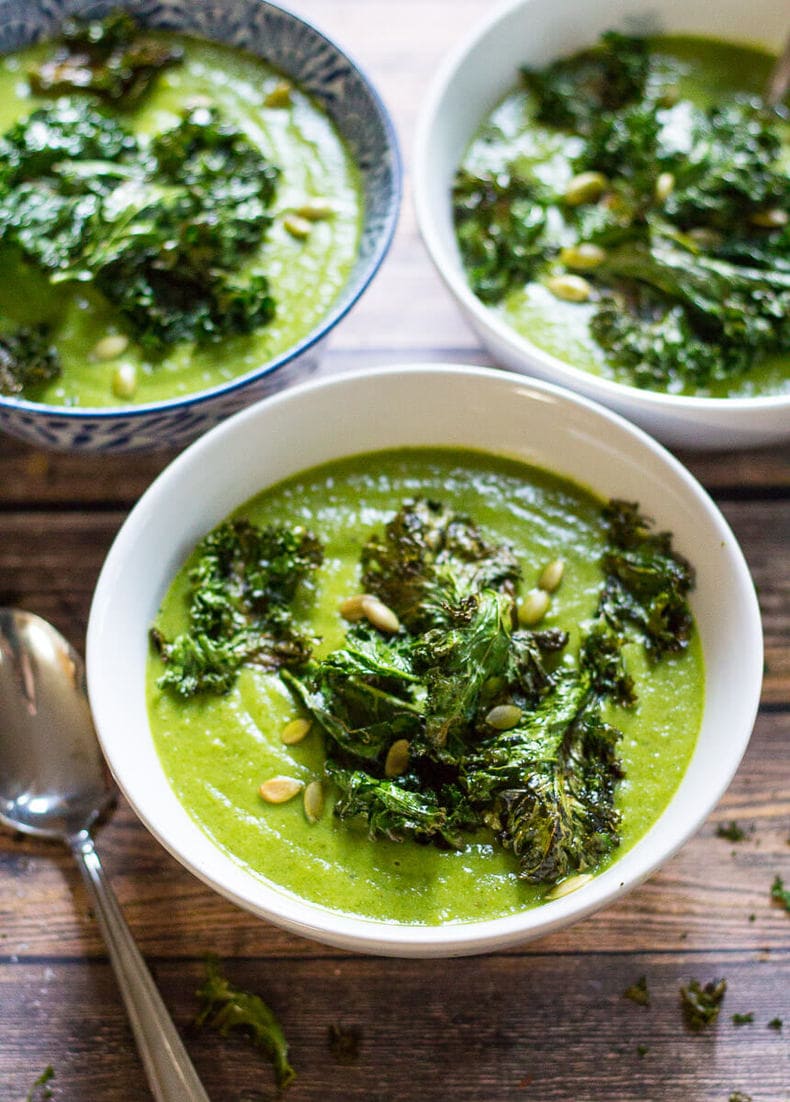 And that's where nourishing, healthy food comes in for me: it is astonishingly comforting.
The one constant in my life. My health.
This Green Goddess Vegan Broccoli Soup certainly fits the bill for delicious, healthy and simple fall comfort food, and I honestly think it will quickly become one of your new go-to recipes just like it has become mine.
We could all use a little more green in our lives, right?
Will you be making this Green Goddess Vegan Broccoli Soup?! If you try any of my recipes be sure to let me know on Instagram, Twitter, Facebook or in the comments – I wanna see how you're celebrating soup season this year!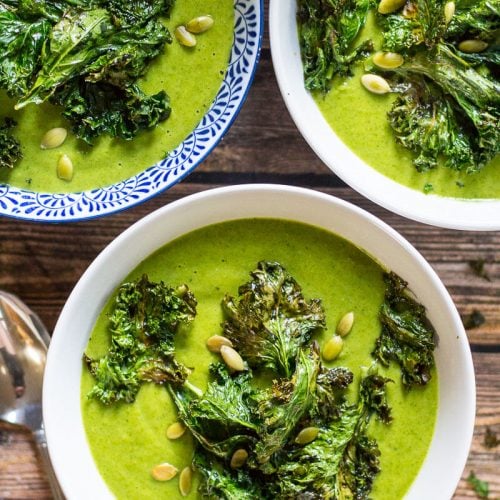 Ingredients
1

head broccoli

4

tbsp

coconut oil

divided

1

small yellow onion

diced

1

leek

cleaned and sliced

2

cloves

garlic

minced

2

cups

vegetable broth

1

head of kale

chopped and divided

3

tbsp

flour

2

cups

non dairy milk

I used almond milk but coconut milk works too

1/2-1

tsp

salt *add more depending on your taste*

1/2

tsp

pepper

1/2

tsp

red pepper flakes

Pumpkin seeds for garnish
Kale chips
2

cups

kale

chopped

1-2

tsp

olive oil

Salt & pepper to taste
Instructions
Preheat oven to 400 F. Wash and chop kale, then dry thoroughly before tossing 2 cups of it with 1-2 tsp olive oil, massaging oil into leaves and seasoning with salt before spreading onto a parchment-lined baking sheet. Set aside for now.

Trim and wash broccoli, then cut into florets. Melt 2 tbsp coconut oil in a large pot on med-high heat. Saute onions, leek and garlic.

Add broccoli and vegetable broth, bringing to a boil then simmering for 2 min until broccoli is tender.

Remove from heat, and stir in 2 cups of chopped kale, letting cool for about 15 min before pureeing vegetables in a blender (I used my Vitamix for this one!)

While waiting for the veggies to cool, you can make your kale chips! Bake them in the preheated oven for 7-8 min, checking and flipping them every couple minutes so they don't burn. When they're crispy, remove them from the oven and set aside to top your soup with.

Heat remaining 2 tbsp coconut oil in the large pot on med-high heat. Whisk in flour, then gradually add your non-dairy milk, salt and pepper, stirring til thickened. Stir in vegetable puree and serve with pumpkin seeds and kale chips!
Now gimme, like, 10 bowls of this Vegan Broccoli Soup.