This Easy Instant Pot Pepper Steak is a delicious 30-minute dinner idea that is packed with bell peppers, onions, sirloin steak and a tasty soy-pepper sauce!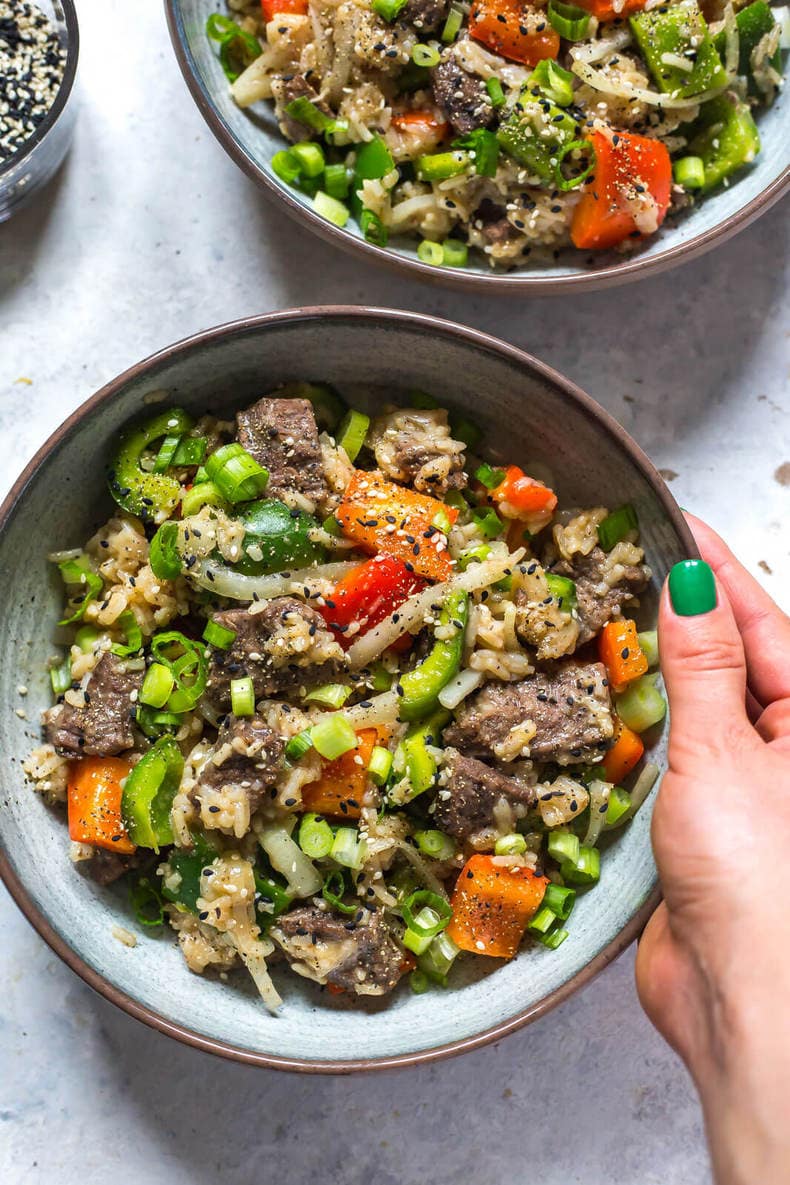 Ready for a quick 30 minute dinner idea that tastes just like takeout?
You're going to love this Easy Instant Pot Pepper Steak! (or maybe this Teriyaki Chicken Bowl is more up your alley!)
There's a reason I keep making so many Instant Pot recipes and that's because they are ready SO FAST, and with minimal prep. I am actually the slowest cooker, mostly because I love the process. There's nothing more that I love than putting on a TV show at the end of a crazy day and prepping all my veggies, taking my time to get it all right.
If you're looking to get serious about meal prepping and make more delicious bowls like these, you HAVE to sign up for my free 5-day challenge below! It's going to get you on the right path and give you the structure you need to meal prep like a pro!
But I don't necessarily love the hands on active cooking time – there are so many variables and it's easy to undercook one thing while overcooking another. But the Instant Pot helps with that!
I've been relying more on Instant Pot dump meals like this Pepper Steak because it's one of those things where you just dump in all the ingredients then set it and forget it. This Sweet and Sour Pineapple Chicken is another prime example of a dump and set it and forget it type of recipe too if you're looking for more!
You don't even need to have all the ingredients ready at once if you're in a rush either. It's usually just a matter of dumping in all the sauces, garlic, meat, water and rice. Make sure the rice sits on top of all the other ingredients and that you use jasmine rice, not any other type, to avoid any issues and then cook on high pressure.
In the 10-15 minutes that everything is pre-heating, go ahead and chop up your onions, bell peppers and get your sesame seeds ready so that all you need to do is stir those last ingredients in.
Dinner in a flash!
How to Make Pepper Steak
If you like it really spicy, you may actually want to double the pepper in this recipe. That's really the secret kick and what makes it so delicious. The amount that's listed in the recipe below won't make your pepper steak really spicy so don't worry about it being too spicy, but if you can handle a bit more like I can then I highly recommend you double the amount.
I remember when I was a kid my mom used to make pepper steak and I HATED IT. I don't know what it was that she was making but I've since come to the conclusion that it wasn't really pepper steak after all. It was these tough beef strips soaked in gravy and cooked with mushrooms and soggy green peppers then poured overtop of mashed potatoes.
Maybe that's more of a pub version but I've always like the Asian-inspired pepper steak with a super easy soy sauce base with lots of black pepper, some honey and rice vinegar. It's a super simple sauce and it sure does beat all the gravy!
One thing you've probably noticed is that I usually do a base of protein and starch to cook on high pressure, and I almost always wait until the end to add the veggies. I'm telling you, there's nothing more that I hate than overcooked, soggy bell peppers. So nasty!
I would rather my veggies get tender from sitting in the hot rice and sauce – you will most likely have a tiny bit of sauce leftover once this is all done cooking, but I promise once you stir in the onions and bell peppers you'll get the perfect balance of a saucy rice, and meat that actually ends up staying pretty tender.
I'm a big fan of using the quick release method mostly because I want to eat and I want to eat FAST, but I've heard that any type of meat or poultry stays more tender when you wait for the pressure to naturally release (about 20-25 minutes). It's up to you what you decide to do if you're concerned about overcooked steak.
But in my experience, the meat stays pretty tender here because of all the liquid.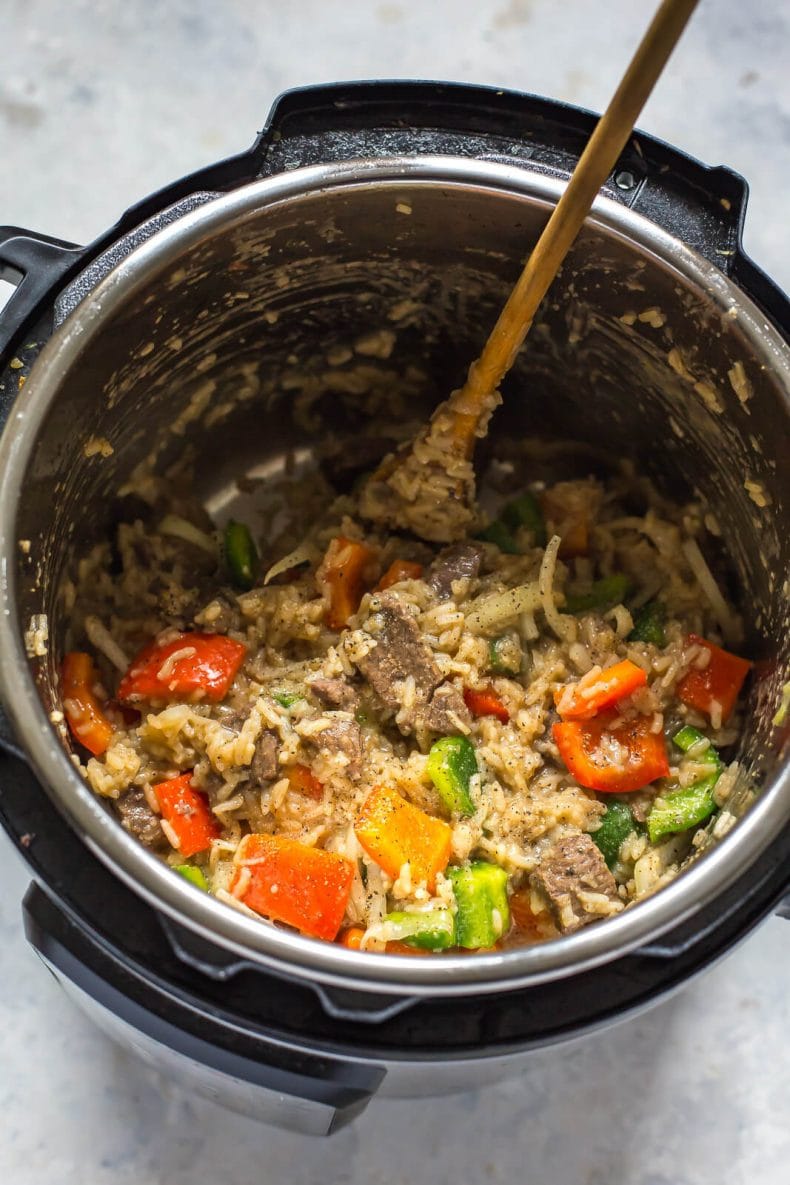 Will you be making this Easy Instant Pot Pepper Steak? 
It's such an easy copy cat takeout recipe and is made with mostly pantry staples so you have no excuse not to get dinner on the table in a hurry!
If you try any of my recipes be sure to let me know on Instagram, Twitter, Facebook or in the comments – I'd love to see what you come up with!
The Instant Pot DUO Plus 60
 is the version I use in this recipe.
Grab some Glass meal prep bowls for your leftovers.
And of course I get my grass-fed beef from Butcher Box – for a limited time get two free ribeyes and bacon when you sign up!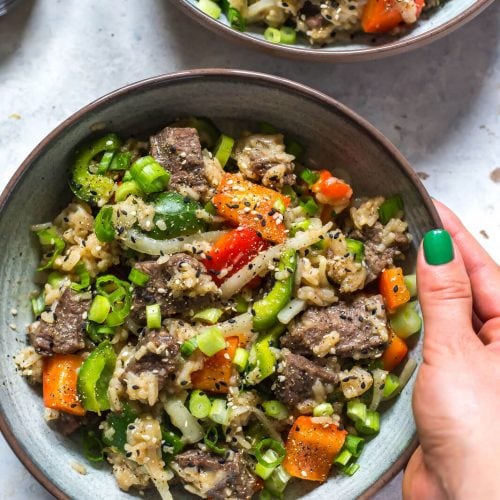 Easy Instant Pot Pepper Steak
This Easy Instant Pot Pepper Steak is a delicious 30-minute dinner idea that is packed with bell peppers, onions, sirloin steak and a tasty soy-pepper sauce!
Print
Pin
Rate
Ingredients
1

tbsp

olive oil

12

oz

sirloin steak, sliced into 1/2 inch pieces

1/4

cup

low sodium soy sauce

2

tbsp

honey

1

tbsp

rice vinegar

4

cloves

garlic minced

1/2

tsp

black pepper (double it if you want it spicy!)

2

cups

water

1

cup

jasmine rice

1

yellow onion, thinly sliced

1

green pepper, chopped

1

red pepper, chopped

3

green onions, chopped

1

tbsp

Sesame seeds for garnish
Instructions
Add olive oil, steak, soy sauce, honey, rice vinegar, garlic, black pepper, water and jasmine rice to the Instant Pot in that order.

Cook on high pressure for 3 minutes. Instant Pot will take 10-15 minutes to preheat then the 3 minutes on high pressure. Do a quick release of the pressure. When safe to do so, open lid and stir in onions and peppers, then replace lid and let sit 5-10 minutes until veggies soften.

Serve garnished with green onion and sesame seeds. Enjoy!
Nutrition
Calories:
466
kcal
|
Carbohydrates:
55
g
|
Protein:
25
g
|
Fat:
17
g
|
Saturated Fat:
5
g
|
Polyunsaturated Fat:
2
g
|
Monounsaturated Fat:
8
g
|
Cholesterol:
40
mg
|
Sodium:
620
mg
|
Potassium:
530
mg
|
Fiber:
3
g
|
Sugar:
8
g
|
Vitamin A:
1350
IU
|
Vitamin C:
90.8
mg
|
Calcium:
60
mg
|
Iron:
2.3
mg