These Mini Grilled Cheese Sandwich Appetizers are made with aged cheddar and sliced baguette – they're as cute as they are delicious!
Ingredients and substitutions
French baguette – most thick breads, such as ficelle or sourdough, will work well, too. Try to use a bread that will cut into smaller sized slices.
Aged cheddar cheese – sharp grated cheeses, like gruyere, aged gouda or Colbert, are great substitute options.
Butter – you can also use vegan butter, margarine, olive oil, ghee or any other substitute to butter-up your pan.
Mushrooms – any mushrooms can work or you can use another sautéed topping like caramelized onions, spinach or bacon.
Sundried tomatoes – semi-dried tomatoes or baked grape or cherry tomatoes would also be delicious or you can use roasted red peppers for a similar texture.
Arugula –dandelion greens, baby spinach, mixed salad greens, watercress, baby kale and Swiss chard would all work too.
Fresh basil – fresh oregano, thyme and cilantro are also great substitutes.
Red chili flakes – cayenne pepper, chili powder, dried paprika or hot sauce can be used in place of chili flakes. If you're not a fan of spice, leave this out altogether.
Salt & pepper – to taste.
How to make grilled cheese sandwich appetizers
Prepare your toppings.
Slice the baguette.
Add the toppings to the baguette.
Season the sandwich.
Pan fry until crispy.
Serve with your favourite dipping sauces and enjoy!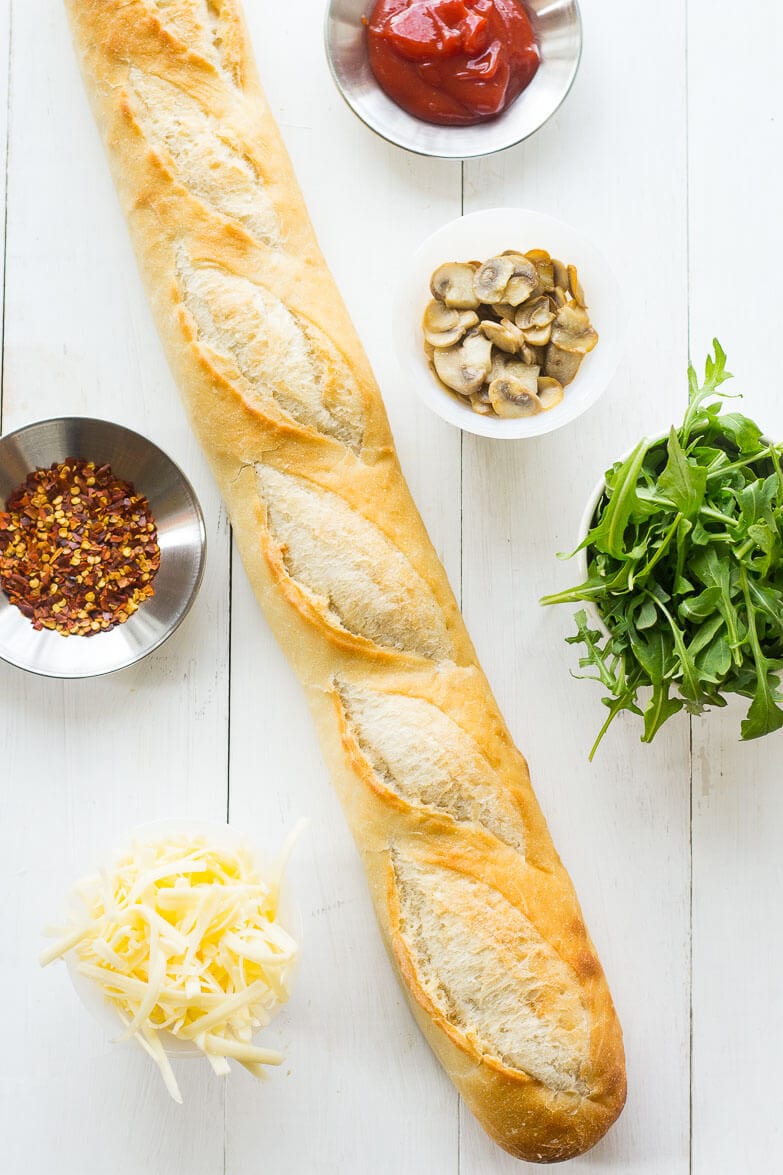 Skip the Ads and Get Right to the Recipes!
ZERO ADS on over 600 recipes!
Weekly Meal Plans, Grocery & Prep Lists
Bonus eBooks
Components to prep ahead
To start preparing ahead of time, you can slice your bread into thin pieces then wrap them up in plastic wrap or in Ziploc bags to keep them fresh. Make sure to store them in a dry and room temperature area!
As for your toppings, you can grate your cheese(s) and slice any other chosen toppings. These can all be refrigerated in airtight containers until your sandwiches are ready to be assembled and cooked.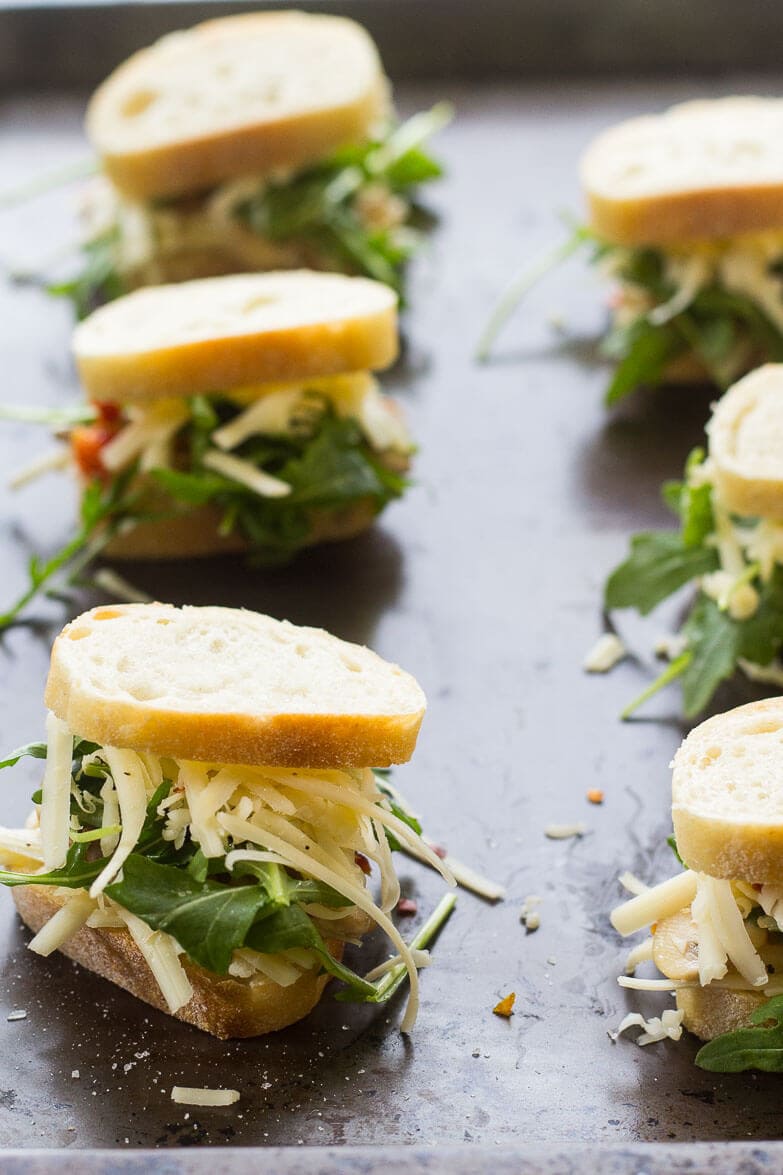 Frequently Asked Questions
What toppings are good on grilled cheese?
Just about anything you want is good on grilled cheese! For these mini sandwiches I went with mushrooms, sundried tomatoes, arugula and aged cheddar but feel free to mix it up to include whatever you're craving or have on hand. Try making your sandwich with Swiss and ham, pesto and mozzarella or roasted veggies!
How many calories are in this recipe?
This recipe has 201 calories per mini sandwich. If you want to cut down on the calorie count a bit, use a vegan butter substitute that has less calories.
What cheeses are best?
Pretty much any type of cheese will work for our sandwich, but some won't be as gooey as others. Some of my favourites include aged cheddar, gruyere, aged gouda, Colbert, Swiss, mozzarella and Monterey Jack.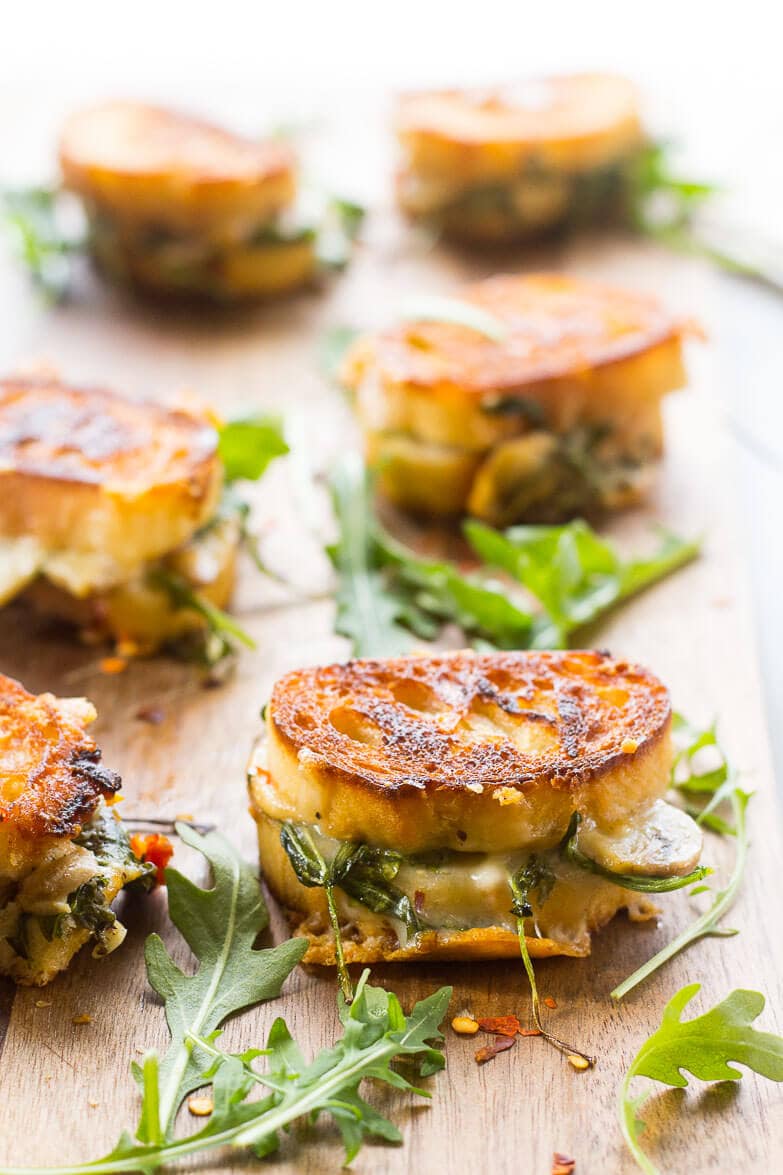 Storing and reheating
To store your cooked sandwiches, allow them to cool completely then wrap them in plastic wrap or keep them sealed in a Ziploc bag or an airtight container. They'll last in the fridge for about 2 to 3 days before they start to get soggy. To reheat them, you can fry them again in a pan with some butter or a butter substitute of your choice.
You can also reheat them by using a panini press or a toaster oven. Your sandwich is ready when the bread becomes a bit crispier and the cheese inside is warm and gooey! I'd recommend staying away from the microwave route. Microwaving the grilled cheese will most likely cause the bread to become soggy – and let's face it, no one wants that.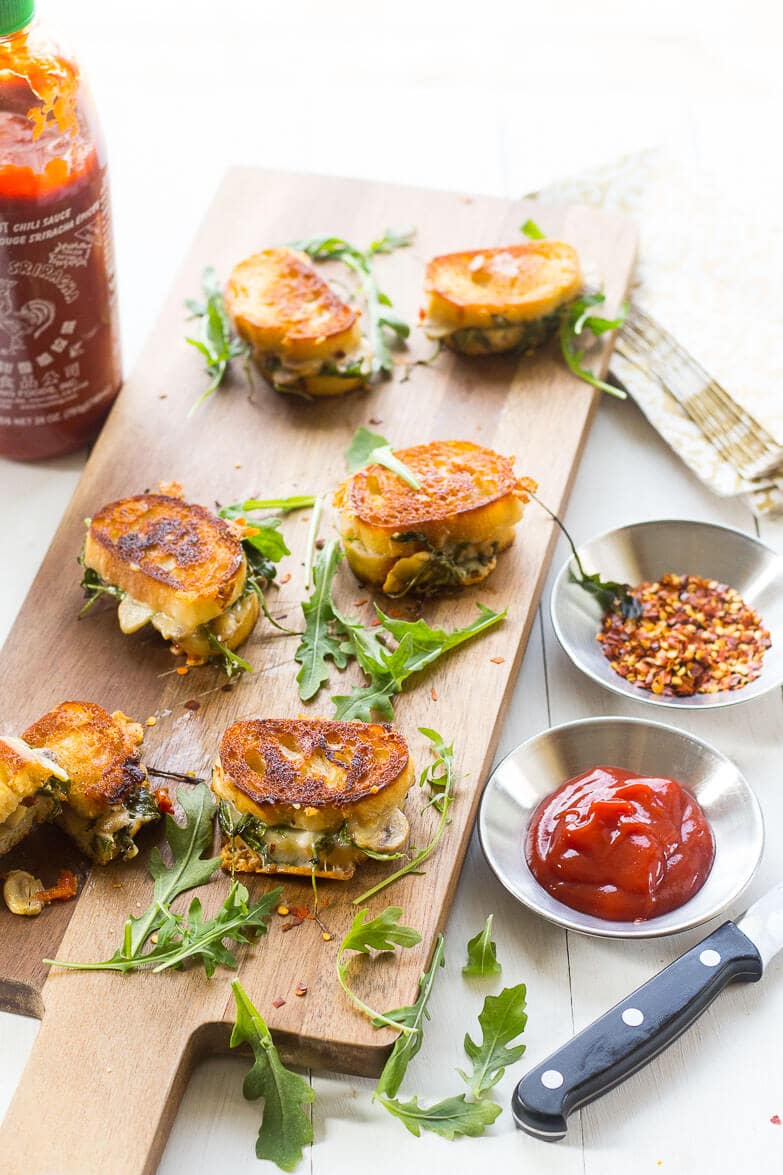 Wanna Learn How To Meal Prep?
My meal planning service, Dinner Prep Pro, removes the guesswork and helps you get dinner on the table in 15-20 minutes each night. My meal prep checklists only take 1 hour each week!
More handheld appetizers
Meal prep tools for this recipe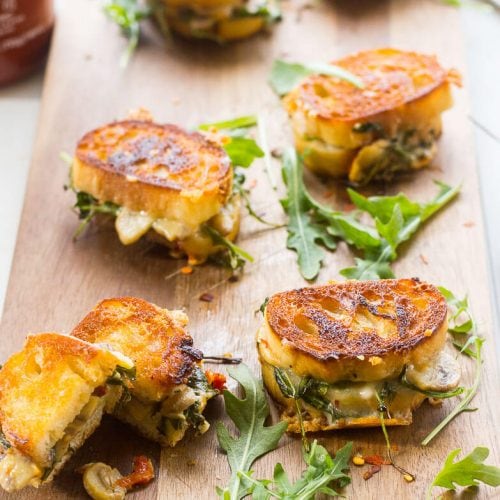 Mini Grilled Cheese Sandwich Appetizers
These Mini Grilled Cheese Sandwich Appetizers are made with aged cheddar and sliced baguette – they're as cute as they are delicious!
Print
Pin
Rate
Click Here to Remove Ads
Servings: 10 sandwiches
Calories: 201kcal
Ingredients
1 long French baguette thinly sliced
1 cup grated aged cheddar cheese
3-4 tbsp butter
Toppings:
Sliced sautéed mushrooms
Sliced sundried tomatoes
Arugula
leaves fresh basil optional
red chili flakes
Cracked black pepper and sea salt
Instructions
Saute mushrooms in a frying pan over med-high heat. Slice sundried tomatoes and prepare other toppings in the meantime.

Slice baguette relatively thinly, then top with cheese, mushrooms, sundried tomatoes, arugula and fresh basil. Sprinkle with a pinch of red chili flakes, some black pepper and sea salt.

Cook sandwiches in batches of 5 or 6 in a large frying pan on med-low heat, melting 1-2 tbsp of butter at a time.

Cook for about 3-4 minutes each side until cheese starts to melt and the outside of the sandwiches gets crispy.

Serve immediately with ketchup and sriracha – enjoy!
Notes
Nutritional info is per mini sandwich. Switch up the toppings to include whatever you're craving and try out different flavour combinations. Wrap the sandwiches in plastic wrap or keep them in an airtight container for 2-3 days. Reheat in a pan with some butter, in a panini press or in a toaster oven.
Nutrition
Calories: 201kcal (10%)Carbohydrates: 13g (4%)Protein: 10g (20%)Fat: 12g (18%)Saturated Fat: 6g (38%)Polyunsaturated Fat: 1gMonounsaturated Fat: 4gTrans Fat: 1gCholesterol: 36mg (12%)Sodium: 535mg (23%)Potassium: 115mg (3%)Fiber: 1g (4%)Sugar: 1g (1%)Vitamin A: 266IU (5%)Vitamin C: 1mg (1%)Calcium: 107mg (11%)Iron: 1mg (6%)
Join The Girl on Bloor Premium!
ZERO ADS!
Weekly Meal Prep Checklists
Bonus eBooks