These 30-Minute Irish Nachos are such a fun way to celebrate St. Patrick's Day, and they're made super easy thanks to frozen potato wedges!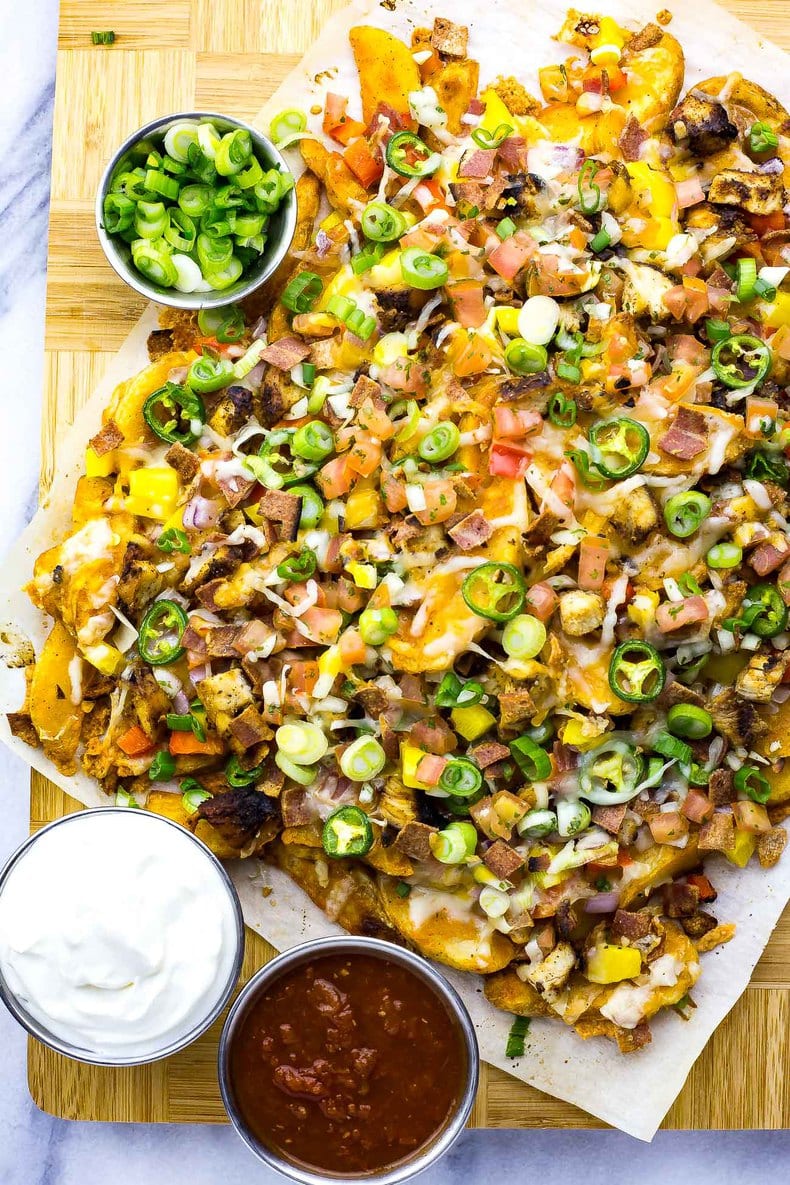 I'm pretty sure my dad is convinced that my family is Irish.
He has this big family coat of arms or whatever you wanna call it perched up against a wall on top of a bookshelf in the basement that he sometimes points to when we come down to grab beers, telling us that we've got Irish blood in our family.
According to my grandma, we are a mix of Spanish and Welsh on her side, with no sign of Irish anywhere to be found.
But that doesn't stop the excuses to drink a few too many green beers on St. Patrick's Day every year, because my dad is convinced beyond a shadow of a doubt that we're Irish…
If you're like my family and wanting to get into the Irish spirit this St Patrick's Day, then these Irish Nachos are for you!
If you're looking to eat healthier, you HAVE to sign up for my free 5-day challenge below!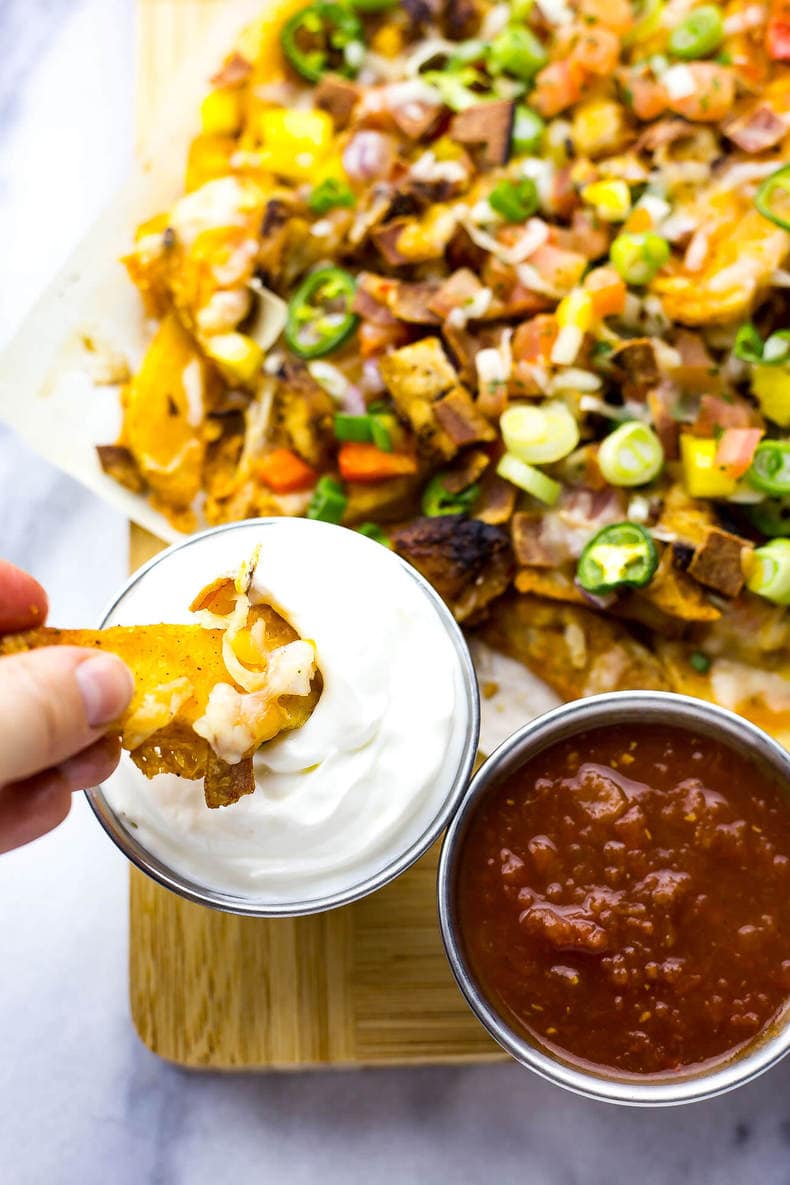 How to Make Irish Nachos
The best part of St Patrick's Day for me is the green beer part, and the excuse to eat delicious finger food and other St Patrick's Day recipes.
I mean, if you've ever been to college or university then you know what the celebrating tends to look like. Lots of late night festivities and lots of unhealthy food for the most part.
Now that I'm older and out of school my focus is on eating healthy but still trying to enjoy my fave types of food with a twist and these Irish Nachos definitely fit the bill!
They come together super quickly thanks to the help of some frozen potato wedges, but you can definitely also make homemade wedges from sliced up potatoes or even slice up some smaller potatoes into thin little rounds. They should bake up nice and quick in the oven and then you've got a healthier base for nachos than just chips.
If you're looking to make these Irish Nachos even healthier, swap out potatoes for sweet potatoes or make loaded sweet potato fries. SO GOOD!
Irish Nacho Toppings
Lucky for you I have made these potato nachos as healthy, delicious and wholesome as possible – potato wedges are definitely a lot lower in calories than regular tortilla chips and are certainly more filling.
Here are some ideas for topping your Irish Nachos:
BBQ chicken
Cheddar and mozzarella cheese
Red and yellow pepper
Turkey bacon (again, lower in calories…you can use real bacon if you want)
Scallions
Tomatoes
Jalapenos
Red onions
Cilantro
Salsa
Sour cream
Bonus points: guacamole!
Potato Nacho Assembly
To put together your Irish Nachos, you'll want to bake the potato wedges first and get your toppings ready in the meantime. Fry up the bacon, BBQ your chicken (or use leftover chicken or rotisserie chicken) and chop up your veggies.
I'll loaded the cooked wedges up with cheese, bell peppers and onions and bake another 5-10 minutes until your cheese is just melted and the veggies have had a chance to become tender.
I'll usually leave the tomatoes, salsa and scallions out until after everything has done cooking then do a final round of adding them as toppings then it's time to dig in!!!
Easy right?!
Will you be whipping up a giant batch of these 30-Minute Irish Potato Nachos on St Patrick's Day?
You seriously need to get this 30-minute fun family-style dinner in your life soon, because I'm all about healthy pub food for dinner. Sure beats your regular old meatloaf and mashed potatoes. Plus, you're really getting in a ton of veggies with these nachos, and I'm all for adding extra nutritional value to dinner.
Even if that involves nachos.
So go on, I'm giving you permission to have these for dinner. If you try any of my recipes be sure to let me know on Instagram, Twitter, Facebook or in the comments – I'd love to see what you create!
Meal prep tools
Meal prep challenge
If you'd like some more help with meal planning, then you'll love my free 5-day meal prep challenge! Sign up for free below:
20-Minute Irish Potato Nachos
These 30-Minute Irish Nachos are such a fun way to celebrate St. Patrick's Day, and they're made super easy thanks to frozen potato wedges!
Print
Pin
Rate
Ingredients
1

bag

frozen potato wegdes

1

chicken breast, BBQ'd and chopped (or leftover chicken)

1

jalapeno, thinly sliced

2

scallions, thinly sliced

1/2

red pepper, diced

1

small red onion, diced

1/2

yellow pepper, diced

1

cup

Shredded cheddar and mozzarella cheese

Sour cream to serve

Salsa to serve

4

slices

turkey bacon, crumbled

2

plum tomatoes, deseeded and chopped

Cilantro, chopped to serve
Instructions
Preheat oven to 425 and cook potato wedges according to package directions. Meanwhile, cook raw diced chicken in a frying pan or BBQ the whole breast flipping halfway through. Cut into 1/2-inch pieces once cooled if BBQ-ing. Or just make it easy on yourself and use leftover chicken!

While wedges are baking, prepare rest of toppings and fry turkey bacon. Remove wedges from oven and top with cheese, chicken and all other toppings except for tomatoes. Bake another 5-10 minutes until cheese is melted.

Remove from oven and top with tomatoes, sour cream, salsa, cilantro, etc. Serve immediately and enjoy!
Nutrition
Calories:
487
kcal
|
Carbohydrates:
37
g
|
Protein:
31
g
|
Fat:
25
g
|
Saturated Fat:
12
g
|
Polyunsaturated Fat:
2
g
|
Monounsaturated Fat:
5
g
|
Cholesterol:
85
mg
|
Sodium:
909
mg
|
Potassium:
816
mg
|
Fiber:
4
g
|
Sugar:
3
g
|
Vitamin A:
1350
IU
|
Vitamin C:
123.8
mg
|
Calcium:
400
mg
|
Iron:
1.8
mg