30-Minute Irish Potato Nachos
These 30-Minute Irish Potato Nachos are such a fun way to celebrate St. Patrick's Day, and a healthier, veggie-filled way to enjoy your favourite pub grub!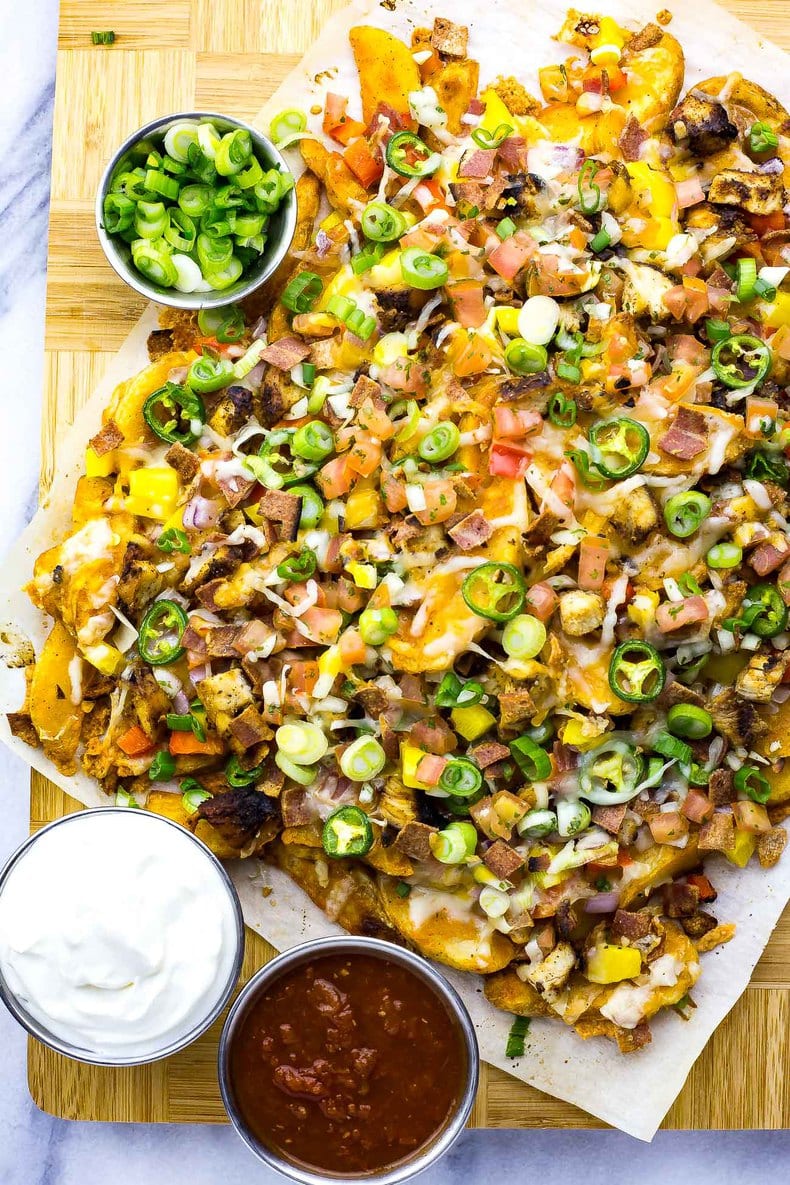 I'm pretty sure my dad is convinced that my family is Irish.
He has this big family crest or coat or arms or whatever you wanna call it perched up against a wall on top of a bookshelf in the basement that he sometimes points to when we come down to grab beers, telling us that we've got Irish blood in our family.
MY LATEST VIDEOS
According to my grandma, we are a mix of Spanish and Welsh on her side, with no sign of Irish anywhere to be found.
But that doesn't stop the fun and games and excuses to drink a few too many green beers on St. Patrick's Day every year, because my dad is convinced beyond a shadow of a doubt that we're Irish.?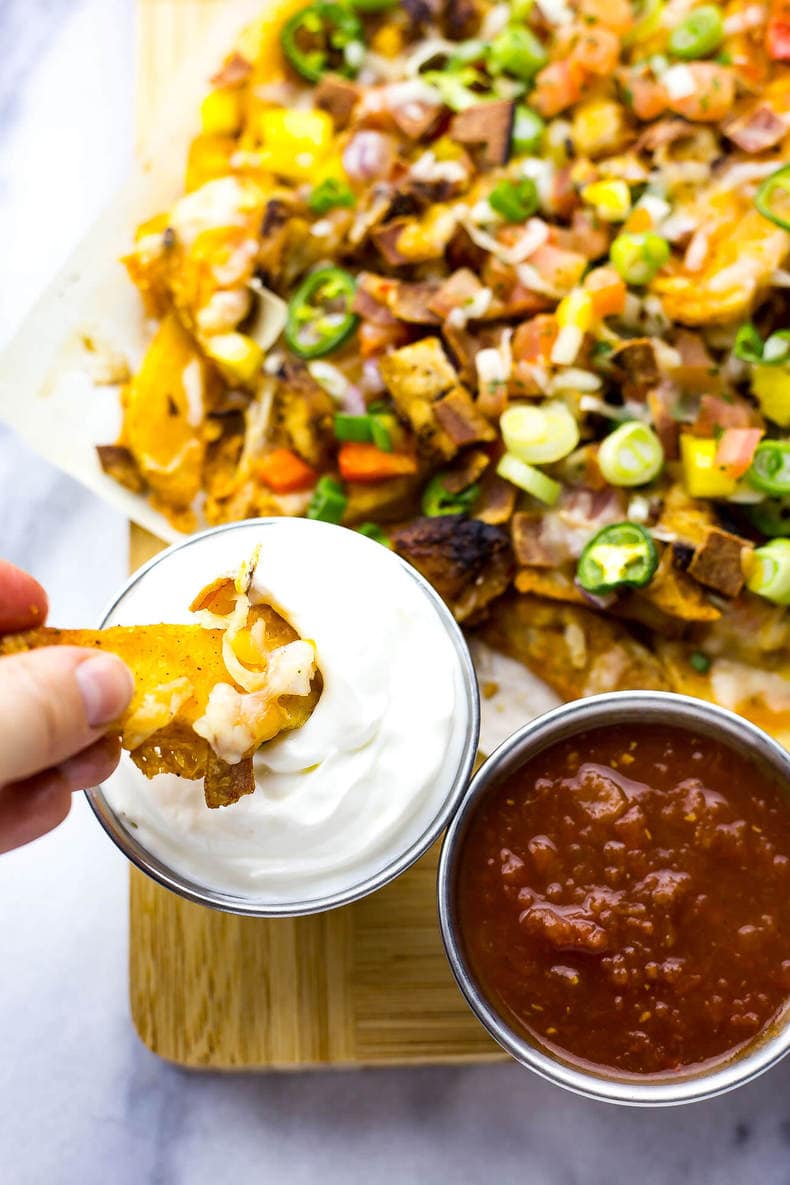 Me on the other hand? I just like the green beer part, and the excuse to eat delicious, grease-covered finger food and appetizers on St. Paddy's Day. I mean, if you've ever been to college or university then you know what a celebration it tends to be, and ironically this is the time of year when we're getting into midterms and final papers and students are still looking for ways to get out of class and forget about all of their responsibilities one last time.
Like the good little student I was, I never felt I had time to partake in all the festivities and I somewhat kinda wish I had made more of an effort to go and hang with my friends and get plastered while I still could. Now I'm working full time it's certainly not as fun or as easy to just dip out of work and get drunk in a pub wearing an all-green costume with your girlfriends in the middle of the day.
Maybe I'm just getting old and I'm too tired for all that?
How depressing is being an adult these days though??
Last year I actually celebrated St. Patrick's Day for the first time in years by going out to dinner with my parents at a local pub, right after I first moved home to pay off the ole' student debts. Oh yeah, this story is about to get realllllllll exciting ;). I was getting a bit exhausted around this time last year because I was juggling this blog full time and still completing a full-time Master's degree, and I had just moved all my shit home and so I had to dig through boxes of my stuff constantly to look for photography props as I continued to get unpacked.
It was seriously a hot mess.
You know when you're just working away at something and nothing ever seems to fall together and you just wanna give up? Well, all of that changed temporarily on St. Patrick's Day last year. I had commuted about two hours to Toronto that day for class (oh yeah, just a casual four-hour round trip commute for a couple 2-hour classes…damn you mandatory attendance marks!!!) and I was feeling exhausted. With a grumbling stomach I sat on a rush hour train home cramped into my seat, and got into the car – both parents had come to pick me up as if I was a little kid again getting off the school bus.
"Happy St. Paddy's Day!!!" my dad exclaimed with a goofy grin. "Let's go out to eat!"
At this point I was relieved I didn't have to think about dinner and grateful to have someone to do something fun with this year, even if it was just my parents. Even though I was in school full time, I didn't really have final papers, more like weekly assignments, so I could finally justify doing something on St. Patrick's Day for once. So we head over to this local pub in Hamilton, and on the menu is none other than Irish Potato Nachos. Somehow, I had never had these before. And once I did? My mind was blown!
So here we are, a long-winded, somewhat pointless story later (???), I have finally explained the history and inspiration behind this masterpiece I call Irish Potato Nachos. Yes, I have cheated and used frozen potato wedges. And no, I do not care. Because really, who has the time or motivation after about 6 green beers (for the record, *I* am not telling you to drink that much) to slice all the potatoes from scratch and rinse them to remove the starch, then dry them and toss them in oil and bake them and all that?
I mean, technically you could do that. And I encourage you, actually. It would make these Irish Potato Nachos much healthier, like the homemade oven fries I made in my Chili Cheese Fries recipe. Homemade anything is usually much more awesome.
But as I've been saying this whole time, March is a busy month. Even though most of us are no longer in school full-time with midterms, we still have our adult deadlines to meet. Tax season is coming up, we're starting to plan summer vacations and time off this year and we're basically busy everyday trying to survive work and life and all that comes with it. (Mostly I'm just dreading tax season…LOL)
So, why not just say screw it and have finger food for dinner???
Lucky for you I have made it as healthy, delicious and wholesome as possible – potato wedges are definitely a lot lower in calories than regular tortilla chips and are certainly more filling.
Now just add the following on top and you've got a hearty 30-minute meal:
BBQ chicken
Cheddar and mozzarella cheese
Red and yellow pepper
Turkey bacon (again, lower cal…you can use real bacon if you want)
Scallions
Tomatoes
Jalapenos
Red onions
Cilantro
Salsa
Sour cream
Bonus points: guacamole!
Will you be whipping up a giant batch of these 30-Minute Irish Potato Nachos on St Patrick's Day?
You seriously need to get this 30-minute fun family-style dinner in your life soon, because I'm all about healthy pub food for dinner. Sure beats your regular old meatloaf and mashed potatoes. Plus, you're really getting in a ton of veggies with these nachos, and I'm all for adding extra nutritional value to dinner.
Even if that involves nachos.
So go on, I'm giving you permission to have these for dinner. If you try any of my recipes be sure to let me know on Instagram, Twitter, Facebook or in the comments – I'd love to see what you create!?
Print Recipe
20-Minute Irish Potato Nachos
Yum
These 30-Minute Irish Potato Nachos are such a fun way to celebrate St. Patrick's Day, and a healthier, veggie-filled way to enjoy your favourite pub grub!
| | |
| --- | --- |
| | |
Preheat oven to 425 and cook potato wedges according to package directions. Meanwhile, cook raw diced chicken in a frying pan or BBQ the whole breast flipping halfway through. Cut into 1/2-inch pieces once cooled if BBQ-ing.

While wedges are baking, prepare rest of toppings and fry turkey bacon. Remove wedges from oven and top with cheese, chicken and all other toppings except for tomatoes.

Remove from oven and top with tomatoes, sour cream, salsa, cilantro, etc. Serve immediately and enjoy!