This Edible Cookie Dough is made with nutrient-packed ingredients like oat flour, maple syrup and coconut oil. It's the perfect sweet treat!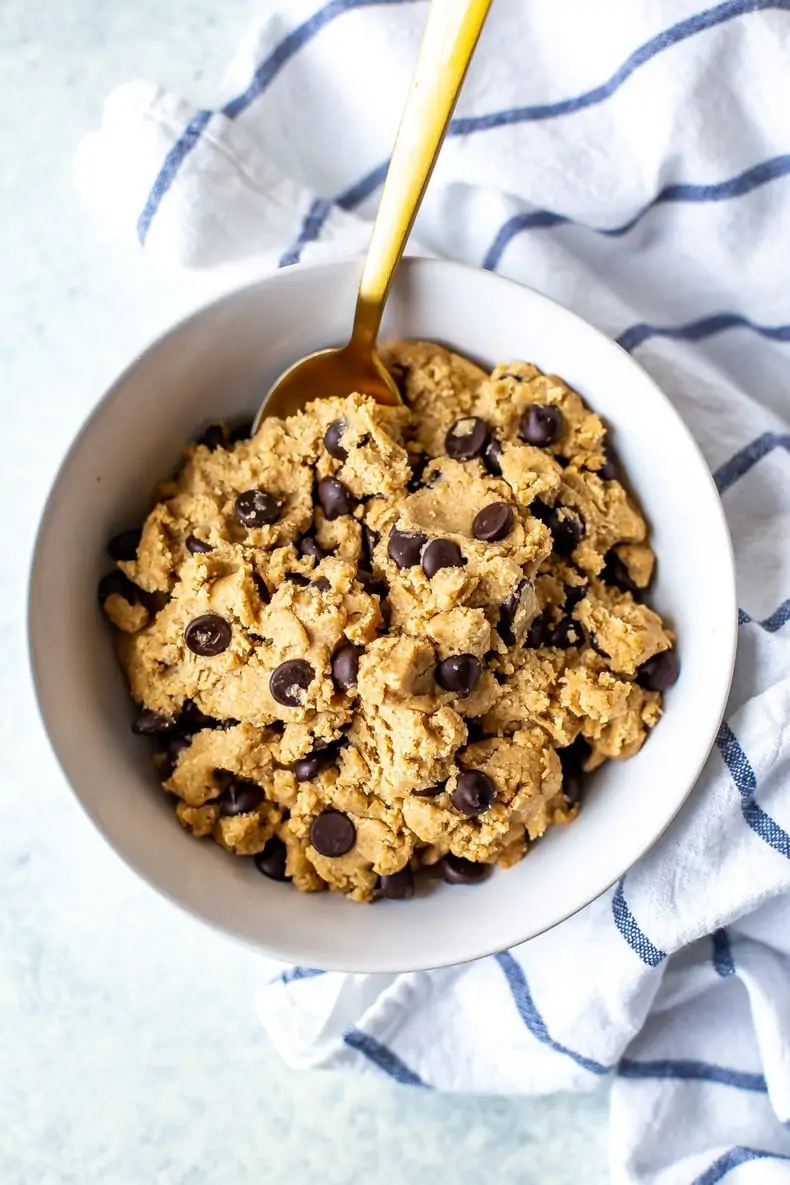 Ingredients and substitutions
Coconut oil – try another neutral oil like avocado oil.
Maple syrup – honey would make a good substitute but has a slightly different flavour.
Vanilla – almond extract would also work here.
Oat flour – use two cups of rolled oats to make your own oat flour.
Dark chocolate chips – you can use regular chocolate chips but it will increase the calorie count.
Salt – to taste.
Skip the Ads and Get Right to the Recipes!
ZERO ADS on over 600 recipes!
Weekly Meal Plans, Grocery & Prep Lists
Bonus eBooks
How to make edible cookie dough
Mix together the coconut oil, maple syrup, vanilla and salt.
Make your oat flour.
Combine the oat flour with the wet ingredients.
Chill the dough for up to 20 minutes.
Add in the chocolate chips.
Grab a spoon and dig in!
Different filling ideas
Feel free to change up this recipe to your liking – here are some ideas below:
Swap out semi-sweet chips for cinnamon or white chocolate ones.
Add a couple of tablespoons of your favourite nut butter, such as peanut, almond or cashew.
Use honey instead of maple syrup but watch out – it'll be sticky!
Add orange zest (great with semi-sweet chocolate) or lemon zest (good with white chocolate).
Chop up a few tablespoons of walnuts, pecans, pistachios, or cashews.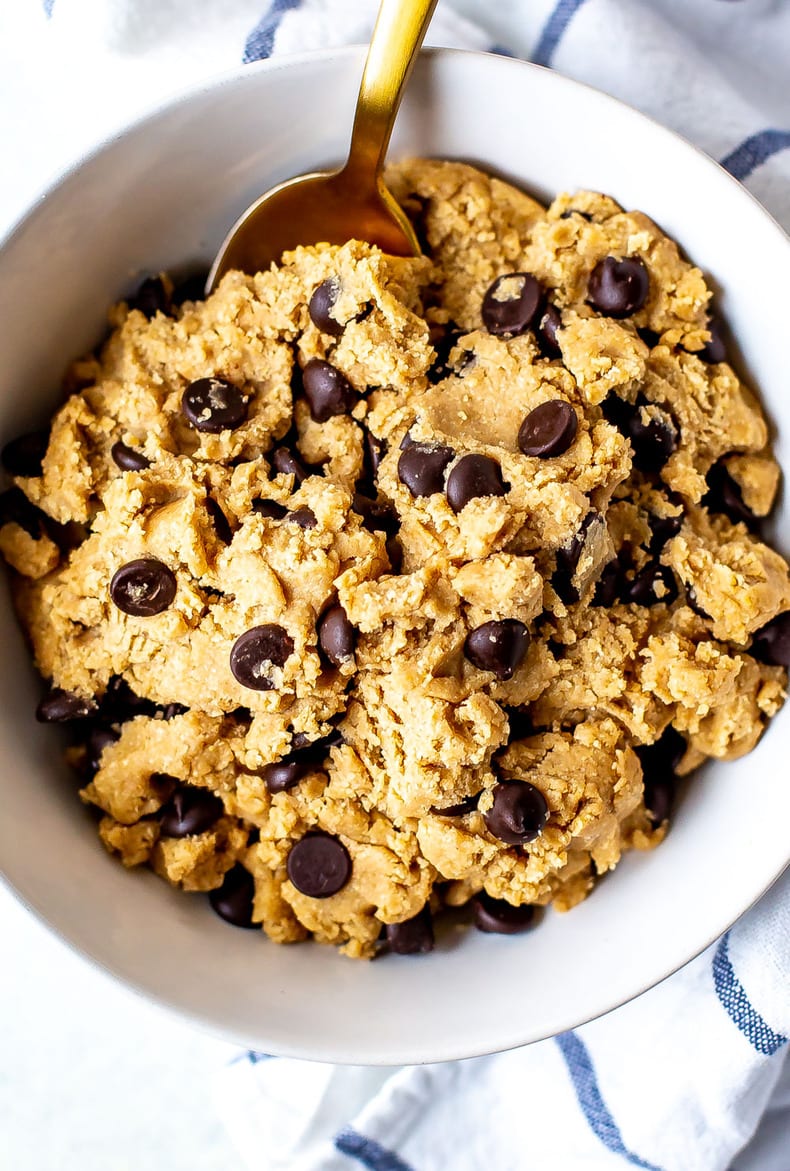 Frequently Asked Questions
Is it safe to eat edible cooking dough?
Yes! This is because you won't use any raw eggs in this recipe. The reason many people worry about the safety of eating raw cookie dough is because raw eggs carry bacteria. The danger of this involves the possibility of getting salmonella from eating raw eggs.
Can I bake them into cookies?
This recipe can't be baked since it doesn't have eggs, baking powder or baking soda. If you put it in the oven, the dough balls won't stay together since there's not enough structure. If you really want to make a great cookie, try my Almond Butter Cookies, which are flourless and have just three ingredients, if you're not counting the baking soda.
How do I make this recipe for one person?
Sometimes it's just you and the bowl of dough. And that's okay. If this is the case, and you want to make less, I would reduce this recipe by half. Form the balls as usual, eat a few and store the rest for later.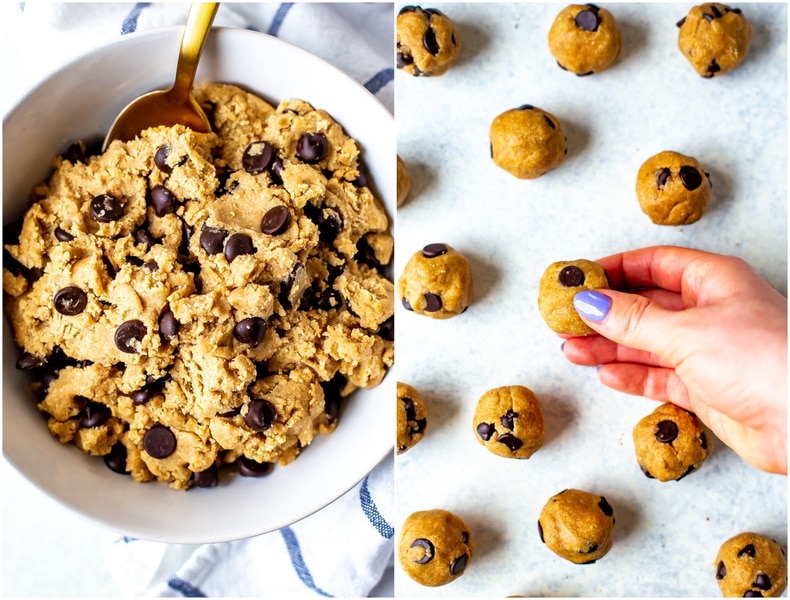 Storing healthy cookie dough
Once you've formed the dough into balls, keep them in a covered container for up to three days. You don't need to refrigerate them, but I would recommend doing so if you want them to last longer (they'll last up to 30 days in the fridge).
However, if you do let them sit out on the counter, they'll stay a little softer at room temperature so they are easier to eat. In months where it's hotter and your kitchen gets warmer, I would recommend storing in the fridge to ensure the chocolate chips don't melt.
Freezing this recipe
You can freeze cookie dough of any kind. I'd recommend scooping the dough out into individual balls, putting them on a rimmed baking sheet lined with wax paper, and then freezing them.
Once they're frozen, transfer to a freezer-safe Ziploc bag and freeze for up to 3 months. Defrost in the refrigerator or at room temperature in the bag when you want to eat them.
TIP: If the dough seems a little dry or crumbly when it comes to room temperature, feel free to add a tablespoon of milk—any kind will do—to add a little moisture.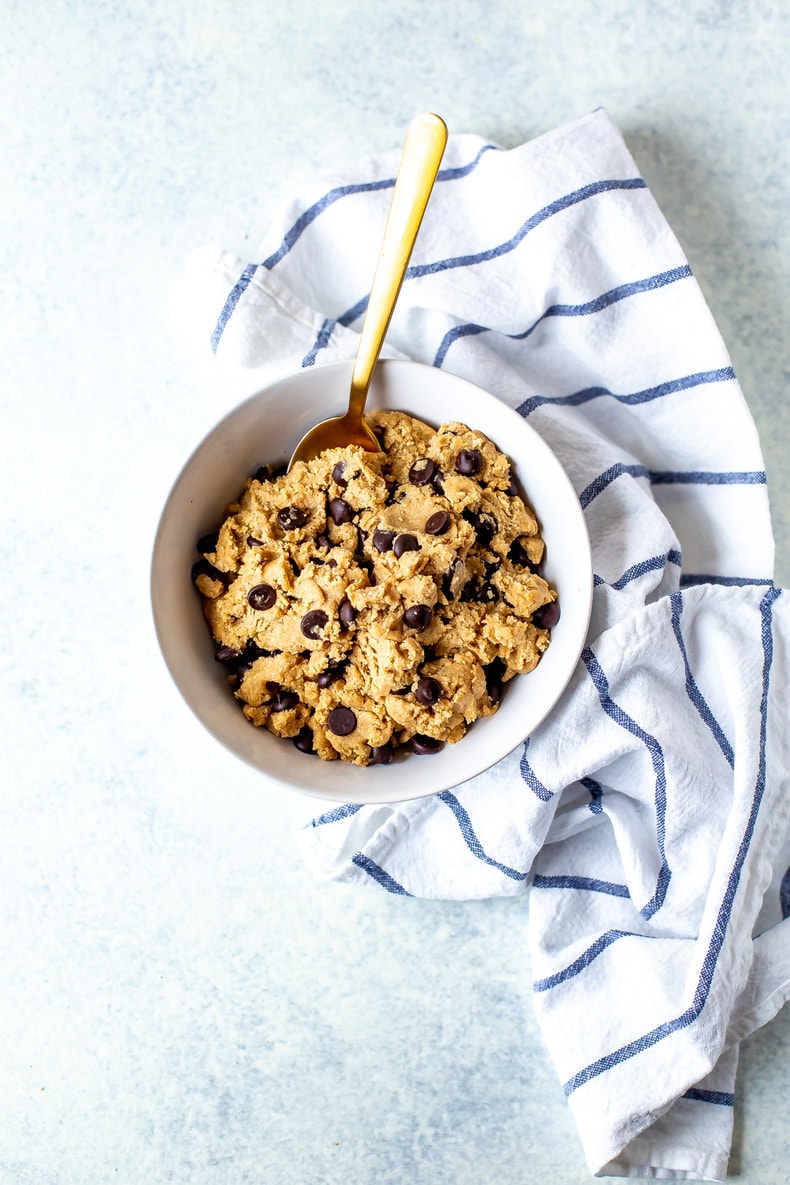 Wanna Learn How To Meal Prep?
My meal planning service, Dinner Prep Pro, removes the guesswork and helps you get dinner on the table in 15-20 minutes each night. My meal prep checklists only take 1 hour each week!
More healthy dessert recipes
Meal prep tools for this recipe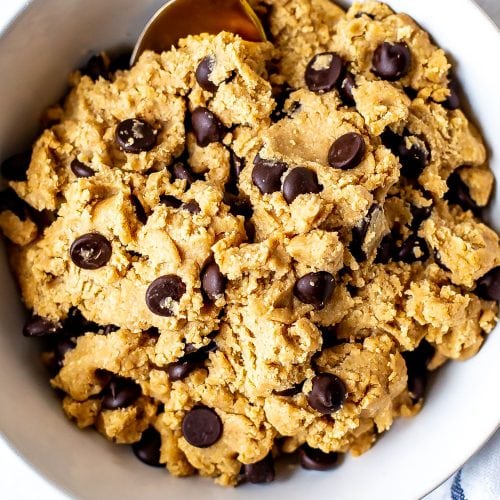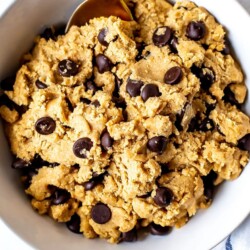 Healthy Edible Cookie Dough
This Edible Cookie Dough is made with nutrient-packed ingredients like oat flour, maple syrup and coconut oil. It's the perfect sweet treat!
Print
Pin
Rate
Click Here to Remove Ads
Servings: 20 servings
Calories: 109kcal
Ingredients
1/4 cup coconut oil, melted
1/4 cup maple syrup
1 tbsp vanilla
1/4 tsp salt
2 cups oat flour (can use 2 cups rolled oats to make oat flour)
1/2 cup dark chocolate chips
Instructions
Mix coconut oil, maple syrup, vanilla and salt together in a large bowl.

If making your own oat flour, blend up 2 cups of rolled oats in a blender or food processor to make 2 cups of oat flour. Alternatively you can use store bought oat flour.

Mix oat flour with wet ingredients, adding it in batches and mixing well. Chill dough in the fridge for 20 minutes.

Mix in chocolate chips, then serve and enjoy!
Video
Notes
NOTE: I rolled the cookie dough into 20 balls – the nutritional info listed is per ball of dough. Try using different filling options like nut butter, walnuts or pecans. Make your own oat flour by blending two cups of rolled oats in a blender or food processor. Add the oat flour to the wet ingredients in batches. Store any leftovers in the fridge for up to 30 days or in a covered container at room temperature for up to 3 days. Freeze the cookie dough for up to 3 months then defrost in the fridge or at room temperature.
Nutrition
Calories: 109kcal (5%)Carbohydrates: 13g (4%)Protein: 2g (4%)Fat: 5g (8%)Saturated Fat: 4g (25%)Cholesterol: 1mgSodium: 37mg (2%)Potassium: 82mg (2%)Fiber: 1g (4%)Sugar: 4g (4%)Calcium: 25mg (3%)Iron: 1mg (6%)
Join The Girl on Bloor Premium!
ZERO ADS!
Weekly Meal Prep Checklists
Bonus eBooks