These Nut-Free Funfetti Protein Cookies are a healthier version of your favourite dessert with no flour – all you need are five ingredients!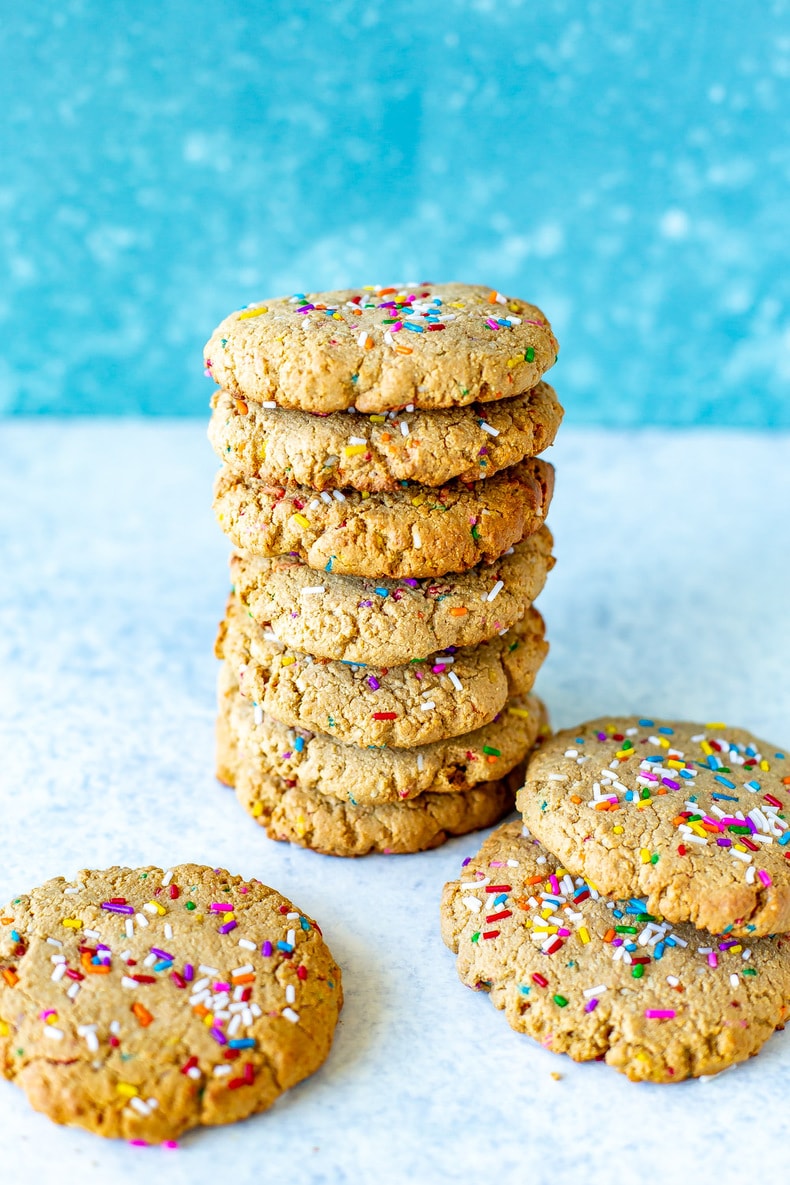 Ingredients and substitutions
Sunflower butter – feel free to use creamy peanut butter if you'd prefer. Almond butter might work as well, but the thicker and coarser texture may result in dry cookies.
Protein powder – use your favourite variety, as long as it doesn't have added flavour.
Honey – replace with an equal amount of pure maple syrup or agave syrup.
Egg – swap out for ¼ cup of unsweetened applesauce or 1 tablespoon of ground flaxseed mixed with 3 tablespoons of warm water.
Sprinkles – sprinkle sanding sugar on top or leave these out altogether.
Skip the Ads and Get Right to the Recipes!
ZERO ADS on over 600 recipes!
Weekly Meal Plans, Grocery & Prep Lists
Bonus eBooks
How to make protein cookies
Assemble all your ingredients.
Mix everything together.
Form the dough into balls.
Flatten the cookies.
Bake for 8-10 minutes.
Pull out of the oven and dig in!
What type of protein powder is best?
While whey is the most common and beneficial type of protein, there are a variety of other animal and plant sources and they come in different forms.
Concentrates: This is the most common and contains a high amount of protein compared to carbs and fats.
Isolates: An extra filtering process removes fat and carbs for a higher concentration of protein.
Hydrolysates: Heat is used to break the bonds between the amino acids, which means your body will absorb the protein faster.
Choosing a powder will depend on the health benefits you are looking for, as well as any dietary allergies or concerns. Whey concentrates will meet the needs of most people, but other forms may work better for building muscle or reducing appetite. Plant-based options are great for meat-free diets and contain more fibre, which keeps your digestive system healthy and helps you feel full longer.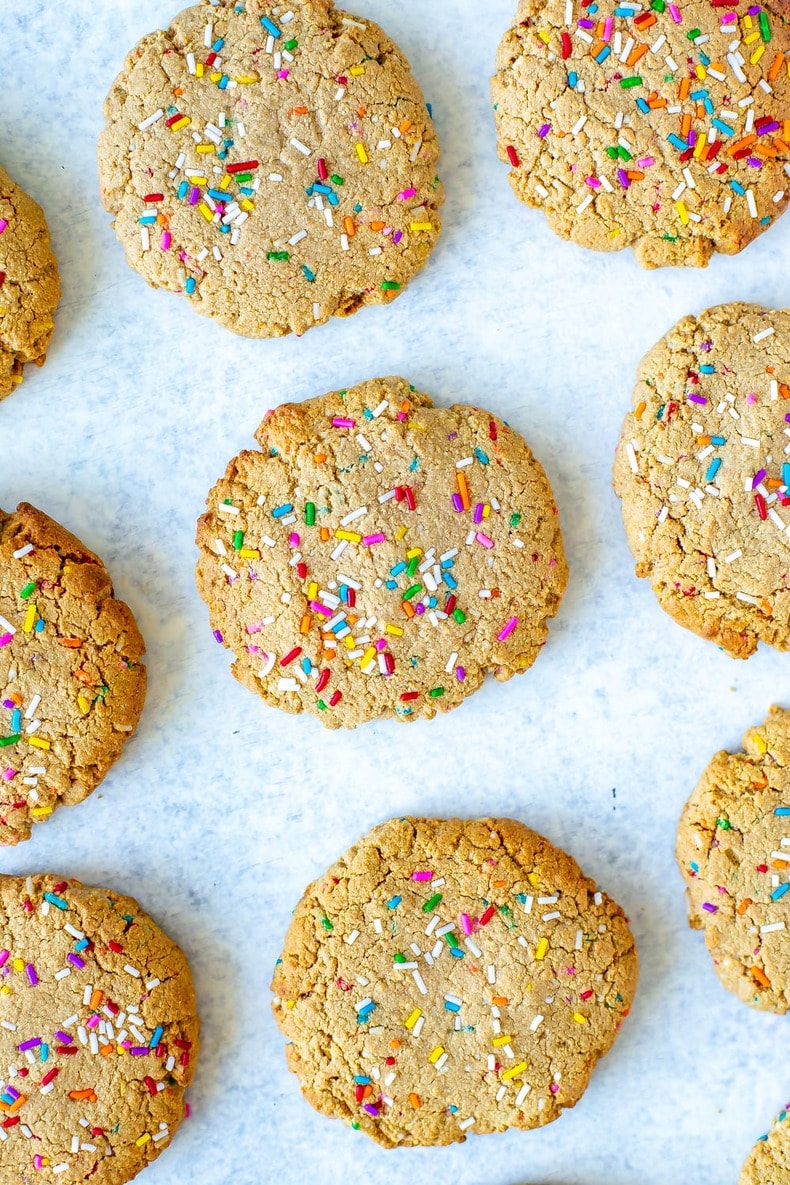 Frequently Asked Questions
Are protein cookies healthy?
Absolutely! First, sunflower butter contains less saturated fat than most peanut butter and it's higher in vitamin E. It's also a great alternative for those with nut allergies. Honey is a natural sweetener that contains antioxidants that promote heart health and is better for you than more refined sugars. And whey protein contains all the essential amino acids to promote overall health. Not only is it great for building muscles, but it can reduce inflammation, lower blood pressure and contribute to a healthy digestive system.
Can I use protein powder in cookies?
Definitely! I recommend using a whey protein but you can use whatever protein powder you prefer – just make sure it doesn't have any kind of flavouring, as it'll mess with the taste of the cookies.
Are they good for weight loss?
These cookies are certainly better for weight loss than eating regular cookies that are full of fat, sugar and salt, but your weight loss journey depends on your overall diet and exercise plan.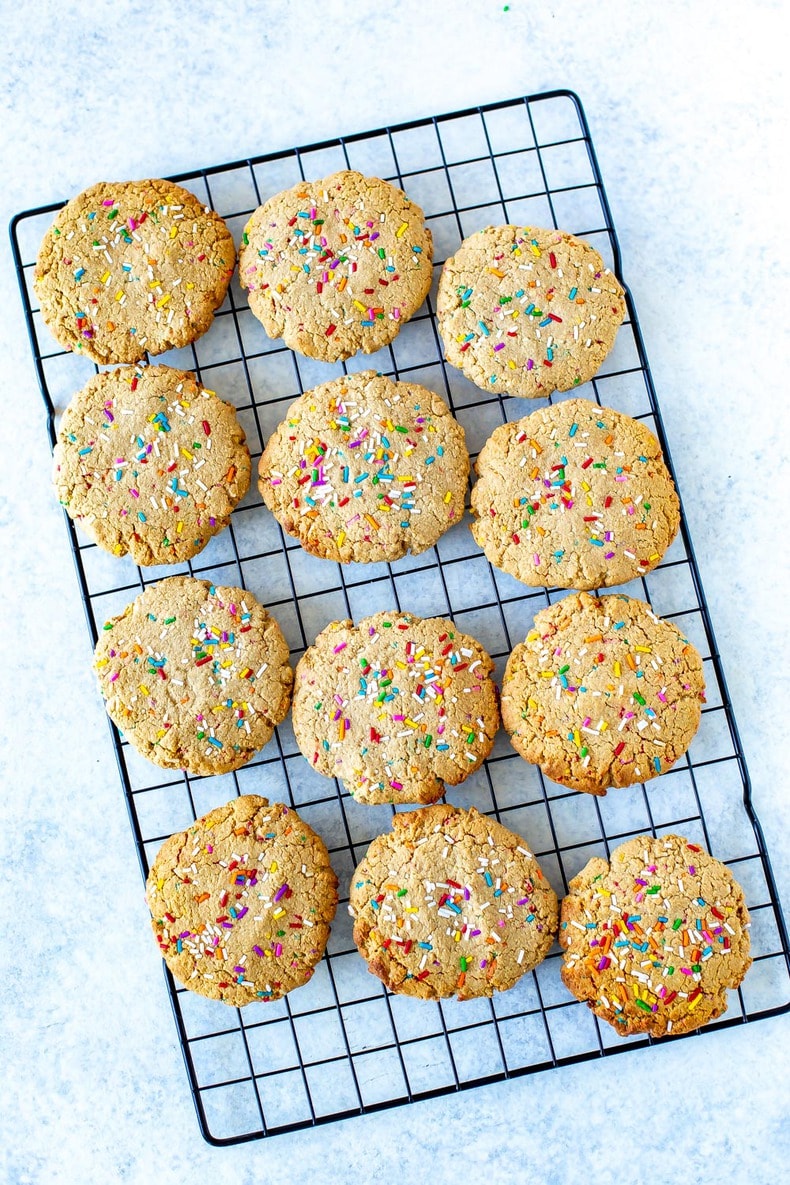 Storing these cookies
Keep these cookies in an airtight container at room temperature for up to 2 weeks. If you're making a larger batch, store them in the refrigerator to extend their shelf life.
Freezing this recipe
Freezing baked cookies
Place the baked cookies in a large freezer-safe storage bag and store them in the freezer for up to 6 months. You could also use a sturdier container and add parchment or wax paper between each layer.
Let one or two cookies warm up on the counter at room temperature as needed, or thaw the entire bag in the refrigerator.
Freezing the dough
Form the dough into a log or flattened disc and wrap it tightly with plastic wrap. Then, wrap it in another layer of foil or place it inside a freezer-safe Ziploc bag. You can store it in the freezer for up to 12 months! When you're ready to make your cookies, thaw the dough in the refrigerator then slice the dough log into rounds or tear off portions and roll them into balls before baking.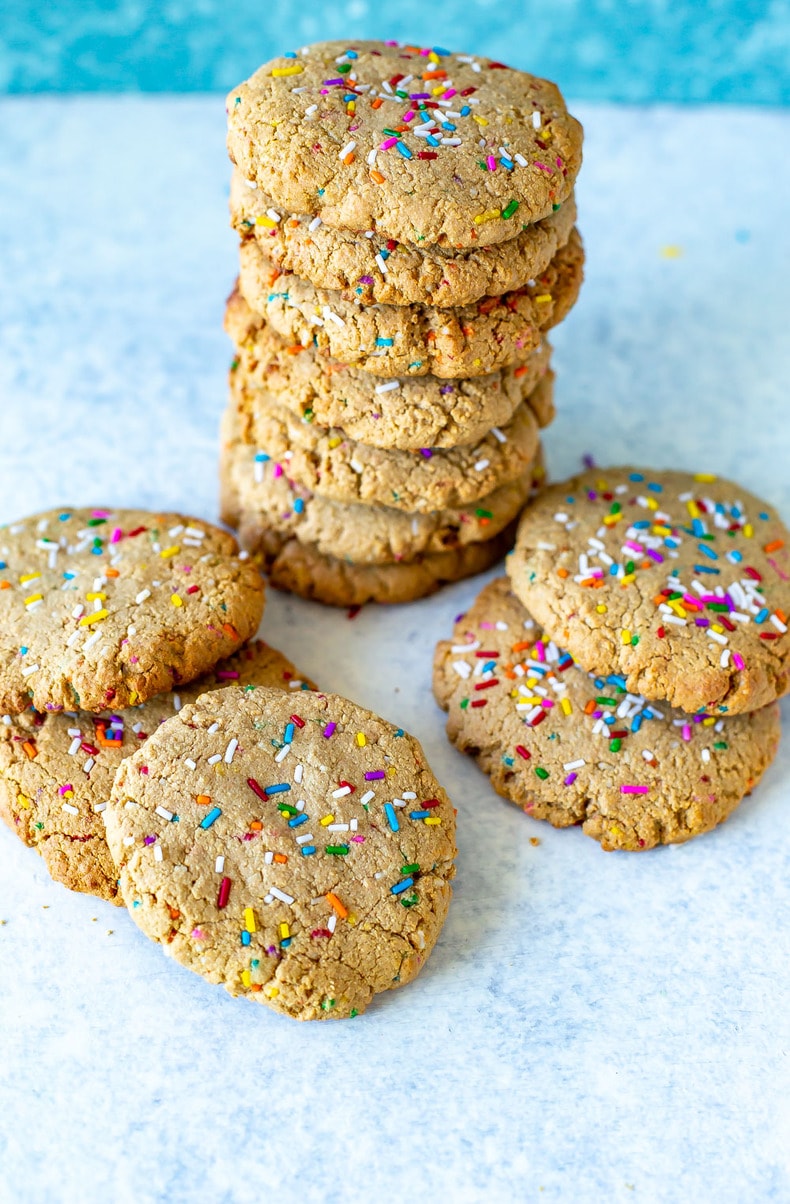 Wanna Learn How To Meal Prep?
My meal planning service, Dinner Prep Pro, removes the guesswork and helps you get dinner on the table in 15-20 minutes each night. My meal prep checklists only take 1 hour each week!
More protein powder recipes
Meal prep tools for this recipe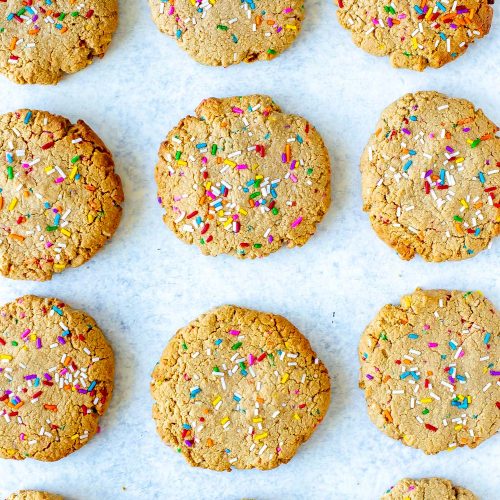 Nut-Free Funfetti Protein Cookies
These Nut-Free Funfetti Protein Cookies are a healthier version of your favourite dessert with no flour – all you need are five ingredients!
Print
Pin
Rate
Click Here to Remove Ads
Servings: 12 cookies
Calories: 201kcal
Ingredients
1 cup sunflower butter
1 cup whey protein powder
1/4 cup honey
1 egg
1/4 tsp baking soda
1/4 cup sprinkles
Instructions
Preheat oven to 350 F. In a large bowl, mix all ingredients together. Form into 2-inch balls, then press down on a parchment-lined baking sheet until 1-inch thick. There should be 12 cookies on the sheet pan when finished. You can sprinkle some extra sprinkles overtop before baking if desired.

Bake cookies for 8-10 minutes, watching closely at the 8 minute mark and removing them from the oven when the edges are golden brown.

Let cool on the sheet pan for 2-3 minutes, then transfer them to a wire rack for 5 minutes or so. Serve and enjoy!
Video
Notes
Use your favourite kind of flavour-free protein powder. Press down on each dough ball until it's about 1-inch thick. Store these cookies at room temperature for up to 2 weeks in an airtight container. Freeze the dough for up to 12 months. Thaw in the fridge then bake as normal.
Nutrition
Calories: 201kcal (10%)Carbohydrates: 17g (6%)Protein: 11g (22%)Fat: 11g (17%)Saturated Fat: 2g (13%)Cholesterol: 32mg (11%)Sodium: 120mg (5%)Potassium: 61mg (2%)Sugar: 9g (10%)Vitamin A: 31IU (1%)Vitamin C: 1mg (1%)Calcium: 75mg (8%)Iron: 1mg (6%)
Join The Girl on Bloor Premium!
ZERO ADS!
Weekly Meal Prep Checklists
Bonus eBooks