This Chili's Santa Fe Burger is a perfect copycat, stacked with avocado, Monterey Jack, red onion, jalapenos, tomato, cilantro & spicy sauce.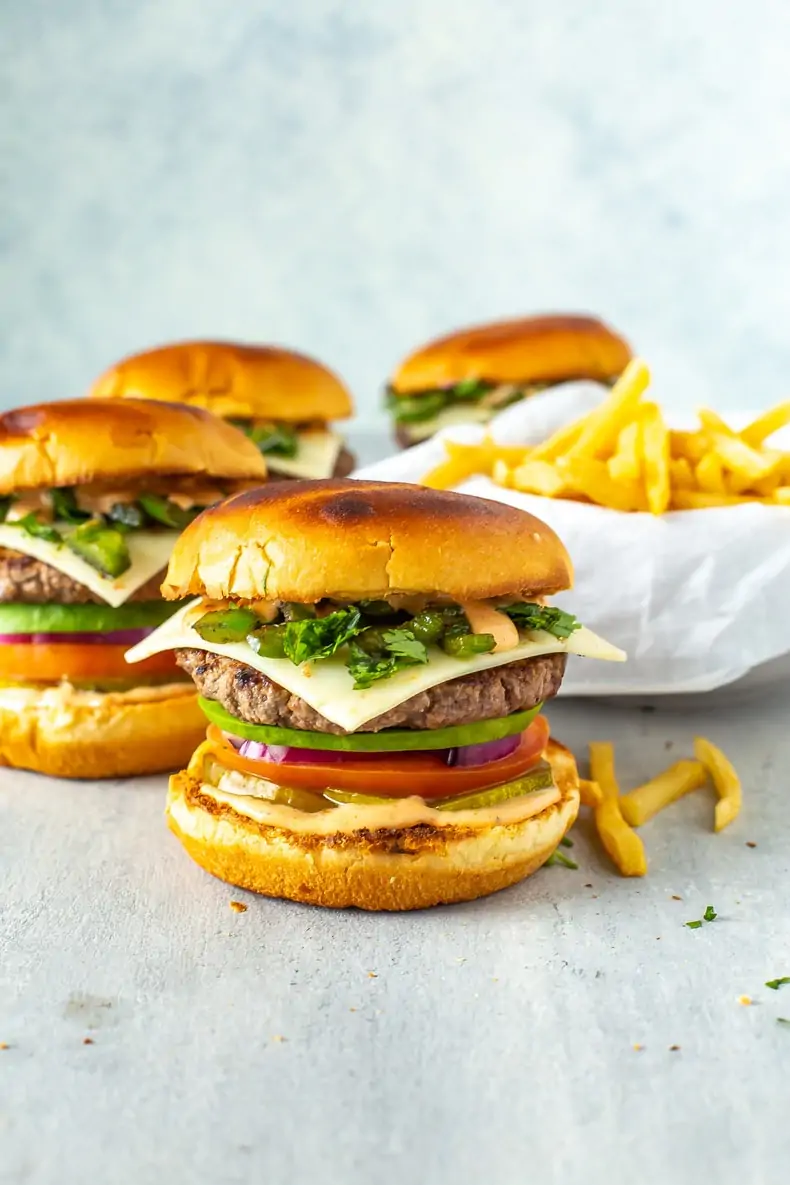 Ingredients and substitutions
Extra-lean ground beef – you could also try making this recipe with ground turkey, chicken or pork. For a vegetarian option, make black bean burgers.
Salt & pepper – to taste.
Jalapeno pepper – serrano peppers and poblano peppers would both work. For a milder option, use regular bell peppers.
Brioche burger buns – use any bun of your choice or even lettuce wraps to make this recipe low-carb.
Pickles – relish would also be good here.
Tomato – use any variety of your choice or leave the tomato off altogether if you're not a fan.
Red onion – white onion would also work but has a milder flavour.
Avocado – swap out for some guacamole instead.
Monterey Jack cheese – use another cheese of your choice like cheddar or Swiss.
Cilantro – leave this off altogether if you don't like cilantro.
Santa Fe sauce
Light mayo – you can use regular mayo, but it will increase the calorie count. Sour cream or Greek yogurt will work but will alter the flavour of the sauce.
Lime juice – freshly squeezed lime juice is best but bottled lime juice will work in a pinch.
Chili powder – make your own using a blend of paprika, cumin and cayenne.
Paprika – cayenne is the best substitute for paprika although it has more of a kick.
Onion powder – use garlic powder instead for a similar flavour.
Salt & pepper – to taste.
Skip the Ads and Get Right to the Recipes!
ZERO ADS on over 600 recipes!
Weekly Meal Plans, Grocery & Prep Lists
Bonus eBooks
How to make Chili's Santa Fe burger
Form the patties.
Fry for 2-3 minutes per side.
Sauté the jalapenos.
Make the Santa Fe sauce.
Toast the buns.
Assemble your burgers and dig in!

More topping ideas
There are plenty of ways to customize your burgers to give them your own special touch while keeping the Tex-Mex flavour. A few ideas include:
Guacamole
Roasted garlic
Sautéed onions and peppers
Battered fried onions
Frequently Asked Questions
What is a Santa Fe burger?
If you're not already familiar with Chili's restaurant, their menu items are mostly Tex-Mex appetizers, entrees and cocktails. This delicious and slightly spicy burger is named after Santa Fe, New Mexico – one of the cities where Tex-Mex and southwest flavours are the most popular! It's like your classic burger but with a Tex Mex twist including spicy seasonings and jalapeno peppers.
What is the sauce made of?
The Santa Fe sauce for this burger is similar to a spicy aioli. It's made with mayonnaise, lime juice, chili powder, onion powder and paprika for a punch of zesty flavour. You're going to want to add it to everything!
How many calories are in this recipe?
The Santa Fe Burger from Chili's has 920 calories per serving. My copycat version only has 519 calories per serving, so you're saving almost half the calories by making your burgers at home.
Storing and reheating
I'd recommend waiting to assemble your burgers fresh right before you eat them, since the assembled burgers won't store and reheat very well. You can store the patties and toppings separately in the fridge for 3 to 5 days.
When you're ready to reheat your burgers, there are a few different reheating methods you can try:
Oven: Arrange the burger patties in a single layer inside a shallow baking dish. Add a couple of tablespoons of water or beef broth to help prevent the meat from drying out. Cover the dish tightly with a layer of foil and reheat for 15 to 25 minutes at 350° Fahrenheit.
Stovetop: This is my favourite way to reheat cooked burgers and steak! Place the meat inside of a large Ziploc bag and be sure to seal it completely. Bring a large pot of water to a rolling boil. After that, immediately remove the pan from the heat. Allow the bag with the burgers to sit in the hot water for 5-10 minutes and they will be completely warmed through and perfectly juicy!
Grill: Place the cooked burgers on a preheated barbecue and spritz them with a little bit of water to keep them moist as they reheat.
Freezing the burger patties
To freeze the patties, stack them with a small piece of wax paper or parchment paper in between them. This makes it easier to separate the frozen patties.
Place the stack inside of a freezable container or Ziploc bag and freeze them for 3 to 4 months. Cook them directly from frozen on the grill or on the stovetop, then add on your fresh toppings and dig in.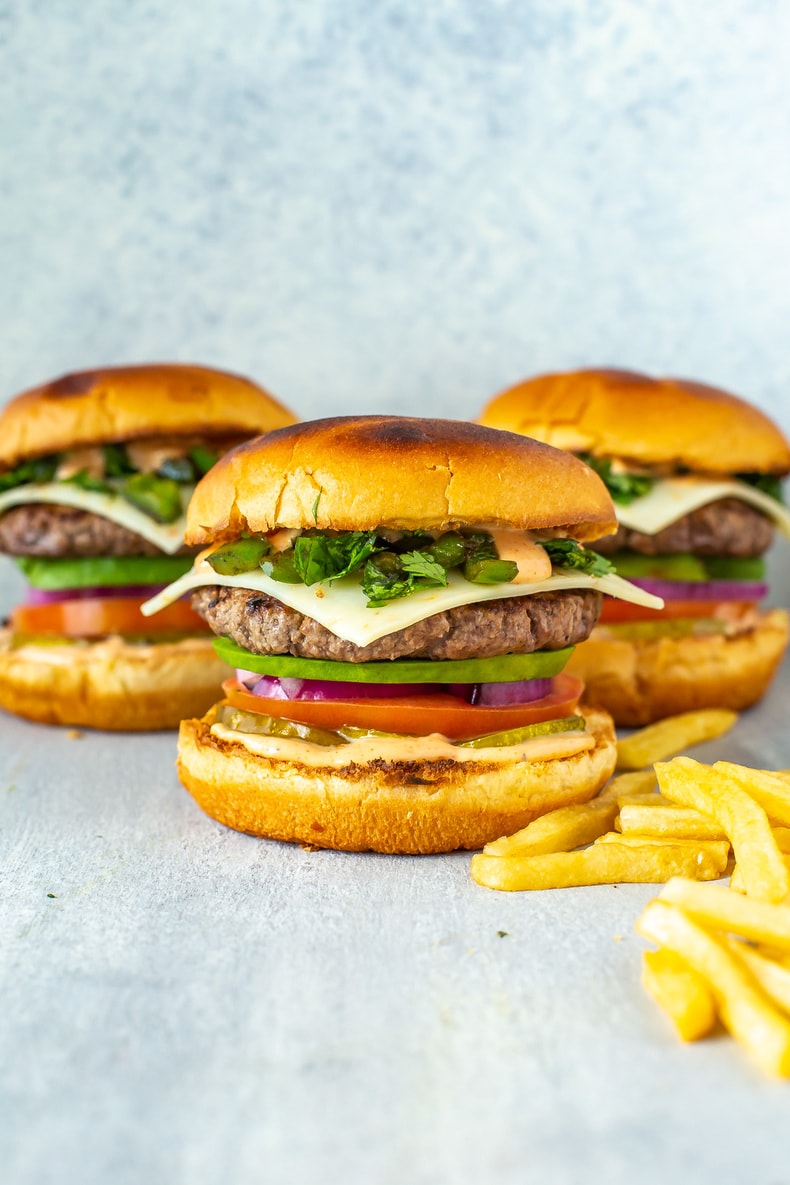 Wanna Learn How To Meal Prep?
My meal planning service, Dinner Prep Pro, removes the guesswork and helps you get dinner on the table in 15-20 minutes each night. My meal prep checklists only take 1 hour each week!
More Chili's copycat recipes
Meal prep tools for this recipe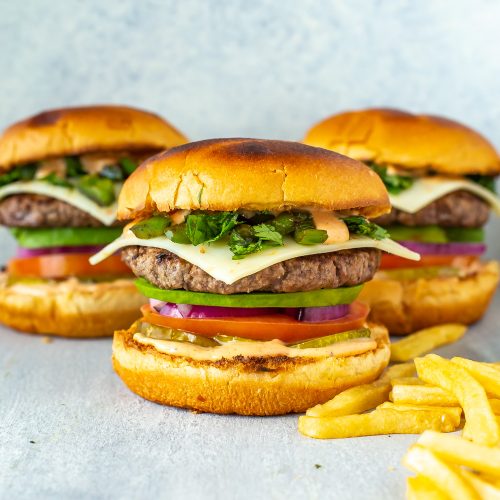 Chili's Santa Fe Burger
This Chili's Santa Fe Burger is a perfect copycat, stacked with avocado, Monterey Jack, red onion, jalapenos, tomato, cilantro & spicy sauce.
Print
Pin
Rate
Click Here to Remove Ads
Servings: 4 servings
Calories: 519kcal
Ingredients
1 lb extra-lean ground beef
salt & pepper, to taste
1 jalapeno pepper, deseeded and chopped
4 brioche burger buns
Pickles, to serve
1 tomato, sliced
1/2 red onion, sliced
1 avocado, sliced
4 slices monterey jack cheese
Cilantro, to serve
Santa Fe sauce
1/3 cup light mayo
1 tbsp lime juice
1 tbsp water
1/2 tsp chili powder
1/2 tsp paprika smoked paprika is preferred
1/2 tsp onion powder
salt & pepper, to taste
Instructions
Divide ground beef into 4 equal portions then form into patties. Season with salt & pepper, then fry in a large skillet over med-high heat for 2-3 minutes each side. Remove from heat and set aside.

Meanwhile, mix together ingredients for santa fe sauce.

When burger patties are finished, keep skillet on the heat and add jalapeno peppers, sauteing for 2 minutes until tender and charred. Remove from heat.

Toast burger buns lightly in a toaster or under a broiler for 1 minute or so.

Spoon santa fe sauce over bottom bun, then add pickles, slice of tomato, red onion and 2 avocado slices followed by burger patty, cheese slice, more santa fe sauce, some jalapenos and cilantro. Top with remaining burger bun then serve and enjoy!
Video
Notes
Try making these burgers with ground turkey, chicken or pork instead of ground beef. Add on extra toppings like guacamole, roasted garlic, sautéed peppers and battered fried onions. Store the patties and toppings separately in the fridge for 3-5 days. Reheat in the oven, in a pan on the stovetop or on the grill. Freeze the burger patties for 3-4 months then cook from frozen.
Nutrition
Calories: 519kcal (26%)Carbohydrates: 31g (10%)Protein: 37g (74%)Fat: 27g (42%)Saturated Fat: 10g (63%)Cholesterol: 98mg (33%)Sodium: 591mg (26%)Potassium: 806mg (23%)Fiber: 5g (21%)Sugar: 5g (6%)Vitamin A: 800IU (16%)Vitamin C: 12mg (15%)Calcium: 306mg (31%)Iron: 5mg (28%)
Join The Girl on Bloor Premium!
ZERO ADS!
Weekly Meal Prep Checklists
Bonus eBooks