These Yakisoba Noodles (made on the stove or in the Instant Pot) are a healthy 30-minute dinner filled with veggies in garlic-chili sauce!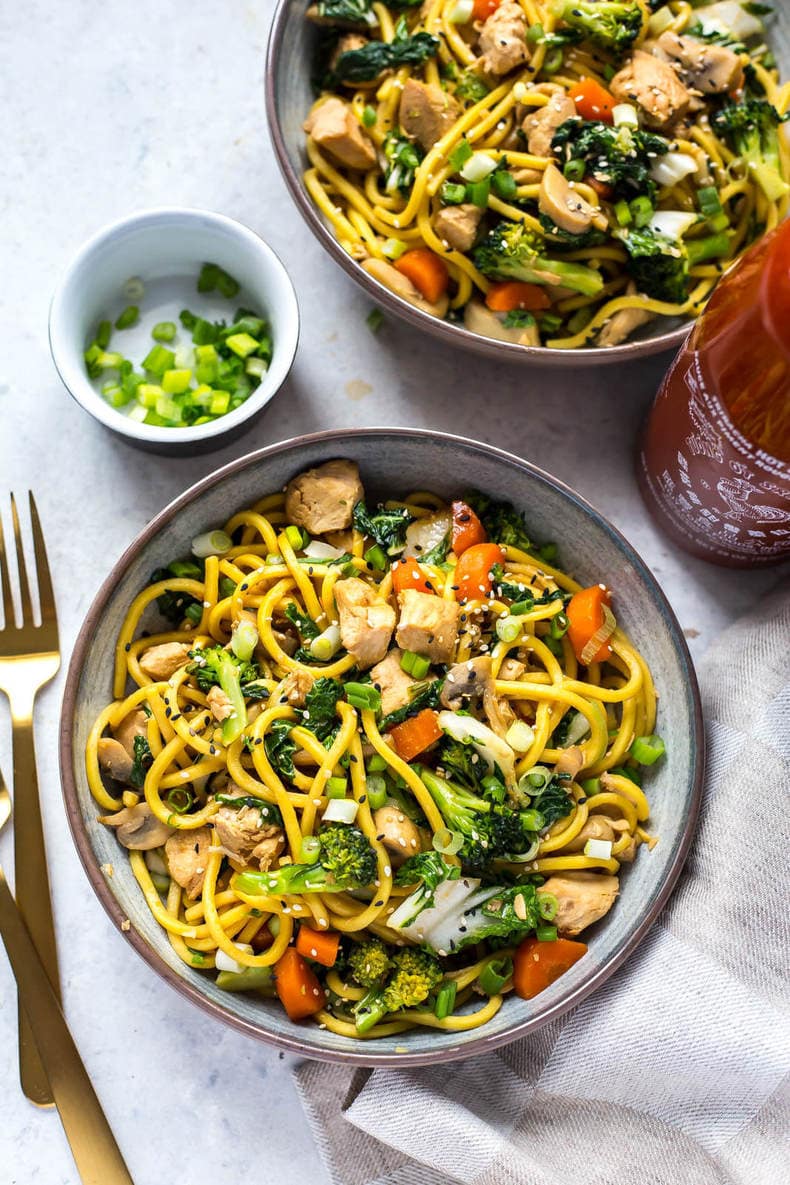 OMG. Newest 30-minute dinner obsession alert: you gotta get your hands on these Yakisoba Noodle Bowls!
And yes, they're giving this Instant Pot Chicken Pad Thai a run for its money; I've got a new noodle bowl obsession!
I've been eating these for the past couple of weeks straight. Yes, partially because I run a food blog full-time and my day job means lots of eating and recipe testing (hard life right?) But also because I just straight up love noodles. You know the ones you get at the Chinese food takeout spot at the mall, the lo mein?
I mean, these Yakisoba Noodle Bowls are basically the same thing, but I'm naming them after the noodle bar I've become obsessed with at my local Loblaws. And no, this isn't a sponsored post for them I promise! I just really love these noodles. Let me tell you a bit more about them, 'cause lord knows I've eaten enough of them to describe my love affair in detail.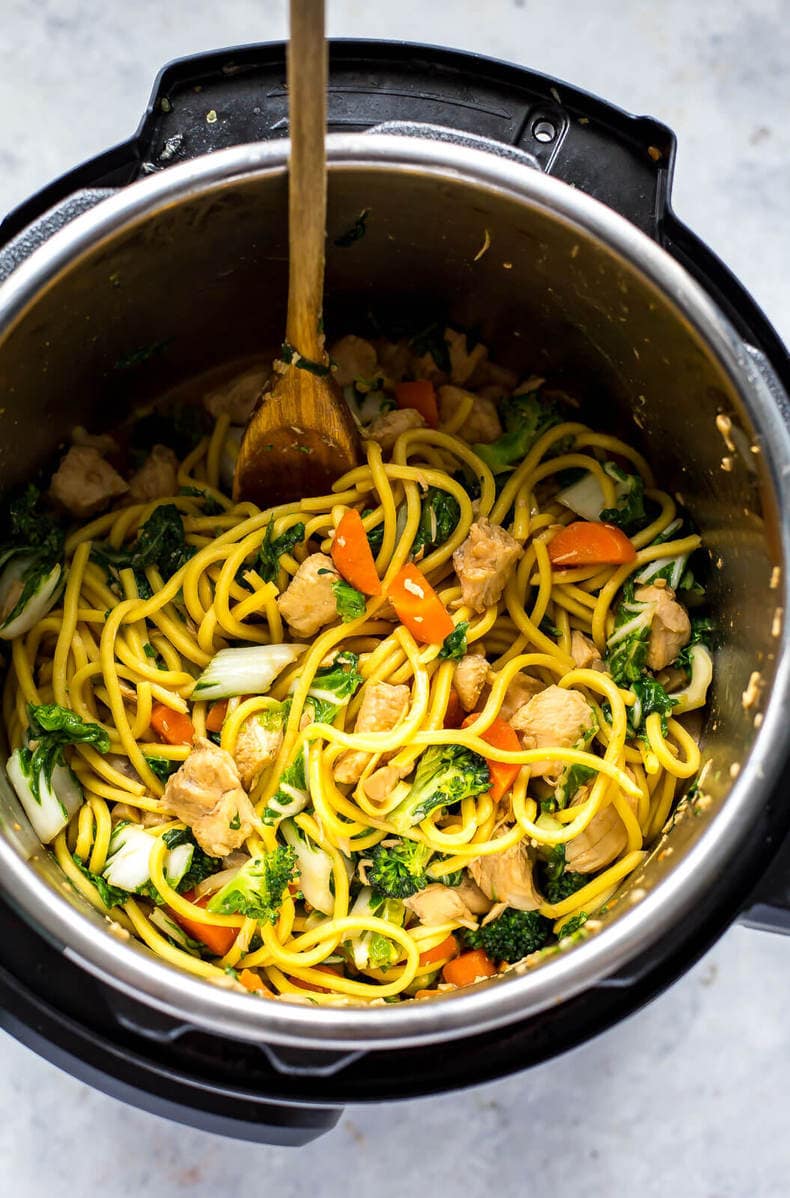 How to Make Yakisoba Noodles
These Yakisoba Noodle Bowls are a load up and dump in whatever veggies and protein you have in the fridge kind of meal. They're also somewhat of a pantry staple meal with the exception of the pre-cooked noodles. You technically don't even have to use a protein – but if you're so inclined you could add in ground beef, diced up chicken breast, chicken thighs, shrimp, diced tofu…
And the veggies? Like I've said a billion times before, dump your whole vegetable crisper in there – similar to these Bibimbap bowls, this stir fry recipe is perfect for using up old veggies. Anything you've got that's about to go bad? Throw it in. A little bit of this, a little bit of that. Whatever your heart desires.
I've got a thing in particular for zucchini and broccoli in stir fries so those were my first go-tos, and I almost always have carrots in the fridge so those went in too. And mushrooms. I love mushrooms, but I often have some going bad that I need to use up in there. So in those went too. Whatever you think is going to add a bit of different crunch, flavour and texture to your Yakisoba Noodle Bowls, I say go for it!
Here you'll find a variation of these noodle bowls below – I added shrimp in and cooked it all on the stovetop, but the Instant Pot with chicken is super easy and faster so it's up to you to decide which route to take!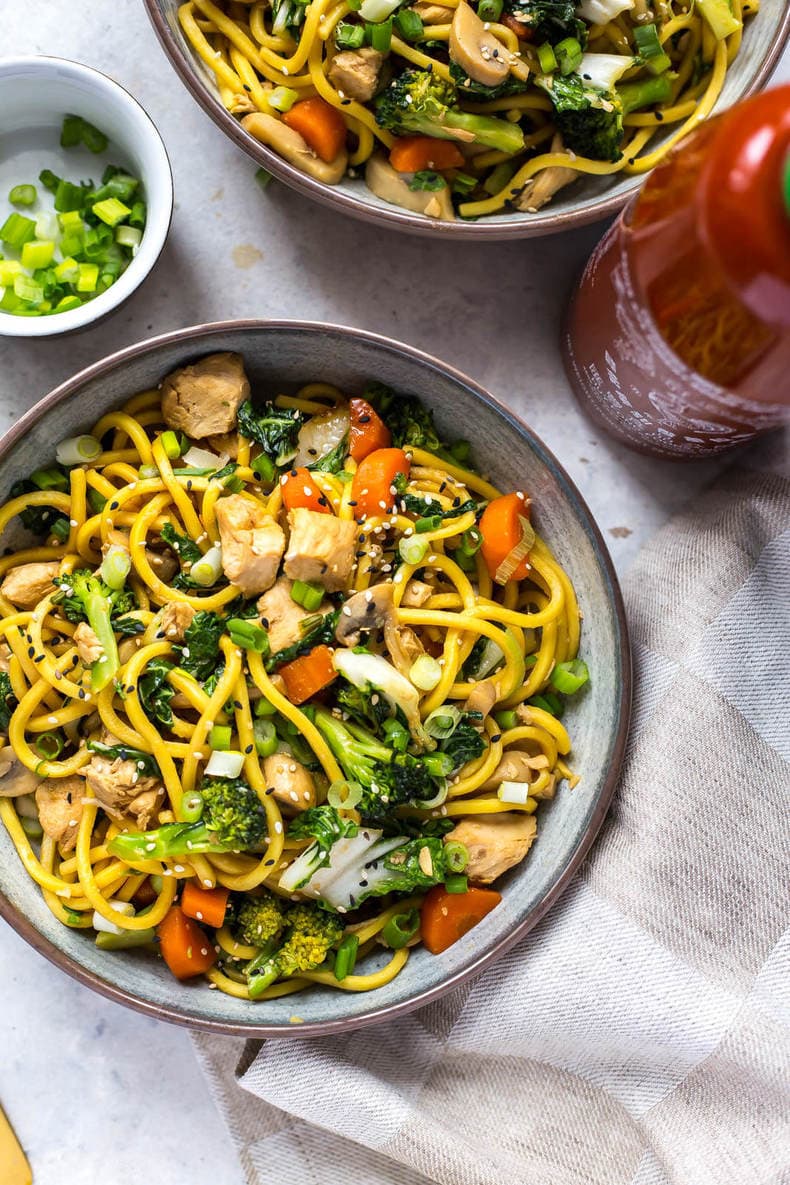 I swear, ever since I have started making quick, easy, healthy recipes my life has been so much easier. Making food full-time can be a deceptively hard task, and not every recipe turns out exactly how I wanted.
Case in point: last night I was trying to make these vegetable fritters and they legit were just NOT coming together. In fact, they were doing the opposite – they were falling apart!!! So imagine me, recipe developing at 6:30 last night while also trying to make my dinner for the night and everything was just not going my way. I think my heart was gonna explode from all the frustration, literally.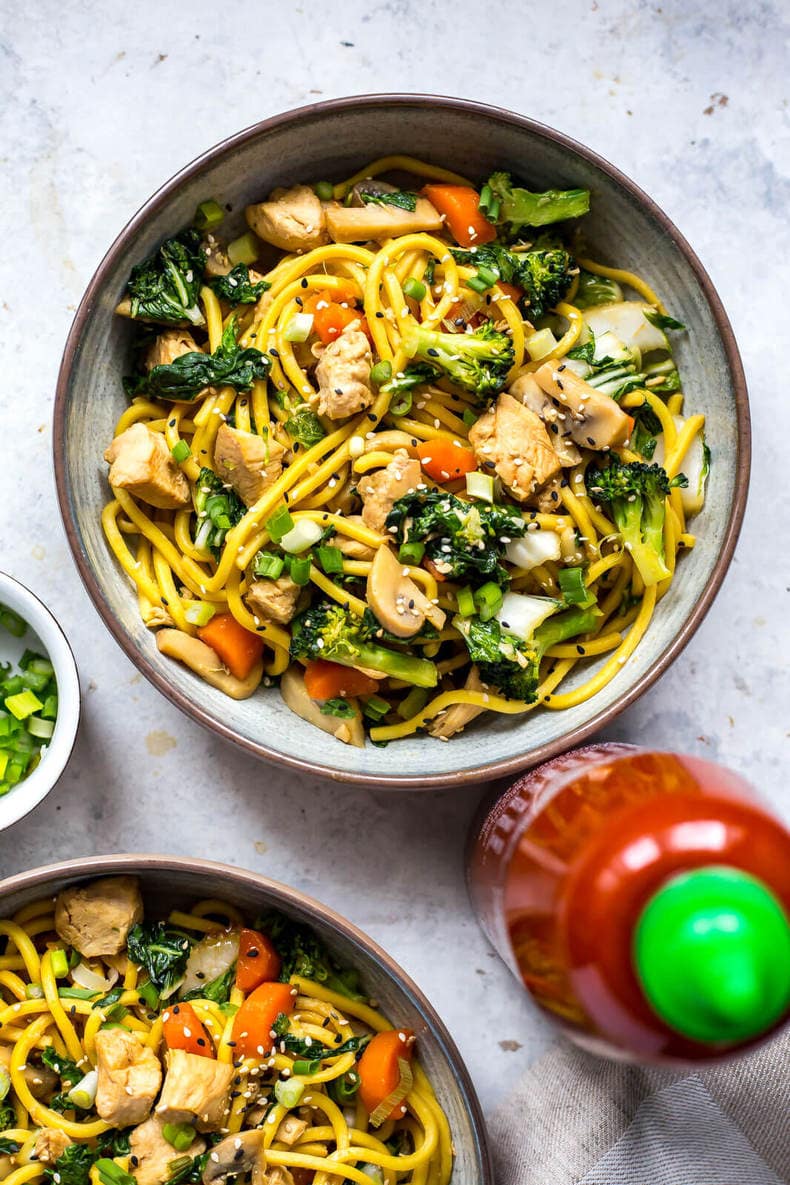 Yes I'm a drama queen but I just don't have the time or patience for shit to fall apart these days. I mean, who knew working full time was so annoying?? Don't you ever feel like you're just fighting the clock the whole day and don't have time for ANYTHING? Like even stopping by the store on your way home is such a chore and everything feels so hard?
Well, I swear to god, from here on out food is not going to be so hard. When you've got tasty, delicious meals that save you time and money, I think it makes life just a little bit easier. You can handle whatever else you got coming at you because come dinnertime you're set!
So please, gimme a giant pile of these Yakisoba Noodle Bowls and enough for leftovers the next day. I swear, I'll be one happy girl as long as I don't have to go hangry – who's with me?!
And now you can make them on the stovetop OR in the Instant Pot to make life even easier! See the instructions below!
Will you be making these Yakisoba Noodle Bowls? 
I'm absolutely in love with 30-minute stir fries. I mean, how could they not become your go-to after a super long day? They've got all the healthy veggies you could ask for, and will certainly satisfy your cravings for a savoury hot meal. I'm thinking dinner from now on is just gonna be bowls on bowls of these!
If you try any of my recipes be sure to let me know on Instagram, Twitter, Facebook or in the comments – I'd love to see what you come up with!
Meal Prep Tools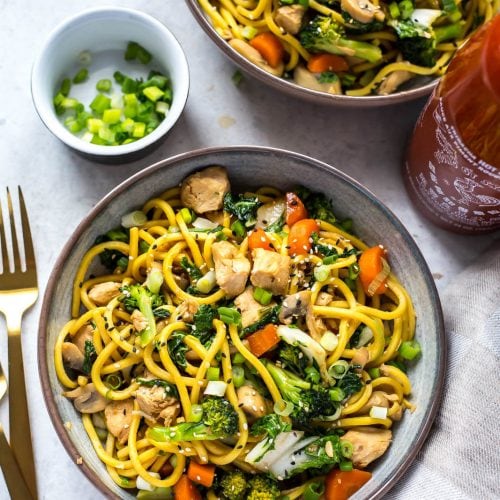 Shrimp Yakisoba Noodle Bowls
These Yakisoba Noodle Bowls are a filling, healthy 30-minute dinner filled with stir fry noodles and veggies in garlic-chili sauce!
Print
Pin
Rate
Ingredients
2

tbsp

sesame oil

1

cup

mushrooms

1

carrot, chopped

1

head

Broccoli, chopped into small florets

1 lb

frozen shrimp OR FOR INSTANT POT: 2 medium-sized chicken breasts

1

cup

chicken broth (INSTANT POT ONLY)

1

package

pre-cooked yakisoba or Chinese-style miki noodles

1

cup

bok choy, chopped

4

scallions, sliced

1/4

cup

chopped cilantro (optional)
Stir fry sauce
1/4

cup

low-sodium soy sauce or tamari

2

tbsp

water

1

tbsp

honey

2

tsp

rice vinegar

2

tsp

Sriracha

4

cloves

garlic minced
Instructions
STOVETOP INSTRUCTIONS: In a large skillet, heat sesame oil over high heat. Add mushrooms, carrots, and 2 tbsp of stir fry sauce, sauteeing for 3-4 min. Add broccoli and shrimp, sauteeing for another minute. Add noodles and remainder of stir fry sauce, tossing to combine. Once noodles start to soften, add bok choy and mix all together. Top with scallions and cilantro, then serve and enjoy!

INSTANT POT INSTRUCTIONS: Add oil, chicken, mushrooms, carrots, stir fry sauce ingredients and broth to Instant Pot. Cook on high pressure for 2 minutes. Do a quick release of the pressure and stir in Yakisoba noodles and bok choy. Serve in bowls and top with scallions and cilantro. Enjoy!
Video
Nutrition
Calories:
429
kcal
|
Carbohydrates:
29
g
|
Protein:
20
g
|
Fat:
20
g
|
Saturated Fat:
3
g
|
Polyunsaturated Fat:
12
g
|
Monounsaturated Fat:
9
g
|
Cholesterol:
41
mg
|
Sodium:
1040
mg
|
Potassium:
428
mg
|
Fiber:
3
g
|
Sugar:
6
g
|
Vitamin A:
6200
IU
|
Vitamin C:
43.7
mg
|
Calcium:
60
mg
|
Iron:
2.7
mg