These Super Easy Airfryer Homemade Chicken Nuggets are a delicious, healthy way to enjoy your favourite fast food at home without the guilt – and the best part is that you can freeze the leftovers!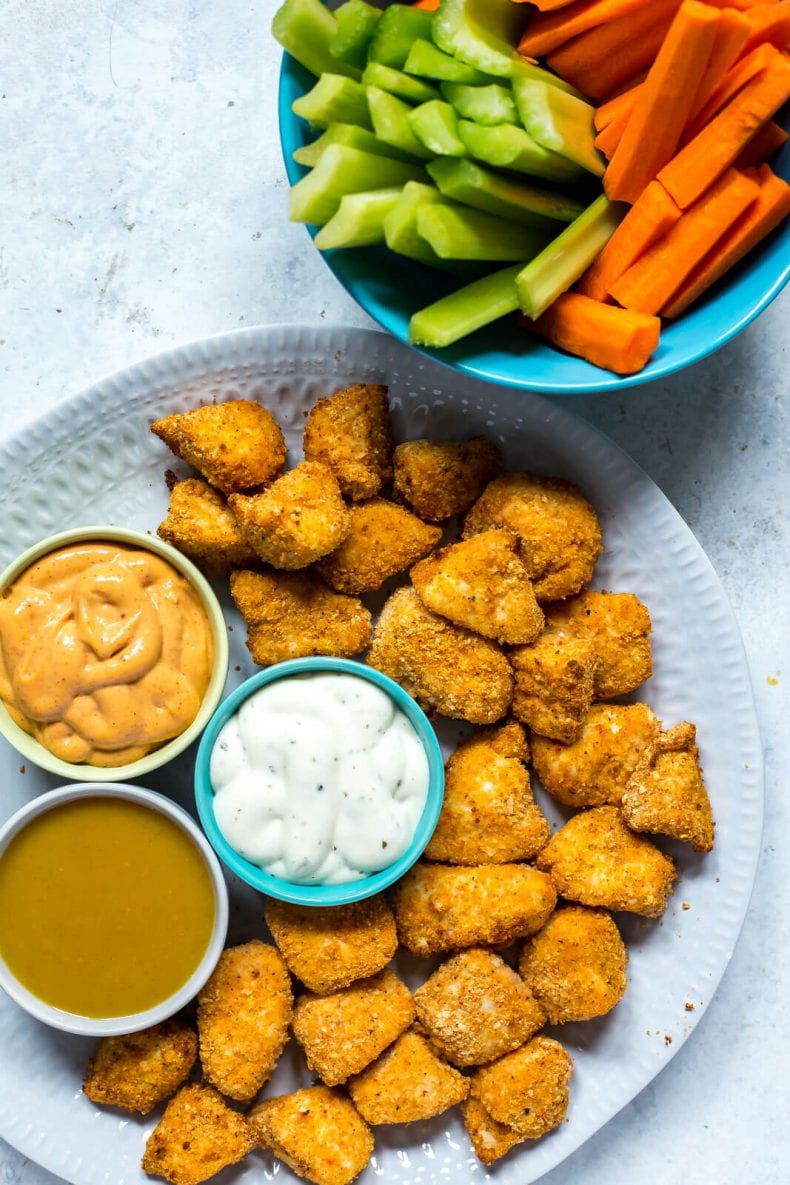 This post is sponsored by Philips – thanks for supporting the brands that help keep my blog up and running!
I know you probably don't want to hear it, but very soon it'll be back to school and we'll will all be in need of some quick and easy recipes that are super healthy and delicious – you know, motivation to stay organized and eat at home each night? 😉
Homemade chicken nuggets to the rescue!
I always have such high hopes for homemade chicken nuggets but then inevitably become disappointed because I either haven't nailed the seasoning, or I've overcooked them in the oven.
Well, my friends, I have come up with the PERFECT homemade chicken nugget recipe thanks to the Philips TurboStar Digital Airfryer!
If you're looking to get serious about meal prepping and make more delicious recipes like these, you HAVE to sign up for my free 5-day challenge below!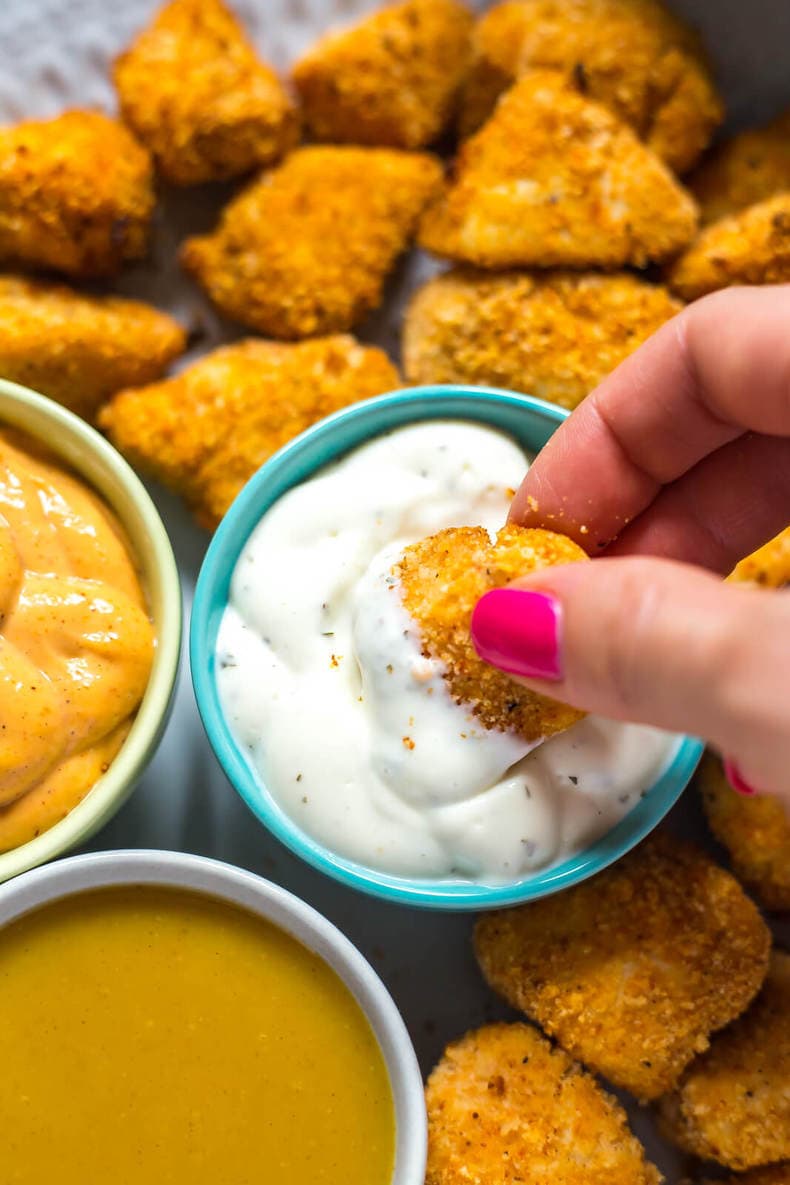 The Philips TurboStar Digital Airfryer uses superheated air to fry foods with little or no oil. Food is exposed to constant, circulating heat that cooks it evenly without the need for turning or stirring. The Airfryer includes a QuickControl dial with digital display, 4 Presets for most popular dishes, and a keep warm function for flexible serving time. It's a real game changer in the kitchen!
The Philips TurboStar Digital Airfryer helps you find balance when it comes to eating right at home – you need little to no oil to make these chicken nuggets crispy and perfectly golden-brown on the outside and tender on the inside. It actually cooks fried food 50% more evenly too!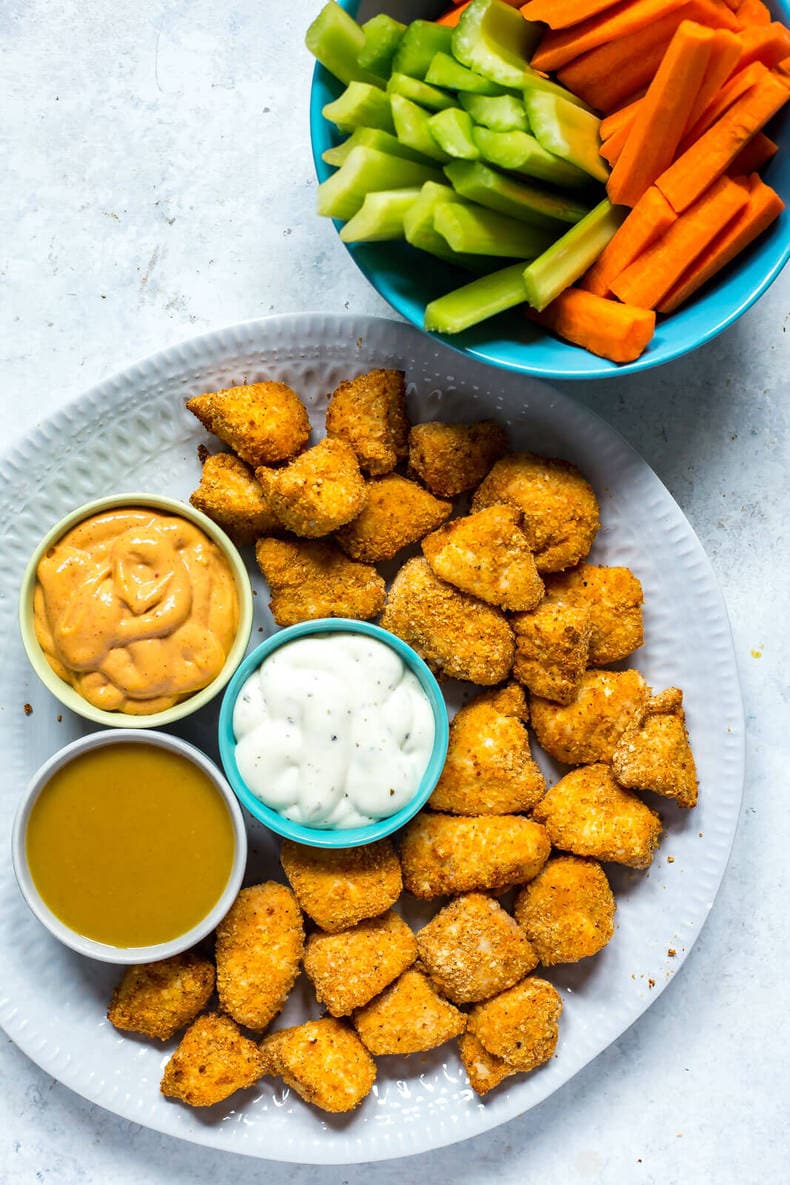 Once you try homemade chicken nuggets in the Airfryer there's no going back. First of all, they cook four times faster than regular chicken nuggets done in the oven, and there's no heating up your house either – especially important with the heat we've been having this summer! Philips technology also saves you and your home from the smell of fried oil, which is always a bonus in my books.
The QuickClean basket and removable non-stick coated drawer is super easy to clean too – and it's dishwasher safe to boot!
This Airfryer is PERFECT for meal prepping these Homemade Chicken Nuggets – trust me, after a long day, I've come home from the gym and snuck a few that were cold from the fridge, and they honestly taste just as good! So you can pack them in your fave glass meal prep bowls along with some cut up veggies and you easily have lunches ready for a couple days out of the week.
Obviously they're also a fun dinner idea too, especially when you kind of feel like having fast food but you don't want to compromise on the health factor. Also if you have kids, these would make a great school night meal! Get the taste you crave along with a relatively healthy, filling meal with these Airfryer Chicken Nuggets! The seasoning for the breading is pretty simple and you should already have most ingredients on hand in the fridge.
How to Make Airfryer Chicken Nuggets
First, you'll want to mix the breading ingredients together in a large bowl. I used a mix of regular breadcrumbs, panko breadcrumbs for a little bit of extra texture (optional but I love the crunch of them!), salt and pepper, parmesan cheese, paprika and garlic powder. Pretty simple right?
Then I soaked cut up chicken pieces in buttermilk another large bowl and let it sit for 5 to 10 minutes. You'll want to make sure you're only cutting your chicken breasts into 1 inch pieces. You don't want them too small or else they'll get a bit overcooked and tough, but you also want them to cook relatively fast so you need them to be fairly small. I just eyeball it – you'll want to cut them into pieces similar in size to restaurant-style chicken nuggets.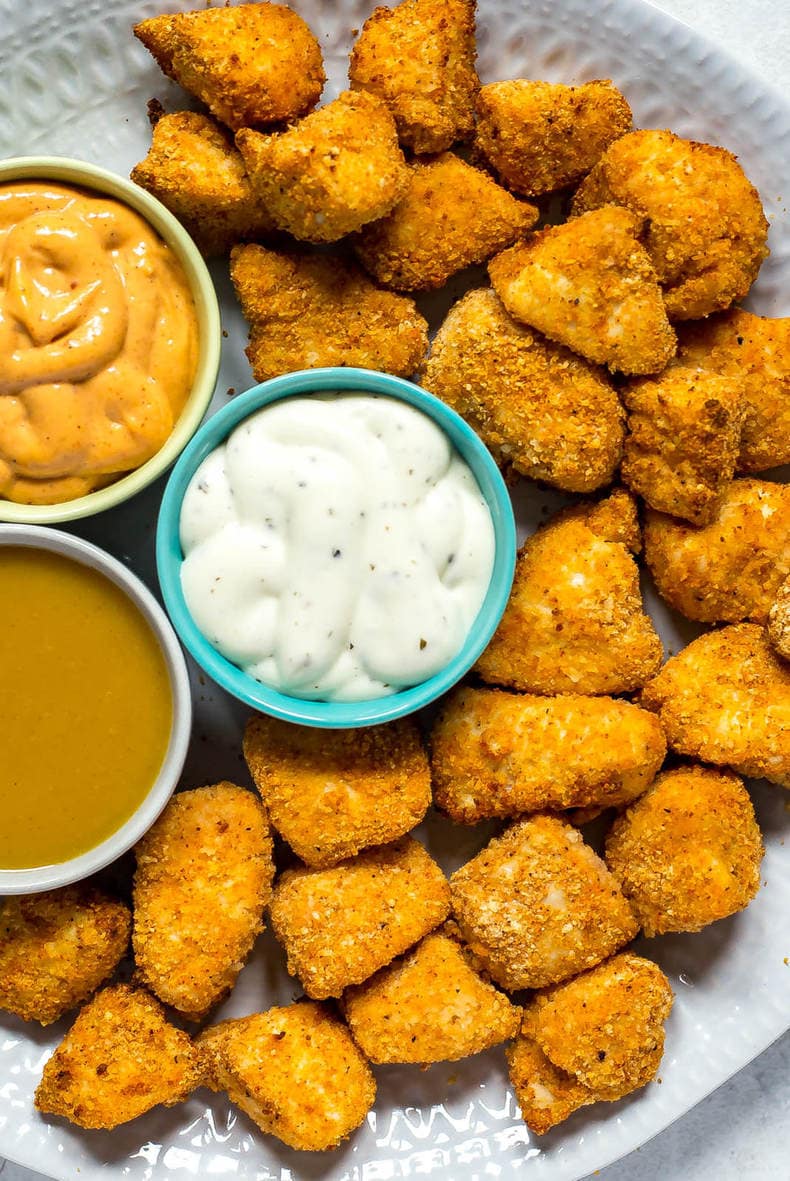 From there, I drained the excess buttermilk and tossed the chicken in the breadcrumb mixture, all while letting the Philips Airfryer preheat for 8 minutes. Technically you don't need to preheat the Airfryer, but I like it to be nice and hot so my chicken can just start cooking right away.
Add your chicken to the basket in one layer you will only be able to get half the batch of chicken in at a time but you're only cooking for 8 minutes and flipping halfway through, so the cooking time for two batches will still be less than 20 minutes. While the chicken is cooking, cut up some veggies and get your dips ready!
Will you be making these Super Easy Airfryer Chicken Nuggets?
The Philips TurboStar Digital Airfryer is available at: Hudson's Bay Company, Amazon, and specialty appliance retailers. The Philips TurboStar Analog Airfryer (non-digital version) is available at Canadian Tire!
If you try any of my recipes be sure to let me know on Instagram, Twitter, Facebook or in the comments – I'd love to see what you come up with!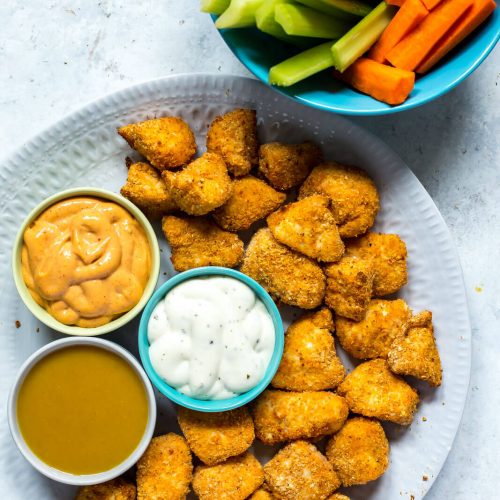 Super Easy Airfryer Chicken Nuggets
These Super Easy Airfryer Homemade Chicken Nuggets are a delicious, healthy way to enjoy your favourite fast food at home without the guilt - and the best part is that you can freeze the leftovers!
Print
Pin
Rate
Ingredients
2

medium-sized chicken breasts, diced into 1 inch pieces

1/2

cup

buttermilk

1/2

cup

breadcrumbs

2

tbsp

Parmesan cheese

2

tbsp

panko breadcrumbs

1

tsp

garlic powder

1

tsp

paprika

1/2

tsp

each salt and pepper

Cooking spray
To serve
Carrots and celery

Dips of your choice (I used honey mustard, ranch and chipotle mayo)
Instructions
In a large bowl, soak chicken in buttermilk for 5 min. Preheat Airfryer for 8 minutes on 400 F.

Mix breadcrumbs, panko breadcrumbs, parmesan cheese, paprika, garlic powder and salt and pepper together in another large bowl. Drain buttermilk from chicken pieces, then add chicken to breadcrumb mixture then toss well to coat.

Add chicken to Airfryer once it's done preheating, adding nuggets in a single layer and spraying with cooking spray. Cook for 4 min, then flip and cook another 4 min. You may need to do the chicken in two batches.

Serve with carrots and celery and your fave dipping sauces. Enjoy!
Nutrition
Calories:
218
kcal
|
Carbohydrates:
16
g
|
Protein:
22
g
|
Fat:
7
g
|
Saturated Fat:
3
g
|
Polyunsaturated Fat:
1
g
|
Monounsaturated Fat:
2
g
|
Cholesterol:
47
mg
|
Sodium:
460
mg
|
Potassium:
147
mg
|
Fiber:
1
g
|
Sugar:
2
g
|
Vitamin A:
100
IU
|
Calcium:
140
mg
|
Iron:
1.3
mg