This Starbucks Salted Caramel Mocha is a perfect copycat! It's made with homemade sauce then topped with whipped cream and salted caramel.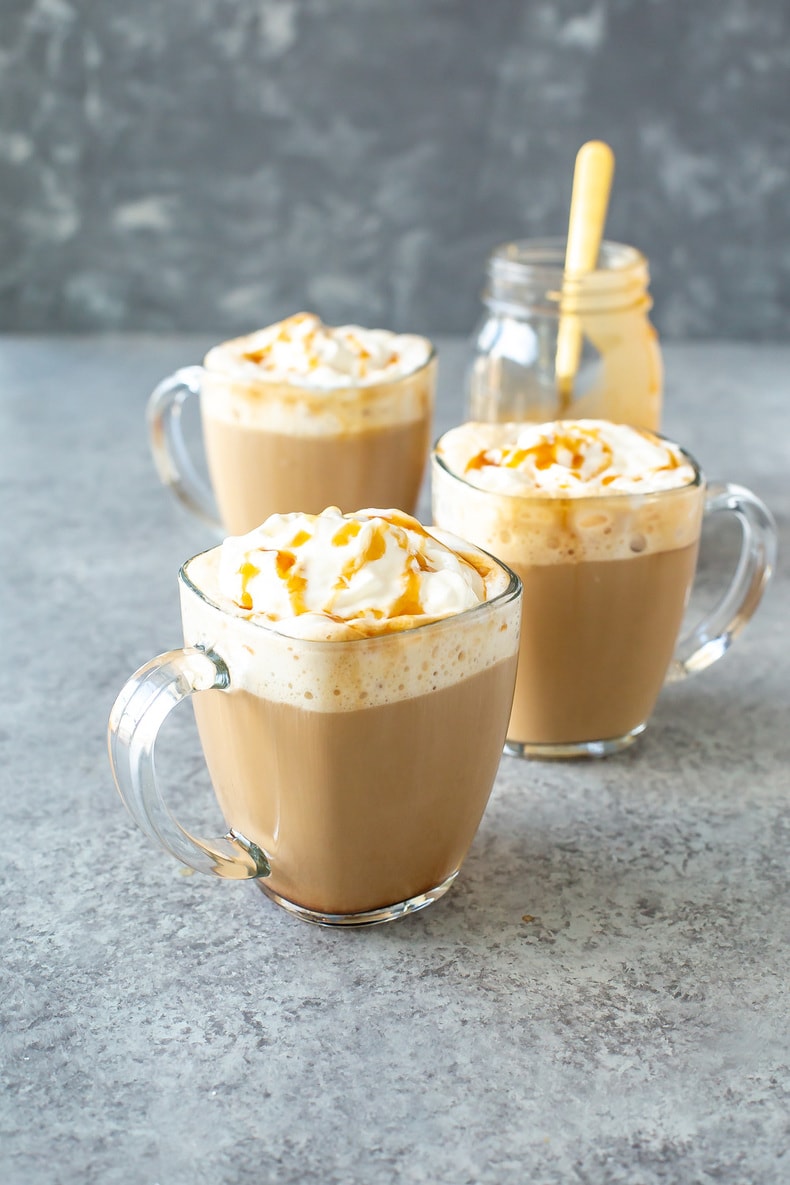 Ingredients and substitutions
Mocha sauce
Sugar – swap out for any cup-for-cup sugar substitute of your choice.
Cocoa powder – use either unsweetened cocoa powder or Dutch-processed cocoa.
Caramel sauce
Sugar – cane sugar and turbinado sugar both brown and melt well to make a proper caramel sauce. Using brown sugar will also work but the sauce will be lighter in colour.
Butter – use unsalted butter so the sauce isn't too salty.
Heavy cream – you can swap out for half and half or even evaporated milk, but the sauce will be thinner.
Sea salt – This is salted caramel so don't leave out. If you have to substitute, use kosher salt instead of table salt, as table salt will make it too salty.
For the drink
Espresso – If you want to use coffee instead, use one cup of your favourite cold brew or hot, strong coffee.
Milk – the Starbucks version uses 2% milk. Use your favourite milk alternative if you want to make it dairy-free.
Homemade mocha sauce – substitute any chocolate sauce you like if you choose not to make your own.
Caramel or toffee syrup – use your favourite store-bought syrup for the drink and the drizzle.
Sea salt – don't leave this out, since it enhances all of the flavours of the drink.
Whipped cream – use a vegan whipped cream or feel free to leave it off if you want to avoid the extra calories.
How to make a salted caramel mocha
Make the mocha sauce.
Make the caramel sauce.
Brew the espresso.
Steam the milk.
Add everything to a mug.
Top with whipped cream and enjoy!
Making an iced salted caramel mocha
This doesn't have to be a seasonal drink if you don't want it to be! It is simple to adapt this recipe for the summer heat. Here's how:
Brew the espresso like you normally would, then let it cool in the fridge for 10 minutes. You still want it to be fresh, so don't leave it too long.
Make the syrups ahead of time and let them cool.
Don't steam the milk. Instead, add cold milk over ice along with the other ingredients.
Finish off the drink with whipped cream and caramel sauce if desired.
Frequently Asked Questions
What's in a salted caramel mocha?
This salted caramel mocha contains homemade mocha sauce, caramel sauce, espresso shots, steamed milk, sea salt and whipped cream. Since you're making it at home (including the mocha and caramel sauce), it's healthier than the version you'd buy at Starbucks and has fewer calories.
What does it taste like?
This drink offers the perfect combination of salty and sweet with the rich aromas of espresso! You'll get the sweetness from the mocha and caramel sauce, with a bit of saltiness from the sea salt. Trust me, you're going to want to make this salted caramel mocha every day.
How many calories are in this recipe vs. Starbucks?
My version of Starbucks' salted caramel mocha has 326 calories and 33 grams of sugar. According to the Starbucks website, their version has 470 calories and 59 grams of sugar in one 16-ounce serving, so you're saving a ton of calories and sugar by making this drink at home, even if it still is quite indulgent.
Making components ahead of time
Once you realize how good these salted caramel mochas are, you just might want one every day! You can make the mocha and caramel sauces up to 2 weeks in advance. Then, store the sauces in canning jars or any covered container in the refrigerator for easy access.
Making a large batch
You can quadruple the recipe for the syrups and sauces. However, for the best results, it is best to always brew the espresso and steam the milk fresh. Preparing the espresso too far in advance can leave it bitter and affect the flavour of the drink.
Storing and reheating
Technically, you can make this entire drink ahead of time and refrigerate it for up to a day. However, leave off the whipped cream until you're ready to enjoy the drink.
Pour the caramel mocha into a steamer or microwave to revive it then top it off with whipped cream and caramel syrup.
Wanna Learn How To Meal Prep?
My meal planning service, Dinner Prep Pro, removes the guesswork and helps you get dinner on the table in 15-20 minutes each night. My meal prep checklists only take 1 hour each week!
More Starbucks recipes
Meal prep tools for this recipe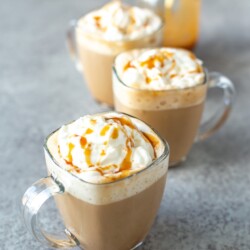 Starbucks Salted Caramel Mocha
This Starbucks Salted Caramel Mocha is a perfect copycat! It's made with homemade sauce then topped with whipped cream and salted caramel.
Print
Pin
Rate
FEELING BURNED OUT?We've got you covered with a December self care plan! Sign up for weekly habit audits, 3 weeks of meal prep plans, weekly goal setting printables + live calls!👇
Join our December ✨Feel Good✨ Challenge!
Servings: 1 drink
Calories: 326kcal
Ingredients
Mocha sauce
1/2 cup water
1/2 cup sugar
2 tbsp cocoa powder
Caramel sauce
1/2 cup sugar
3 tbsp butter
1/3 cup heavy cream
1/4 tsp sea salt
For the drink itself
2 espresso shots
1 cup milk
2 tbsp Homemade mocha sauce (see above)
1 tbsp storebought caramel or toffee syrup
1 tiny pinch of sea salt
Whipped cream
Homemade caramel sauce, for drizzling (see above)
Instructions
Make the mocha sauce
Boil water in a kettle and mix boiling water with sugar in a mason jar, stirring in cocoa powder. Set aside.
Make the caramel sauce
Add sugar to a small pot on the stove over medium heat. Stir sugar often (watching it doesn't burn) until it starts to clump and turns golden brown. Eventually it will melt and turn into a thick brown liquid.

Once sugar is melted, stir in butter until melted, about 1 minute or so. Very slowly drizzle in the heavy cream, stirring constantly. Stir in sea salt, then remove from heat and set aside.
For the drink itself
Brew espresso shots in a large mug. Meanwhile, microwave milk for 1-2 minutes and froth with a milk frother afterward, or add milk to a steamer to heat through and froth.

Stir mocha sauce, storebought caramel/toffee syrup and sea salt into espresso shots, then pour steamed milk overtop, stirring gently.

Finish off the drink with whipped cream, then drizzle with caramel sauce. Serve and enjoy!
Video
Notes
Make this drink over ice in the summer months. If you don't have any espresso, make this drink with your favourite brewed coffee instead. For a dairy-free option, use your favourite non-dairy milk and vegan whipped cream. Make the caramel and mocha sauces ahead of time and store them in the fridge for up to 2 weeks. Store this drink in the fridge without the whipped cream for up to a day. Steam or microwave the drink, add on some whipped cream and enjoy.
Nutrition
Calories: 326kcal (16%)Carbohydrates: 52g (17%)Protein: 9g (18%)Fat: 10g (15%)Saturated Fat: 6g (38%)Cholesterol: 29mg (10%)Sodium: 204mg (9%)Potassium: 412mg (12%)Fiber: 1g (4%)Sugar: 33g (37%)Vitamin A: 395IU (8%)Calcium: 286mg (29%)Iron: 1mg (6%)