This Southwest Chipotle Avocado Corn Pizza is a delicious dinner that's full of summer veggies and a smokey, spicey BBQ-chipotle sauce – you'll be craving this pizza all year!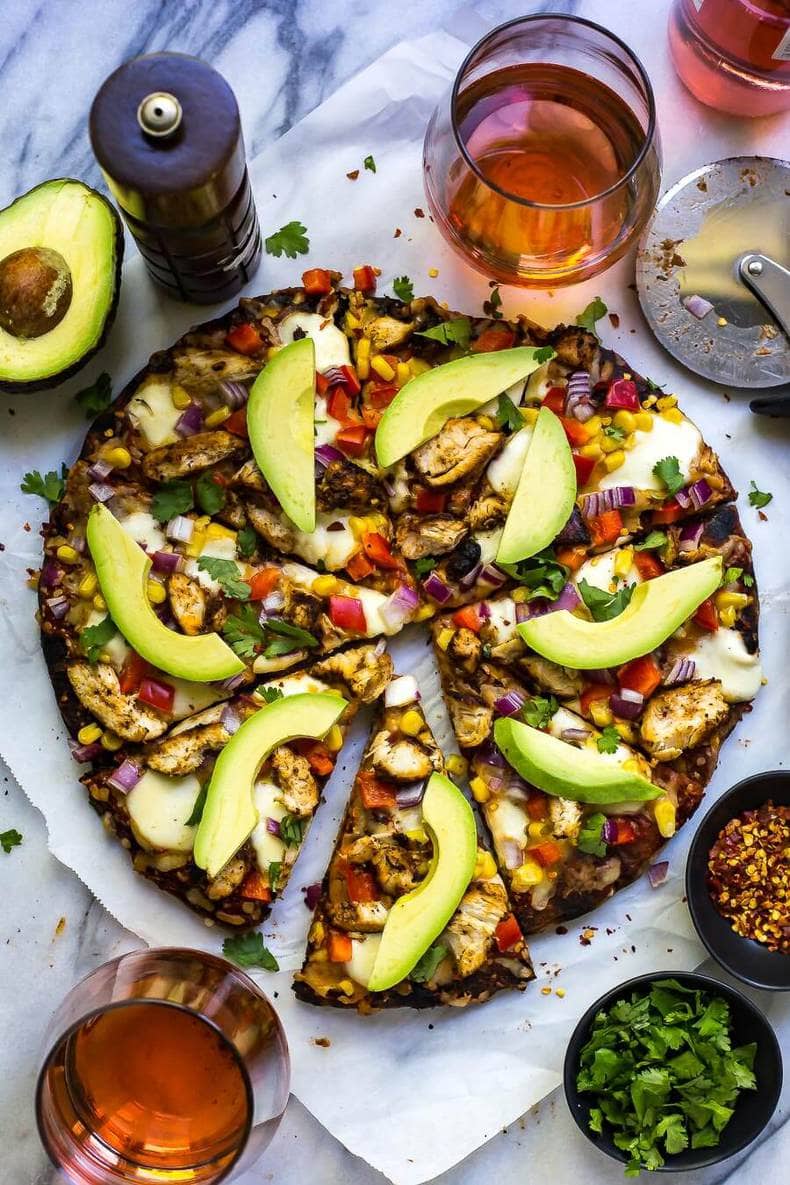 HELLO FRIDAY.
I have been waiting for this day all week.
Specifically so that I can eat way more pizza, bust out my favourite bottle rose wine and just go to town enjoying the gorgeousssssss summer weather we've been having.
I may or may not be just a little too excited about this recipe.
I mean come on: Southwest Chipotle Avocado Corn Pizza.
Doesn't that just sound like weekend food to you? The kind of delicious, special dinner that you save for an end-of-the-week treat after working hard for so long, the kind of dinner you can enjoy with friends and family – there's just something about pizza that brings people together. Maybe because it's finger food, maybe because it's the perfect patio food…anyway, I'm still working on all my theories!
I gotta tell you more about this Southwest Chipotle Avocado Corn Pizza though, because it is literally my new fave pizza.
First of all, you wanna go a bit light on the sauce. You don't need too much pizza sauce for your base, and you're gonna mix it with some adobo sauce that you find in a can of chipotle peppers. I know, buying a whole can of chipotles just to use 1 tbsp of the sauce they come in seems silly, but trust me: you're gonna love the spicy flavour it adds to this pizza. And you don't want it to be too spicy (at least not in my house…I live with a bunch of babies LOL), so you only need a little bit. You just want that delicious, smokey flavour you get from chipotle peppers.
Next up is two kinds of cheese. Honestly, I don't even think you can really do pizza unless you're using two different kinds of cheese. Some sort of mozzarella (pizza mozzarella, bocconcini, buffalo mozzarella, etc) is always a given because you do want that nice gooey first pull off the pie, but I love adding in some ricotta (like on my roasted vegetable flatbread YUM), cheddar or parmesan once in a while.
Or, if we're REALLY splurging, then some burratta. Oh god could I go for a big ball of burratta right now.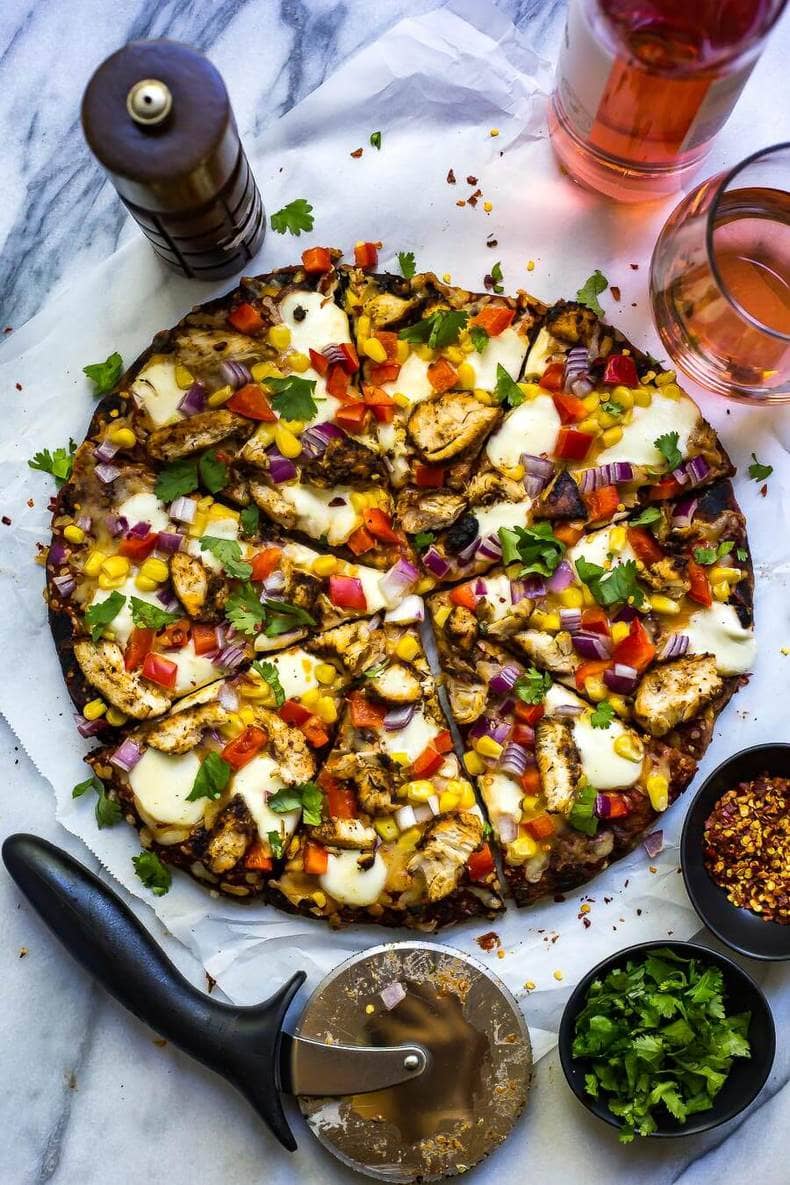 I used cheddar cheese on this Southwest Chipotle Avocado Corn Pizza to complement the smokey flavours of the chipotle pizza sauce and it also tastes really good alongside the corn, cilantro and red onion. Kind of like a taco or fajita feel going on.
Like, gimme ALL the tex mex flavours please.
Finish with slices of bocconcini and you've got a combination that's to die for.
Now cooking pizza on the BBQ can be a tricky task. But it's actually very simple to do and one of my preferred ways to go with pizza in the summer.
Basically, you just want to ensure you can get a crisp crust without burning the bottom of it. I like to keep the heat to no more than 400 F and use a premade crust from the grocery store to keep things easy. From there, it's just a matter of putting your toppings on and letting everything cook for 10 minutes or just until the cheese is melted.
Boom. Done.
You can also cook the pizza the same way in the oven, preheated to 500 F. It's up to you and what you have available to you – I know I went years without a BBQ *gasp* and while it kinda sucked, the oven more often than not does the trick! 😉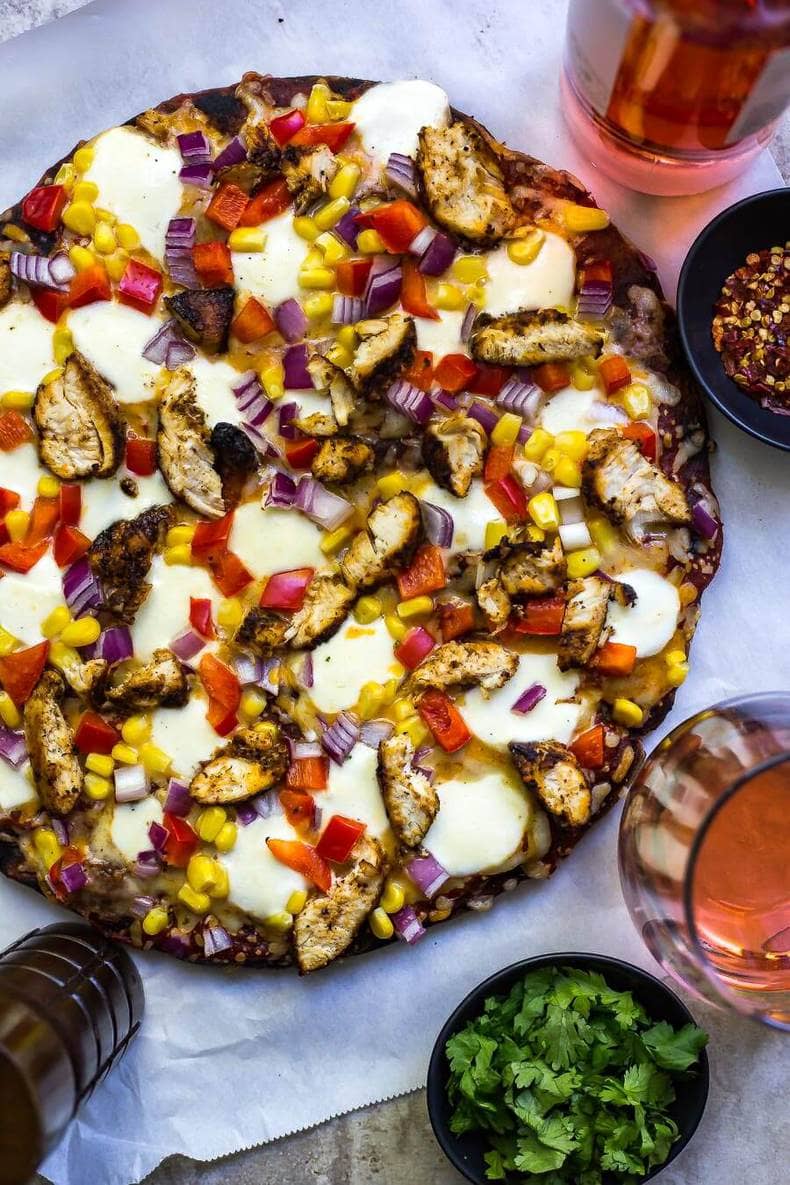 Oh! And the chicken for this pizza.
So, so simple.
In fact, I shouldn't even really be calling it a recipe since it's just BBQ chicken tossed in olive oil, taco seasoning and a pinch of salt. Easy peasy.
The trick to cutting down the cook time on this recipe – a handy tip for chicken in general too – is to cut the breast in half and then cook each slice for a fraction of the time you would normally cook a whole breast. This way your chicken is more seasoned, cooks faster, and you get those thin slices that are perfect for topping a pizza with!
And like every other recipe I have up my sleeve on this blog, I love to use a hell of a ton of different herbs to add in some extra flavour. Cilantro is my go-to here, but I added on basil to my slices once this Southwest Chipotle Avocado Corn Pizza was all cooked up and it brought the southwest flavours out even more.
Also, if you actually do end up adding the sliced avocado (I know how some people get about avocado and hot foods), make sure you add it on after the pizza has cooled a tiny bit. You want it to stay extra fresh and just add a new level of flavour to the pizza as opposed to getting warm and mushy on top. The herbs can cook a bit more with the hot pizza but you have to watch that with the avocado.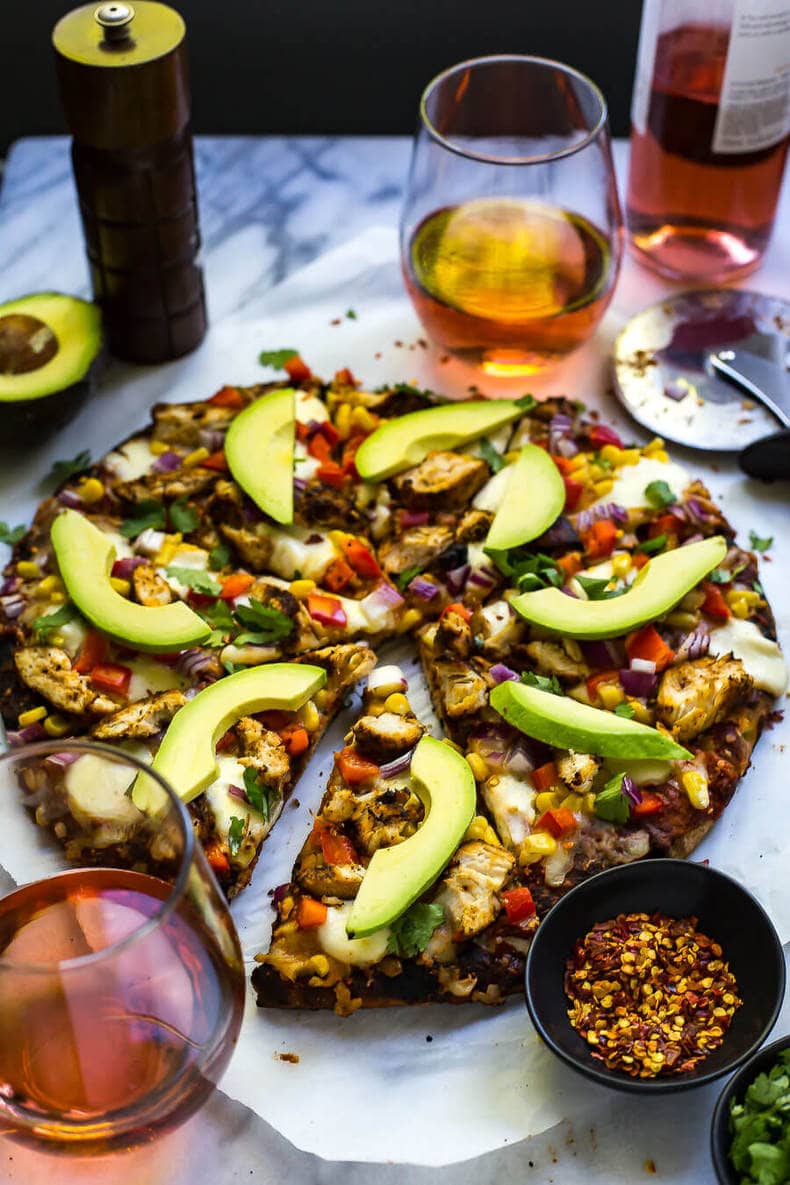 Will you be making this Southwest Chipotle Avocado Corn Pizza? 
I'm thinking every weekend should start with a whole bunch of pizza and wine. Like, let's make it a tradition this summer okay?
If you try any of my recipes be sure to let me know on Instagram, Twitter, Facebook or in the comments – I'd love to see what you come up with!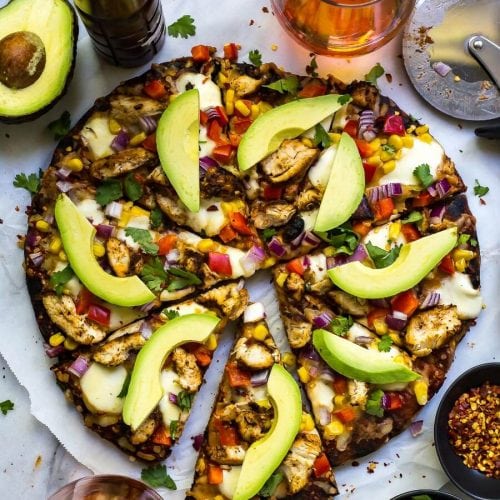 Avocado Corn Pizza
This Southwest Chipotle Avocado Corn Pizza is a delicious dinner that's full of summer veggies and a smokey, spicey BBQ-chipotle sauce - you'll be craving this pizza all year!
Print
Pin
Rate
Ingredients
1

chicken breast

2

tsp

taco seasoning or chili powder

Pinch

salt

1

tbsp

olive oil

1

premade pizza crust

1

can

chipotles in adobo sauce

1

small can

Pizza Sauce

1

cup

shredded cheddar cheese

3/4

cup

mini bocconcini balls, sliced

1/2

red pepper, diced

1

small

red onion, diced

1/2

cup

Corn

1/3

cup

cilantro, chopped

1/2

avocado, sliced

Red chili flakes, for garnish
Instructions
Preheat BBQ to high heat (500 F). Cut raw chicken breats in half, then coat each piece in taco seasoning, olive oil and a bit of salt, rubbing all over chicken well. Grill for 10-15 min, flipping once. Remove from heat once cooked and slice up once cooled. Turn BBQ to med-low heat (400 F).

Meanwhile, prepare pizza toppings. Mix 1 tbsp adobo sauce with pizza sauce and spread over pizza crust. Top with cheddar cheese and spread red pepper, red onion and corn all over pizza. Add a bit of salt to season, and then add chicken and top with bocconcini cheese slices.

Place pizza on the grill (making sure heat is much lower) and cook for 10 minutes, or until cheese is melted. Remove from heat and top with cilantro and red chili flakes. Cut using a pizza cutter, top with avocado slices and serve with your favourite summer wine! Enjoy!