This Grilled Southwest Chipotle Pizza is a delicious summer meal made on the grill, topped with fresh veggies and a smoky chipotle sauce!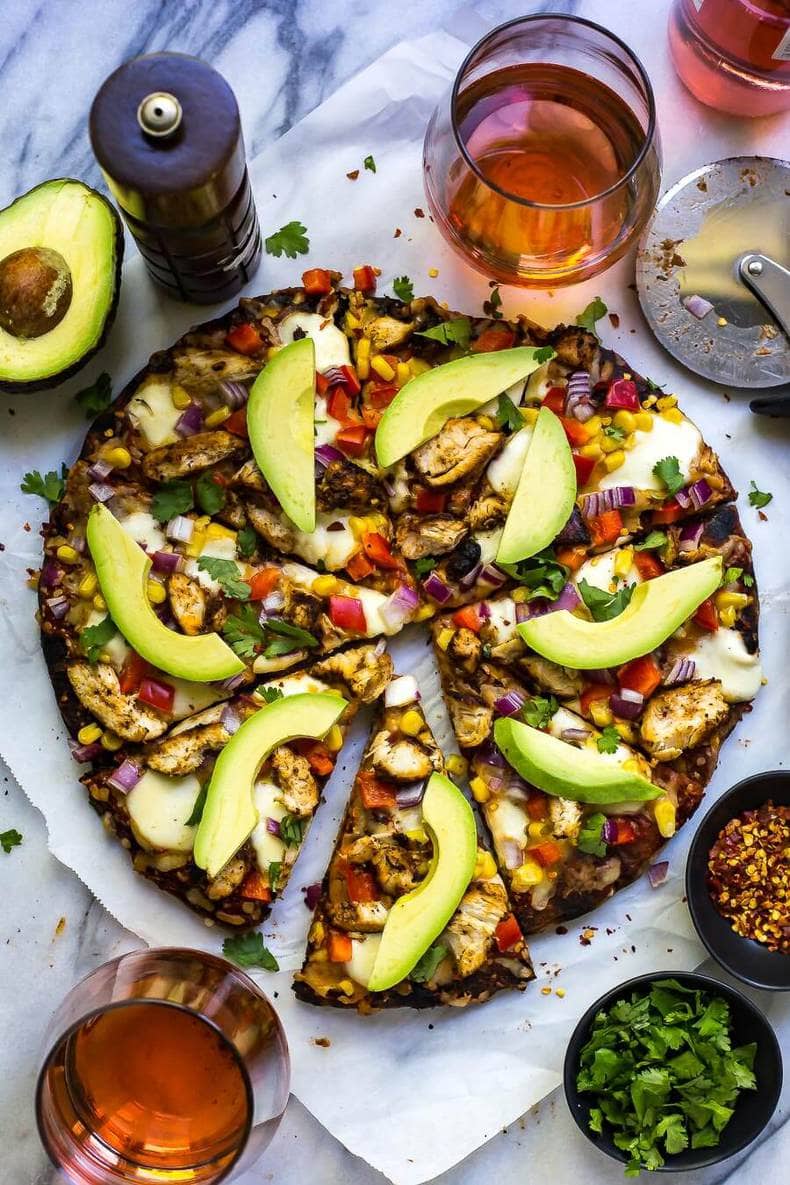 Ingredients and substitutions
Chicken breast – chicken thighs are a great alternative to chicken breast.
Taco seasoning – use store-bought taco seasoning or make a homemade Southwest spice blend. In a pinch, you can use chili powder.
Salt – to taste.
Olive oil – or any neutral oil such as avocado oil, canola oil or grapeseed oil.
Pizza crust – store-bought pizza crust is the best option but you can make your own! You can also try making it with cauliflower crust for a healthier option.
Chipotle in adobo sauce – you can also try substituting for chipotle powder but it will have a slightly different flavour.
Pizza sauce – a can of pizza sauce will work well or you can make your own from a can of tomatoes.
Shredded cheddar cheese – use any other blend of cheese that you prefer, such as mozzarella cheese.
Bocconcini balls – fresh mini mozzarella balls or pulled-apart burrata would also be delicious on this pizza.
Red pepper – use any bell pepper colour of your choice.
Red onion – sweet onion or white onion will also work well or you can leave this out altogether.
Corn – black beans are a great alternative with added protein and a similar flavour palette.
Cilantro – leave this out altogether if you don't have any on hand.
Avocado – sliced fresh avocado is recommended. If you're in a pinch, leave out entirely or use fresh guacamole.
Red chili flakes – leave this out altogether if you don't like spice.
Skip the Ads and Get Right to the Recipes!
ZERO ADS on over 600 recipes!
Weekly Meal Plans, Grocery & Prep Lists
Bonus eBooks
How to make chipotle pizza
Season and grill the chicken.
Prepare your toppings.
Add the toppings to the crust.
Grill for 10 minutes.
Cut into slices and enjoy!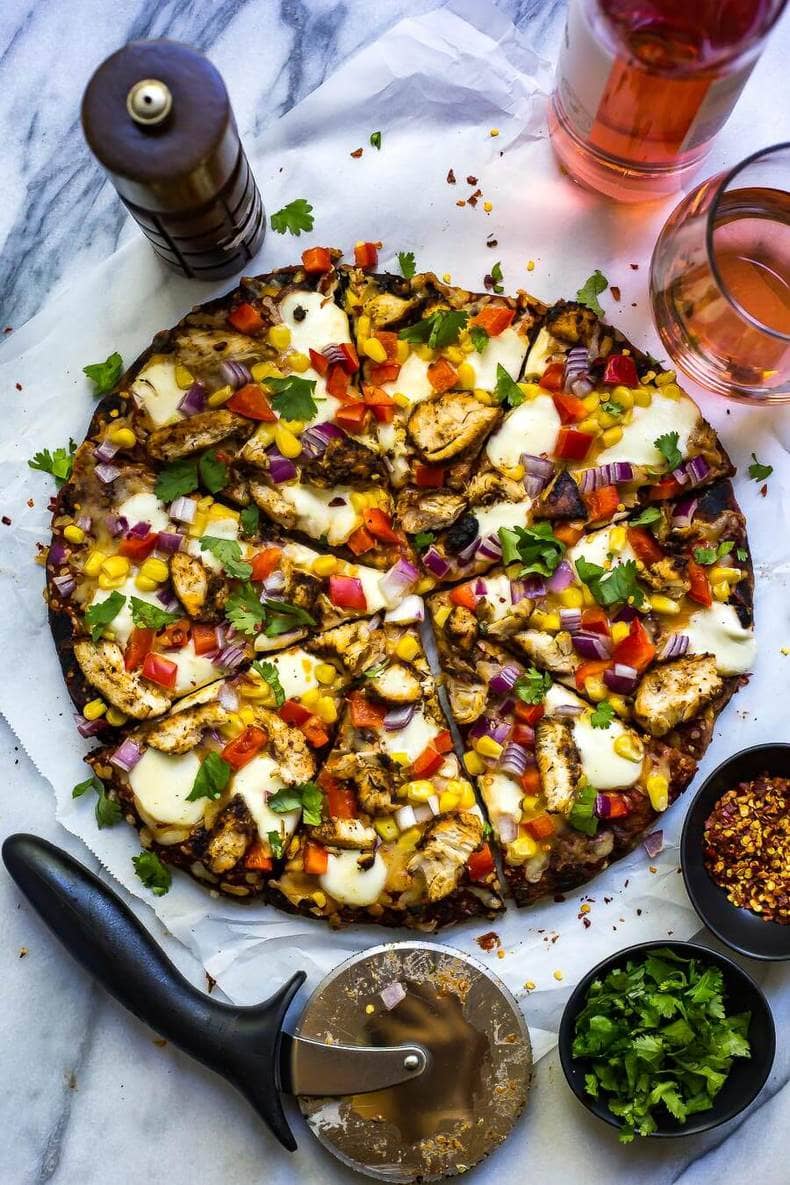 Homemade taco seasoning
You can make your own taco seasoning at home using everyday pantry staples! I like to whip up a big batch and store it in my pantry in a Ziploc baggie or airtight glass container.
All you need to do is mix together the following spices:
Chili powder
Cumin
Paprika
Garlic powder
Onion powder
Oregano
Red pepper flakes
Salt & pepper
Frequently Asked Questions
What is chipotle pizza?
This pizza is made with southwest-inspired flavours including chipotle in adobo sauce, taco seasoning, corn and avocado! You can customize the toppings to include whatever you have on hand – the options are pretty much endless.
Can pizza be cooked on the grill?
Yes! This recipe is a great option for summer because it's all cooked on the grill. It just needs to cook on the grill for 10 minutes at medium-low heat or about 400° Fahrenheit. Just keep an eye on it to make sure it doesn't burn.
How many calories are in this recipe?
There are 321 calories per serving in this delicious homemade pizza. If you want to cut down on the calories, use low-fat cheese or swap out the pizza crust for a cauliflower crust.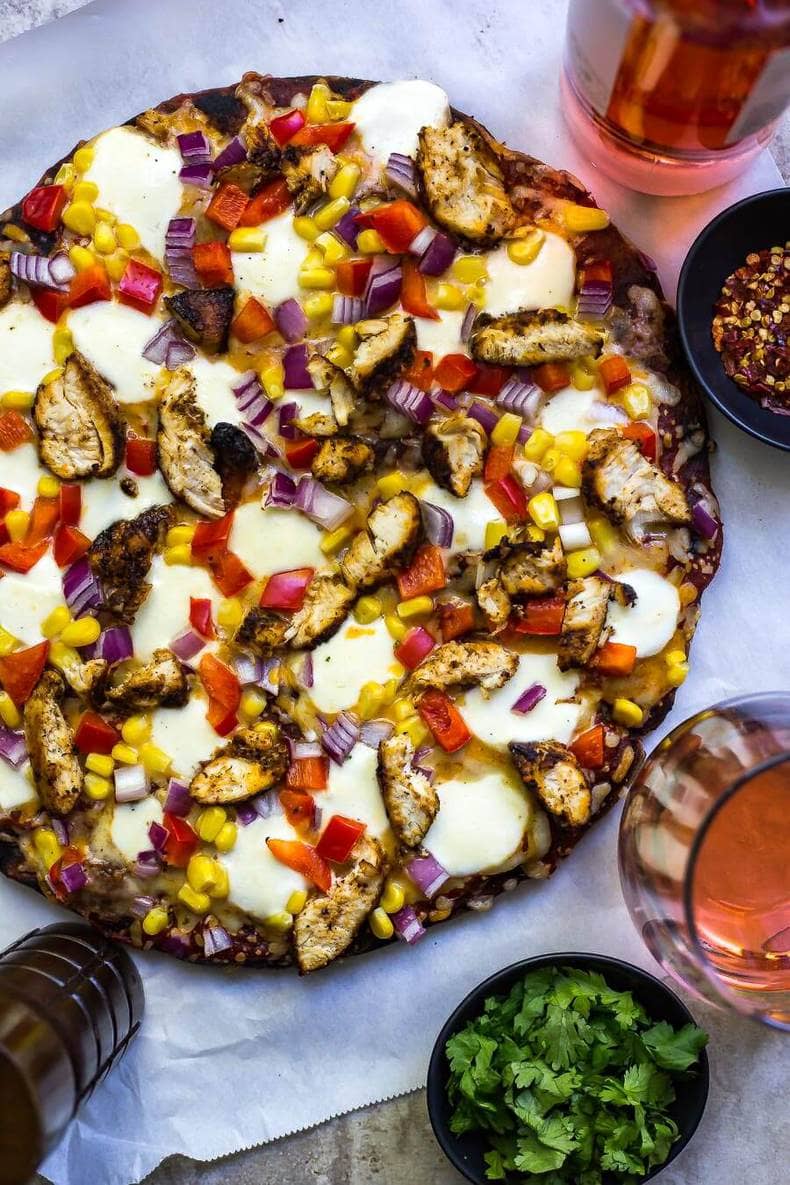 Storing and reheating
If you're planning on making this pizza ahead of time for the workweek or just have some leftovers you'd like to store, it's super easy! Typically, I pack up my meal prep pizza in glass meal prep containers or freezer bags for easy access. The pizza will last in the refrigerator for about 3 days.
I recommend keeping the avocado separately and preferably uncut until serving to avoid any browning or oxidization. If you have half of an avocado left, just sprinkle some lemon juice over it to serve as a protective layer.
To reheat the pizza in a pinch, you can place it in the microwave for 1-2 minutes and you're good to go! I prefer to reheat it in the toaster oven or the oven to keep the crust nice and crispy. Just pop it in the oven for 10 minutes at 400° Fahrenheit then top with fresh avocado slices.
Freezing this recipe
This dish is definitely freezer friendly! Pizzas freeze really well – all you have to do is assemble your flatbread as instructed without the recipe, then stick it in the freezer for later. The pizza will last up to 2 months in the freezer. Talk about an easy, last-minute dinner idea!
When freezing the pizza, make sure to wrap it in plastic wrap or in a freezer bag (toppings side up, of course). When you're ready to enjoy your dish, remove the plastic wrap and pop the pizza into the oven at 400° Fahrenheit directly from the freezer. Let it cook for 12-15 minutes until the cheese has melted then add on the avocado.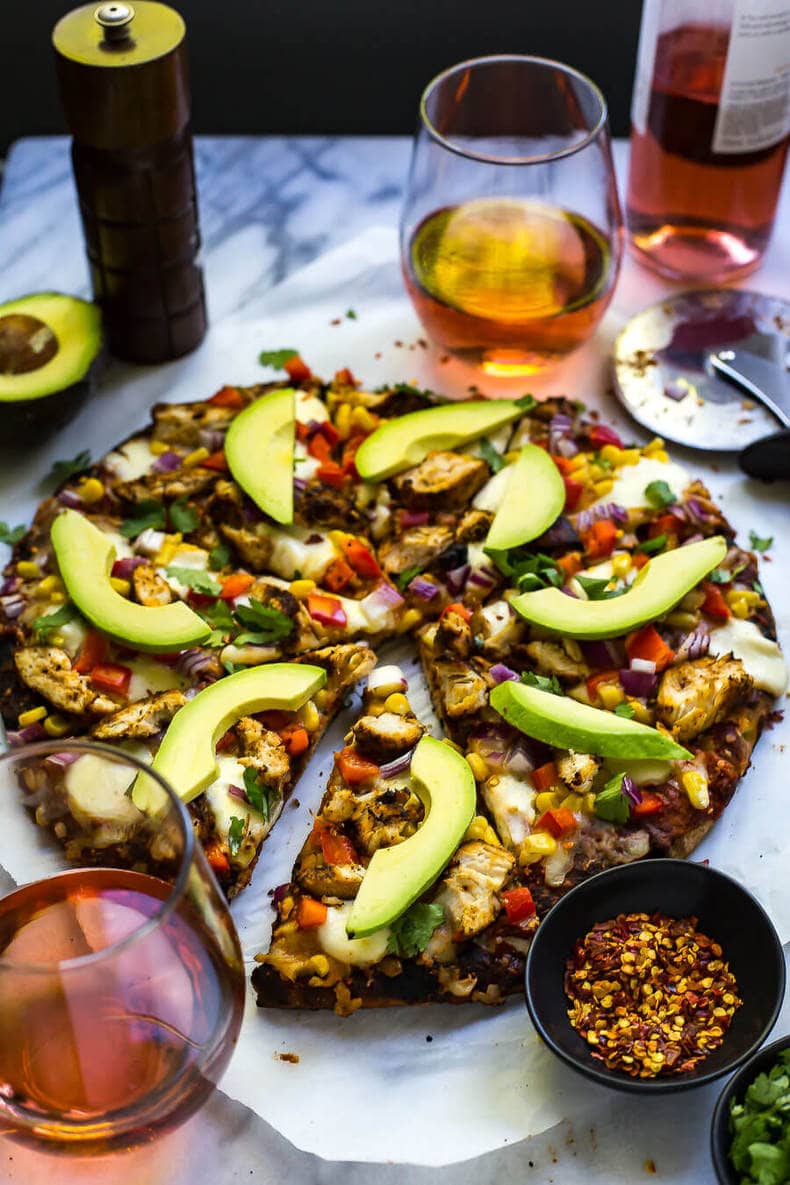 Wanna Learn How To Meal Prep?
My meal planning service, Dinner Prep Pro, removes the guesswork and helps you get dinner on the table in 15-20 minutes each night. My meal prep checklists only take 1 hour each week!
More pizza and flatbread recipes
Meal prep tools for this recipe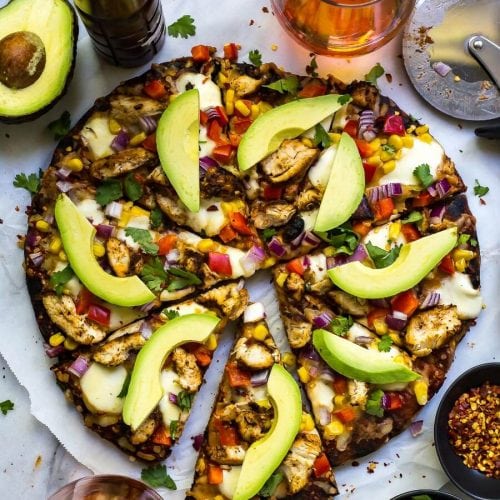 Grilled Southwest Chipotle Pizza
This Grilled Southwest Chipotle Pizza is a delicious summer meal made on the grill, topped with fresh veggies and a smoky chipotle sauce!
Print
Pin
Rate
Click Here to Remove Ads
Servings: 8 slices
Calories: 321kcal
Ingredients
1 chicken breast
2 tsp taco seasoning or Southwest spice blend
Pinch salt
1 tbsp olive oil
1 premade pizza crust
1 can chipotles in adobo sauce
1 can Pizza Sauce
1 cup shredded cheddar cheese
3/4 cup mini bocconcini balls, sliced
1/2 red pepper, diced
1 small red onion, diced
1/2 cup Corn
1/3 cup cilantro, chopped
1/2 avocado, sliced
Red chili flakes, for garnish
Instructions
Preheat BBQ to high heat (500 F). Cut raw chicken breast in half, then coat each piece in taco seasoning, olive oil and a bit of salt, rubbing all over chicken well. Grill for 10-15 min, flipping once. Remove from heat once cooked and slice up once cooled. Turn BBQ to med-low heat (400 F).

Meanwhile, prepare pizza toppings. Mix 1 tbsp adobo sauce with pizza sauce and spread over pizza crust. Top with cheddar cheese and spread red pepper, red onion and corn all over pizza. Add a bit of salt to season, and then add chicken and top with bocconcini cheese slices.

Place pizza on the grill (making sure heat is much lower) and cook for 10 minutes, or until cheese is melted. Remove from heat and top with cilantro and red chili flakes. Cut using a pizza cutter, top with avocado slices and serve with your favourite summer wine! Enjoy!
Notes
Swap out the bocconcini balls for mini mozzarella balls or pulled-apart burrata. Customize the toppings to include your favourite veggies. For a lower-calorie option, you can make this pizza using cauliflower crust. Store any leftovers in the fridge for up to 3 days. Reheat in the toaster oven or the oven and top with fresh avocado. Freeze this pizza for up to 2 months in plastic wrap or a freezer bag. Cook directly from frozen in the oven.
Nutrition
Calories: 321kcal (16%)Carbohydrates: 32g (11%)Protein: 18g (36%)Fat: 14g (22%)Saturated Fat: 6g (38%)Polyunsaturated Fat: 1gMonounsaturated Fat: 5gTrans Fat: 1gCholesterol: 41mg (14%)Sodium: 705mg (31%)Potassium: 345mg (10%)Fiber: 3g (13%)Sugar: 4g (4%)Vitamin A: 1000IU (20%)Vitamin C: 15mg (18%)Calcium: 211mg (21%)Iron: 2mg (11%)
Join The Girl on Bloor Premium!
ZERO ADS!
Weekly Meal Prep Checklists
Bonus eBooks