These Pumpkin Spice Latte Protein Bars are a healthy and delicious snack that taste just like your favourite fall Starbucks drink!
Ingredients and substitutions
Pumpkin puree – mashed bananas can be used instead for a different flavour.
Tahini – almond, sunflower or peanut butter would also work in place of tahini.
Honey – agave or maple syrup are the best substitutes here.
Vanilla – you can try using almond extract but it will have a slightly different flavour.
Whey protein powder – stick to whey, rice or soy protein powder for this recipe so you don't compromise the flavour.
Oat flour – if you don't have any oat flour, blend up 1 ½ cups of rolled oats.
Instant coffee – feel free to leave this out if you don't have any on hand.
Pumpkin pie spice – use a store-bought version or make your own using 1 tbsp. cinnamon, 1 tsp. nutmeg and 1 tsp. ginger.
Chocolate chips – leave these off if you want to cut down on the calorie count.
How to make protein bars
Microwave the wet ingredients.
Mix together the dry ingredients.
Fold the wet ingredients into the dry ingredients.
Squish into a dish then freeze.
Cut into pieces.
Drizzle the chocolate over top, serve and enjoy!
Why the high calorie count?
At 277 calories per bar, I know that it seems like a lot of calories for a snack. However, when you look at other store-bought protein bars, you're looking at about the same calorie count but with all these added ingredients. My bars also contain 20g of protein, which is quite high.
I recommend enjoying one of these bars for breakfast along with a piece of fruit. This will bring the calorie count to about 350 calories, which is right in line with what you should be eating for a meal. The amount of protein and added fibre from the fruit will keep you feeling full for a long time!
Frequently Asked Questions
Are protein bars good for you?
Protein bars can be good for you as long as you pay attention to the ingredients. These pumpkin spice protein bars are super healthy because they're made with whole ingredients – in comparison, some of the protein bars you buy at the store might have hidden ingredients.
Are they good for weight loss?
Losing weight depends on a number of factors including your exercise routine and your diet plan. While these protein bars are a healthy snack that will leave you feeling full for longer, they are high in calories. There's no one magic recipe for weight loss – it relies on a bunch of different things!
What's in a pumpkin spice latte?
The Starbucks pumpkin spice latte is one of the most popular fall drinks made with pumpkin pie spice (cinnamon, nutmeg and ginger or cloves), steamed milk and espresso. For this recipe, I took all the flavours of a pumpkin spice latte and put them in a healthy protein bar! The pumpkin puree and pumpkin pie spice bring that classic autumn flavour while the instant coffee adds a bit of caffeine to the mix.
Storing protein bars
You can store these protein bars in the fridge or on the counter in a plastic container up to 7 days, so you have some wiggle room in terms of when you have to eat them! To keep the bars from melting or going soft, I recommend storing them in the fridge for the best results. This is especially important if you have drizzled the chocolate over top!
Freezing this recipe
You can also freeze these pumpkin protein bars in a glass container or Ziploc bag for up to 3 months. They'll defrost in just 15-20 minutes on the counter, so they're a great option to just grab from the freezer on your way out the door.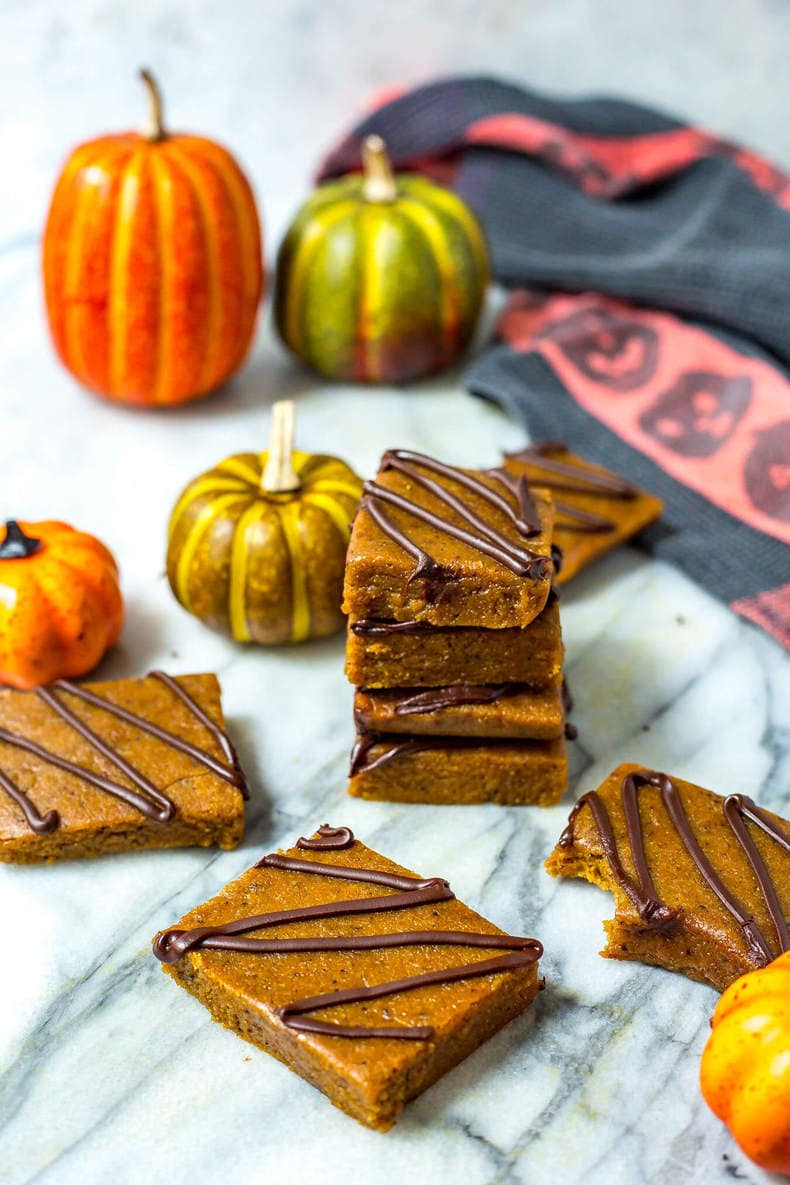 Wanna Learn How To Meal Prep?
My meal planning service, Dinner Prep Pro, removes the guesswork and helps you get dinner on the table in 15-20 minutes each night. My meal prep checklists only take 1 hour each week!
More high-protein snack recipes
Meal prep tools for this recipe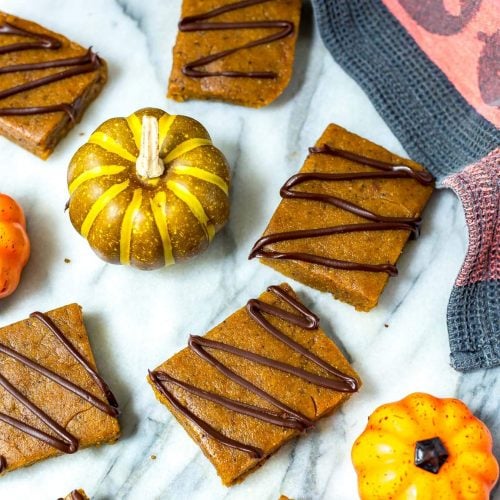 Pumpkin Spice Latte Protein Bars
These Pumpkin Spice Latte Protein Bars are a healthy and delicious snack that taste just like your favourite fall Starbucks drink!
Print
Pin
Rate
IN A CYCLE OF EATING POORLY?We've got you covered with our free Routine Revamp mini course! You'll receive 8 lessons and free coaching with us! Register👇
Join Routine Revamp!
Servings: 10 bars
Calories: 277kcal
Ingredients
1 cup pumpkin puree
1/2 cup tahini or you can use almond, sunflower or peanut butter instead
2 tbsp water
2 tbsp honey
1 tbsp vanilla
2 cups whey protein powder
1 1/2 cups oat flour or 1.5 cups rolled oats blended in a blender/food processor
1 tbsp instant coffee
2 tsp pumpkin pie spice can blend 1 tbsp cinnamon, 1 tsp nutmeg and 1 tsp ginger together to make pumpkin spice
1/4 cup chocolate chips
1 tsp water
Instructions
Mix wet ingredients (pumpkin puree, tahini, honey, water and vanilla) together in a large bowl, then microwave for 1 minute, stirring well. Mix remaining dry ingredients (protein powder, oat flour, instant coffee, pumpkin spice) together in another large bowl.

Fold wet ingredients into dry ingredients, stirring well to combine and using your hands near the end to completely mix everything together.

Squish all ingredients down into a greased 8×8 dish, pressing down firmly and smoothing the top as much as possible. Freeze for 20-30 minutes.

Meanwhile, mix chocolate chips with water and heat for 1 minute in the microwave.

Remove protein bars from the freezer and cut using a sharp knife, dividing into 10 pieces. Drizzle chocolate overtop, then serve and enjoy! I like to keep extras in the freezer – they'll keep up to 3 months in there!
Video
Notes
*Remove 23 calories if not drizzling with chocolate overtop. If you don't have any tahini, use almond, sunflower or peanut butter instead. Store these protein bars in the fridge for up to 7 days. Freeze this recipe for up to 3 months then defrost on the counter for 15-20 minutes.
Nutrition
Serving: 1gCalories: 277kcal (14%)Carbohydrates: 28g (9%)Protein: 19g (38%)Fat: 11g (17%)Saturated Fat: 2g (13%)Cholesterol: 45mg (15%)Sodium: 68mg (3%)Potassium: 279mg (8%)Fiber: 3g (13%)Sugar: 9g (10%)Vitamin A: 3831IU (77%)Vitamin C: 2mg (2%)Calcium: 151mg (15%)Iron: 2mg (11%)
Don't wait until January to eat healthy!Sign up for our free Routine Revamp mini course!
Join Routine Revamp!