These Pina Colada Instant Pot Steel Cut Oats are a delicious, healthy breakfast idea made in the pressure cooker – and because it's made in one pot, there's little clean up! Enjoy this tropical oatmeal all week long!
Say hello to a summery breakfast that is SO easy to meal prep it's almost a little ridiculous.
These Pina Colada Instant Pot Steel Cut Oats are so creamy and have just the right amount of sweetness. They can also be eaten hot or cold and prepped ahead of time so you really can't go wrong if you're an oatmeal lover (unless of course you're as obsessed with oatmeal cups as I am…)
This is basically a five-ingredient oatmeal recipe (if you don't count the water of course, lol!) and it comes together super easily in the Instant Pot so you can dump all the ingredients in the one pot and then set it and forget it. I'm pretty confident that this is going to become your new go-to summer breakfast and it's the best way to ensure you have a nourishing start to the day without spending a lot of time on making it.
So you can get back to some more fun summer activities, you know?
How to make Steel Cut Oats in Your Instant Pot
It is SO much easier to make oatmeal in your Instant Pot than you think! I went with the steel cut oats because they have a bit more fibre and they're heartier, plus I feel like regular flaked or rolled oats would get overcooked when cooked on high pressure so I just stuck to steel cut oats here.
You basically just need to ensure that you are getting the ratios of liquid to oats right, and from there it's about pressure cooking then mixing in your fillings in after everything has cooked through.
For four servings of oatmeal you want to use 3 cups of liquid and one cup of dry steel cut oats. If you want to double or triple it, just make sure that you use the three cups of liquid per cup of oats, it's a pretty simple formula. I also add a tablespoon of oil for good measure to make sure nothing sticks to the bottom of the pot.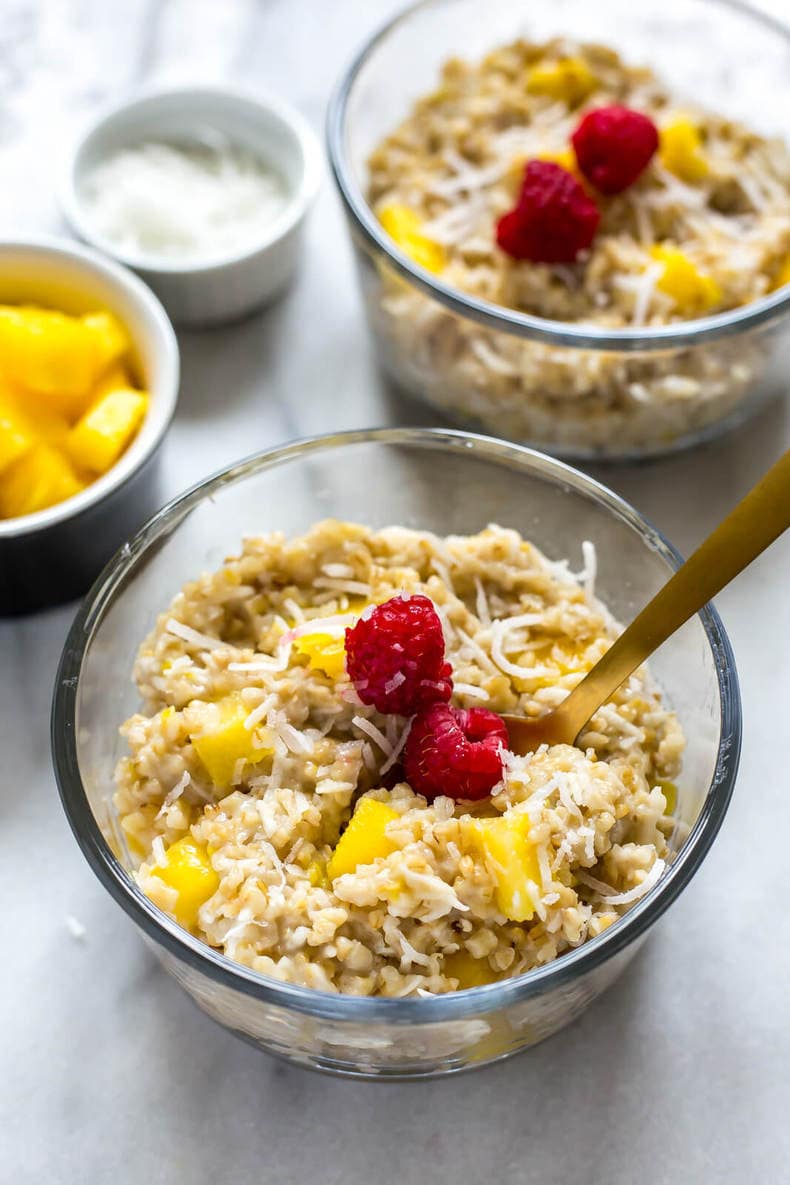 You're going to want to cook the oats on high pressure for 3 minutes and then do a natural pressure release instead of a quick release (some of the liquid can spurt through the vent if you do a quick release), and the natural release basically involves you letting the mixture sit until the pressure gauge has dropped and it's safe to open the lid – it usually takes about 25 minutes after cooking so this oatmeal recipe is definitely one you want to make while you're busy running other errands, it's not something that's ready right away.
Between the preheating, pressure cooking and natural pressure release the whole process takes about 35 to 40 minutes but it's an entirely hands off process, which is nice!
Once you have your oatmeal base, it's all about adding your fillings. I should also point out that for instant pot steel cut oats, you can use whatever liquid you'd like so don't feel pressure to use coconut milk if you don't have any. For this pina colada oatmeal I used coconut milk from a carton (think Silk or Almond Breeze, not the coconut milk from a can) but you could also use any other kind of nut milk too, or even regular milk or just water if you're in a pinch.
I personally love this pina colada steel cut oats mixture, but you may decide that you just want to do plain oatmeal and add in some strawberries, banana or almond butter later, and that's when I recommend you go with a bit of almond milk or other non-dairy milk if you're not a particular fan of coconut. There are so many ways you can modify this oatmeal recipe to make it your own!
This pina colada oatmeal requires only a few simple add-ins if you do decide to go the tropical route! I've kept it SUPER simple for you, so it's basically just sweetened shredded coconut and diced up pineapple. I used fresh pineapple because it's healthier and contains less sugar, but if you really want to make this a pantry meal you could use canned diced pineapple in a pinch.
Always good to have some flexibility in your weekly meal prep! Once you've mixed everything together, divide these instant pot steel cut oats into meal prep bowls and top with some more seasonal fresh fruit if you'd like – I love raspberries and they bring a fun colourful finish to these pina colada steel cut oats so don't be afraid to add extra fruit!
I also love that barely any sweetener is used in these Instant Pot steel cut oats too! I was actually going to mix in a tiny bit of honey or brown sugar but I find that if you use sweetened shredded coconut you get a slight hint of sweetness along with the pineapple and it's not overpowering either!
If you want to cut calories even more you can also cut the amount of shredded coconut in half – you'll still get plenty of coconut flavour from the coconut milk and coconut oil.
Will you be making these Pina Colada Instant Pot Steel Cut Oats? 
I absolutely love prepping breakfast ahead of time because it just makes everything so much easier during the work week! If you're looking for another fun meal prep breakfast idea, you'll probably also want to try these mini breakfast pizzas on English muffins – in case you're looking for something more savoury instead!
If you try any of my recipes be sure to let me know on Instagram, Twitter, Facebook or in the comments – I'd love to see what you come up with!
The Instant Pot DUO Plus 60
 is the version I use in this recipe.
Here are the glass meal prep bowls I use.
And I love these steel cut oats in case you're looking to stock up!
This is the type of coconut I use.
Pina Colada Instant Pot Steel Cut Oats
These Pina Colada Instant Pot Steel Cut Oats are a delicious, healthy breakfast idea made in the pressure cooker - and because it's made in one pot, there's little clean up! Enjoy this tropical oatmeal all week long!
Print
Pin
Rate
Ingredients
1

tbsp

coconut oil

2

cups

coconut milk (from a carton; I used Silk)

1

cup

water

1

cup

steel cut oats

1 1/2

cups

fresh pineapple, diced

3/4

cup

sweetened shredded coconut

Raspberries or cherries (optional, for topping)
Instructions
Pour coconut oil, coconut milk, water and steel cut oats to Instant Pot in that order. Cook on high pressure for 3 minutes and let the pressure release naturally (about 20-25 minutes - you'll know when the pressure valve is down and lid opens easily.)

Remove lid and stir in shredded coconut and pineapple. Divide among 4 meal prep bowls and garnish with raspberries or cherries (optional). Serve and enjoy!
Video
Nutrition
Calories:
233
kcal
|
Carbohydrates:
28
g
|
Protein:
4
g
|
Fat:
13
g
|
Saturated Fat:
7
g
|
Polyunsaturated Fat:
0.5
g
|
Monounsaturated Fat:
1
g
|
Sodium:
64
mg
|
Potassium:
169
mg
|
Fiber:
3
g
|
Sugar:
10
g
|
Vitamin A:
300
IU
|
Vitamin C:
35.5
mg
|
Calcium:
240
mg
|
Iron:
1.4
mg