These Overnight Steel Cut Oats are made with Greek yogurt, almond milk and hemp hearts for a protein-packed meal prep breakfast!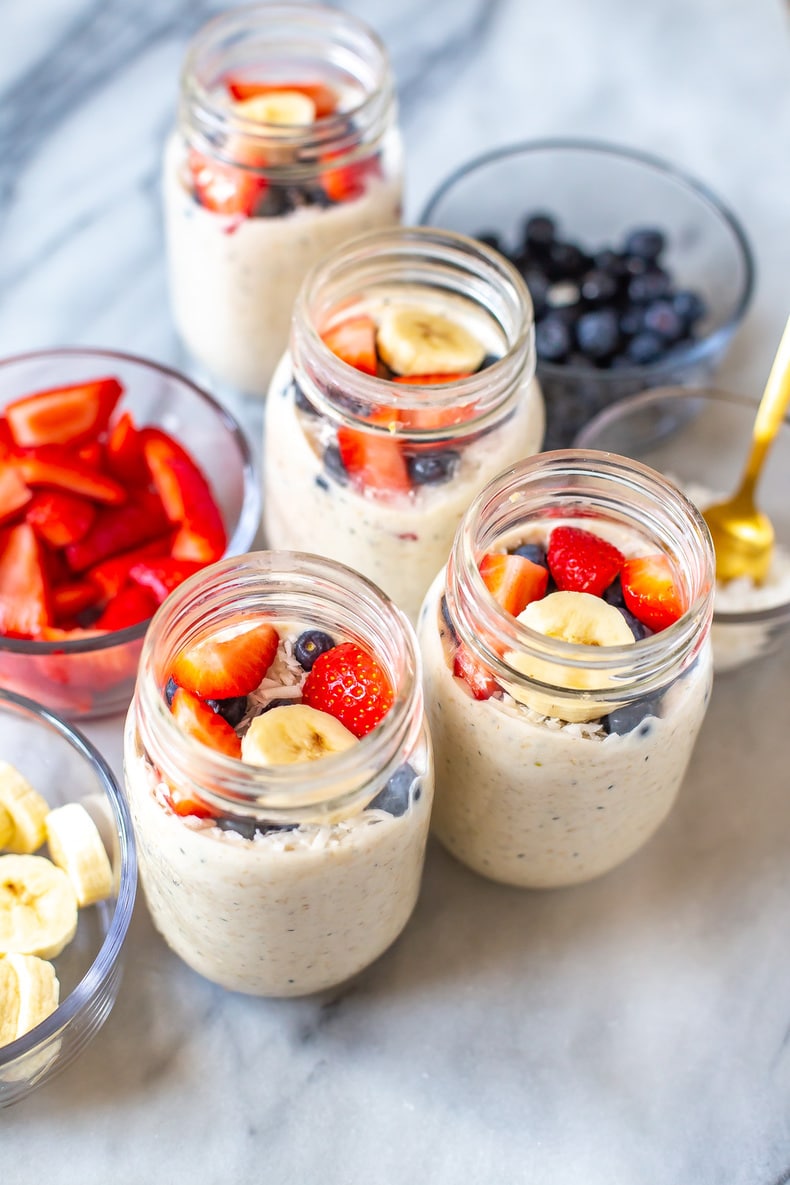 Ingredients for overnight steel cut oats
Overnight steel cut oats are simple, delicious, and packed with nutrients. Make this recipe today and you'll have breakfast ready for the rest of the week!
Here's a basic shell of what you need to make them:
Quick cook steel cut oats
Almond milk
Greek yogurt
Hemp hearts
Toppings (optional)
Ingredient substitutions
Overnight oats are the perfect solution to give you that boost of energy and start your day off right.
The best part of this overnight oats recipe is that it's incredibly flexible. You can swap out any of the ingredients to better suit your diet or allergies.
Gluten-free: While oats themselves do not contain gluten, they are often contaminated during processing. To ensure that your overnight oats are safe, use certified gluten-free oats.
Almond milk: You can use other non-dairy milk options for this recipe. Oat, cashew, and hemp are great options to keep a similar flavor and consistency.
Greek yogurt: There are some non-dairy greek yogurt options that you can use in place of milk-based ones. It's possible to use regular yogurt if that's what you have on hand, but the oats won't be as thick.
Hemp hearts: Chia seeds, flax seeds, or wheat germ can be substituted for the hemp hearts. Use an equal amount as the recipe calls for.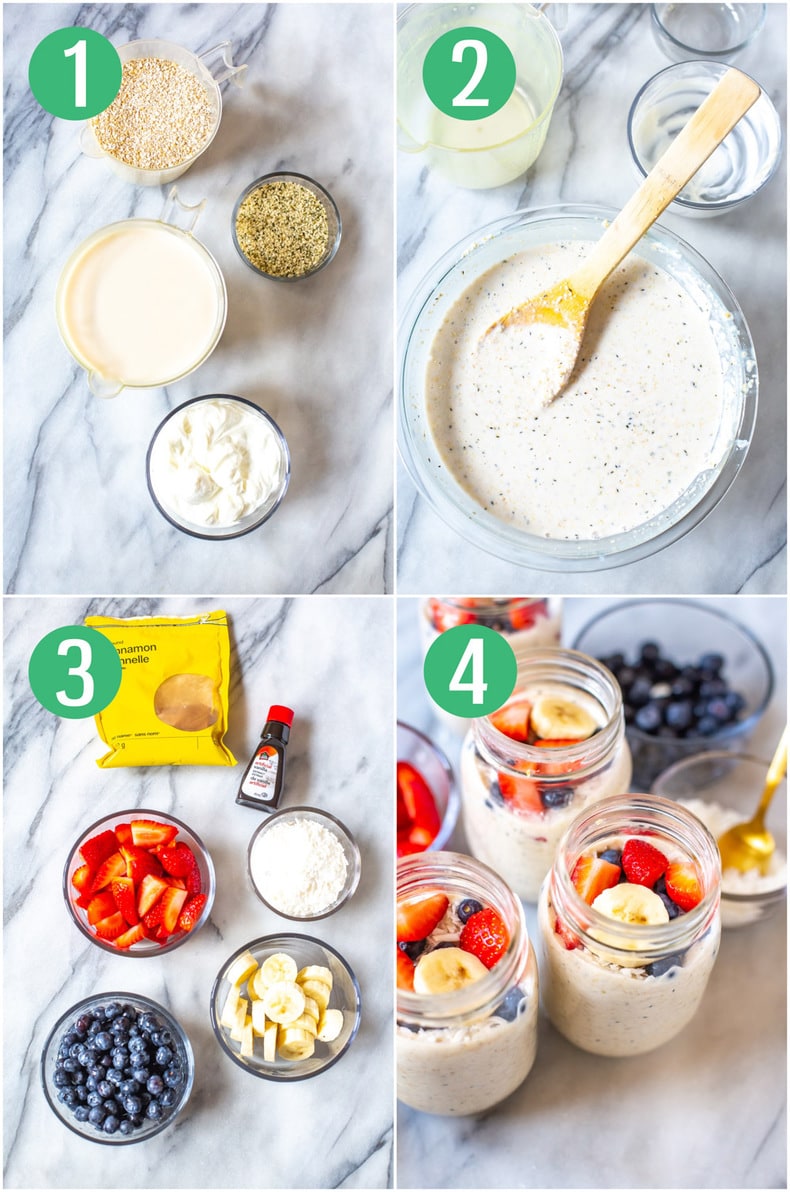 How to make overnight steel cut oats
You only need a couple of minutes of prep, and then your fridge does the rest of the work for you!
Gather and measure out all of your ingredients.
Mix everything together in a bowl until well combined.
Grab any toppings you'd like to add. You can make all the same flavor or mix and match for a variety of options.
Divide into four pint-size mason jars, and add your desired toppings. Screw the lids on the jars and let sit in the fridge overnight.
Can you eat steel cut oats without cooking them?
Eating raw oats is generally considered safe because of the heating process they go through before making it to the store shelves.
Steel cut oats don't go through the same steaming process to remove pathogens. As a result, if you're going to eat them raw, you may want to use organic oats.
Either way, they're pretty tasteless in raw form. Some people sprinkle them on top of desserts or sweetened yogurt, but using them in this overnight oats recipe will give them plenty of flavor.
See this article from the University of Wisconsin for more info on the safety of raw oats.
What type of oats are best for overnight oats?
You can use either quick-cooking steel cut oats or old-fashioned rolled oats. What you use will depend on the texture you are looking for.
Steel cut oats will be chewier and have a slightly nutty flavor, while rolled oats will be more creamy with a neutral flavor.
Instant oats will not work well in this overnight oats recipe. They will break down in the liquid and you'll be left with jars of mush.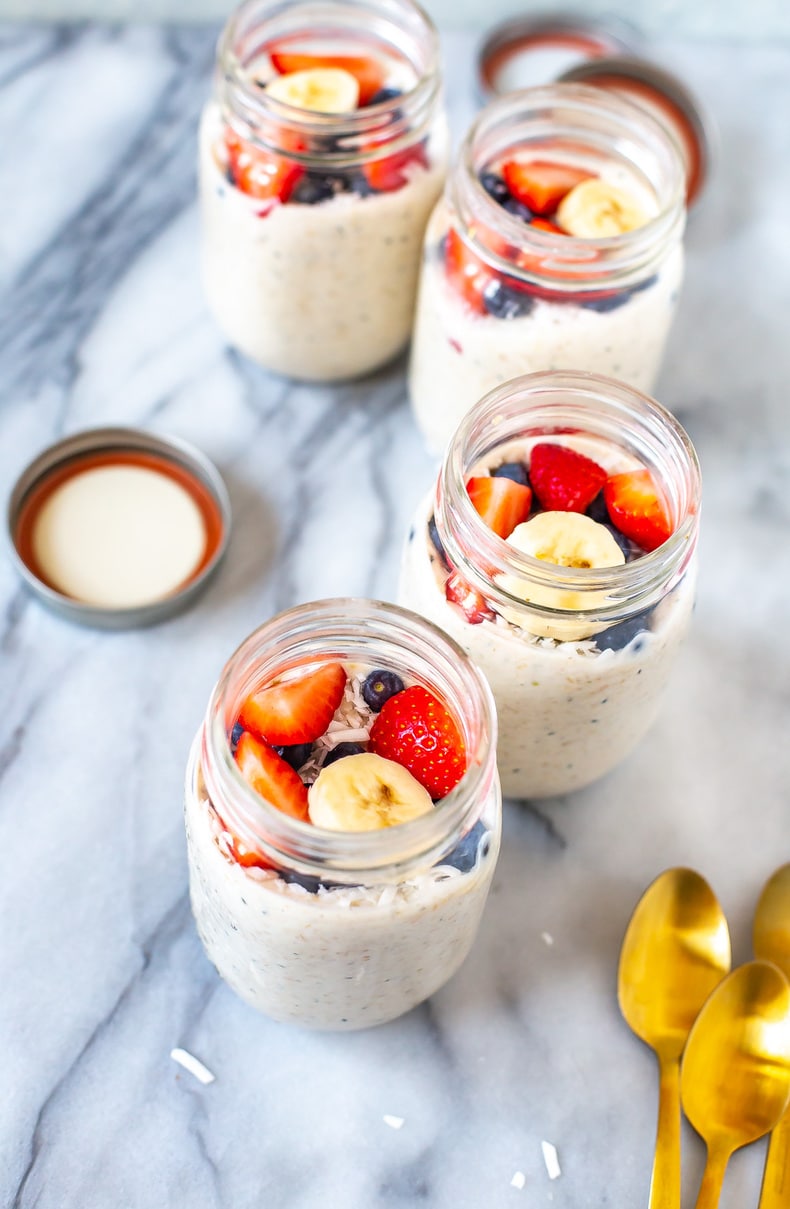 Nutritionally balanced
Steel cut oats have a long list of health benefits:
They are an excellent source of fiber, which can lower cholesterol levels, stabilize blood sugar, and improve digestive health.
Oats are a vegetarian source of iron and a complex carbohydrate. As a result, they help you sustain energy throughout the day.
Both almond milk and Greek yogurt are good sources of calcium, which is good for bone health and can reduce the risk of osteoporosis.
Almond milk is also high in vitamin E, and Greek yogurt provides protein and vitamin B-12.
Hemp hearts are very rich in essential fatty acids like omega-3 and omega-6. Plus, they have protein, vitamin E, and a list of minerals that keep our bodies functioning.
So, eating steel cut oats may reduce your risk of heart disease and keep your skin, hair, and nails healthy and full of moisture!
More topping ideas
By using different toppings, spices, and syrups, you can create an endless amount of flavor options when it comes to these steel cut overnight oats. Here are some more flavor ideas:
Fresh berries
Sliced banana
Chunks of pineapple or mango
Nuts and seeds
Cinnamon
Vanilla extract
Maple syrup or honey
Shredded coconut
Storing overnight oats
You'll want to keep these overnight oats in the fridge and eat within a week of making. They cannot be left at room temperature or the ingredients will spoil. Additionally, they cannot be frozen.
Can you heat up overnight steel cut oats?
Yes, you can warm them up in the microwave! Heat on high for 30 seconds, then remove and stir the oats. Repeat for 30 seconds at a time until warmed all the way through.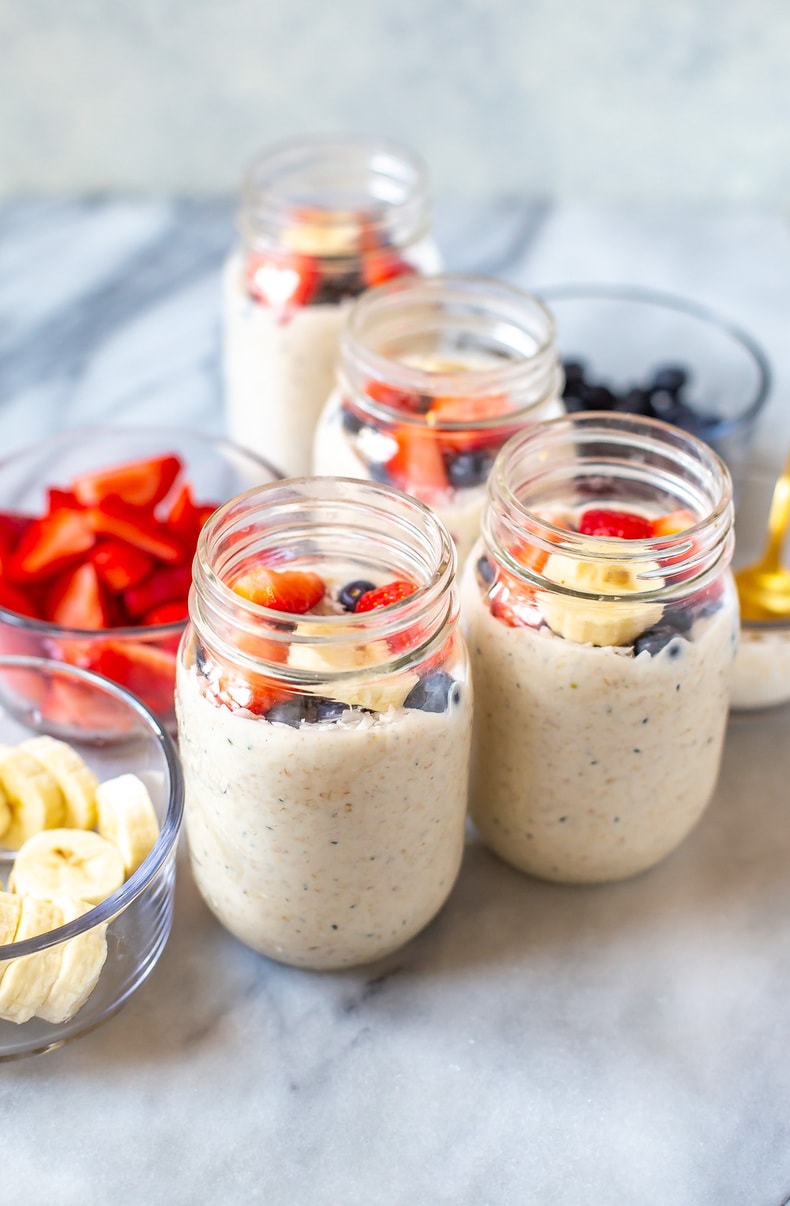 More meal prep oatmeal recipes
Meal prep tools for this recipe
Overnight Steel Cut Oats
These Overnight Steel Cut Oats are made with Greek yogurt, almond milk and hemp hearts for a protein-packed meal prep breakfast!
Print
Pin
Rate
Ingredients
2

cups

quick cook steel cut oats

4

cups

almond milk

1

cup

Greek yogurt

1/4

cup

hemp hearts
Optional toppings/fillings
Fresh fruit (Blueberries, strawberries, bananas, mango, etc.)

Nuts and seeds

Cinnamon

Vanilla extract

Shredded coconut
Instructions
Mix steel cut oats, almond milk, Greek yogurt and hemp hearts together in a large bowl, mixing well to combine.

From here, either mix in your fruit or divide mixture among 4 pint-sized mason jars and top with toppings of choice.

Jars will keep in fridge up to 7 days. Serve and enjoy!
Video
Nutrition
Calories:
446
kcal
|
Carbohydrates:
56
g
|
Protein:
24
g
|
Fat:
14
g
|
Saturated Fat:
1
g
|
Cholesterol:
3
mg
|
Sodium:
343
mg
|
Potassium:
71
mg
|
Fiber:
10
g
|
Sugar:
2
g
|
Vitamin A:
65
IU
|
Calcium:
412
mg
|
Iron:
5
mg