These protein pancakes are the best ever, and they are SO easy to make! All you need are protein powder, egg whites, bananas and baking powder.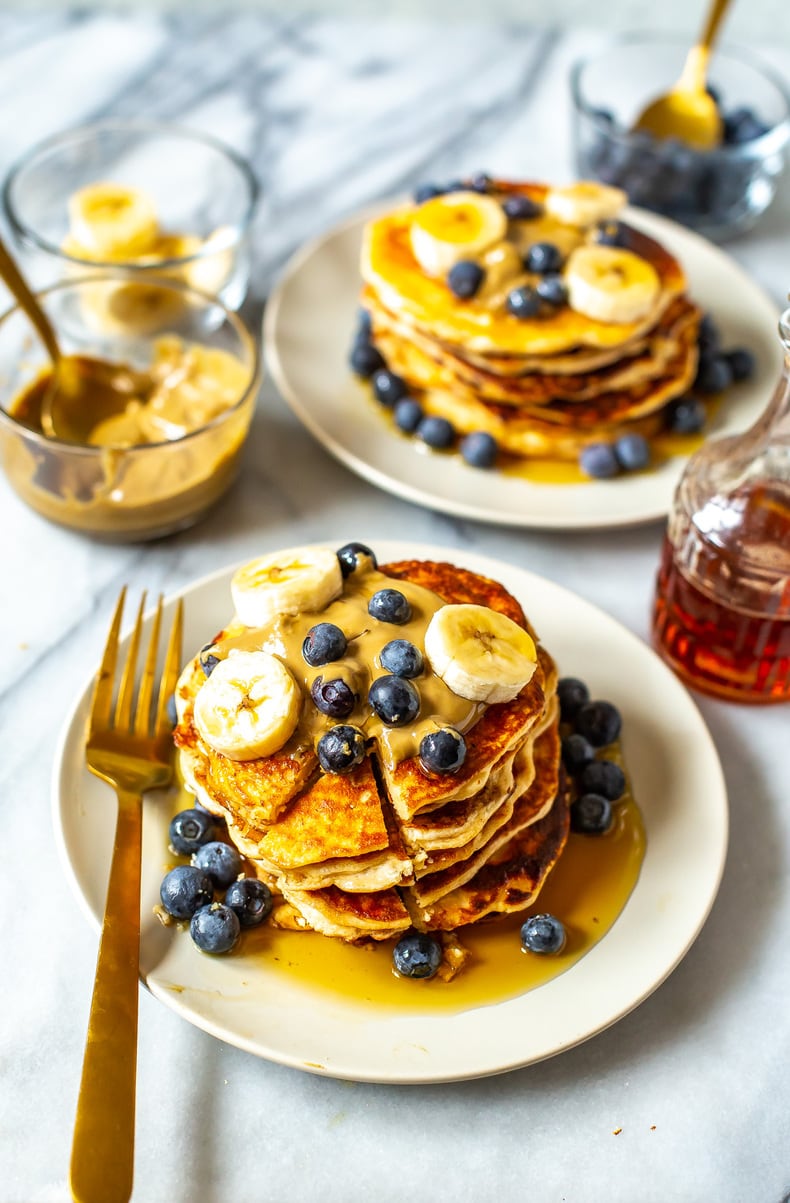 Are protein pancakes healthy?
Pancakes are perfect for a weekend breakfast. But unfortunately, not all pancakes are nutritious. In fact, depending on the ingredients and toppings, they can be very high in carbs and calories.
Plus, with a topping of "fake" maple syrup, the pancake breakfast is a sugar crash waiting to happen. The good news is, this protein pancake recipe is a much better choice.
So are protein pancakes healthy? Absolutely! This breakfast is high in protein and low in calories. One serving of 2 pancakes has just 250 calories, and a whopping 30 grams of protein!
Now, if you are eating low carb, be mindful of the fact that this recipe is not low carb since we are using bananas, which contain lots of natural sugars.
Pancake ingredients
With only 4 ingredients, this may be the simplest protein pancake recipe ever! Here is what you'll need to make them:
Bananas – Use bananas that are as ripe as possible. This is the perfect opportunity to use your overripe bananas to make something other than banana bread!
Protein powder – I use vanilla flavour protein powder. As a result, they have a little extra zip of flavour. Plain (unflavoured) powder will also work. Just make sure to use whey protein for best results – you can try rice, soy or pea protein, but keep in mind the results and texture may be different.
Egg whites – These are a great source of protein. In combination with protein powder, egg whites really give this breakfast a boost of fuel for your body.
Baking powder – NOT baking soda
Butter – The butter isn't part of the pancake batter; it's just for greasing the skillet so the pancakes don't stick.
How to make the protein pancake recipe
Start by mashing the bananas in a large mixing bowl. When the bananas are mashed, add in the other ingredients and stir well to combine everything.  Then, heat some butter in a large frying pan over medium heat.
Note: If you plan to substitute applesauce for one or more of the bananas, don't add them until after mashing the bananas. 
Add a small spoonful of the pancake mixture to the hot pan. This is a test to make sure the skillet is hot enough to cook the pancakes. When the bottom of the tester pancake starts to form, flip it, finish cooking it, and then remove from heat.
Add pancake batter using a large ladle, cooking four pancakes at a time. Flip them after they become golden brown on the bottom, about 5 minutes.
Serve the pancakes with any toppings of your choice.
I usually top my protein pancakes with slices of banana and fresh blueberries or a drizzle of pure maple syrup.
A fun idea is to make pancake sandwiches. Do this by spreading some nut butter onto one pancake, then place a second pancake on top of it for pancakes to go!
Ingredient substitutions
Protein powder: If you need a dairy-free or vegan alternative, there are plant-based protein powders. They are usually available at health food stores, or online.
Bananas: A great substitute for bananas in baking is applesauce. In general, you can use 1/2 cup of applesauce as a replacement for 1 medium banana.
Note: For this protein pancake recipe, you cannot replace all of the bananas with applesauce. You can safely substitute 1 cup of applesauce for two bananas, though. If you try to replace all of the bananas with applesauce, the pancake batter will be too wet. As a result, the pancakes won't have enough structure to rise and become fluffy.
What type of protein powder to use
I use whey protein powder. When you shop for the protein powder, you may see whey listed on the ingredient label in one of these forms:
concentrate
isolate
hydrolysate
All of these forms of whey protein are gluten-free and completely safe for people with celiac disease.
In case you are wondering, whey is one of two proteins that are in dairy milk. (The other protein is casein.) Whey is the watery portion of milk that separates from curds during the process of cheesemaking. Here is the protein powder I use if you're looking for a clean one.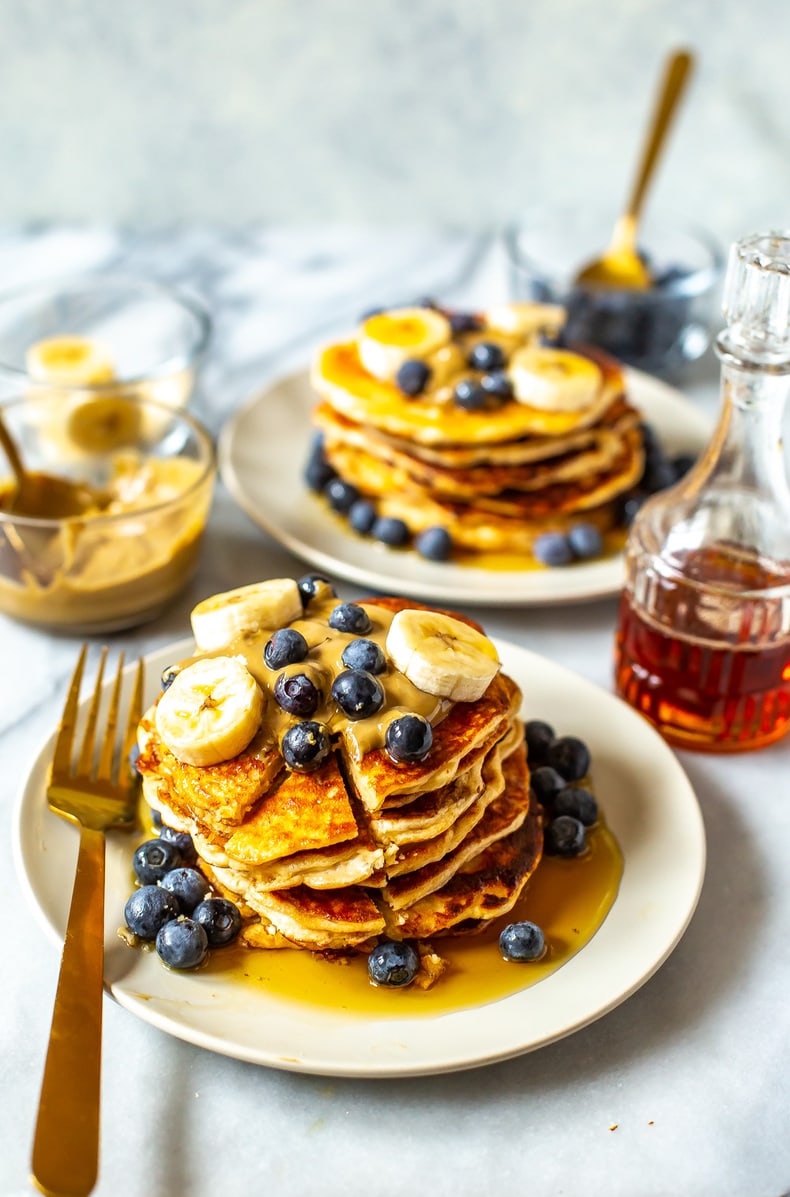 Storing and reheating
If you make too many pancakes or you want to save some to enjoy later, store them in the fridge. They'll keep well there for 5 days.
To prevent them from sticking together, wait until they are completely cool first. Also, place a piece of parchment or wax paper between each pancake.
To reheat, microwave on high for 1 to 2 minutes, or reheat them in a toaster or toaster oven.
Freezing protein pancakes
You can also freeze the pancakes. They will keep well frozen for up to 2 months. Just be sure to freeze them in an airtight bag or container. You can reheat them from frozen for 2-4 minutes in the microwave, or pop them into the toaster.
More protein powder recipes
Meal prep tools for this recipe
Best Ever Protein Pancakes
Protein pancakes are a delicious and nutritious breakfast, and this recipe is SO easy to make! You can make a batch using 4 simple ingredients.
Print
Pin
Rate
Servings:
8
servings (2 pancakes per serving)
Ingredients
2

tbsp

butter, for frying

3

cups

vanilla whey protein powder

8

egg whites

4

bananas, mashed

1

tsp

baking powder
Instructions
In a large bowl, mash bananas. Mix remaining ingredients for pancakes together until just combined. Heat butter in a large frying pan over medium heat.

Add a small spoonful of pancake mixture to test, making sure skillet is hot enough to add pancake batter. Once bottom of tester pancake starts to form, flip and then remove from heat.

Add pancake batter by large ladle scoop, cooking four pancakes at a time and flipping once a bottom starts to form, about 5 minutes.

Freeze pancakes up to 2 months, reheating in microwave on high for 1 1/2 to 2 minutes or reheating in the toaster. Top with optional toppings and serve!
Video
Nutrition
Calories:
249
kcal
|
Carbohydrates:
22
g
|
Protein:
30
g
|
Fat:
6
g
|
Saturated Fat:
3
g
|
Cholesterol:
91
mg
|
Sodium:
180
mg
|
Potassium:
477
mg
|
Fiber:
2
g
|
Sugar:
10
g
|
Vitamin A:
125
IU
|
Vitamin C:
5
mg
|
Calcium:
234
mg
|
Iron:
1
mg