How to Cook Spaghetti Squash 4 Ways
This post will show you How to Cook Spaghetti Squash with 4 different flavours – think pizza, pad Thai, chicken alfredo and taco spaghetti squash boats! Jump to Recipe
How to cut spaghetti squash
For each of these spaghetti squash recipes, you will have to cut your squash in half. The exterior skin of the squash is very tough, but there is a trick that will make the work much easier.
With a sharp knife, make a few slits in the squash where you plan to cut, like you are making a dotted line around the outside. Microwave the entire squash for 2-3 minutes, then allow it to cool enough to handle it. You can also just microwave it, skipping the slit making process.
At this point, the squash skin will be soft enough to cut easily along your pre-cut lines!
How to cook spaghetti squash
Slice the spaghetti squash in half lengthwise.
Remove the seeds by scooping out with a spoon.
Drizzle with olive oil and season with salt and pepper.
Roast in the oven at 425 F. for 35 minutes.
Scrape the insides with a fork to create spaghetti-like strands of squash.
Top with the fillings of your choice – you can cook the chicken and ground beef if making the alfredo or taco versions while the squash is roasting in the oven.
Bake for another ten minutes then enjoy!
How to make spaghetti squash in the Instant Pot
Take advantage of the quick cooking time of the Instant Pot and learn how to make spaghetti squash fast! Follow the same basic preparation methods as above.
Then, add a cup of water to the bottom of the pot. You'll want to use your steamer basket to keep the squash out of the water. Set the Instant Pot for 3-5 minutes, depending on how well done you prefer your squash to be. Do a quick release at the end of the cooking time to stop the cooking process.
I have the perfect Instant Pot Spaghetti Squash recipe on my other website, Eating Instantly, if you'd like more detailed instructions and a way to make an easy meat sauce in your Instant Pot to boot!
How to avoid mushy squash
Taking a few simple precautions will help ensure that you don't end up with mushy, inedible squash.
Steamer basket – If you are cooking it in the Instant Pot, use the steamer basket so the squash does not sit in the water.
Quick pressure release – Also in the Instant Pot, do a quick release of pressure versus a natural release. This will stop the cooking process sooner.
Low temperature – Don't cook the squash at a temperature higher than recommended if going the oven route. It will not cook evenly or completely if you try to rush the process.
Don't overcook it. There is a fine line between done and overdone. I find 45 minutes in the oven is the perfect amount of time to get those soft strands and they will still be a bit al dente. Between roasting for 35 minutes and baking another 10 minutes with the toppings, this recipe has you cooking the squash for 45 minutes total. You can always add more cook time if preferred.
Baked spaghetti squash four ways
These recipes for spaghetti squash will keep the flavours of your meal exciting and delicious! Start with these and then get creative and create some of your own. The best part about spaghetti squash is that it's the perfect vessel for other ingredients, and it has a mild enough taste to complement any flavour.
Pad Thai
Pizza
Taco
Chicken alfredo
PAD THAI
PIZZA
TACO
CHICKEN ALFREDO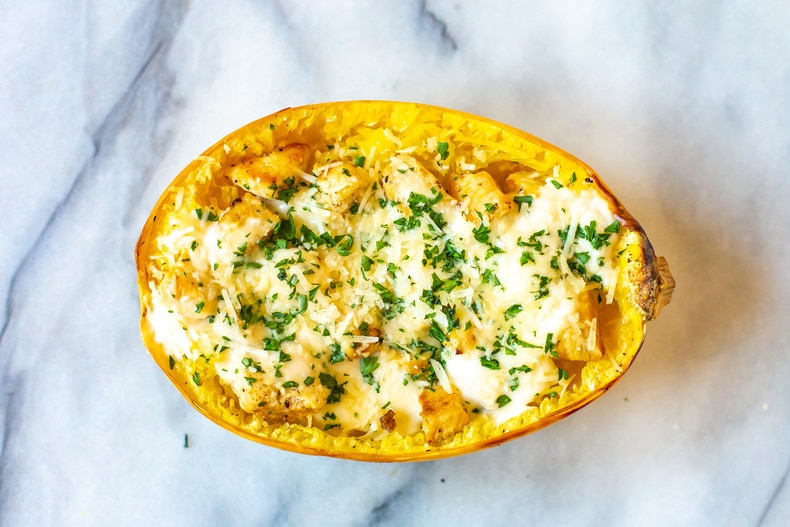 How to make spaghetti squash strands
The strands of the squash actually run horizontally in circles around the center with the seeds. Keep this in mind if you want longer strands. You will want to run your fork from edge to edge rather than lengthwise through the squash.
How long can you store spaghetti squash?
Fall is a great time to buy spaghetti squash or any other variety of winter squash. This is when they are perfectly ripe and fresh!
If you want your spaghetti squash to keep well in the pantry, choose a squash that is heavy for its size. Also, avoid any that have damaged stems or soft spots; they will not last nearly as long.
You can store an uncut, raw spaghetti squash in a cool dry place for up to two months. Refrigeration is not good for spaghetti squash. It will only last a week or two that way.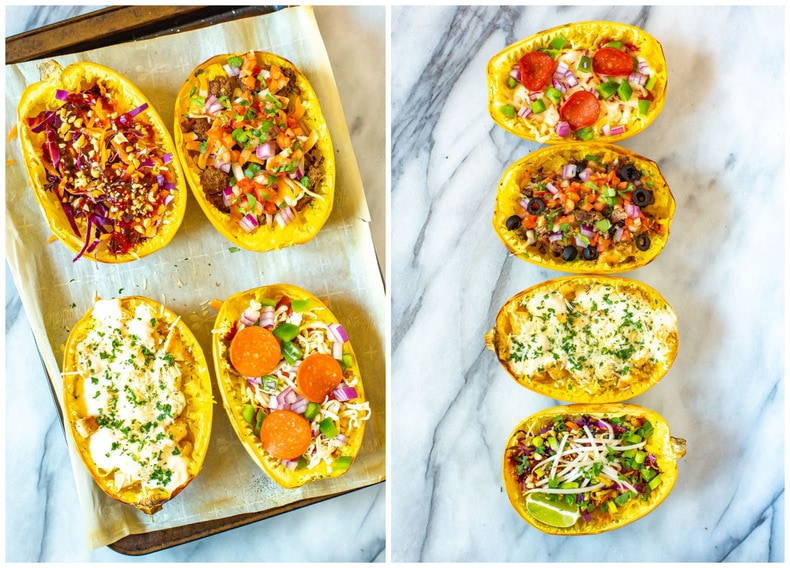 How else can you serve spaghetti squash?
One of the most popular ways to eat spaghetti squash is as a substitute for wheat noodles. The long strands look like pasta on your plate, and they are a great low carb replacement.
Anywhere you would use traditional pasta, you can use spaghetti squash. Try some of these dishes with spaghetti squash as your substitute:
Spaghetti squash and meatballs
On salad
In a frittata
In a stir fry
Stuffed spaghetti squash, like in these recipes below
Other spaghetti squash recipes
Now that you know how to cook spaghetti squash, try these other delicious ways to serve it!
Storing and reheating squash
These baked spaghetti squash recipes will last in the refrigerator for five days. This means that you can prepare this meal in advance. During your meal prep time, you can have this meal made and just spend a few minutes reheating it in the oven the day you want to eat it.
This is also a great portable meal for lunches. Two to three minutes in the office microwave, and it is ready to eat!
Can you freeze spaghetti squash?
If you love the spaghetti squash noodles, you can freeze them after you have cooked the squash. In an airtight container they will last for three months in the freezer. This is the best method to preserve spaghetti squash.
If you love these baked spaghetti squash recipes, you can make the stuffing and freeze it. Then when spaghetti squash is in season, you can use the whole squash to make these recipes. To defrost from frozen, simply microwave for 5-6 minutes, stirring halfway through, then serve with your fave toppings and sauces.
Meal prep tools for this recipe
Meal prep challenge
If you'd like some more help with meal planning, then you'll love my free 5-day meal prep challenge! It's basically a free course that will teach you how to meal prep and cook healthy meals at home with some PDF bonus materials. Sign up for free below: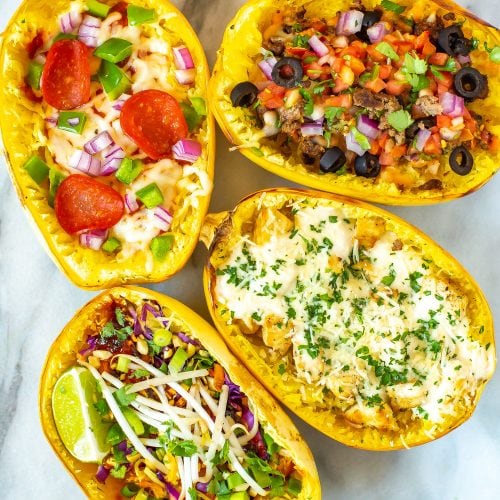 Print Recipe
How to Cook Spaghetti Squash 4 Ways
This post will show you How to Cook Spaghetti Squash with 4 different flavours - think pizza, pad Thai, chicken alfredo and taco spaghetti squash boats!
Ingredients
Pizza spaghetti squash
1

tbsp

olive oil

2

spaghetti squash

1

cup

pizza sauce

1

cup

mozzarella cheese

1/2

cup

diced green pepper

1/2

cup

red onion, diced

1/2

cup

pepperoni
Pad Thai spaghetti squash
1

tbsp

olive oil

2

spaghetti squash

1/2

cup

pad thai sauce

1/2

cup

grated carrots

1/2

cup

thinly sliced red cabbage

1/2

cup

bean sprouts

2

green onions, sliced

2

tbsp

chopped peanuts

2

tbsp

chopped cilantro
Chicken Alfredo spaghetti squash
1

tbsp

olive oil

2

spaghetti squash

2

chicken breasts, diced

1

cup

jarred alfredo sauce

1/4

cup

parmesan cheese

2

tbsp

chopped parsley
Taco spaghetti squash
1

tbsp

olive oil

2

spaghetti squash

1/2

lb

extra-lean ground beef

1/2

cup

red onion, diced

1/2

cup

black olives

1

cup

pico de gallo or fresh salsa

1

cup

grated cheddar cheese

2

tbsp

chopped cilantro
Instructions
Preheat oven to 425 F. Cut spaghetti squash in half lengthwise and scoop out seeds. Drizzle with olive oil and season with salt & pepper, then roast for 35 minutes until softened.

Meanwhile, if using chicken or ground beef, cook the meats in a skillet over med-high heat for 7-8 minutes until browned and fully cooked.

Remove squash from oven and scrape into spaghetti-like strands. Top with toppings of choice (with the exception of fresh herbs, bean sprouts and green onions if using), then bake in the oven for another 10 minutes until toppings are cooked through.

Serve and enjoy! Spaghetti squash boats will last in fridge up to 5 days. Cooked spaghetti squash (without toppings) will last in the freezer up to 3 months.
Video
Nutrition
Calories:
361
kcal
|
Carbohydrates:
40
g
|
Protein:
14
g
|
Fat:
19
g
|
Saturated Fat:
7
g
|
Cholesterol:
37
mg
|
Sodium:
829
mg
|
Potassium:
847
mg
|
Fiber:
9
g
|
Sugar:
18
g
|
Vitamin A:
1103
IU
|
Vitamin C:
31
mg
|
Calcium:
268
mg
|
Iron:
3
mg