Super Easy Homemade Peppermint Mochas
These Super Easy Homemade Peppermint Mochas are a delicious, healthy version of a Christmas coffee drink complete with candy canes, whipped cream and mint syrup!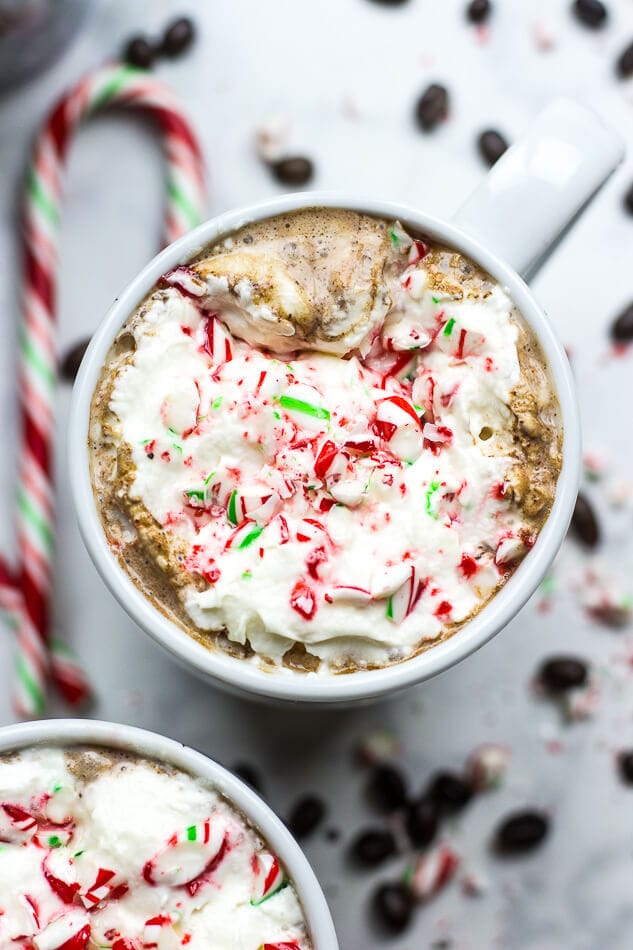 So we finally got around to putting up our outdoor Christmas decorations yesterday, and I'm getting into complete cozy mode for the rest of the holiday season, which will definitely involve plenty of Homemade Peppermint Mochas.
I legit had one at Starbucks last week walking through Yorkville in downtown Toronto getting all my gifts and was loving life. I think all the fancy drinks just put me into complete holiday mode like the most basic white girl ever. Please don't judge.
I mean don't you just LOVE this time of year?
All the garlands on everybody's doors, the lights glimmering at night making the cold, dark weather seem okay, Christmas movies on the couch in front of the fireplace (TV version or if you're lucky enough, a real one…) and endless of amounts of comfort food…all of this just makes me so happy to be alive!
One of the things I miss about living at home is the childhood traditions in my hometown. We used to always go to the Christmas parade at my grandparents' place and drink so much hot chocolate and indulge in endless appetizers (like, I'm pretty sure that's what us kids would eat for dinner while the adults drank their weight in egg nog LOL), and we would also ALWAYS show up for every tree lighting in town at the local library.
If you were to tell me there was such a thing as candy cane hot chocolate or peppermint mochas back then you would have seen me drinking them right through til March, refusing to believe Christmas was over.
It's that kinda stuff that makes me miss living in Hamilton sometimes. But as an adult living on my own in the big city, I've started to make my own traditions, and that involves Christmas shopping.
Downtown Toronto is actually the place to be if you really wanna get in the holiday spirit. We've got this giant outdoor Christmas market in the Distillery District that everybody puts on Instagram (it's practically obligatory) and just about everywhere you go there are lots of lights and decorations.
Even the CN Tower is lit up red and green, and guess who has a view of it from their new apartment?!
Another reason I love the holidays is because they give me time to reflect on all the changes that have happened over the year, and it's the one time where everyone else seems to be slowing down and enjoying life a bit more. You can easily step away from the computer and enjoy all that life has to offer, and I'm grateful for the peace and quiet that comes with the end of the year.
Mostly, I'm actually happy that I'll be home for the whole month of December and get to celebrate every aspect of the holidays with my friends and family for the first time in a few years! No more exams, no more rushing to buy last minute gifts…I've got time to plan for once!
Don't you sometimes wish Christmas could be as magical a time when you're an adult? Nowadays, special occasions feel like they just fly by in such a rush!
But at least we have these Starbucks copy cat Peppermint Mochas to look forward to for the whole month of December.
We seriously need to talk more about this spectacular holiday drink.
It is basically like one of my mint chocolate fudgsicles only in candy cane hot chocolate form, and spiked with a little bit of coffee. All your caffeine breaks from here on out will be so much more exciting and festive.
That's not to say you couldn't also add in a little bit of Bailey's or some sort of coffee liquer to make this drink EVEN MORE festive though.
I know, I'm a bad influence.
And here are yet more reasons to love this Homemade Peppermint Mocha:
It can be made dairy-free with your favourite nut, soy or coconut milk
The cocoa powder adds a rich, chocolately flavour without going crazy on the sugar
It's like a holiday dessert in a glass – perfect for Christmas morning!
The whipped cream. Enough said (go with a coconut whipped cream for a lower calorie drink)
I can't even deal with how much I love these Homemade Peppermint Mochas.
I need one now – good luck finding me the rest of the day!
I'll be glued to my coffee machine.
Will you be making these Homemade Peppermint Mochas?
If you try any of my recipes be sure to let me know on Instagram, Twitter, Facebook or in the comments – I'd love to see what you come up with!
| | |
| --- | --- |
| | |
Make the mint syrup by mixing together boiling water, sugar and mint extract. Set aside - this syrup will last up to a month in the fridge so you can enjoy peppermint mochas all December long!

In a large glass mixing cup, microwave milk for 2 minutes and 30 seconds. Add cocoa powder, mint syrup, chocolate chips and fresh espresso shots, whisking well to combine.

Top with whipped cream and crushed candy canes, then serve and enjoy!
Nutrition Facts
Homemade Peppermint Mocha (Video!)
Amount Per Serving
Calories 147
Calories from Fat 27
% Daily Value*
Total Fat 3g 5%
Polyunsaturated Fat 0.02g
Sodium 136mg 6%
Potassium 213mg 6%
Total Carbohydrates 31g 10%
Protein 2g 4%
* Percent Daily Values are based on a 2000 calorie diet.