This Grilled Hassleback Fajita Stuffed Chicken is stuffed with bell peppers and red onions then topped with tex mex cheese – it's a delicious and healthy weeknight dinner that comes together in a pinch!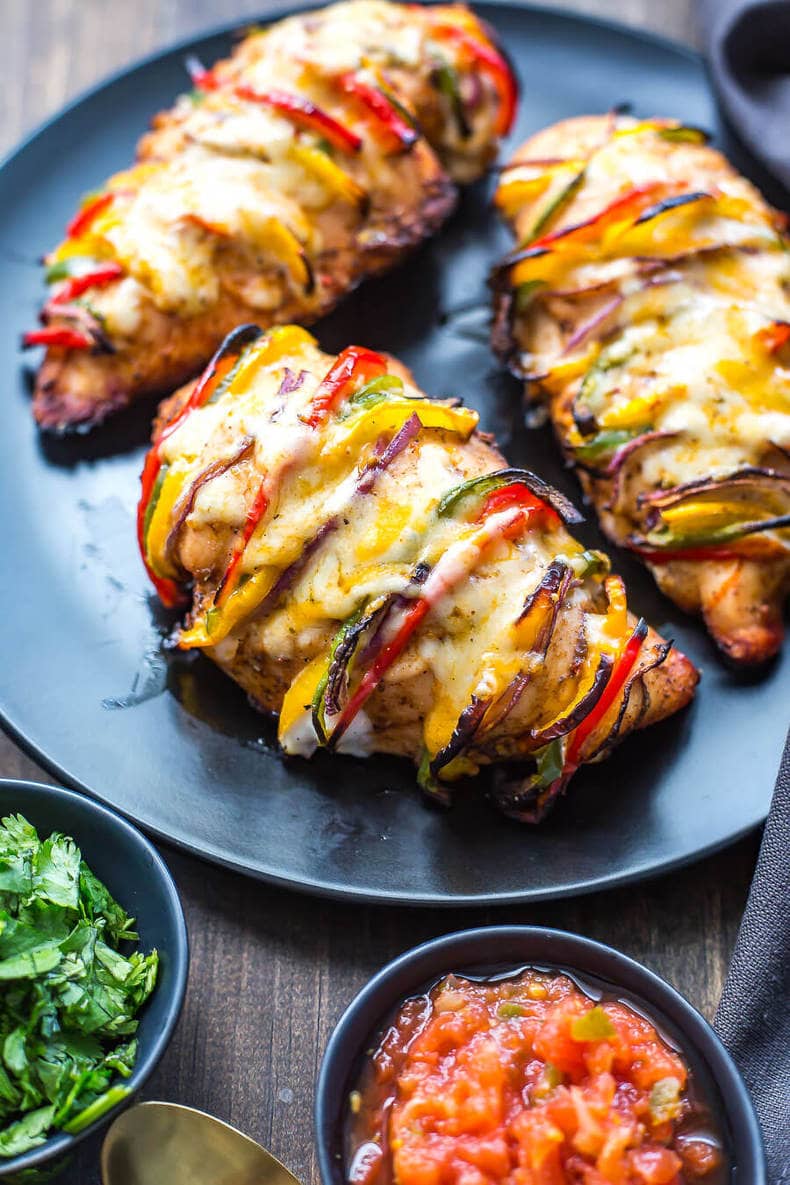 This Grilled Hassleback Fajita Stuffed Chicken is going to change the way you view your plain old, boring chicken dinner!
I have dressed up my fave grass-fed chicken and taken it to a whole new level, I'm convinced. You know that little mid-week fiesta you need? All of that and more is going on right here and I can't even deal with how much I love this dish.
I'm talking thin slices of multicolour bell peppers and red onions stuffed lengthwise across taco-spiced chicken breasts and then the whole thing topped with cheese. No mess, no fuss. Just a super simple, colourful recipe that tastes just as good as it looks!
I know we've talked on and on about this before, but I really could eat tex-mex style food every single day of the week. There's something about the spice that keeps me coming back for more, no matter the time of year it is.
But I especially love any sort of Mexican-inspired chicken recipes this time of year because you get to fire up the BBQ!!! Who's with me on their love of grilling? I swear, when I move back to Toronto I'm gonna have to get one of those little indoor grill things.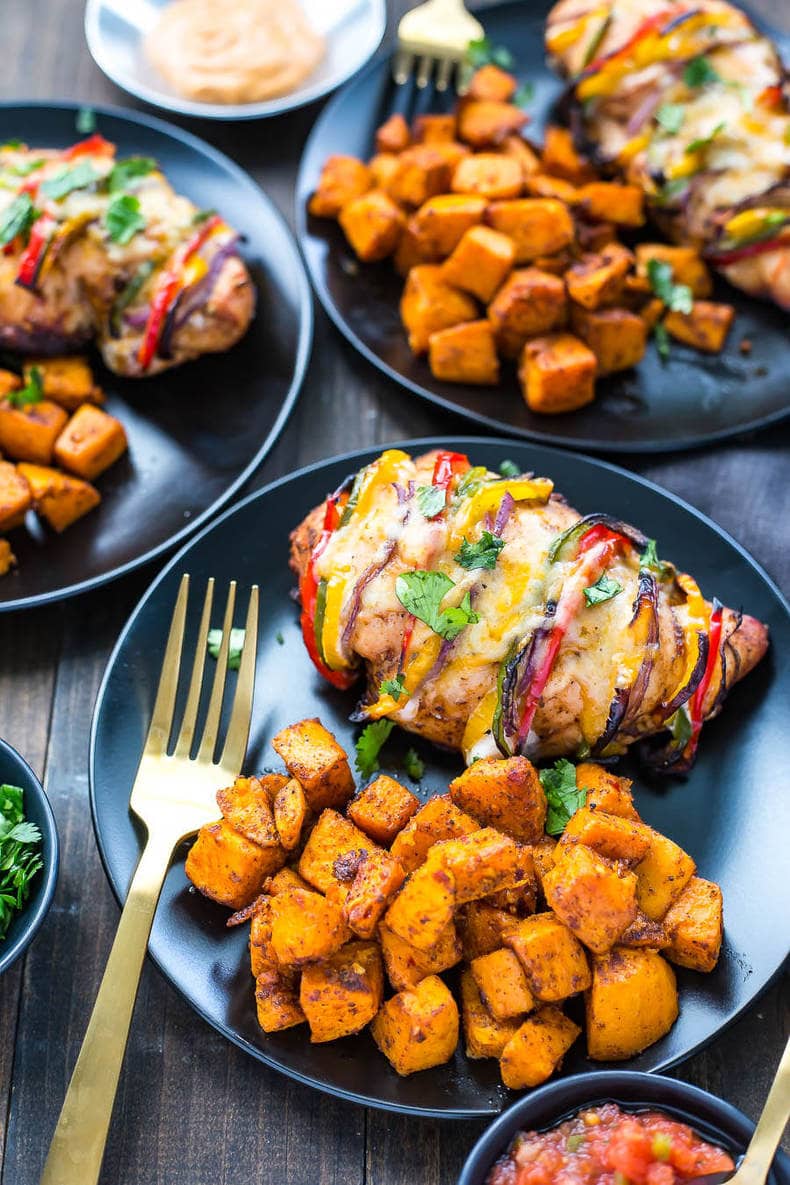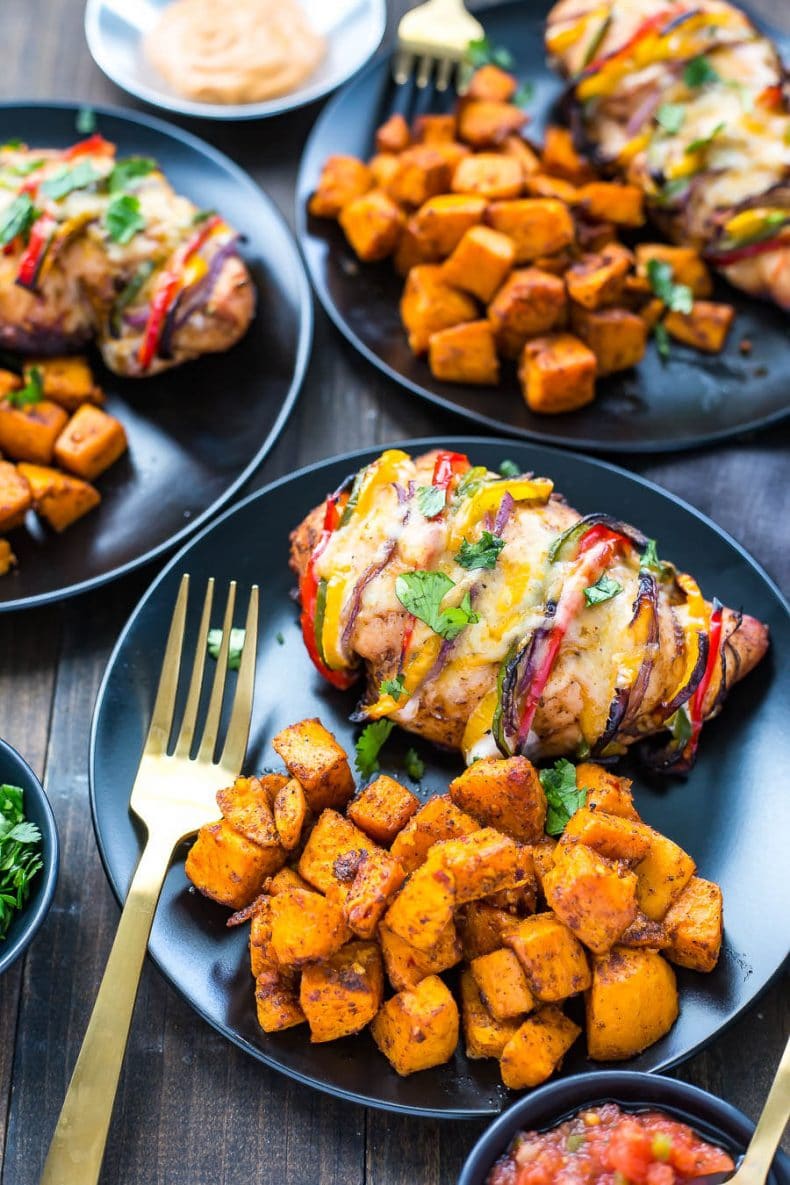 If you've been following my blog, you'll know that I lived on (or at least super near) Bloor Street for over 6 years, and I had to move back home to my parents' place last year to finish my Master's degree in journalism and pay off my student loans. Well, student loan is about to be paid off any time now, and I'm taking over a friend's sublet at College and Spadina for the next couple years!
I honestly couldn't be any happier. A year and a bit of being "The Girl commuting to Bloor from Hamilton" has been a great learning experience and chance to build my photography business, but I am starting to get a little weary of the 'burbs.  What can I say, the city just keeps calling my name!
Moving back in with a friend again is going to be a whole lot different from living at home and often cooking giant meals for my family, so I'm also kind of glad I've started to take my blog in more of a meal prep direction. It's going to be great being out on my own again and I'm excited to start this new chapter in my life as a working professional who will finally have a little bit of extra cash.
Basically, all that means is more food for me. And nope, I'm not ashamed of that at all. Food is life!!!
And with all the eating and photographing I do, it's gonna be good to have some more easy lunch and dinner recipes to pick from on the blog to make. And of course it's gonna be even easier to shoot all the stuff I'm already eating. So really, I couldn't be more excited. Maybe you'll even start seeing more recipes for one or two right here – so keep an eye out!!!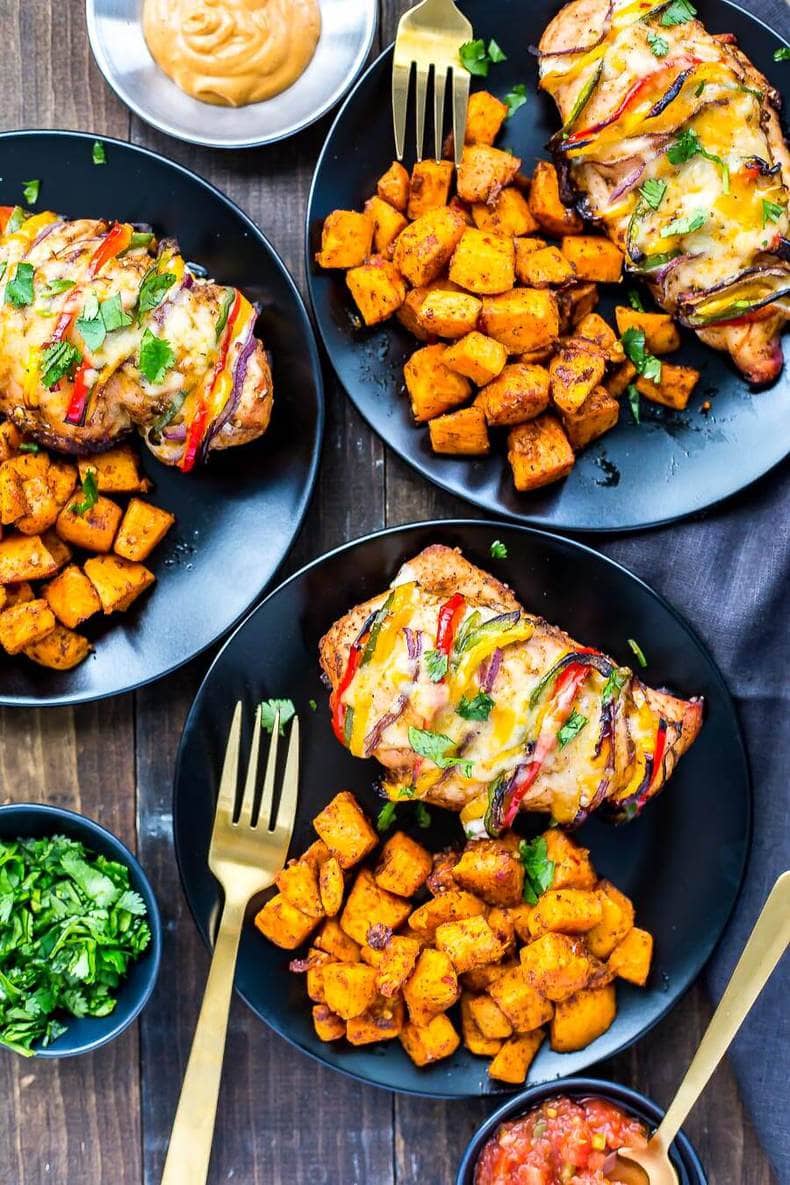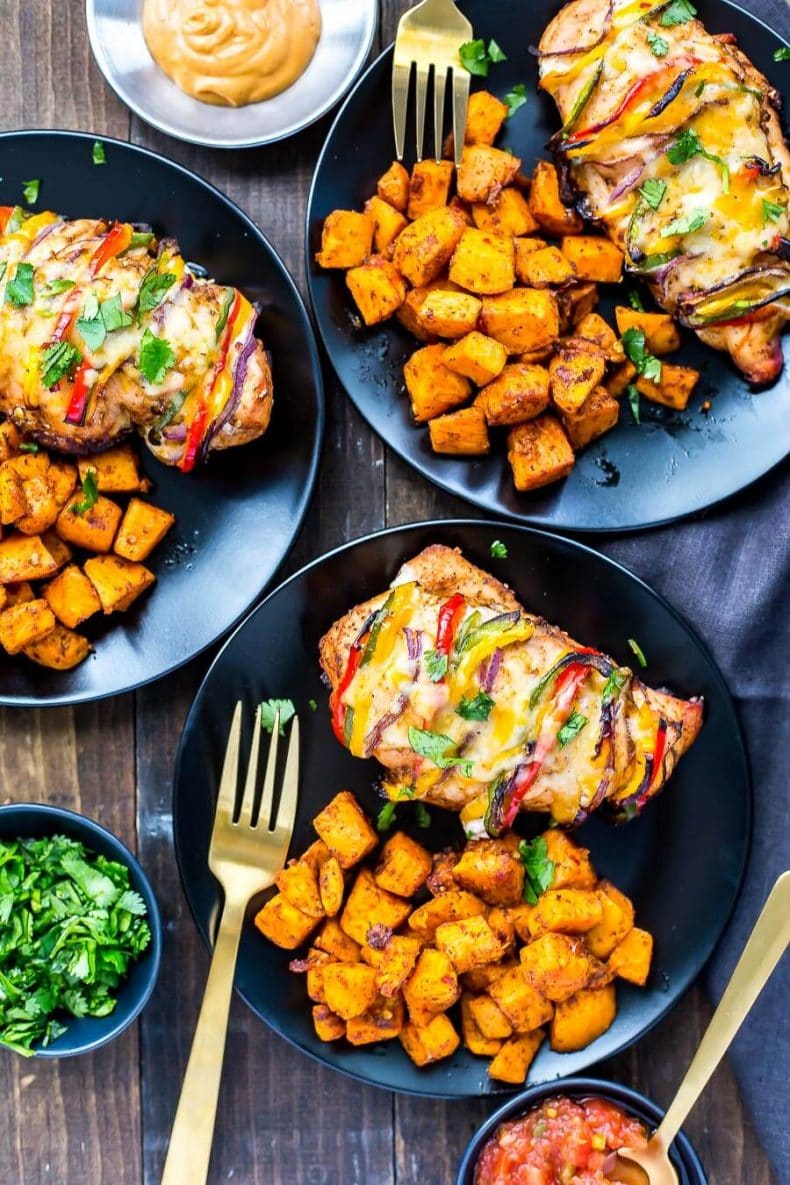 I suppose we should talk a little more about this recipe before I sign out for the day though. First of all, this whole meal comes together in about 30 minutes if you start the roasted sweet potatoes ahead of time. Have them cooking in the oven the whole time you're getting the chicken ready.
I mean, technically I've included them as an optional side dish, so you could even serve this Hassleback Fajita Stuffed Chicken with oven fries or a steamed veggie like broccoli or something, but I always tend to serve 'em with sweet potatoes and chipotle mayo. Just to keep everything spicy all round. I can't get enough.
From there it's a matter of slicing the chicken breasts lengthwise, stuffing them full of veggies, grilling for 15 minutes (no flipping!) then topping with cheese and grilling another 5 minutes. I've got a super handy video to show you how it's done in case you have any doubt!
Will you be making this Grilled Hassleback Fajita Stuffed Chicken? 
I seriously can't get my hands on enough 30-minute chicken dinner recipes like this. I think a good dinner just makes the day so much easier and you can get back to what's really important: relaxing on the couch and binge-watching all your favourite shows. Okay, maybe get outside just a little bit. It's been gorgeous out lately!!!
If you try any of my recipes be sure to let me know on Instagram, Twitter, Facebook or in the comments – I'd love to see how it turns out!
And if you're looking for more of my favourite chicken recipes, here are some more winner winner chicken dinner ideas below!
MARGHERITA ASPARAGUS STUFFED CHICKEN
SHEET PAN COCONUT CRUSTED CHICKEN
COCONUT MANGO CHICKEN MEAL PREP BOWLS
CILANTRO LIME CHICKEN SOBA NOODLE BOWLS
Meal prep tools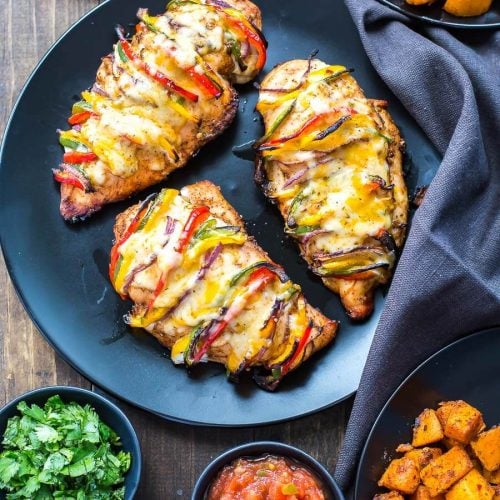 Grilled Hassleback Fajita Stuffed Chicken
This Grilled Hassleback Fajita Stuffed Chicken is stuffed with bell peppers and red onions then topped with tex mex cheese - it's a delicious and healthy weeknight dinner that comes together in a pinch!
Print
Pin
Rate
Ingredients
4

chicken breasts

2

tbsp

olive oil

2

tbsp

fajita or taco seasoning

1/2

each

red, yellow and green pepper, very thinly sliced

1

small

red onion, very thinly sliced

1/2

cup

shredded cheese (I use the pre-shredded tex mex kind)

Cilantro (optional for garnish)

Salsa and sour cream (for serving)
Roasted sweet potatoes (optional side)
1

tbsp

olive oil

3

sweet potatoes, cut into 1-inch pieces

2

tsp

chili powder

2

tsp

paprika

2

tsp

garlic powder

1

tsp

salt
Instructions
Preheat oven to 450 F. Toss sweet potatoes in olive oil and spices in a medium-sized ovensafe dish. Roast in oven for 25-30 min until tender.

Preheat BBQ to med-high, or preheat oven to 450 F. Meanwhile, make horizontal cuts across each chicken breast (see video if you're unsure how!) Rub chicken with olive oil and taco seasoning. Add bell peppers and red onions to each cut, then put each breast on the grill or in the oven.

Cook chicken for 15 min. Remove and top with cheese, then grill or bake another 5 min until cheese is melted. Remove from heat and serve alongside sweet potatoes, topping with optional cilantro, salsa and sour cream. Enjoy!
Video
Nutrition
Calories:
484
kcal
|
Carbohydrates:
25
g
|
Protein:
54
g
|
Fat:
18
g
|
Saturated Fat:
5
g
|
Cholesterol:
159
mg
|
Sodium:
1010
mg
|
Potassium:
1290
mg
|
Fiber:
4
g
|
Sugar:
6
g
|
Vitamin A:
15008
IU
|
Vitamin C:
7
mg
|
Calcium:
156
mg
|
Iron:
2
mg
Note: nutrition info includes side of sweet potatoes