These Easy 30-Minute Zucchini Pizza Boats are a delicious, low-carb dinner idea perfect for satisfying those pizza cravings!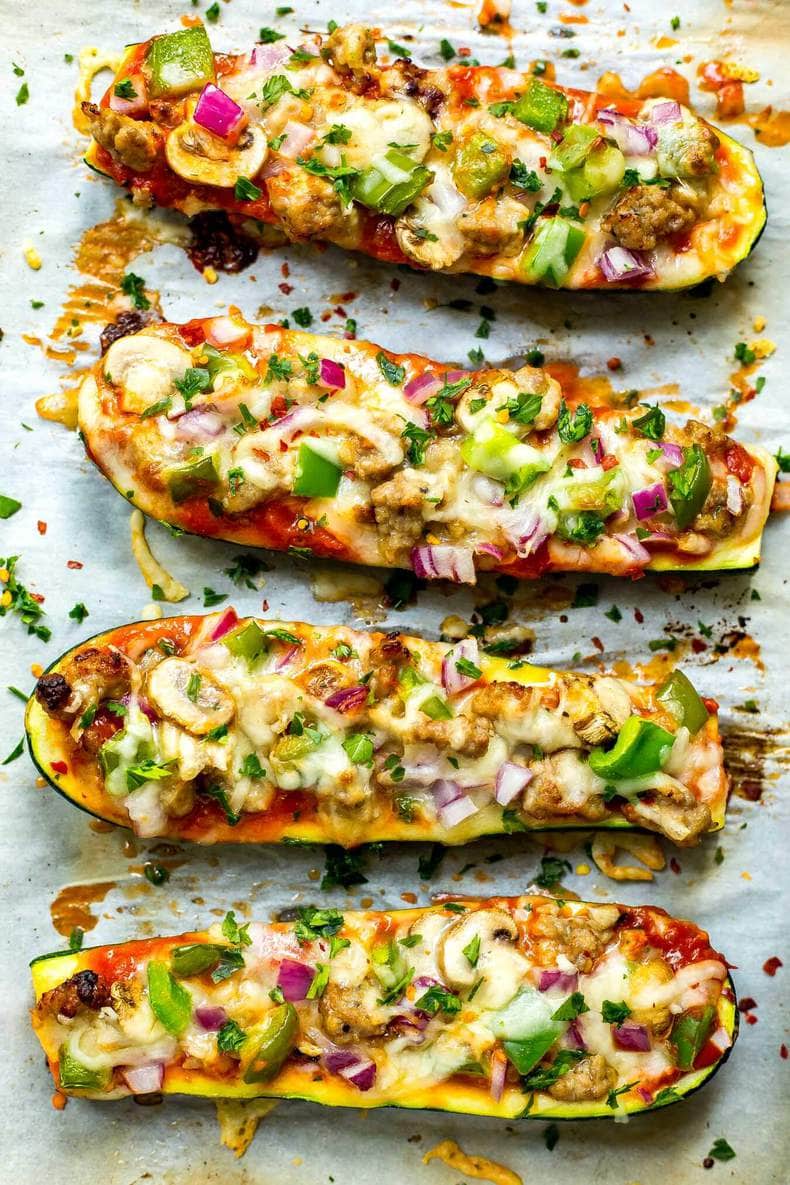 How to make this recipe
Here's exactly how to make zucchini pizza boats step-by-step – it's as easy as adding your toppings and baking!
If using turkey sausage, cook it in a skillet until browned over medium-high heat. Set aside with other toppings.
Preheat the oven to 400 F, then cut the zucchini in half lengthwise and scoop out the flesh and seeds.
Spread each zucchini boat with pizza sauce, then top with cheese and toppings.
Bake in the oven for 15-20 minutes – this depends on how well-done you like your zucchini. Easy peasy!
Topping options
I love these zucchini pizza boats because you can make the toppings very similar to how you would your fave pizza! I opted for a "Deluxe" style pizza with sausage, mushrooms, green pepper and red onions, but the flavour combos are limitless with this recipe! Here are some other ideas below:
Meat lovers – sausage, pepperoni and bacon
Veggie – mushrooms, bell peppers, onions, broccoli
Pepperoni – just plain old pepperoni and cheese
Mediterranean – olives, artichokes, sundried tomatoes and roasted red peppers
Hawaiian – ham and pineapple
Should you cook the zucchini before adding toppings?
You may want to cook your zucchini boats ahead of time before adding any pizza sauce, cheese or toppings. Personally, I don't like my zucchini overdone and I like a little bit of firmness to them, especially when they are loaded with toppings. However, I recognize that everyone has different tastes and likes their veggies cooked in a different way.
If you're looking for these zucchini to be really well done and softer, you can bake them in the oven for 10-15 minutes before adding your toppings and baking another 15 minutes. This may result in more watery zucchini, but you can always pat them dry after baking for the first 10 minutes then add the toppings to reduce the liquid but still get well-cooked zucchini.
If you like firm veggies (think crisp steamed vegetables, or stir fried veggies that still have the tiniest bit of crunch to them), then I would recommend NOT baking your zucchini ahead of time.
How to avoid watery zucchini
This is a tricky one because zucchini naturally releases water the longer you let it cook. You can always undercook this dish a little bit on higher oven heat (try 10 minutes instead of 15 minutes at 450 F instead of 425 F), and scraping out the seeds and filling will also help to reduce moisture.
Do not scrape out too much of the flesh, however, otherwise your zucchini boats will be too thin and weak to hold the toppings. You still want a thick zucchini boat to stuff, about 1/2 inch thick.
Ingredients in zucchini pizza boats
The most basic ingredients for this recipe would be the following:
Zucchini (count on 1 zucchini per person)
Pizza sauce
Cheese
Any toppings of choice
To add more protein, I'd recommend adding some sort of meat but any additional toppings are totally optional. To keep it simple, just use the tomato/pizza sauce and cheese as you would with a cheese pizza!
Do you have to use sausage?
Not at all! The recipe for sausage I have below makes these pizza boats way healthier – you aren't using processed meats such as salami, store bought sausage or pepperoni but you still get a ton of protein.
I always make my sausage from scratch using ground turkey or ground chicken. You can of course also use ground pork. All you need to add is a bit of paprika, garlic/onion powder and fennel seeds to get that sausage flavour without any processed ingredients. Pan fry it until browned then use it in this recipe!
Making the recipe keto-friendly
This recipe technically is low carb because you're not using any type of grains but the sugar content may be higher depending on the brand of pizza sauce you use. To make these zucchini pizza boats lower in carbs and more keto-friendly, these are the suggestions I'd make for substitutions:
Make sure to use a low-sugar pizza sauce (Rao's is a great option)
Get rid of the onions and green pepper – just use mushrooms and sausage as toppings
Can you reuse the zucchini flesh?
You may have to get creative, but you can definitely re-use zucchini flesh to lower your personal food waste. Try it the following ways:
Mixed in with pasta
Zucchini fritters (make sure to squeeze out excess liquid using a clean dish towel)
Zucchini bread
Muffins
Pancakes
Meatloaf
Storing and reheating 
This recipe makes for great leftovers! The only thing is that with the cheese, they won't last as along as traditional leftovers – you're looking at about 3 days before the cheese goes slimy.
To store the leftovers, add them in individual servings in glass meal prep containers, or store altogether in a casserole dish. You can reheat the casserole dish in the oven (425 F for 10 minutes), or you can microwave the leftover individual portions for 1-2 minutes on high.
Can you freeze this recipe?
I wish you could but zucchini doesn't freeze very well! It would become super watery and inedible.
What you can do is cook and freeze the sausage ahead of time though, then when you go to make this recipe just defrost the sausage in the fridge for 24 hours and add to fresh zucchini.
You can also freeze grated cheese and it should require no defrosting time. I would add 5 more minutes of cook time to the recipe though if you are using frozen shredded cheese.
Other low carb zucchini recipes
If you're as obsessed with zucchini as I am, you HAVE to try these other zucchini recipes – this veggie is great for replacing the noodles and pasta in many dishes and as you can see with this recipe, it acts as a great vessel for many flavours!
More low carb pizza recipes
If you want to try low carb pizza another way, you need to check out my cauliflower pizza recipe – it's one of the easiest versions out there! You'll also love pizza stuffed chicken and pizza stuffed portobellos.
Meal prep tools
Easy 30-Minute Zucchini Pizza Boats
These Easy 30-Minute Zucchini Pizza Boats are a delicious, low-carb dinner idea perfect for satisfying those pizza cravings!
Print
Pin
Rate
Ingredients
4

zucchini, sliced in half lengthwise

1

small can

Pizza Sauce

1/2

8oz package

button mushrooms, sliced

1

small

red onion, diced

1/2

green pepper, diced

2

cups

shredded mozzarella cheese

1

tbsp

fresh chopped basil (optional topping)

1

tsp

red chili flakes (optional topping)
Homemade quick turkey sausage (alternative option: use storebought turkey/pork sausage, remove casings and break up with spoon)
2

tsp

olive oil

1/2

lb

ground turkey

2

tsp

fennel seeds

1

tsp

garlic powder

1/2

tsp

salt

1

tsp

Italian seasoning (or 1/2 tsp oregano & 1/2 tsp basil)
Instructions
Preheat olive oil in a large skillet over med-high heat. Add turkey and seasonings, crushing up with a crushing spoon and mixing well. Cook for 5-6 minutes until turkey is browned and fully cooked. Remove from heat and set aside.

Preheat oven to 400 F. Cut zucchini in half lengthwise and scoop out flesh. On a baking sheet or in a 9x13 casserole dish, spread each zucchini boat with pizza sauce, then top with sausage, mushrooms, red onion, green pepper and cheese.

Bake in the oven for 15 minutes or until cheese is melted. Remove from oven and sprinkle with fresh basil and chili flakes. Serve and enjoy!
Video
Nutrition
Calories:
346
kcal
|
Carbohydrates:
21
g
|
Protein:
31
g
|
Fat:
17
g
|
Saturated Fat:
8
g
|
Cholesterol:
75
mg
|
Sodium:
1580
mg
|
Potassium:
1376
mg
|
Fiber:
6
g
|
Sugar:
14
g
|
Vitamin A:
1576
IU
|
Vitamin C:
61
mg
|
Calcium:
355
mg
|
Iron:
3
mg