This is the easiest Acai Bowl recipe! All you need is acai powder, frozen blueberries, banana, Greek yogurt for protein and honey!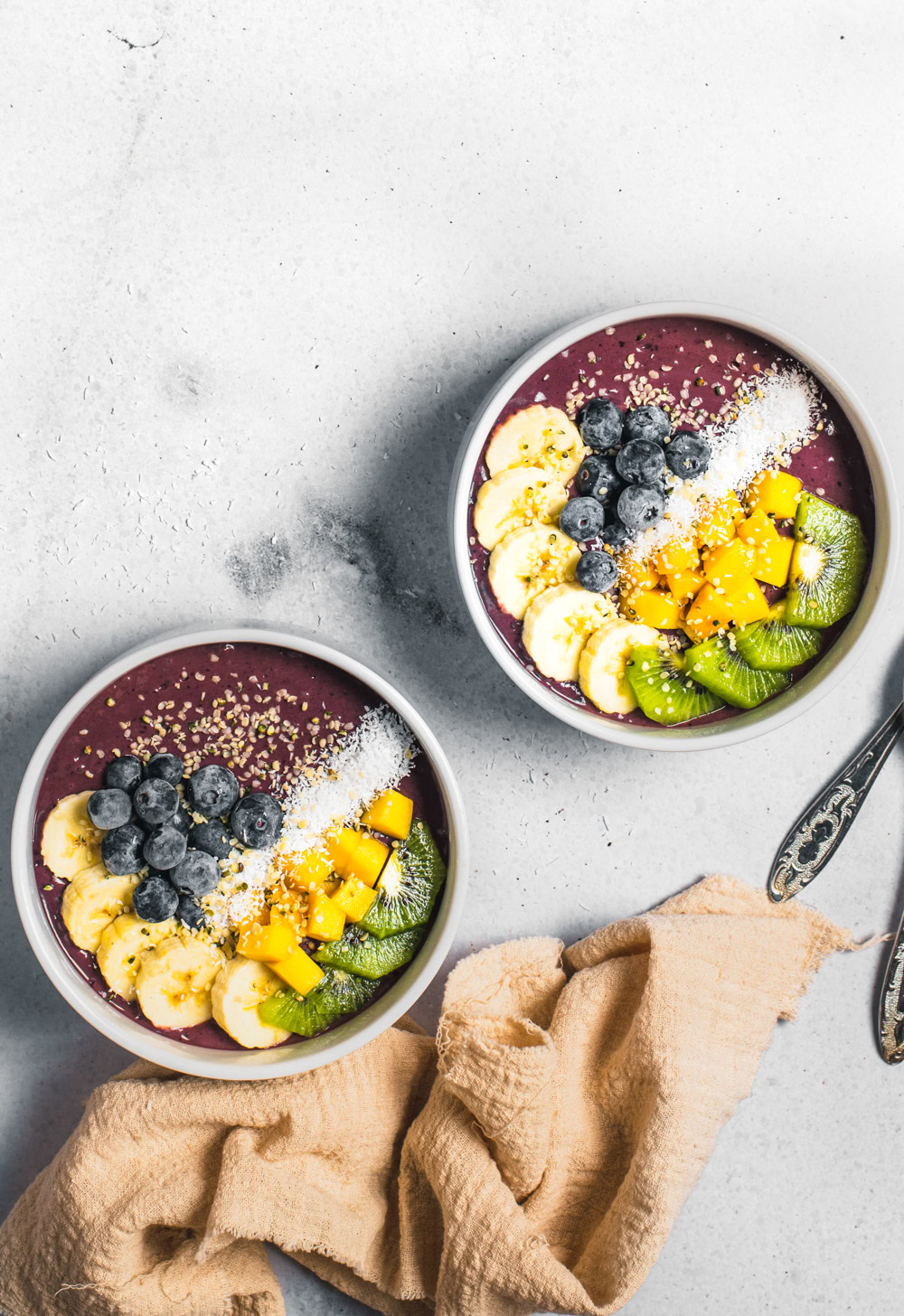 How to make this acai bowl
Add frozen blueberries, banana, blackberries and Greek yogurt to a blender.
Drizzle fresh honey over top (optional) and add in the acai powder.
Pulse on low power and blend until smooth.
Serve in a bowl with your toppings of choice!
Ingredients and substitutions
Acai powder – you could use acai puree, but acai powder tastes just as good.
Frozen blueberries – frozen strawberries are also delicious.
Blackberries – if you're not a fan of blackberries, swap for your other favourite berries or fruits.
Frozen banana – applesauce, dates and frozen mango will all give it the same creamy texture.
Greek yogurt – for a dairy-free alternative, swap for almond milk or soy milk.
Honey – maple syrup will also sweeten it up and agave syrup is a great vegan alternative.
How many calories are in an acai bowl?
This healthy recipe has just 346 calories or 173 calories per bowl. It's a much more calorie-friendly version than the pricey restaurant and store-bought versions, which tend to have a lot more sugar and can contain up to 460 calories per serving. By making your own acai bowls at home, you'll save money and calories.
What is an acai bowl?
An acai bowl is a delicious and thick smoothie bowl made of acai fruit or powder and a range of other berries and fruit. The bowl is mixed in a blender with acai, berries, frozen banana and yogurt or dairy-free milk and often topped with sliced fruit, nuts, granola and/or seeds. The most important ingredient is the acai – other than that, you can customize the bowl to include your favourite toppings and any optional sweeteners.
Is an acai bowl actually healthy?
Acai bowls can be extremely healthy based on what you put in them. They're a great way to start your day on a healthy note. Acai is considered a superfood, as it's rich in antioxidants that can build up your immune system and low in sugar. An acai bowl is typically high in fibre and full of nutrients like calcium, vitamin C, manganese and potassium. I recommend making your own acai bowl at home, as the store-bought and pre-made versions tend to be high in sugar.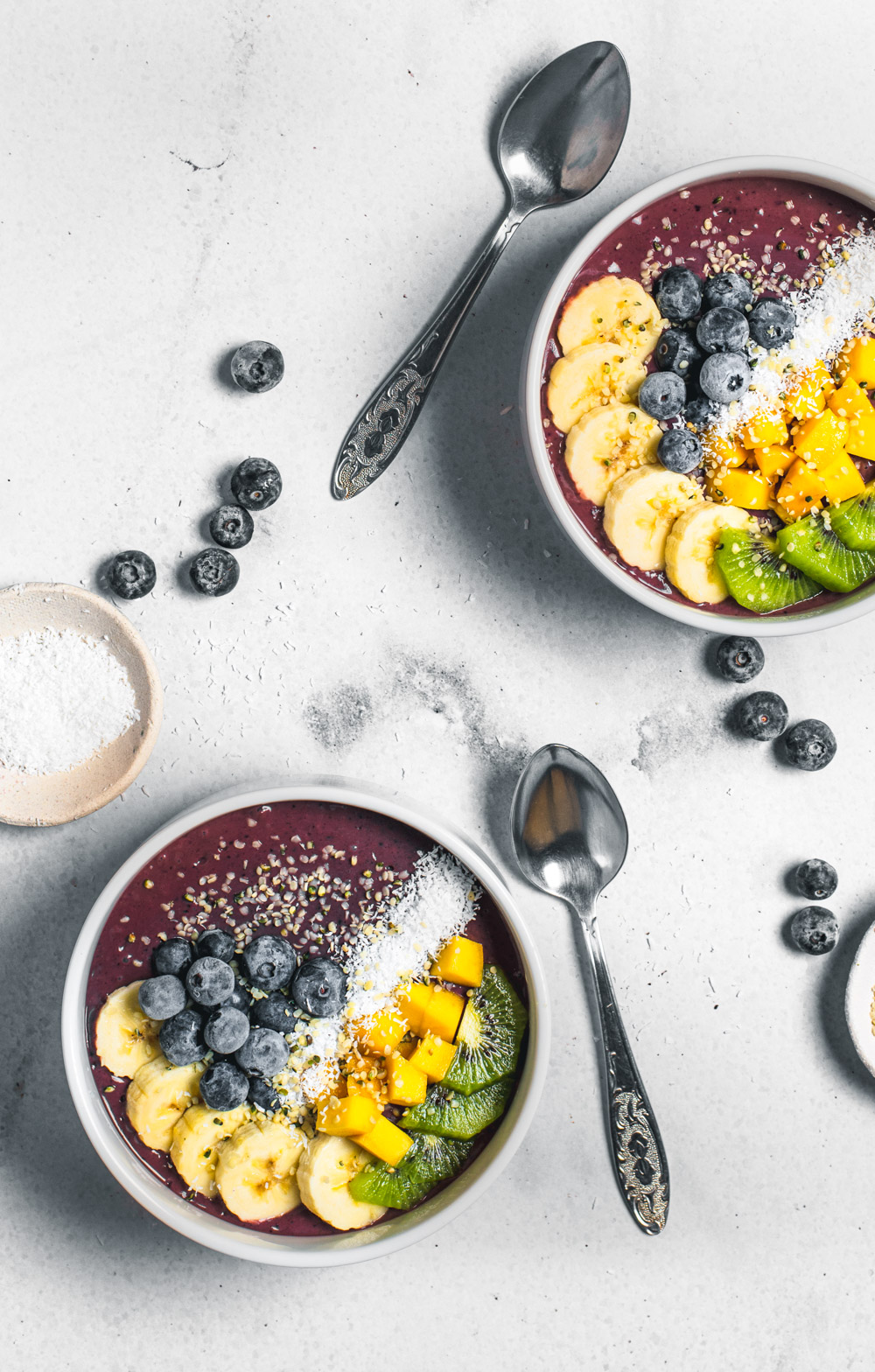 Storing your acai bowls
Make sure to store your acai bowls in glass containers, as they seal better and prevent any air from getting in. If you're meal prepping this recipe, keep in mind that the texture will change as the ingredients will no longer be frozen. It'll still taste just as good but will have a consistency that's more like a traditional smoothie than a thicker smoothie bowl.
Freezing this acai bowl
Not only is this acai bowl super healthy, but it's easy to meal prep and freeze too. After you've blended all your ingredients, freeze the mixture in an air-tight glass container. Take it out and let it thaw at room temperature for 10-20 minutes before adding your toppings.
You can also pre-assemble the acai bowls by freezing the fruit and berries in Ziploc bags and storing your pre-cut toppings in the fridge for up to a week. Add the Greek yogurt and acai powder to your frozen ingredients, blend, sprinkle on the toppings and dig in.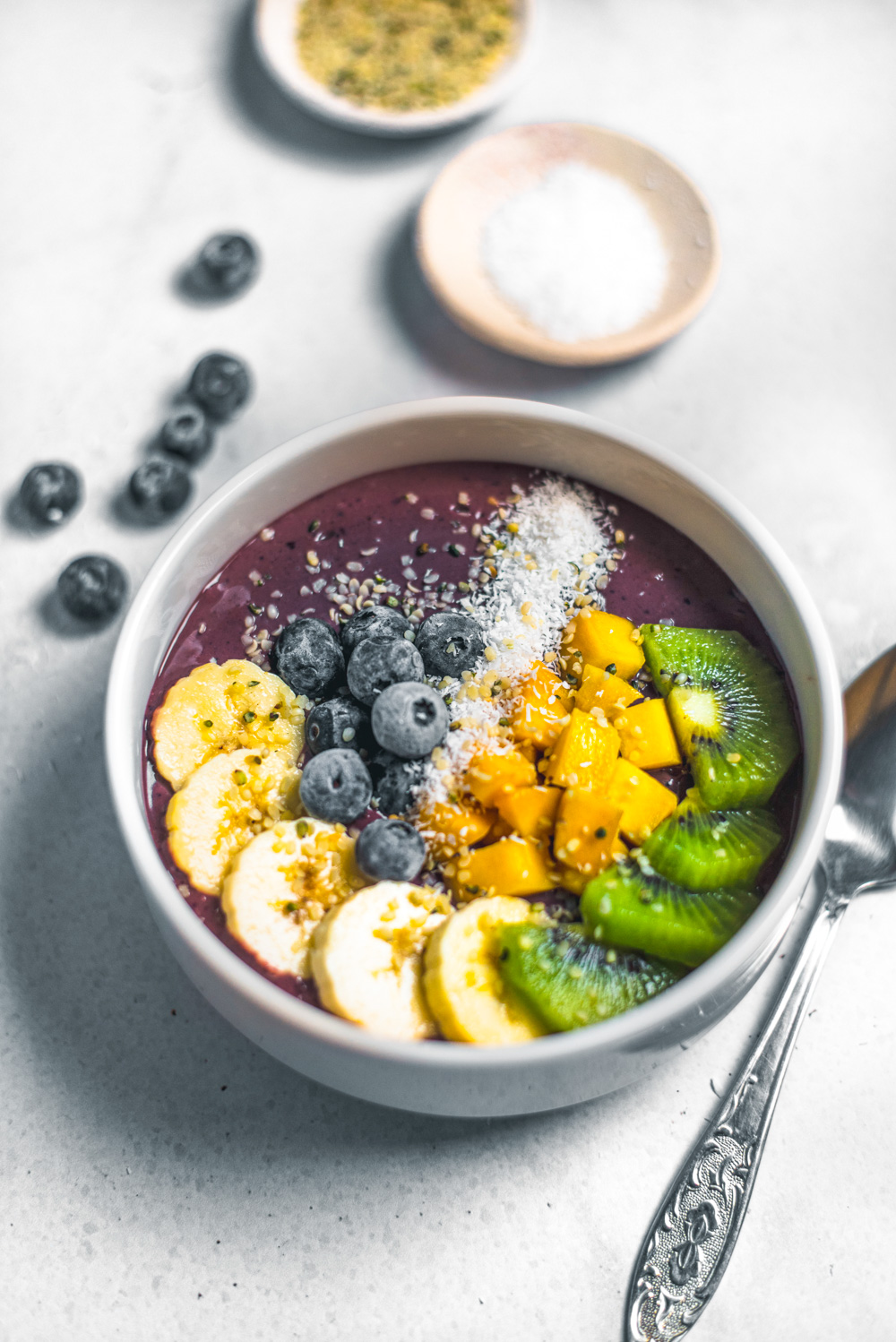 Wanna Learn How To Meal Prep?
My meal planning service, Dinner Prep Pro, removes the guesswork and helps you get dinner on the table in 15-20 minutes each night. My meal prep checklists only take 1 hour each week!
More smoothie recipes
Meal prep tools for this recipe
Easiest Healthy Acai Bowl Recipe
This is the easiest Acai Bowl recipe! All you need is acai powder, frozen blueberries, banana, Greek yogurt for protein and honey!
Print
Pin
Rate
Click Here to Remove Ads
Servings: 2 bowls
Calories: 346kcal
Ingredients
1/4 cup acai powder
3/4 cup frozen blueberries
6 blackberries
1 frozen banana
3/4 cup Greek yogurt
1 tsp honey (optional)
Topping ideas
mango slices
kiwi slices
shredded coconut
hemp hearts
blueberries
flaxseeds
chia seeds
Instructions
Put sliced banana in the freezer for at least 4 hours until frozen. You can buy frozen bananas as well. If you want your acai bowl to be very thick and creamy, put the Greek yogurt in the freezer for at least half an hour as well.

Add blueberries, banana, blackberries, Greek yogurt, honey and acai powder to a high speed blender. Pulse on low power until it begins to blend together. You may need to unplug the blender and stir with a spoon a few times until it's totally smooth and well blended.

When you've reached your desired consistency, add the smoothie to a large bowl and garnish with your toppings of choice, then serve and enjoy!
Notes
NOTE: The nutritional info does not include any toppings
Nutrition
Calories: 346kcal (17%)Carbohydrates: 43g (14%)Protein: 9g (18%)Fat: 15g (23%)Saturated Fat: 4g (25%)Polyunsaturated Fat: 1gMonounsaturated Fat: 1gTrans Fat: 1gCholesterol: 4mg (1%)Sodium: 58mg (3%)Potassium: 409mg (12%)Fiber: 14g (58%)Sugar: 23g (26%)Vitamin A: 84IU (2%)Vitamin C: 12mg (15%)Calcium: 92mg (9%)Iron: 1mg (6%)