This healthy Homemade Granola Recipe is the BEST & easy to make with no refined sugars! Just add rolled oats, nuts, coconut, dried berries & maple syrup!  
Ingredients in homemade granola recipe
The base of this granola recipe is rolled oats. These are a lightly processed whole grain. The husk is removed then the oats are steamed and rolled flat. This enables them to cook much faster than other varieties of oats. They are usually toasted before being packaged.
Other ingredients you will need are:
Coconut chips- these are larger pieces of dried coconut. You can use flakes as well, but if you use flakes, add them half way through baking so they don't bake too long.
Maple syrup
Coconut oil
Walnuts
Almonds
Pumpkin seeds (sometimes called pepitas)
Vanilla extract
Orange zest
Dried berries
How to make homemade granola
This amazing homemade granola recipe is super simple to make.
Mix together all the ingredients except the dried berries.
Bake at 300F for 50 minutes on a parchment lined baking sheet. The parchment ensures that your granola sticks to itself and not the pan.
Stir it two or three times during baking to ensure it bakes evenly. Don't over bake it. Stop when it is golden brown. It will get more crisp as it cools.
Let it cool for at least ten minutes before adding the berries
If you want to have chunky granola with clumps that stick together, it will need to be touching in the pan. After the last time you stir it, press it down with the back of a spatula.
Ingredient substitutions
Once you understand the basic method and ratios for making this granola recipe, you can get creative and change the ingredients for a different flavor every time.
The vanilla extract and orange zest are always optional. You can add one, both or use a different extract like almond for a unique flavor. Cinnamon is a great spice for granola.
Adding a dash of salt will increase the flavor of anything you put in this granola.
Other ideas for ingredients for granola include:
Chia seeds
Peanuts
Pecans
Sunflower seeds
Wheat germ
Bran cereal
Pistachios
Macadamia nuts
Chocolate chips (add these after baking)
Raisins
Candied ginger
How to make this granola nut-free
Even if you have a nut allergy, you can still enjoy this homemade granola.
An easy work-around for this is to replace the nuts in this recipe with seeds. Pumpkin, sunflower, sesame, flax and hemp seeds all work great in granola.
How to make this granola lower calorie
Granola has lots of fiber and iron and the nuts in this recipe provide filling protein.
However, some granola is very high in sugar, calories and other unnecessary ingredients.
Store-bought granola often contains ingredients like high fructose corn syrup, cane juice and other refined sugars. This homemade granola recipe uses natural ingredients like maple syrup to sweeten the oats. Honey is another great natural sweetener option.
The nuts provide unsaturated fats and important omega-3 fatty acids. However, they also have quite a few calories. Replacing all or some of the nuts with seeds or oats will reduce the calories.
Also, be sure to use coconut oil or extra virgin olive oil instead of high calorie oils. Olive oil is lower in saturated fats if you prefer that.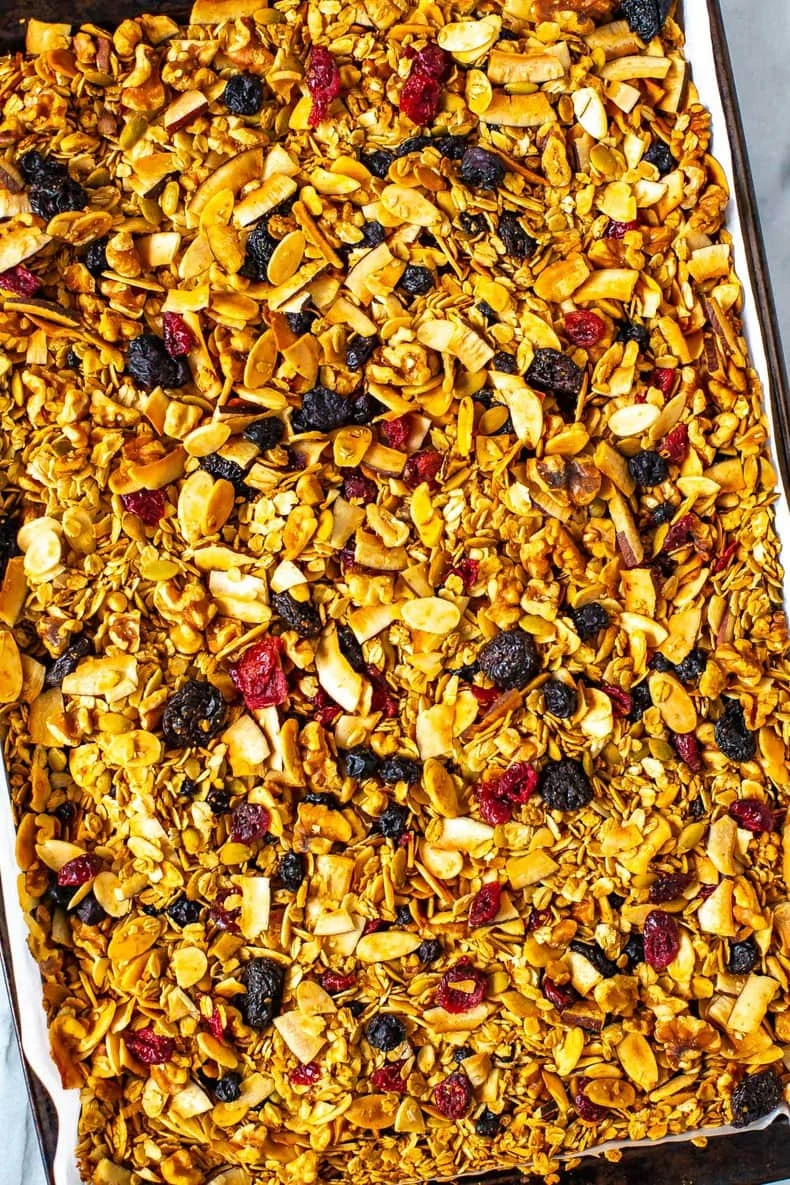 Ways to use granola
This healthy granola recipe makes a great breakfast or snack on its own, but you can use this homemade granola in any number of ways.
Topping for yogurt
Add to muffins
Include in pancake batter
Sprinkle on salads
Replace bread crumbs on root vegetables with granola
In cookie dough
On pudding
Storing this granola recipe
Granola can be stored in an airtight container in the pantry for up to two months.
Having a batch of granola on hand at all times makes it easy to choose a healthy breakfast or snack. Plus, you can make this in large batches, doubling or even tripling the recipe. There will be plenty to share. Since it lasts for so long, these large batches will have plenty of time to be enjoyed.
This also makes a great gift. Put it in a pretty glass jar and tie it with a festive ribbon, and you have a thoughtful homemade gift.
Can you freeze granola?
You actually can freeze this granola recipe just the way you would freeze cookies or other treats. It is fine to freeze the finished product with the dried fruit included. Try to push the granola together the best you can to eliminate any large pockets of air.
It will last for about eight months in the freezer. The nuts will be the first thing to turn rancid in this granola.
The granola can be set on the counter at room temperature for a few hours to thaw.
More make ahead breakfast recipes
Meal prep tools for this recipe
Use these Ziploc bag holders if you're storing the granola in a large freezer bag (will be easier to pour into the bag)
Meal prep challenge
If you'd like some more help with meal planning, then you'll love my free 5-day meal prep challenge! It's basically a free course that will teach you how to meal prep and cook healthy meals at home with some PDF bonus materials. Sign up for free below:
The BEST Homemade Granola Recipe
This healthy Homemade Granola Recipe is the BEST & easy to make with no refined sugars! Just add rolled oats, nuts, coconut, dried berries & maple syrup!
Print
Pin
Rate
Ingredients
3

cups

rolled oats

1/2

cup

coconut chips

1/3

cup

maple syrup

1/4

cup

coconut oil, melted

1/4

cup

chopped walnuts

1/4

cup

sliced almonds

1/4

cup

pumpkin seeds

1

tbsp

vanilla extract (optional)

1

tbsp

orange zest (optional)

1/2

cup

dried berries
Instructions
Preheat the oven to 300 F.

Mix all ingredients (except for dried berries) together in a large bowl. Toss to combine well, then add to a parchment-lined baking sheet.

Bake for 50 minutes, stirring granola 2-3 times during cooking to ensure even toasting.

Remove from the oven and stir in dried berries. Let cool for 10 minutes or so, then store in an airtight container or large freezer bag in the pantry for up to 2 months. Enjoy!
Video
Nutrition
Calories:
264
kcal
|
Carbohydrates:
33
g
|
Protein:
6
g
|
Fat:
13
g
|
Saturated Fat:
7
g
|
Sodium:
4
mg
|
Potassium:
180
mg
|
Fiber:
4
g
|
Sugar:
6
g
|
Vitamin C:
1
mg
|
Calcium:
35
mg
|
Iron:
2
mg