These Coconut Mango Chicken Meal Prep Bowls with corn salsa, avocado and mango marinade are perfect for your weekly lunches!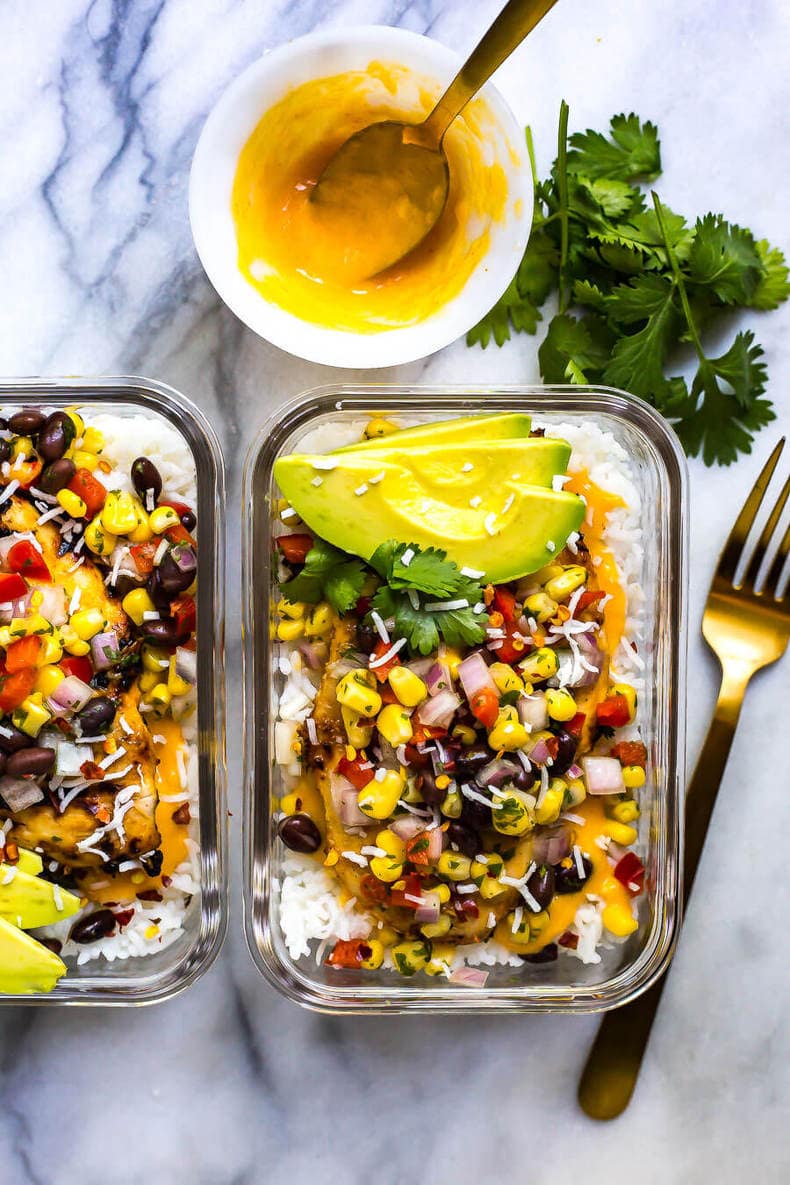 Ingredients and substitutions
Chicken breast – chicken cutlets are harder to find than chicken breasts but will allow you to opt out of cutting the chicken breasts very thinly. Chicken thighs are also a great, juicy alternative to chicken breasts.
Avocado – use fresh sliced avocado or add in some fresh guacamole instead.
Shredded unsweetened coconut – shredded sweetened coconut or plain coconut chips will also work. Leave it out entirely if you're not a fan of coconut.
Cilantro – if you're really not a fan of cilantro then leave it out altogether.
Mango marinade
Mango – use fresh or defrosted frozen mango.
Olive oil – any neutral oil can replace olive oil. Some alternatives would be sunflower oil or avocado oil.
Lime juice – fresh or bottled lime juice will both work.
Honey – agave nectar, stevia syrup or maple syrup are all great alternatives to honey.
Sriracha – any other hot sauce can be used. For a similar flavour profile, use sambal oelek, an Indonesian hot sauce or a Louisiana hot sauce.
Garlic – use fresh or jarred minced garlic.
Salt – to taste.
Corn salsa
Corn – if you're not a fan of corn, replace the corn with tomatoes and replace the black beans with yellow or red onions to create a fresh pico de gallo for this recipe.
Black beans – see substitution notes above.
Red pepper – use any other bell pepper colour that you prefer.
Red onion – yellow onion or sweet onions will work well in this salsa.
Lime juice – use fresh or bottled lime juice.
Cilantro – leave this out if you're not a fan.
Salt – to taste.
Jasmine rice
Jasmine rice – basmati rice will also work well in this recipe. If you want an alternative to rice, feel free to use quinoa as well.
Butter – this is optional to create a smoother texture for the rice.
Salt – to taste.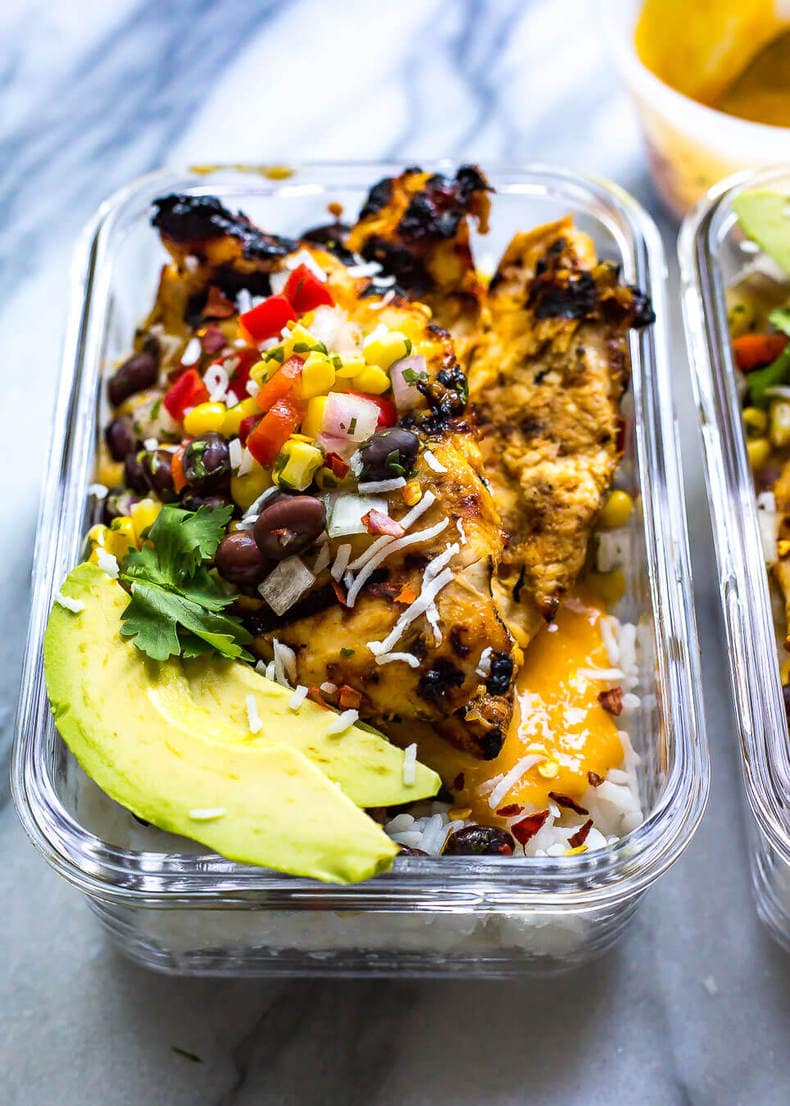 Skip the Ads and Get Right to the Recipes!
ZERO ADS on over 600 recipes!
Weekly Meal Plans, Grocery & Prep Lists
Bonus eBooks
How to make mango chicken bowls
Cook the rice.
Make the mango marinade.
Marinate the chicken.
Mix together the corn salsa.
Grill the chicken.
Assemble your bowls and dig in!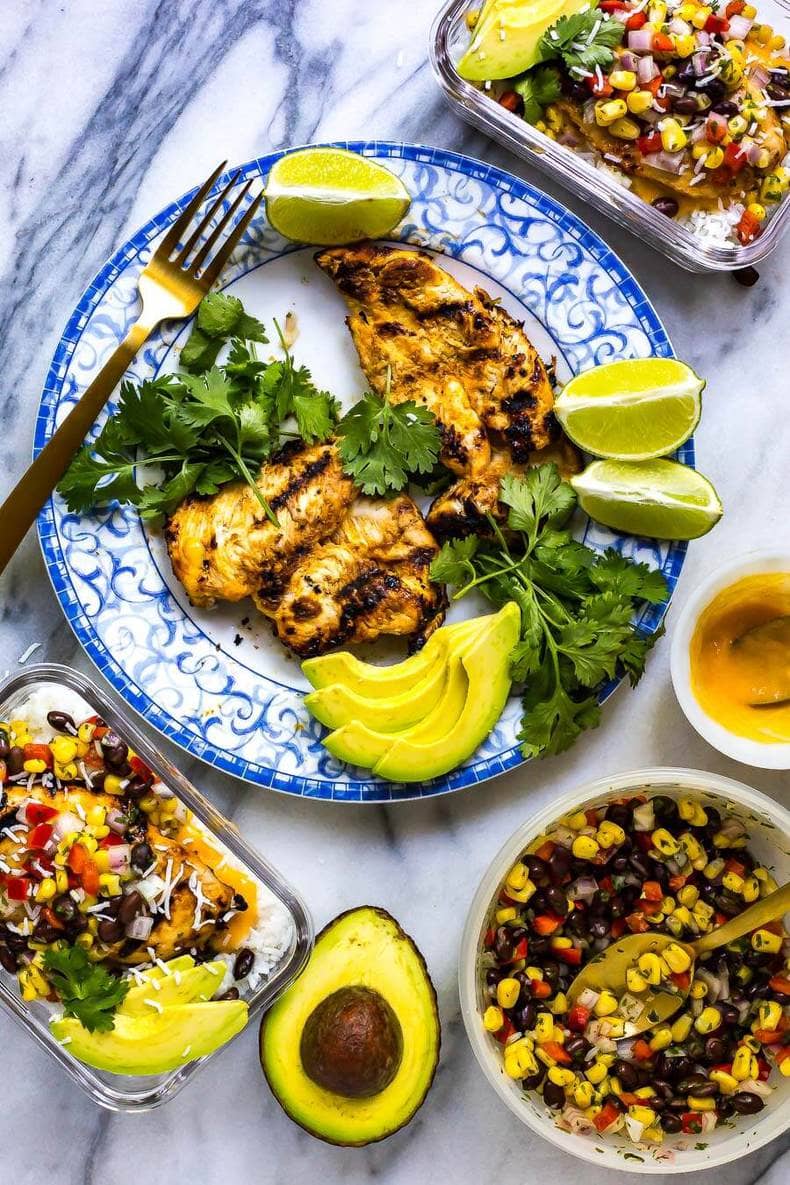 Chicken mango marinade
A great tip for meal prep bowl recipes that require a chicken marinade is that you can double the marinade and use the other half as a dressing or sauce for your bowls. Double the marinade, double the flavour!
If you decide to double the marinade, make sure to mix the marinade ingredients in a bowl separately from the chicken to avoid contamination of the whole batch. Divide the mixture into two servings and save the uncontaminated version (the one not used to marinade the chicken) for after you're done cooking everything as a dressing or sauce. You can even keep this marinade in the fridge for up to a week in case you want to make this recipe again later on.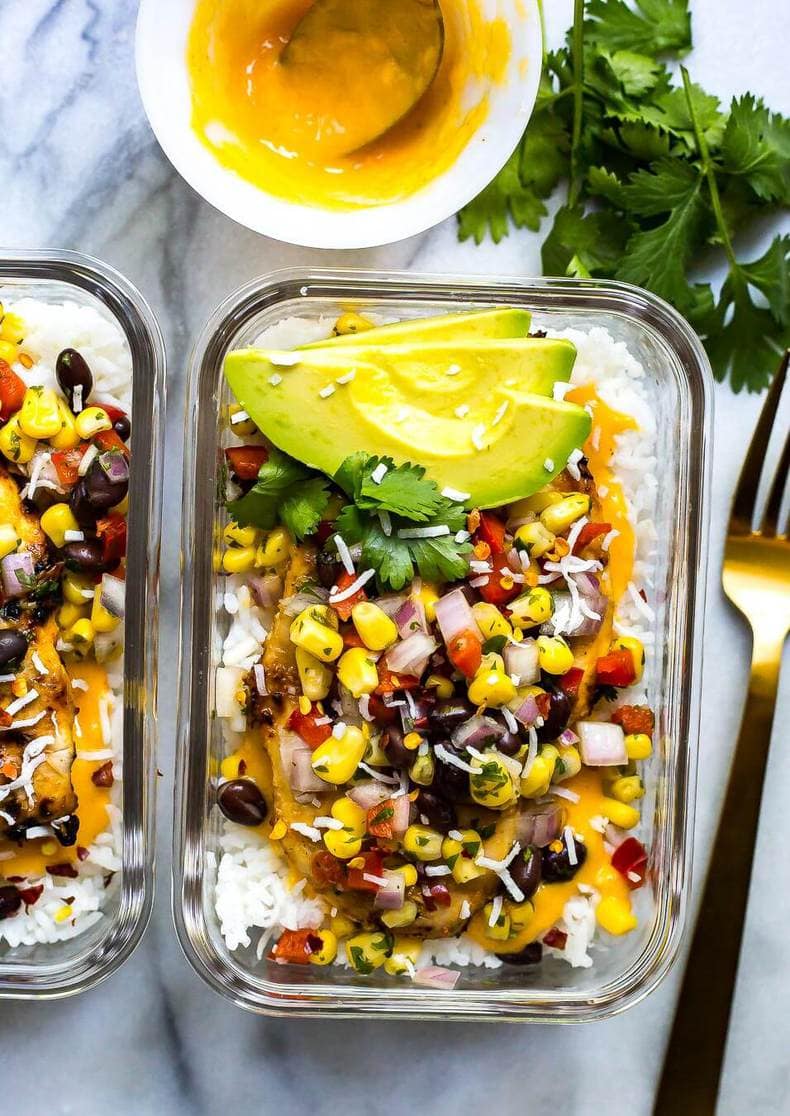 Frequently Asked Questions
How many calories are there in mango chicken?
These mango chicken meal prep bowls have 529 calories per serving. If you want to cut down on the calorie count, you can swap out the rice for brown rice or quinoa, or forego the grains altogether for a low-carb option.
Is this recipe gluten-free?
Yes! This recipe is completely gluten-free.
Can you make it in the oven?
If you don't have a BBQ, no need to worry! You can cook the chicken the same exact way in the oven – just let it cook in the sauce in an oven-safe dish at 425° Fahrenheit for 12 to 15 minutes until the chicken is fully cooked. To help you out, I've included the oven cooking instructions in the recipe card below!
Storing and reheating
You can store these mango chicken bowls in the fridge for up to 5 days. To reheat, sprinkle some water over top and microwave for 1 to 3 minutes. The purpose of sprinkling water over the dish before microwaving is to prevent the chicken and rice from drying out.
If reheating, you'll want to remove the avocado, but the corn salsa is fine to leave on while reheating. These bowls are also quite enjoyable cold, so if you don't have a microwave around, don't feel the need to reheat if you don't want to!
Freezing the chicken
You can freeze the leftover cooked chicken from this dish, but not the salsa or avocado. Store individual portions of the chicken in airtight glass containers and freeze for up to 3 months.
When you're ready to use your chicken, let it defrost in the fridge overnight then reheat as normal. If you add fresh avocado and salsa after reheating, you won't even be able to tell that it's a freezer meal!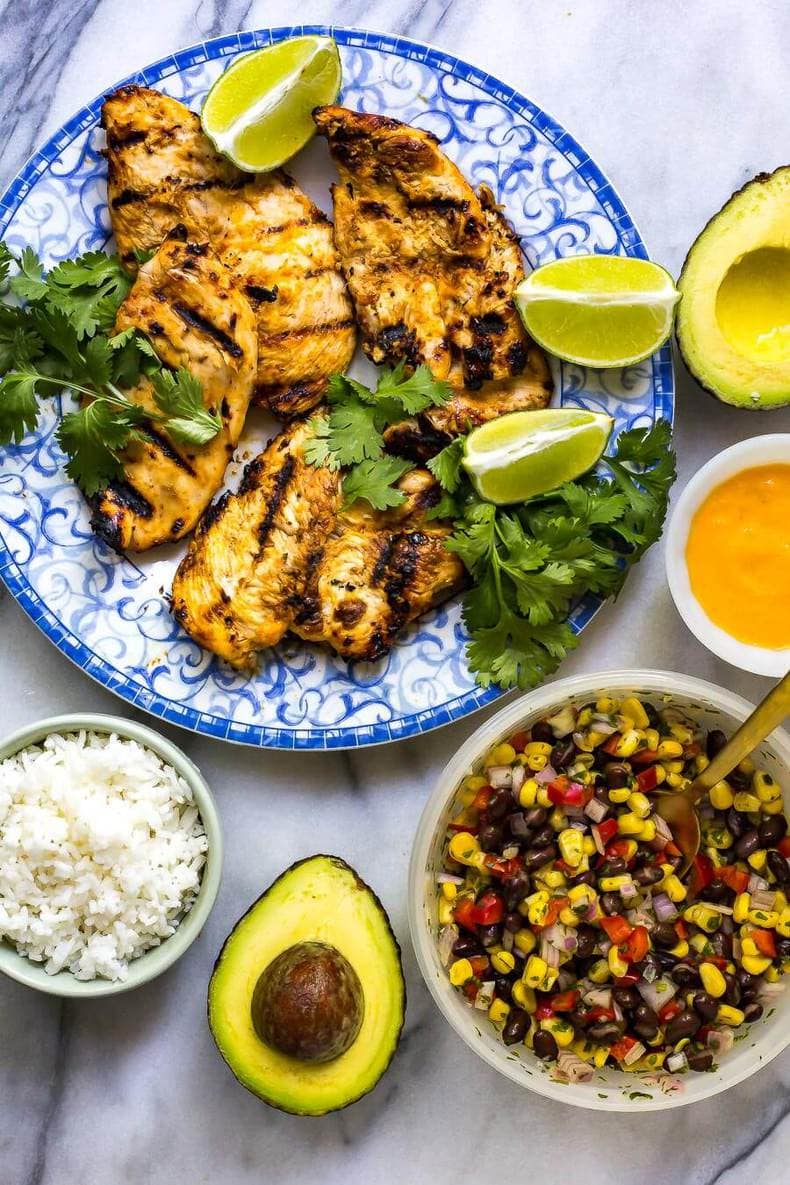 Wanna Learn How To Meal Prep?
My meal planning service, Dinner Prep Pro, removes the guesswork and helps you get dinner on the table in 15-20 minutes each night. My meal prep checklists only take 1 hour each week!
More meal prep chicken recipes
Meal prep tools for this recipe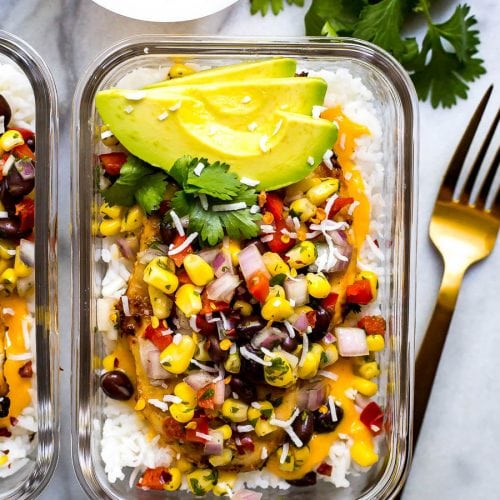 Coconut Mango Chicken Meal Prep Bowls
These Coconut Mango Chicken Meal Prep Bowls with corn salsa, avocado and mango marinade are perfect for your weekly lunches!
Print
Pin
Rate
Click Here to Remove Ads
Servings: 4 bowls
Calories: 529kcal
Ingredients
2 chicken breasts, sliced in half lengthwise (or 4 chicken cutlets)
1 avocado, sliced
1/4 cup shredded unsweetened coconut
Extra cilantro, for garnish
Mango marinade
1 mango
1 tbsp olive oil
1 tbsp lime juice
1 tbsp honey
1 tbsp Sriracha
2 cloves garlic minced
1 tsp salt
Corn salsa
1 cup corn
1 can black beans, rinsed and drained
1 red pepper, diced
1 small red onion, diced
1 tbsp lime juice
2 tbsp chopped cilantro
3/4 tsp salt
Jasmine rice
3/4 cups water
1/2 cup jasmine rice
1 tsp butter
1 pinch salt
Instructions
Preheat BBQ to med-high heat (alternatively, preheat oven to 425 F). Cook rice in a rice cooker according to package directions.

Blend ingredients for mango marinade together in a blender, then divide marinade into two separate bowls. Marinate chicken cutlets in the one bowl of marinade for 10 min while leaving the other bowl untouched (do not get this near the raw chicken!)

Meanwhile, mix together ingredients for corn salsa.

Add chicken to grill and cook for 5 min per side (alternatively, bake for 12-15 minutes). Remove from heat. Divide rice among four glass meal prep bowls. Add 1 piece of chicken to each bowl and top with extra reserved mango sauce, corn salsa, shredded coconut and cilantro. Add slices of avocado and refrigerate up to 5 days.
Video
Notes
Double the marinade and use half of it as a dressing or sauce for your bowls. If you don't have a grill, cook the chicken in the oven for 12-15 minutes at 425° F. Store these bowls in the fridge for up to 5 days. Reheat in the microwave for 1-2 minutes or eat them cold. Freeze the mango chicken for up to 3 months. Defrost in the fridge overnight then reheat as normal.
Nutrition
Calories: 529kcal (26%)Carbohydrates: 64g (21%)Protein: 29g (58%)Fat: 19g (29%)Saturated Fat: 6g (38%)Cholesterol: 57mg (19%)Sodium: 1234mg (54%)Potassium: 1112mg (32%)Fiber: 13g (54%)Sugar: 16g (18%)Vitamin A: 1723IU (34%)Vitamin C: 72mg (87%)Calcium: 46mg (5%)Iron: 3mg (17%)
Join The Girl on Bloor Premium!
ZERO ADS!
Weekly Meal Prep Checklists
Bonus eBooks