These Tandoori Chicken Naan Burgers are a fun 30-minute dinner idea that's perfect for the BBQ and made using a simple, homemade Indian-inspired spice mix!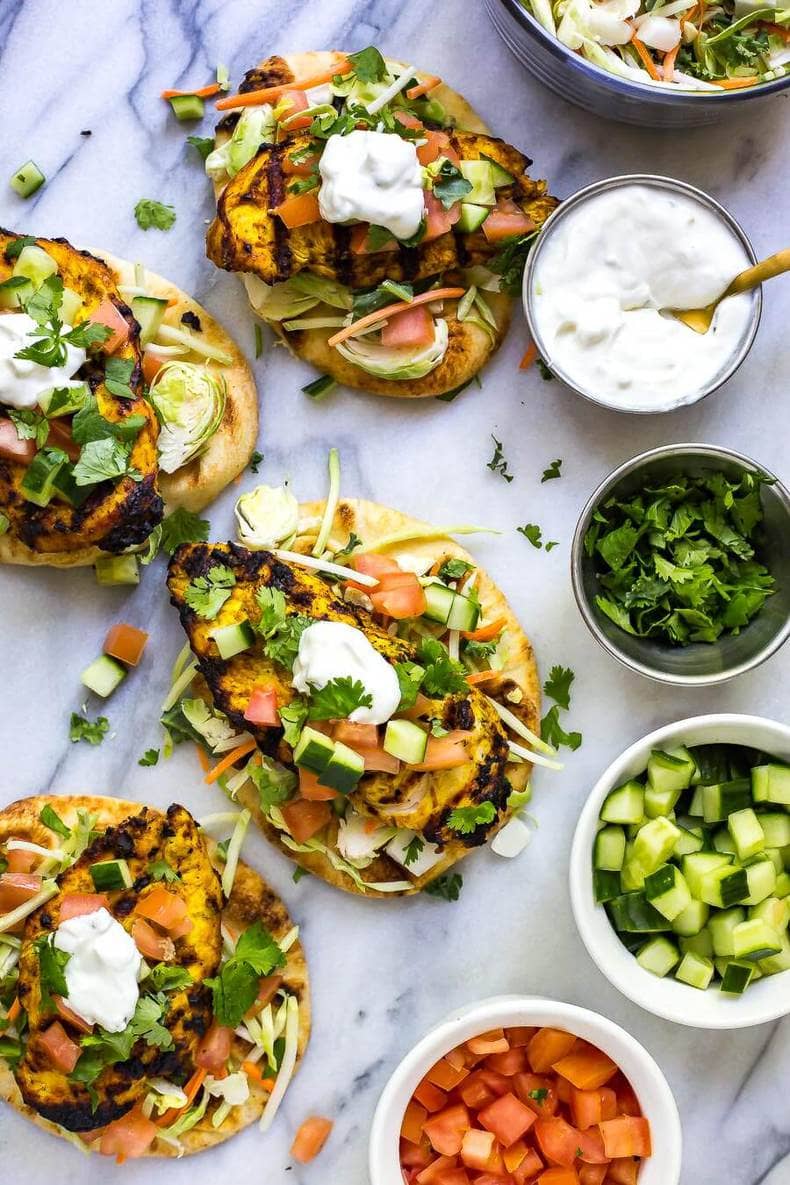 This post is sponsored by Mann's. Thanks for supporting the brands I love – they help keep my blog up and running!
Summer BBQ season, this recipe's for you!
These Tandoori Chicken Naan Burgers are exactly what you need in your life after a long day – they're packed with flavour and only take about 30 minutes to cook from start to finish, thanks to a little help from some prepared veggies and a spice blend you're going to want to keep on hand at home for more fun Indian-inspired food YOU can make at home!
All that's standing between you and one delicious dinner is about 30 minutes! HELLO!
I think we should talk a little bit more about the way I'm grilling chicken this summer.
To get a more even cook and distribute flavour a little bit better, I've been cutting boneless skinless chicken breasts in half and then grilling for a shorter time. This way, you get your food faster (YES!!!) and the chicken stays nice and moist with more flavour throughout.
And the chicken slices up perfectly as leftovers for the next day so you can use it in plenty of delicious summer salads, healthy wraps, etc.
I don't know how I didn't start cooking like this sooner!
As for the Tandoori spice blend, I used a mix of garam masala, dried turmeric, cumin, coriander, cayenne pepper and cinnamon – it sounds like a lot of ingredients but you likely already have most of these spices on hand at home.
I hate to say it, but the garam masala makes it, so if there is any specialty item you have to run out and get for these Tandoori Chicken Naan Burgers, it's that. However, garam masala is now becoming a more common spice sold in many different grocery stores so you shouldn't have too hard a time finding it.
I love making my own spice blends because they last up to 6 months. Just mix them together, store them in an airtight container or plastic bag, and add them to your cooking whenever you don't have the time to make a marinade from scratch! I'm in love with my homemade taco and fajita seasonings, so I think it's about time to start experimenting with more flavours and having them on hand for last minute meals!
Speaking of efficiency, you should know by now what a huge fan I am of Mann's veggie blends! They make it so easy to get a ton of servings of veggies in all at once and the prep is already taken care of for you!
This month, I'm using their Power Blend: brussels sprouts, napa cabbage, kohlrabi, broccoli, carrots and kale in combination with these Tandoori Chicken Naan Burgers.
You could either use the Power Blend as a slaw to complement the burgers (just add a bit of mayo, vinegar, salt and sugar) or you could add it underneath the chicken like I've done here. Between the chicken seasoning, cilantro and tzatziki there's more than enough flavours going on for me, but there are still plenty of ways you can switch it up and get creative.
I found these mini naan buns at my local grocery store so I knew I had to snatch them up for these burgers – how cute are they?! If you can't find any mini naans you can easily cut a piece of naan in two and fold it over each chicken breast, which works just as well.
From here on out, this recipe's pretty simple! Top with diced tomatoes and cucumber, add a little bit of tzatziki and cilantro (parsley if you don't like cilantro) and you've got one amazing dinner that comes together so quickly.
You can also marinate the chicken ahead of time. Heading to work? Marinate the chicken the night before, and pull it out once you're ready to grill it.
And if you don't have access to a BBQ the chicken tastes amazing baked in the oven too! So really, you can enjoy these Tandoori Chicken Naan Burgers all year round with ease!
Will you be making these Tandoori Chicken Naan Burgers? 
If you're craving some summer BBQ flavours but you're also tempted to get takeout, these are guaranteed to hit the spot. Healthy, full of veggies and ready in less than 30 minutes – you really just can't go wrong here!
If you try any of my recipes be sure to let me know on Instagram, Twitter, Facebook or in the comments – I'd love to see what you come up with!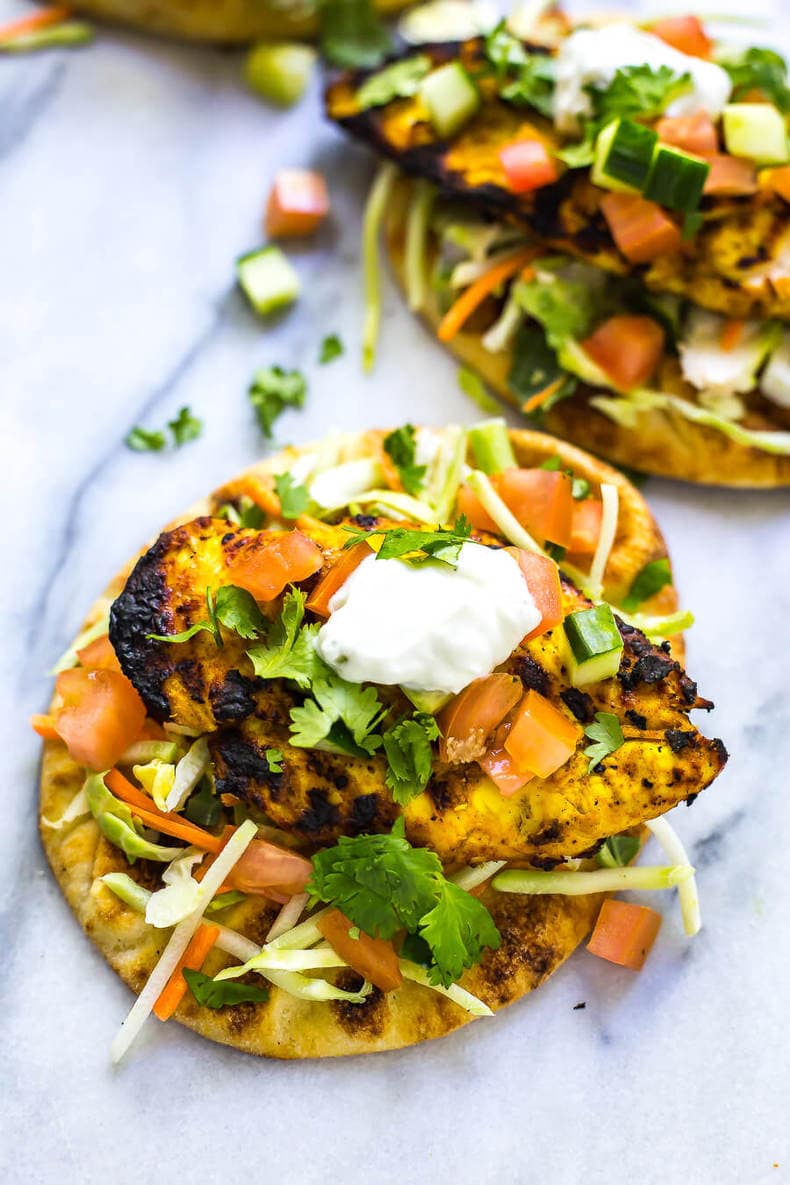 Chicken Tandoori Naan Burgers
These Tandoori Chicken Naan Burgers are a fun 30-minute dinner idea that's perfect for the BBQ and made using a simple, homemade Indian-inspired spice mix!
Print
Pin
Rate
Ingredients
4

chicken breasts

1

package

Mann's Power Blend

2

plum tomatoes, diced

1/2

cup

cucumber, diced

1

tub

tzatziki

Cilantro for garnish

8

Mini naan breads (or 4 pieces naan bread cut in half)
Tandoori spice mix
4

tsp

turmeric

4

tsp

garam masala

2

tsp

cumin

2

tsp

coriander

1

tsp

cayenne pepper

1

tsp

cinnamon
Chicken marinade
1

tbsp

olive oil

1

tbsp

lemon juice

1/3

cup

Greek yogurt

2

tbsp

Tandoori spice mix

2

cloves

garlic minced

1

tbsp

minced ginger

1

tsp

salt
Instructions
Preheat BBQ to high heat. Slice each chicken breast in half lengthwise. Marinate chicken by mixing all ingredients together - you can marinate the chicken up to 24 hours in advance and you can make the Tandoori spice mix ahead of time as well.

Add chicken to the grill and cook for about 5-7 minutes per side or until chicken is fully cooked. Remove from heat. Add Mann's Power Blend to each mini naan (or naan half) and top with chicken, tomatoes, cucumber, tzatziki and cilantro. Serve and enjoy!