These Crispy Air Fryer Chicken Wings are a healthier version of your favourite restaurant wings and are perfect for game day.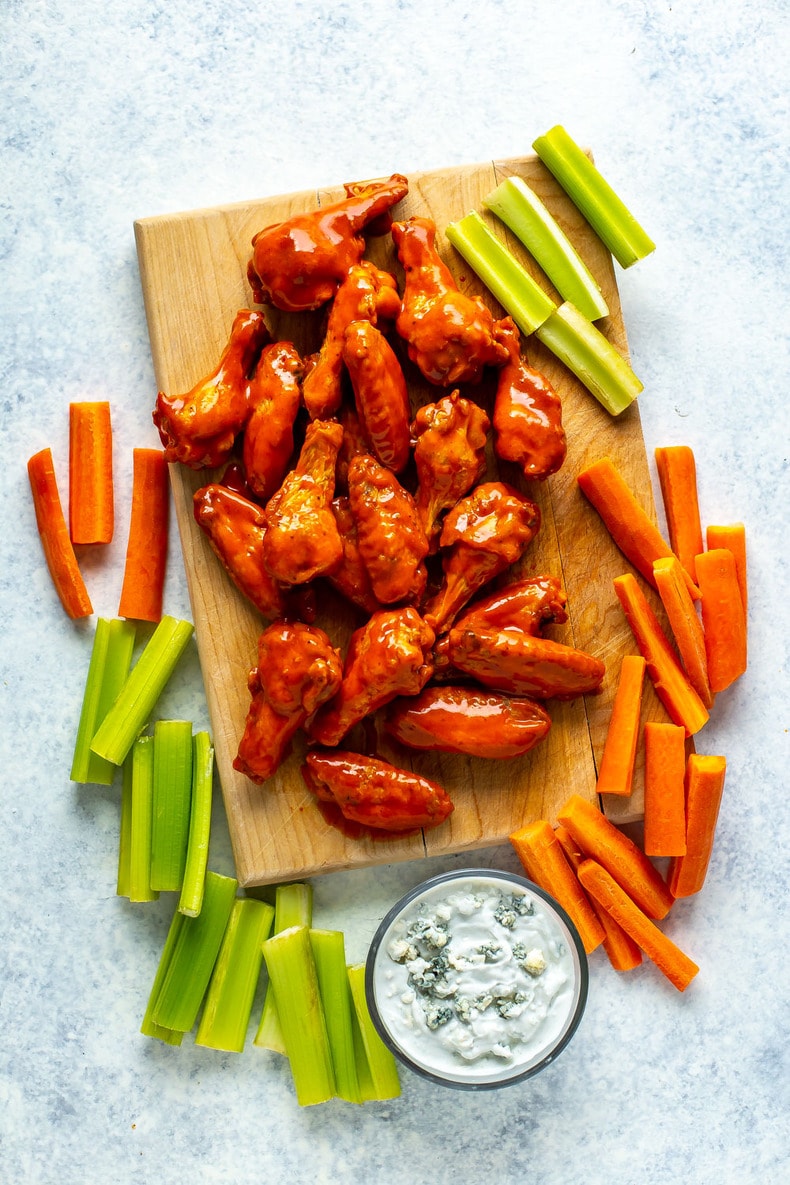 How to make this recipe
Season wings with salt and pepper.
Add wings to the basket in a single layer.
Air fry for 20 minutes, turning halfway through.
Mix together the wing sauce and microwave until hot.
Toss the air-fried wings in the sauce.
Serve with veggies and blue cheese dip.
Ingredients and substitutions
Chicken wings – skinless wings will make the recipe healthier. You can also use boneless skinless chicken.
Sour cream – plain Greek yogurt isn't as tangy but will still taste great with the blue cheese dip.
Blue cheese – you could also substitute for gorgonzola (another type of blue cheese) or feta.
Salt & pepper – to taste
Buffalo sauce – you can make your own using hot sauce, garlic powder and butter with vinegar for extra tang.
BBQ sauce – a combination of ketchup, light brown sugar, white wine vinegar, Worcestershire sauce and paprika will give the same taste.
Butter – swap out the melted butter for a neutral oil like canola or vegetable oil.
Celery & carrot sticks – cut up your favourite veggies like bell peppers, cucumber or cauliflower.

Can you cook frozen chicken wings in an air fryer?
Yes! The process is exactly the same, except you'll need to add 5-10 minutes to the cooking time. Also, depending on what model and brand of air fryer you have, you may need to drain off the liquid about halfway through cooking.
The reason for this is that frozen wings have excess water that releases as they're cooking. The water collects in the bottom of the basket, creating steam, which is not helpful when you want extra crispy skin.
For food safety, always check to be sure that your chicken is properly cooked all the way through. There should be no pink color in the meat at all, and the juices should run clear. Using a more accurate method, a thermometer inserted into the thickest portion of the meat should read 165° F.
How long to cook chicken wings in air fryer
You could cook your chicken wings for about 20 minutes in the air fryer, turning halfway through. Make sure you're cooking them in a single layer in the basket to ensure they cook evenly.
How many calories are in air fryer chicken wings?
Air fryer chicken wings are a lot healthier than the ones you get at your favourite wing spot. These ones have just 295 calories, whereas popular restaurant versions can have up to 700 calories.
Storing and reheating
If you manage to have any leftovers, you can keep them in the refrigerator for 3 to 4 days.
Always store cooked chicken in a sealed container so it stays fresh, and put the sauce in a separate container so the wings don't get soggy.
These will heat just fine in the microwave, but using the air fryer will get them nice and crispy again.
Freezing cooked wings
If you place the chicken into a freezer-safe Ziploc bag, they will freeze well for up to 3 months. To be able to take a few pieces out at a time, freeze them on a parchment paper lined baking sheet first.
Thaw in the refrigerator overnight before reheating, and make a fresh batch of buffalo barbecue sauce to toss them in.
Wanna Learn How To Meal Prep?
My meal planning service, Dinner Prep Pro, removes the guesswork and helps you get dinner on the table in 15-20 minutes each night. My meal prep checklists only take 1 hour each week!
More game day recipes
Meal prep tools for this recipe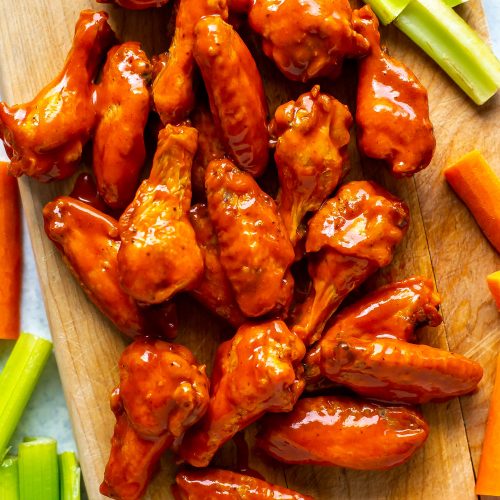 The Crispiest Air Fryer Chicken Wings
These Crispy Air Fryer Chicken Wings are a healthier version of your favourite restaurant wings and are perfect for game day.
Print
Pin
Rate
IN A CYCLE OF EATING POORLY?We've got you covered with our free Routine Revamp mini course! You'll receive 8 lessons and free coaching with us! Register👇
Join Routine Revamp!
Servings: 4 servings
Calories: 295kcal
Ingredients
1 lb chicken wings
salt & pepper, to taste
cooking spray
Celery & carrot sticks, to serve
Blue cheese dip
1/2 cup sour cream
1/3 cup blue cheese
Wing sauce
3/4 cup buffalo sauce
1/4 cup BBQ sauce
1 tbsp butter, melted
Instructions
Preheat Air Fryer to 400 F for 8 minutes. Season wings with salt & pepper, then add to basket in one single layer. Spray with cooking spray, then air fry for 20 minutes, turning once halfway through cooking time. You may need to do wings in two batches.

Meanwhile, mix together melted butter, buffalo sauce and BBQ sauce in a large bowl. Microwave for 1-2 minutes until hot.

Mix sour cream and blue cheese together to make the dip, and chop up celery and carrots.

When wings are done, toss in sauce. Serve alongside carrots, celery and blue cheese dip. Enjoy!
Video
Notes
NOTE: Nutritional info includes 1/4 lb chicken wings, 1/4 portion of blue cheese dip and 1 cup celery and carrots.
Nutrition
Calories: 295kcal (15%)Carbohydrates: 10g (3%)Protein: 15g (30%)Fat: 22g (34%)Saturated Fat: 10g (63%)Cholesterol: 78mg (26%)Sodium: 1853mg (81%)Potassium: 338mg (10%)Fiber: 1g (4%)Sugar: 8g (9%)Vitamin A: 709IU (14%)Vitamin C: 2mg (2%)Calcium: 124mg (12%)Iron: 1mg (6%)
Don't wait until January to eat healthy!Sign up for our free Routine Revamp mini course!
Join Routine Revamp!