This beef stir fry, inspired by Korean Bibimbap, is a mixture of sesame fried vegetables, beef, kimchi, rice and a fried egg.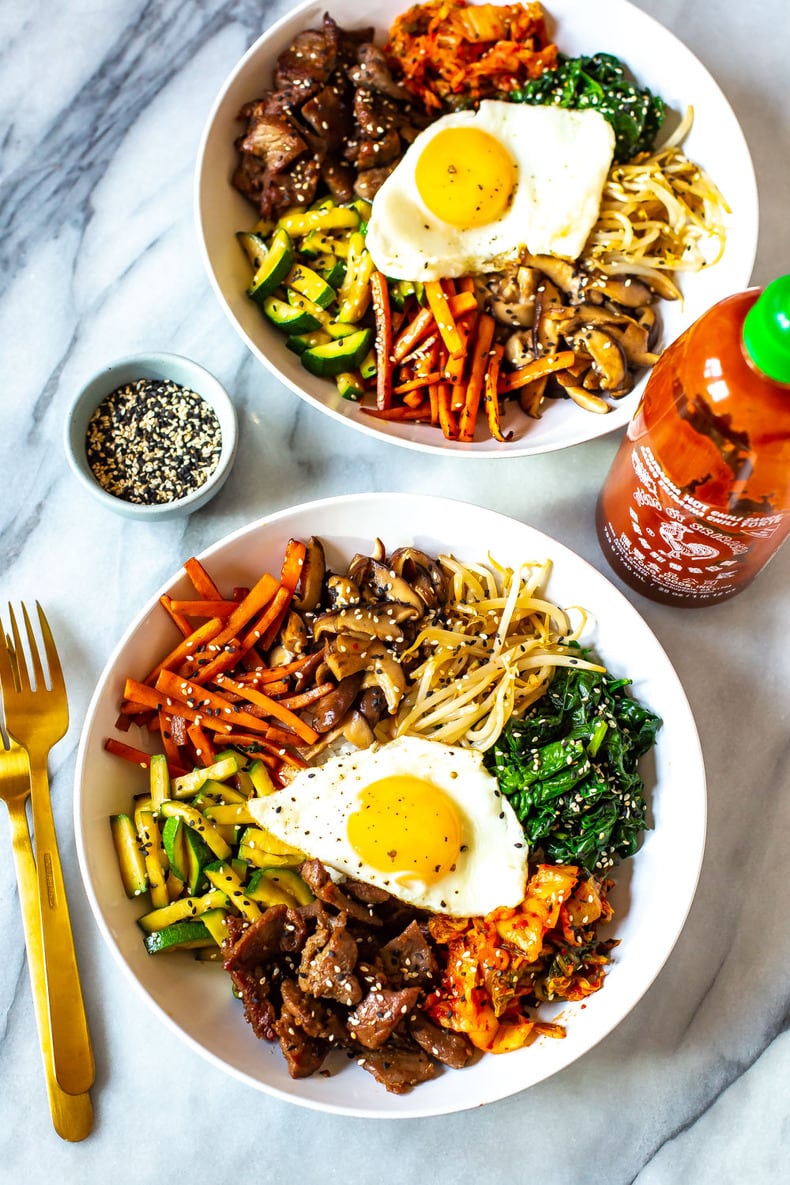 What is bibimbap?
Bibimbap translates to "mixed rice with meat and vegetables", and one of the best things about this dish is that you can customize it depending on your dietary restrictions or whatever's laying around in the fridge. This stir fry recipe makes the best use of a variety of veggies, and I've tried to make my own using mostly ingredients that you can find at the average North American grocery store.
Got some leftover cabbage? Toss it in. Need to use up some greens? They'll not only taste great, but they'll add some extra nutritional value to your dinner! Feel free to mix it up – you don't really have to use the exact combo of veggies I've used here.
Ingredients in this recipe
Now let's talk a bit more about the individual components of this dish. There are a variety of sesame-soy seasoned veggies along with minced beef in these stir fry bowls.
Here are the ingredients that are typically used in bibimbap when you order it from a restaurant, though it may vary:
Shittake, oyster or button mushrooms
Zucchini, cut into matchsticks
Carrots, cut into matchsticks
Bean sprouts
Spinach
Kimchi
Minced steak or ground beef
Egg
Rice
Sesame seeds
Skip the Ads and Get Right to the Recipes!
ZERO ADS on over 600 recipes!
Weekly Meal Plans, Grocery & Prep Lists
Bonus eBooks
How to make this stir fry (step-by-step)
Here is how to make this bibimbap-inspired bowl:
Get the rice cooking in a rice cooker while you saute everything.
Start by sauteing the mushrooms in a pan over high heat. You'll saute each vegetable individually with 1 tsp sesame oil and 1 tsp soy sauce for 1-2 min, then set each cooked veggie aside for presentation. NOTE: you can technically saute the veggies all at once with 2 tbsp of soy sauce and 1 tbsp sesame oil but the presentation won't be the same.
While veggies are cooking, cut up the steak so that it's very minced and resembles ground beef. You can also just use ground beef too. Toss the meat with 2 tbsp soy sauce and 1-2 tbsp sriracha (or gochujang instead if using), then stir fry over high heat for 2 minutes.
Wipe the pan with the beef clean, then use a tiny bit of olive oil to fry the egg, removing when the yolk is runny.
Add 1/2 cup rice to each bowl, then add veggies one at a time, then kimchi and cooked beef. Top with egg, then sprinkle with sesame seeds and serve.
What type of steak should you use?
I just use the cheapest eye of round steaks that I can find and mince them up – you don't need anything fancy as you're only going to be sauteing for a couple of minutes. You can also use fast fry steaks. If you want more tender beef, you could go with a ribeye or top sirloin steak too – it all depends how fancy you're trying to go!
How to make the steak more tender
If you'd like to tenderize the beef even more, you can add 1 tsp of baking soda and 1 tsp of cornstarch to the beef along with the 2 tbsp of soy sauce and sriracha (this method is inspired by one of my fave blogs, RecipeTin Eats). Let it sit in a large bowl or Ziploc bag for 30 minutes before sauteing on high heat.
The baking soda and cornstarch creates an extra layer that will prevent the meat from drying out or overcooking. If you're in a hurry, skip this step but it can result in more tender beef if you're using a cheap cut.
Ingredient substitutions
This is definitely NOT an authentic version of bibimbap as most are served with a raw egg yolk and gochugang (Korean hot pepper paste). In this recipe, I've used sriracha/chili garlic sauce alongside a fried egg with a runny yolk. I have definitely put my own spin on it.
You can also use tamari or coconut aminos as a gluten-free substitute. If you're looking to make this meat-free, you can also easily sub in some sliced chicken breasts or shrimp.
What if you don't have gochujang?
Traditional versions of bibimbap use gochujang, which is a Korean fermented hot pepper paste. You can find some here on Amazon.
If you don't have gochujang to season the beef, you can use sriracha or sambal oelek. Really, any type of chili-based hot sauce will work in a pinch. I don't recommend using regular hot sauce as it will be too vinegary, and technically you don't even need the spiciness so you can just leave it out altogether, although dried chili flakes would also be a great option.
Time-saving tips
To save time, here are some suggestions:
Cook the veggies altogether as opposed to separate; presentation/taste won't quite be the same, but you'll save a ton of time
Use pre-cut fast fry steak instead of mincing the beef yourself
Use a rice cooker to make the rice prep hands-off
Use pre-chopped veggies from the grocery store to save on prep time
Add a raw egg instead of the fried egg as the egg will cook in the hot mixture of rice, beef and veggies
Making bibimbap vegetarian
If you want to make this bibimbap vegetarian you can easily do so by leaving out the beef and egg! Just add veggies and rice, then you can add tofu if you want some extra protein, flavouring it with gochujang (or sriracha), soy sauce and sesame oil.
Wanna Learn How To Meal Prep?
My meal planning service, Dinner Prep Pro, removes the guesswork and helps you get dinner on the table in 15-20 minutes each night. My meal prep checklists only take 1 hour each week!
More tasty stir fry recipes
If you're looking for more 30-Minute Stir Fry ideas, I've got you covered! When in doubt, add veggies, protein and an easy soy/chili sauce combo for a quick and easy after-work dinner right?!
Tools to make this recipe
Bibimbap Inspired Beef Stir Fry
This beef stir fry, inspired by Korean Bibimbap, is a mixture of sesame fried vegetables, beef, kimchi, rice and a fried egg.
Print
Pin
Rate
Click Here to Remove Ads
Servings: 6 people
Calories: 403kcal
Ingredients
1 Carrots, cut into matchsticks
1 zucchini, cut into matchsticks
1 cup Shiitake mushrooms, sliced
1 cup bean sprouts
2 cups fresh baby spinach
1 cup kimchi optional
16 oz striploin steaks thinly sliced (or 1lb ground beef)
2 tsp baking soda
2 cloves garlic, minced
3-4 tbsp soy sauce divided
1 tbsp Sriracha or gochujang
2 tbsp sesame oil divided
6 eggs
Sesame seeds, to serve
Rice
2 cups water
1 cup white rice
1 tsp butter
1 pinch salt
Instructions
Cook rice according to package instructions in a rice cooker.

Saute mushrooms in pan with 1 tsp sesame oil and 1 tsp soy sauce for 1-2 min on high heat. Continue cooking all veggies this way individually in the same pan, setting aside in a large bowl each time.

Meanwhile, cut up steak into thin strips and toss with baking soda. You could use ground beef if you're in a pinch, but steak is better. Toss meat with baking soda, garlic, 2 tbsp soy sauce and sriracha (or gochujang instead if using).

Heat 1 tbsp sesame oil over med-high heat, then cook steak for 2-3 min. Remove from pan.

Using another tiny bit of sesame oil, heat the same pan on high and add egg. Cook on med-low for 3-4 minutes until egg is semi-cooked.

Add a bit of rice to each bowl. I use pasta bowls because I love how wide they are and they are great for presentation. Picking out veggies one at a time, place each in circle around bowl, then add kimchi and cooked beef. Top with egg, then sprinkle bowl with sesame seeds and serve.
Video
Nutrition
Calories: 403kcal (20%)Carbohydrates: 29g (10%)Protein: 25g (50%)Fat: 21g (32%)Saturated Fat: 7g (44%)Cholesterol: 212mg (71%)Sodium: 1006mg (44%)Potassium: 517mg (15%)Fiber: 2g (8%)Sugar: 2g (2%)Vitamin A: 2971IU (59%)Vitamin C: 12mg (15%)Calcium: 64mg (6%)Iron: 3mg (17%)
Join The Girl on Bloor Premium!
ZERO ADS!
Weekly Meal Prep Checklists
Bonus eBooks