This Panda Express Kung Pao Chicken is a delicious restaurant copycat! It's an easy stir fry with spicy garlic soy sauce, diced chicken thighs and mixed veggies.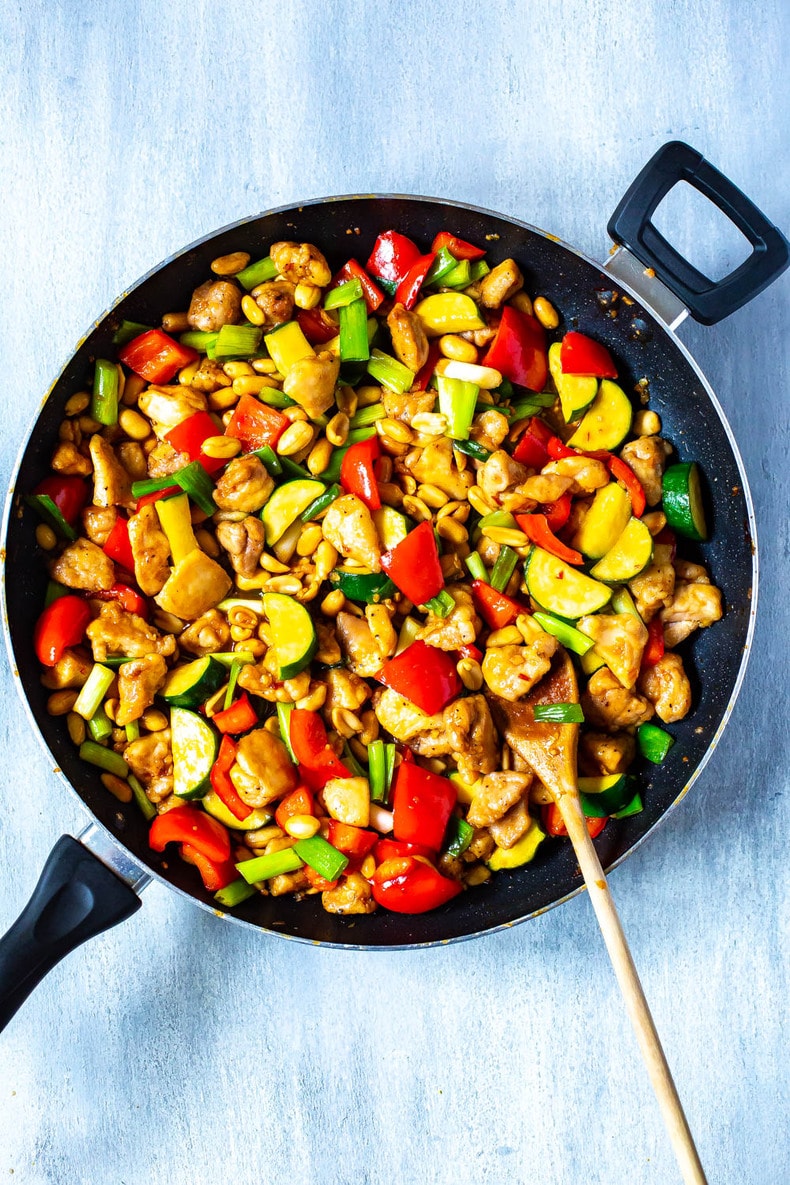 Why you'll love kung pao chicken
Kung Pao chicken is a fantastic Asian-inspired meal. This copycat version tastes just like the one you can get at Panda Express, but it has a fraction of the calories and fat. The Kung Pao chicken calories are about 515 per serving including rice, versus the 670 calories you would consume at the restaurant with steamed rice (or 810 calories if served with fried rice!)
It's perfect for meal prep because the chicken, veggies, and rice all reheat well. Using chicken thighs means the meat will stay moist and tender. The garlic sauce provides an extra boost of flavor that is SO delicious!
It's a veggie packed meal as well. You can keep it traditional by using peppers and zucchini, or you can get creative, customizing the veggie combinations.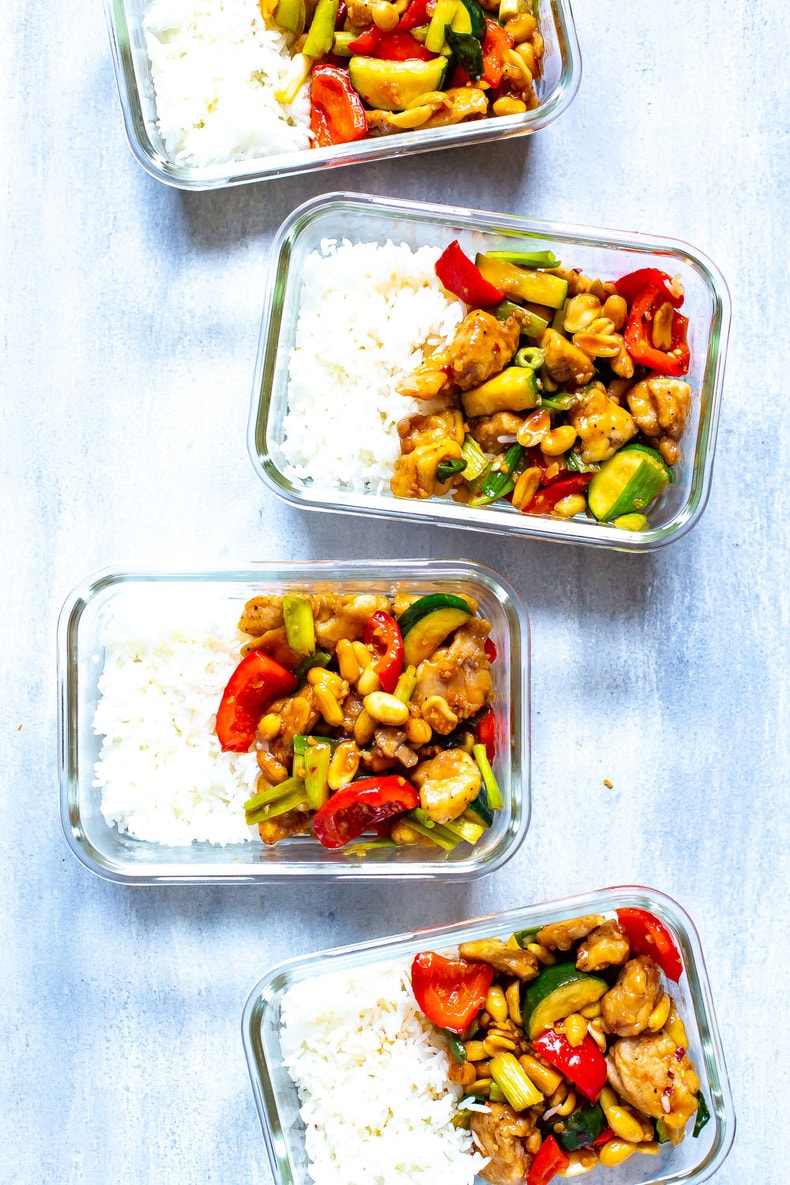 What is in Kung Pao sauce?
Traditional Kung pao sauce is made of soy sauce, sugar, Chinese vinegar, Sichuan peppercorns and dried red chile peppers. In the recipe below, you will notice a few ingredient substitutions. This will make it easier to find everything you need in your local grocery store.
Because you are making your own sauce, you can make it as spicy or mild as you like. Honey gives it just a little bit of sweetness.
Here's what you need for the sauce:
3 tbsp soy sauce
2 tbsp honey
1 tbsp chili paste
4 cloves garlic, minced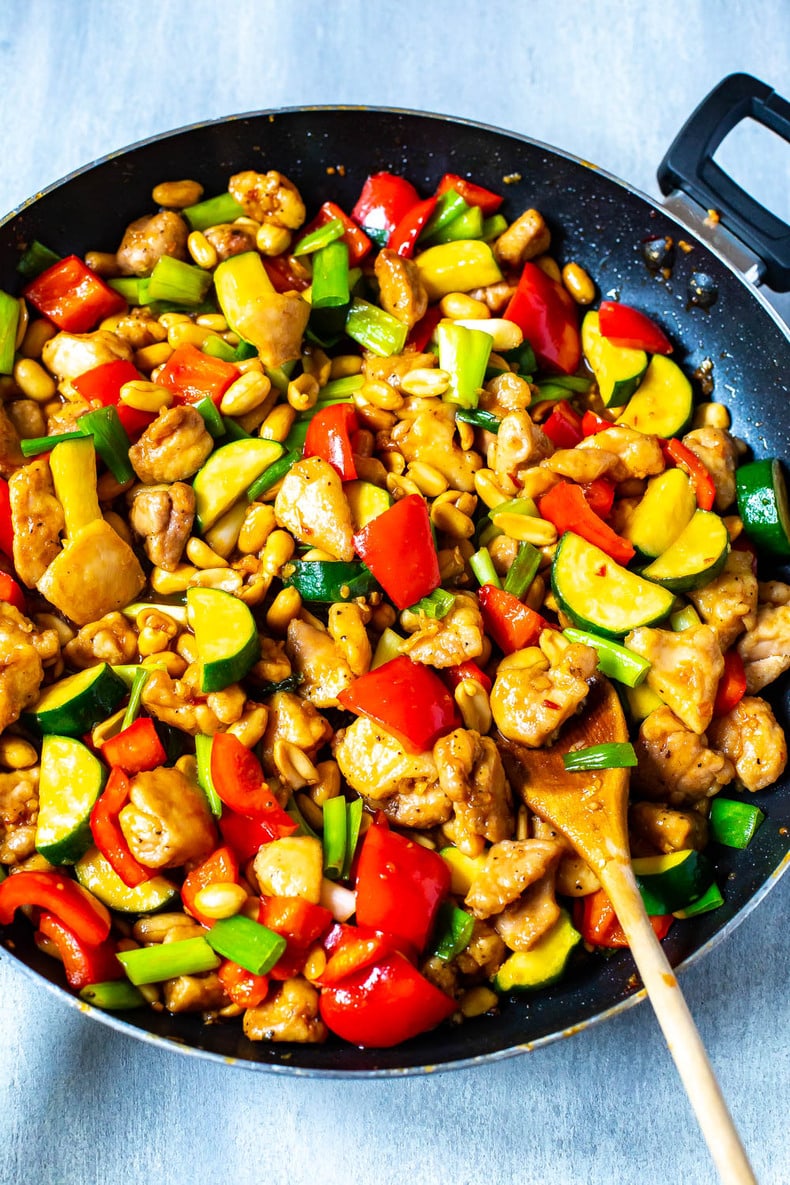 What is the difference between Kung Pao chicken and General Tso's chicken?
As you can see in this kung pao recipe, the chicken is seared and tossed in a sweet and spicy marinade sauce. This is a great opportunity to put your wok to use. In contrast, General Tso's chicken is battered and deep fried.
Also, Kung Pao chicken typically has peanuts on top while General Tso's does not, and General Tso's typically has a much sweeter sauce while Kung Pao is more spicy.
There's still a bit of breading with this kung pao chicken in the form of cornstarch – this allows for super tender chicken with the traditional Chinese food texture, but you don't need to fry the chicken in a ton of oil like General Tso's.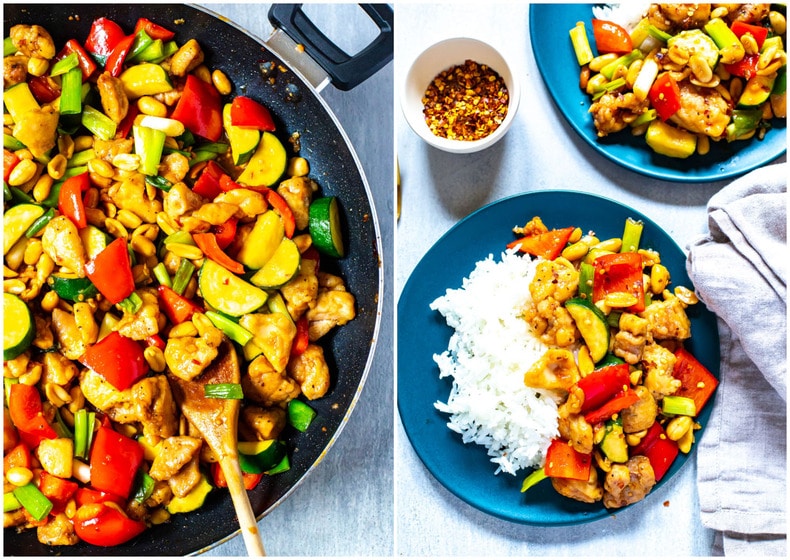 How to make Panda Express Kung Pao chicken at home (step-by-step)
You'll love how easy this recipe is to make. Consider making a large batch so you can make meal prep dinners for later in the week!
There are just a few simple steps to making this dish. Before you start, get the rice cooking so you can make the rest of the meal.
Cut the chicken into bite sized pieces.
Coat the chicken with cornstarch
Sear the chicken in a wok or skillet with oil, then cook it until it's lightly golden brown.
Move the chicken to the side of the pan, and add the veggies, peanuts and sauce.
Finish cooking the chicken and vegetables.
Stir in the scallions and then it is ready to serve over cooked rice.
Why use cornstarch on the chicken?
In this recipe, cornstarch serves two purposes. It thickens the sauce, ensuring it sticks to the meat and veggies. As a result, you won't end up with a puddle of sauce on your plate.
Cornstarch also gives the chicken a coating and protects it. Cooking stir fry like Kung Pao chicken is done at high heat. The cornstarch acts as a buffer, helping to prevent overcooking. If chicken is overcooked, it gets tough and can be difficult to chew.
What type of chicken? Chicken thighs vs chicken breast
Everyone has their preference in the chicken thighs vs. chicken breast debate, but which is actually better for you? What should you use in this recipe?
Chicken in general is a great source of lean protein. It is low in calories and fat and contains lots of beneficial vitamins and minerals such as B vitamins.
Chicken thighs do have more fat than breasts, but this is not the kind of fat that you need to avoid at all costs. It's monounsaturated fat which aids in weight loss and keeps cholesterol numbers balanced. That fat also gives the thighs their distinctively rich flavor.
So don't shy away from using the recommended thighs in this (or any other!) recipe.
Can you use frozen veggies?
Frozen veggies are a great choice for this meal. Because vegetables are frozen soon after being harvested, they often have a greater nutritional benefit than fresh veggies. All the vitamins and minerals are locked in and not lost during transportation or while sitting in a warehouse.
You can even skip the thawing process – just toss the frozen veggies right into the pan.
Frozen veggies are blanched before they are frozen, so you don't have to worry about cooking time. Just make sure they are heated through.
Meal prepping this recipe
If you're looking to make kung pao chicken as your weekly meal prep, there are a few things I'd recommend you prep ahead of time. For one, you can make the rice up to 2 days in advance before serving. Just cook it up in a rice cooker and store in a bowl in the fridge.
You can also chop the chicken and veggies up ahead of time so that all you need to do is throw it all in the pan with the sauce to cook. And speaking of sauce, you can also make that up to five days in advance as the ingredients are all pantry staples and can sit for a few days. Either way, this recipe comes together in a flash and will come together even quicker with a little bit of prepping ahead.
Storing and reheating
You can store the leftovers in microwave-safe bowls (I always go with glass for easy reheating) up to 5 days in the fridge. Wait until the rice, chicken and veggies have cooled slightly, then refrigerate until you're ready to eat again.
To reheat, simply microwave for 2-3 minutes, sprinkling a little bit of water overtop before reheating. This will help the chicken retain moisture and work to eliminate the leftover chicken taste. You can also reheat the meal in a skillet on the stovetop, stirring for 4-5 minutes or so on medium-high heat.
Can you freeze this recipe?
I would not recommend that you freeze this recipe as a whole once you have cooked it because the veggies will not reheat with the same texture. However, there are elements of kung pao chicken that you can freeze and/or make ahead. If you're looking to cut down on prep time, make the sauce ahead of time and store in the fridge for later, then freeze the raw chicken and use frozen veggies. You can also freeze cooked rice.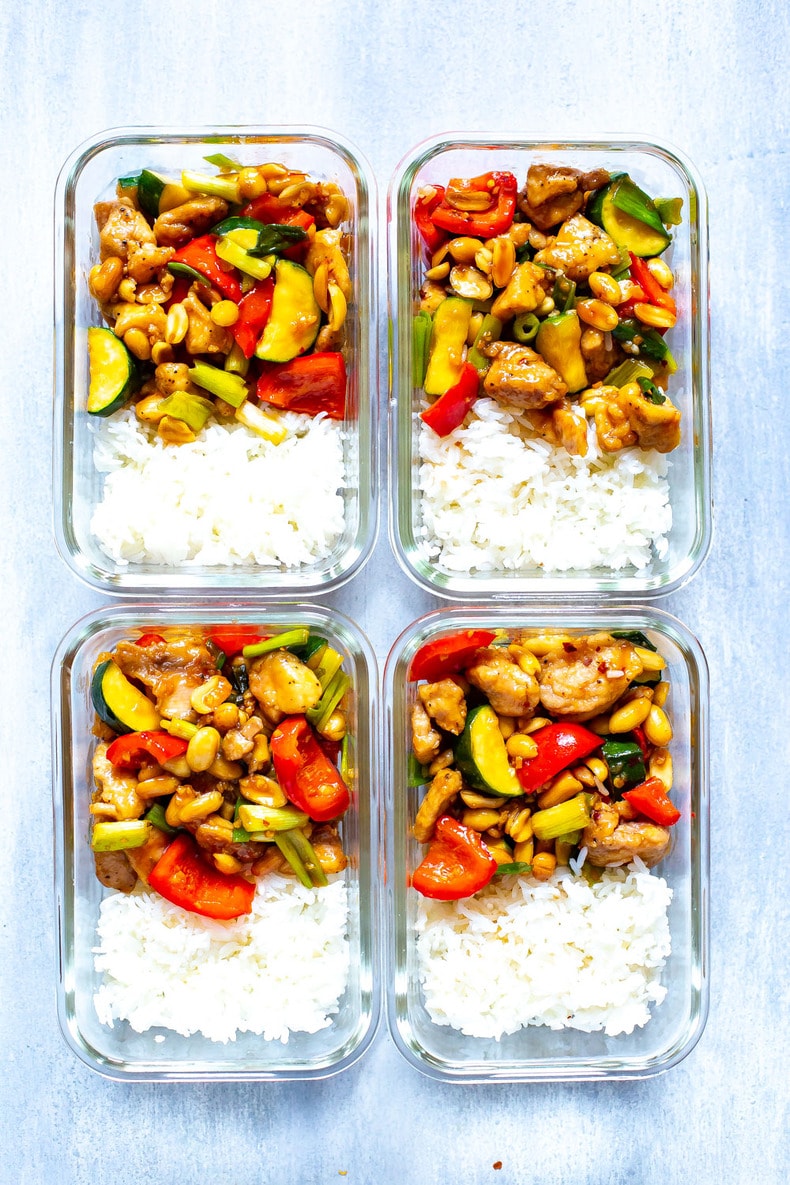 Other Stir Fry Recipes
If you're loving this kung pao chicken recipe then you're going to love the other stir fries I have on my blog! These recipes are all super easy to make on a busy weeknight and most come together in 20-40 minutes. Great for meal prep or a last minute dinner, you'll want to make them all!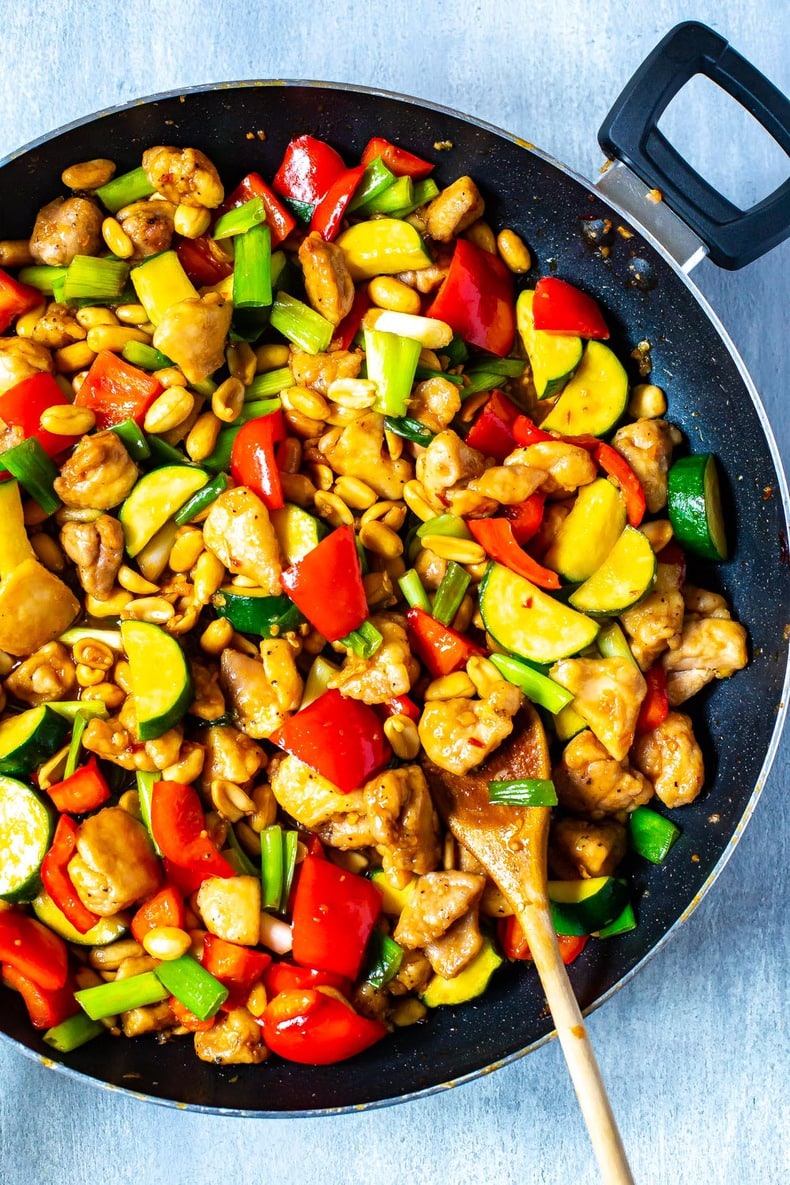 Meal prep tools for this recipe
Grab some glass meal prep bowls if you plan on turning this recipe into meal prep
I get all my free-range chicken from Butcher Box, conveniently delivered to me frozen.
Get a meat thermometer to make sure your chicken is cooked through
Freeze this recipe in glass microwave-safe bowls up to 3 months
Meal prep challenge
If you'd like some more help with meal planning, then you'll love my free 5-day meal prep challenge! Over the course of the challenge, I'll send you a free meal planner and shopping list templates so that you stay on the right track with meal prep (plus more goodies of course!) Sign up for free below:
Panda Express Kung Pao Chicken
This Panda Express Kung Pao Chicken is a delicious restaurant copycat! This easy stir fry has a spicy garlic soy sauce with mixed veggies & chicken thighs.
Print
Pin
Rate
Ingredients
3

tbsp

soy sauce

2

tbsp

honey

1

tbsp

chili paste

4

cloves

garlic, minced

4

boneless skinless chicken thighs, diced

1/2

tsp

each salt & pepper

1

tbsp

cornstarch

1

tbsp

peanut oil (or olive oil)

1

red pepper, chopped

1

zucchini, chopped

1

bunch

green onions, chopped into 1-inch pieces

1/2

cup

peanuts, chopped
Rice
1

cup

jasmine rice

1 1/2

cups

water

1

tsp

butter

1

pinch

salt
Instructions
In a small bowl, mix together soy sauce, honey, chili paste and garlic. Set aside. Meanwhile, start to cook rice in a rice cooker.

Toss chicken with salt & pepper and cornstarch in a large bowl. Heat oil over med-high heat in a large skillet then saute chicken for 4-5 min until lightly browned. Add in red pepper, zucchini, stir fry sauce and peanuts, sauteeing another 4-5 minutes until veggies soften.

Stir in green onions, sauteeing another 1-2 minutes. Remove from heat then serve chicken mixture overtop of cooked rice. Enjoy!
Video
Nutrition
Calories:
515
kcal
|
Carbohydrates:
56
g
|
Protein:
32
g
|
Fat:
19
g
|
Saturated Fat:
4
g
|
Cholesterol:
110
mg
|
Sodium:
640
mg
|
Potassium:
708
mg
|
Fiber:
4
g
|
Sugar:
12
g
|
Vitamin A:
1148
IU
|
Vitamin C:
49
mg
|
Calcium:
57
mg
|
Iron:
3
mg