This Instant Pot Pizza Quinoa Casserole is a tasty, gluten-free crustless pizza recipe that all comes together in one pot and in less than 30 minutes! Add your favourite pizza toppings to customize it to your liking!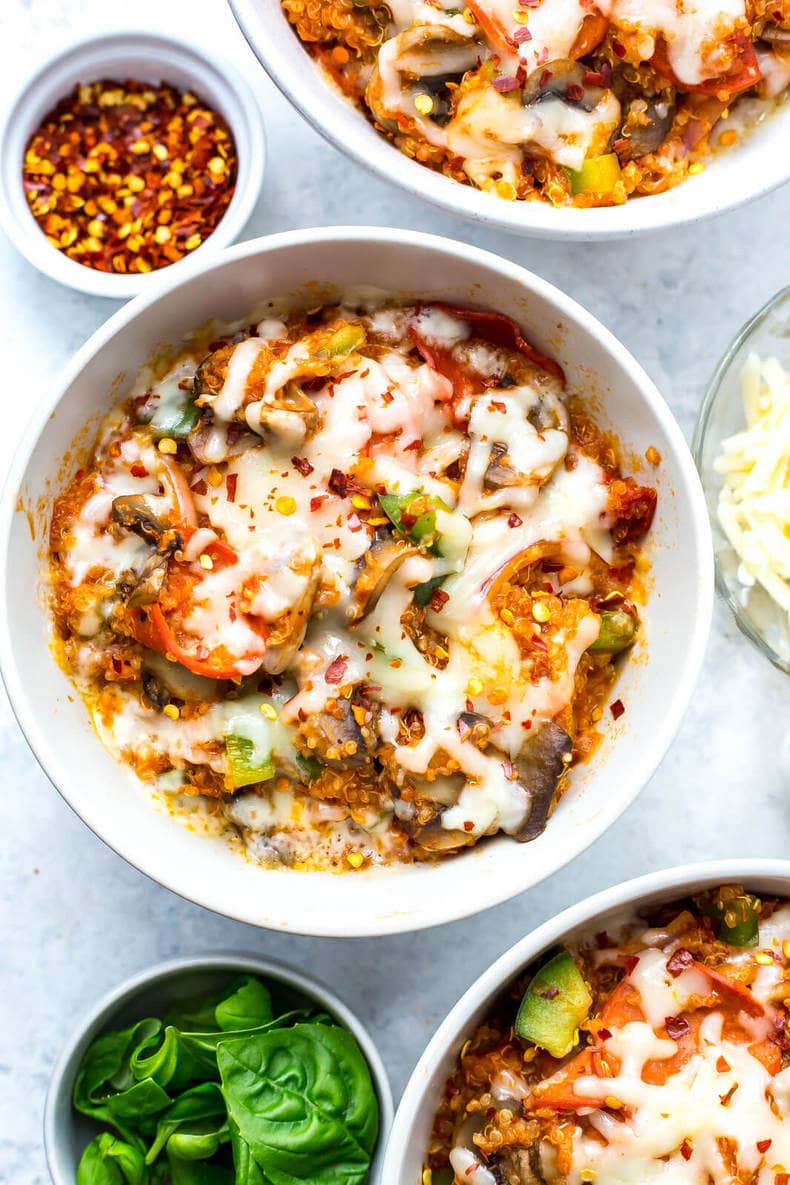 Pizza lovers rejoice: you now have a *HEALTHY* supreme pizza that can be made in one pot.
That's right: no more rolling out pizza dough. No more hassle. Just your Instant Pot, pizza toppings and the healthy superfood quinoa. I'm in love with these Instant Pot Pizza Quinoa Casserole bowls.
Inspired by the versions made by my other fave food bloggers Gimme Some Oven and Fit Foodie Finds, I decided to try my own version of pizza quinoa casserole but by using my fave new kitchen appliance, the Instant Pot.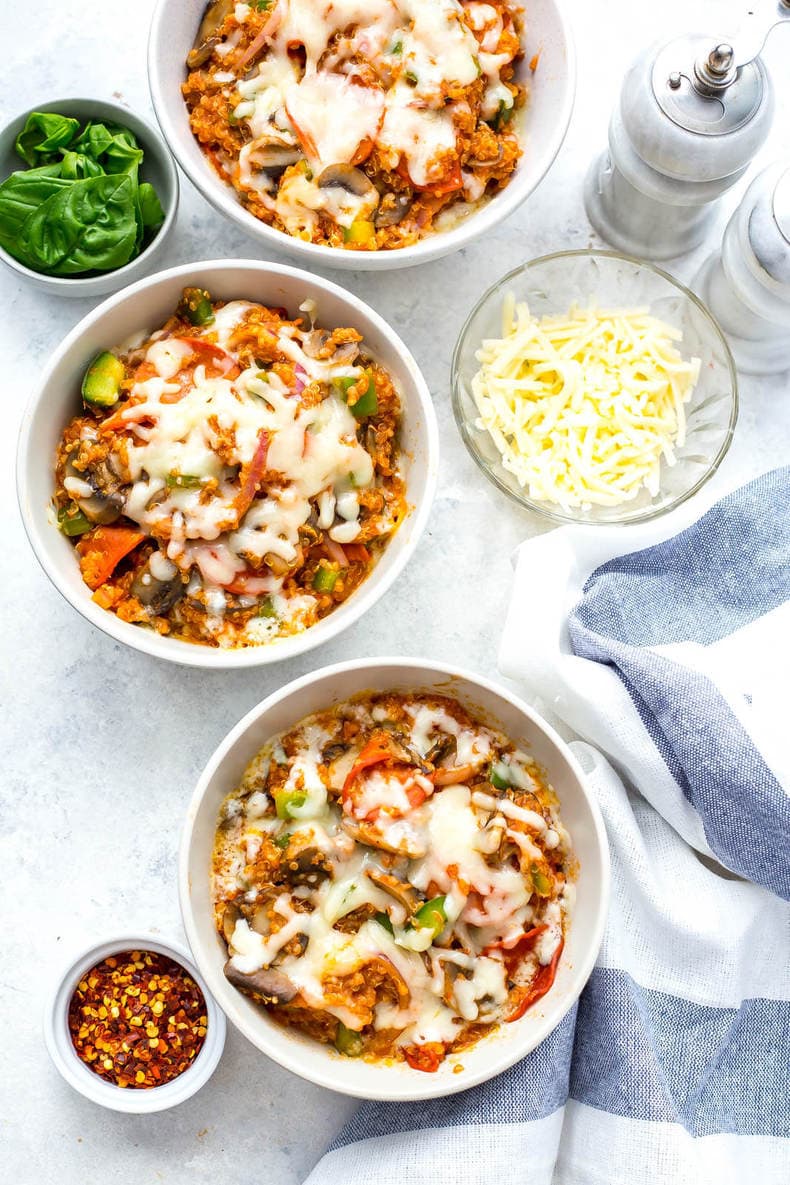 I love.love.love this thing. You basically dump everything in one pot, stir in some veggies once cooking time is completed, and then serve and enjoy. It's so easy, and I don't know why more people don't use it for meal prep.
My roommate actually often meal preps for the week using her slow cooker – she'll make a big batch of chili, or pulled chicken for burritos and taco salads, or she'll do some sort of pasta or rice dish in there. Really, it's so genius of her.
She'll dump everything in there, chill out in her room and do her homework (yes, she's a bad ass that goes to school full time AND basically also works full time), or she'll also run some other errands like laundry and get everything on her to do list done while her lunches and dinners for the week are cooking.
I love that concept of hands-free cooking. There's just minimal mess and effort, and you can go about your life while doing all these other things.
I really do think that the Instant Pot is a good alternative to the slow cooker though because it allows you to basically do what a slow cooker does but FASTER.
So instead of having to ensure you're home in time to get your food out of the slow cooker, you can basically cook everything in 20 minutes or less using the Instant Pot. It's a slow cooker that cooks fast.
But I've found the problem is that people are still getting used to the Instant Pot, and there's a need for many more creative recipes that are just as easy to make as soup. Like, you can cook SO MANY THINGS in the Instant Pot it's insane. So, let me introduce my version of Instant Pot pizza.
Instant Pot Pizza Quinoa Casserole is basically everything you've ever dreamed of for dinner.
There are a few steps you need to take with this Instant Pot Pizza Quinoa Casserole recipe so it's technically not a dump and run recipe, but it's pretty close.
You basically cook the quinoa and mushrooms together with some chicken broth (or water) first. Don't add the pizza sauce until after or the quinoa will soak up most of the liquid from the sauce and it will be less saucy. Once the quinoa's cooked, you'll mix in the sauce, green peppers and onions, and close the lid to let it sit for 5 minutes.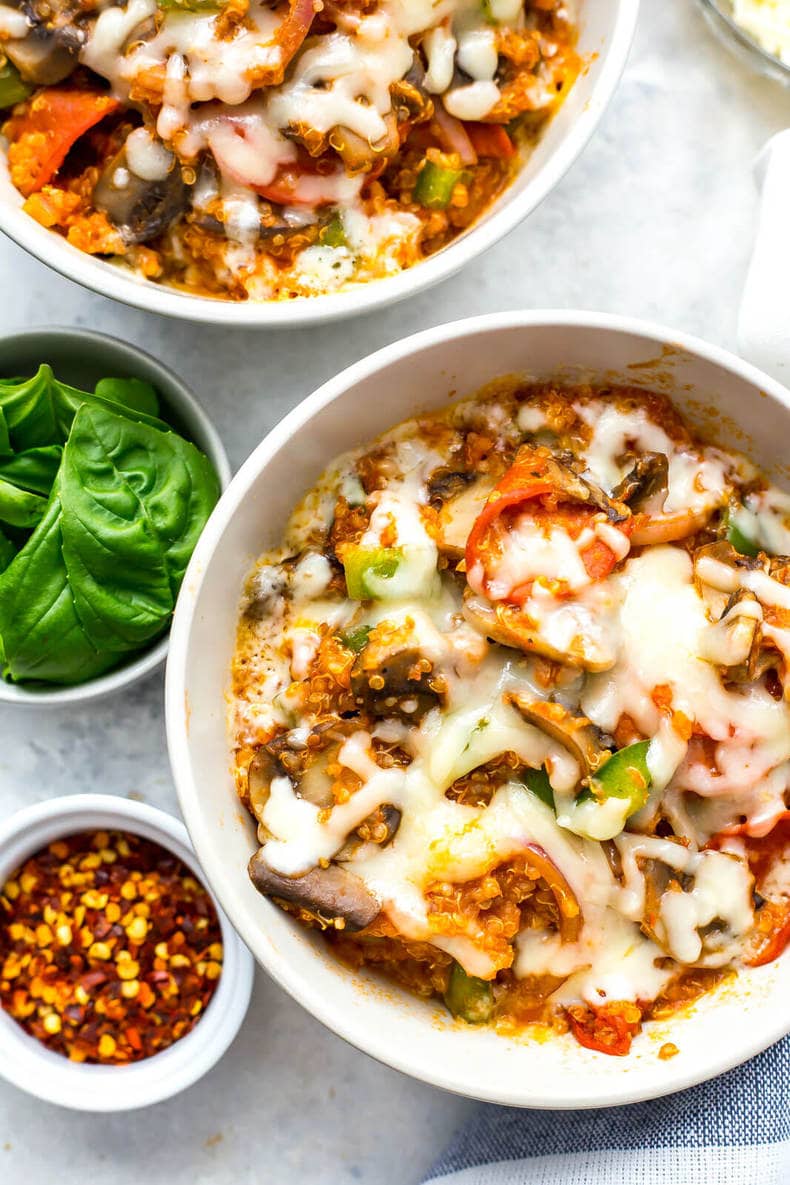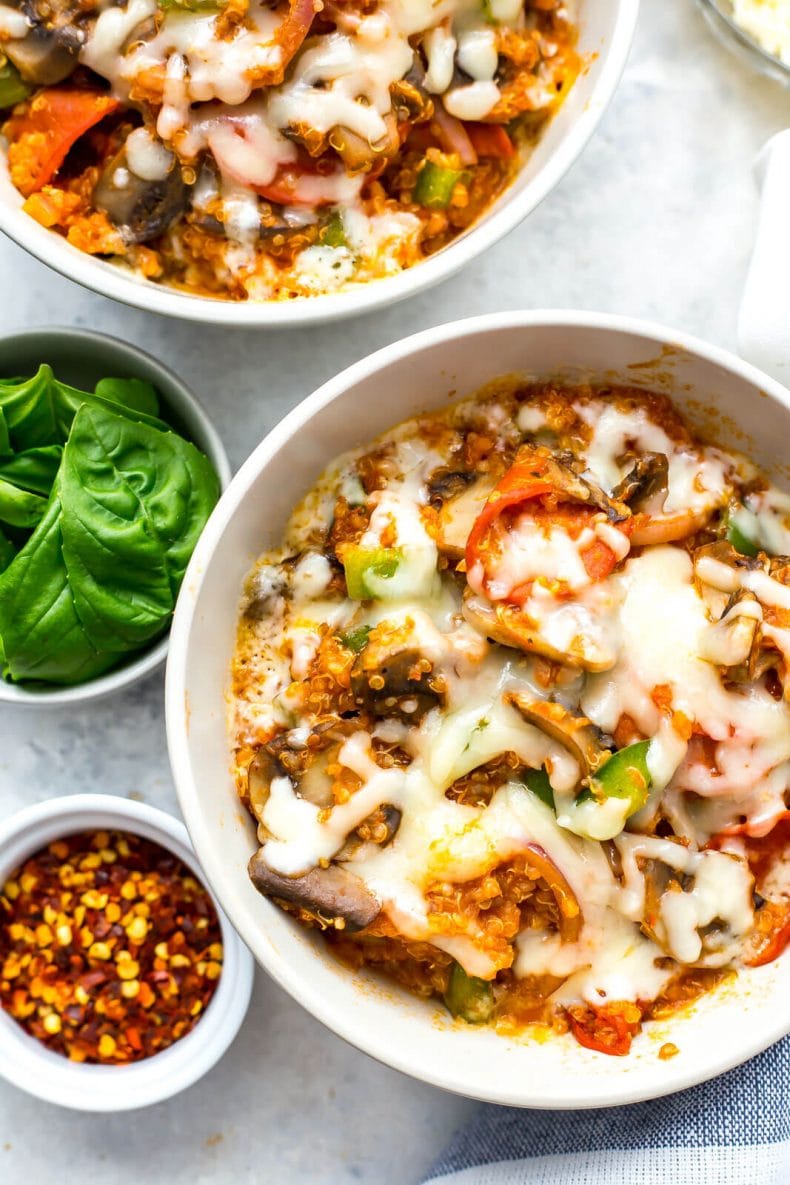 This is my favourite technique for "cooking/steaming" veggies in the Instant Pot. I really don't recommend you cook most veggies on high pressure like you would with grains and meats because they will get overcooked.
Veggies like mushrooms, squash, sweet potato, etc are fine because they have a much longer cooking time, but anything like bell peppers, broccoli, zucchini, etc I always stir in after the fact because if you cut them fine enough, they will get cooked with the heat of whatever else you have pressure cooked.
Now I know you're tempted to add the cheese in already, but we don't do that just yet. Remove the lid one more time, stir in the pepperoni. I used turkey pepperoni because it's lower in calories and I don't eat pork, but you could add regular pepperoni or even cooked sausage/ground beef if you want. This Instant Pot Pizza Quinoa Casserole is super easy to customize so don't feel like you have to supreme pizza style here or anything.
Once everything is all mixed together, you'll portion it out into deep bowls and THEN top with cheese. Microwave for 2 minutes or until cheese and melted, sprinkle on some fresh basil and red chili flakes and you are good to go my friend!
Technically you could stir the cheese in while everything is hot but I find melted cheese gets congealed and not so nice when you're looking at eating these for leftovers. You really have to eat leftovers with melted cheese on top within 1-2 days or so, so if you leave out the cheese when storing the leftovers and just add some grated cheese fresh on top before you microwave, you're extending the shelf life of the leftovers and breathing some new life back into them.
I don't know about you but I want my leftovers to taste as fresh as possible, and you're gonna wanna eat more than one serving of this Instant Pot Pizza Quinoa Casserole anyway, so you may as well enjoy!
Will you be making these Instant Pot Pizza Quinoa Casserole? 
You're gonna LOVE eating this as your weekly meal prep! And it helps that it all comes together within half an hour or so. This is my kinda way to meal prep!
If you try any of my recipes be sure to let me know on Instagram, Twitter, Facebook or in the comments – I'd love to see what you come up with!
And if you're looking for more fun and creative pizza recipes, check out these other favourites below!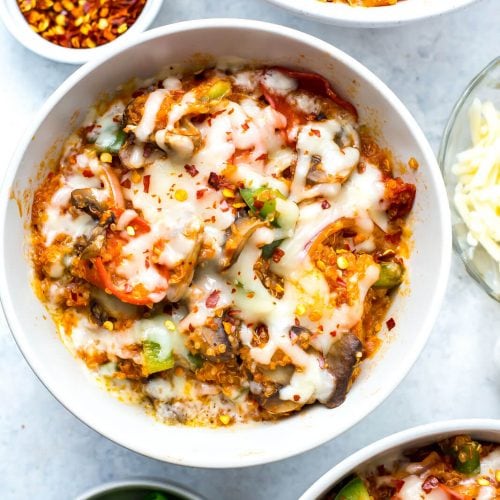 Instant Pot Pizza Quinoa Casserole
This Instant Pot Pizza Quinoa Casserole is a tasty, gluten-free crustless pizza recipe that all comes together in one pot and in less than 30 minutes! Add your favourite pizza toppings to customize it to your liking!
Print
Pin
Rate
Ingredients
2

cups

chicken broth

2

cups

sliced mushrooms

1

cup

dried quinoa

2

cups

Pizza Sauce

1

package

turkey pepperoni

1

green bell pepper, diced

1

small red onion, sliced

1

cup

shredded mozzarella cheese

Basil and red chili flakes to top (optional)
Instructions
Add chicken broth, mushrooms and quinoa to Instant Pot, making sure to add quinoa last. Set to manual and pressure cook on high for 2 minutes. Instant Pot will take about 10 minutes to pre-heat and then the 2 minutes to cook. When complete, press cancel and do a quick release of the steam, waiting until the pressure gauge drops back down and the lid is safe to open.

Remove lid and add pizza sauce, green pepper and red onion, then stir. Let sit 5 minutes to soften veggies. Remove lid and add in pepperoni, then stir.

Divide mixture among 6 bowls (or however many bowls you need at time of serving), then top with cheese, and microwave for 2 minutes to melt cheese. Serve and enjoy!

Note: Melted cheese is not ideal to store as leftovers, so store any remaining pizza quinoa mixture without cheese in the fridge. When ready to serve leftovers, add to a bowl and microwave 2 minutes, stir, then top with cheese and microwave another 1 minute before serving.
Video
Nutrition
Calories:
397
kcal
|
Carbohydrates:
28
g
|
Protein:
30
g
|
Fat:
21
g
|
Saturated Fat:
7
g
|
Polyunsaturated Fat:
1
g
|
Monounsaturated Fat:
5
g
|
Cholesterol:
57
mg
|
Sodium:
1286
mg
|
Potassium:
214
mg
|
Fiber:
4
g
|
Sugar:
4
g
|
Vitamin A:
250
IU
|
Vitamin C:
5
mg
|
Calcium:
90
mg
|
Iron:
2.9
mg