This Applebee's Quesadilla Burger is the perfect restaurant copycat made lighter at home, right down to the Mexi-ranch sauce!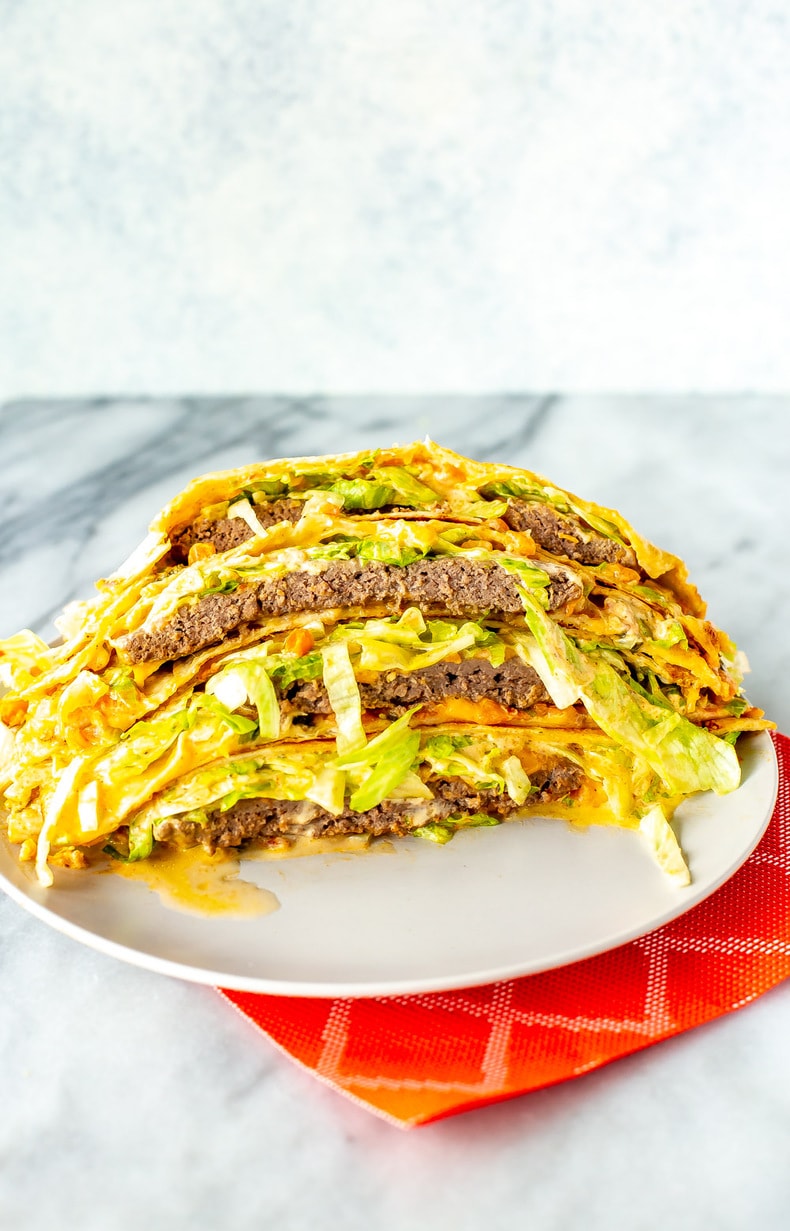 What is in Applebee's quesadilla burger?
For the burger
Ground beef – use an extra-lean blend to keep this low calorie
Salt & pepper – to season the hamburger
Flour tortillas
Cheddar cheese – hand grate your own so it melts properly
Pico de gallo – this recipe uses store bought, but you can always make your own
Iceberg lettuce – shred yourself or use pre-shredded
How to make the Mexi-Ranch sauce
Here's what you need to make this easy sauce. Mine is a lighter version than the Applebee's version made possible by using sour cream.
Ranch dressing – use bottled or make your own
Sour cream
Taco seasoning
What is a quesadilla burger?
This delicious meal is exactly what it sounds like! A juicy hamburger in the middle of a warm quesadilla. But it's not just a cheeseburger in a tortilla. This recipe adds extra flavour and texture with lettuce, salsa, and a tangy sauce.
How to make a quesadilla burger
It's so easy to make this Applebee's dish at home. Here are the steps below:
Gently mix the ground beef with salt and pepper, then form the patties. Don't overmix the meat – doing this creates a dense, tough hamburger. Cook on the stove, then remove from the skillet and let them rest so they stay nice and juicy.
Wipe out the skillet you used for the hamburgers, then place it back on the stove and add a tortilla.
Sprinkle on the cheese and pico de gallo.
Put the burger on top, then sprinkle on more cheese and another tortilla. Cover with a lid and fry until the cheese has melted, carefully flipping about halfway through.
Remove from the pan and add in some sauce and shredded lettuce.
Cut the quesadilla burger in half and enjoy!
Ingredient substitutions
Hamburger – Substitute the ground beef patty with a plant-based option to make this recipe vegetarian. You can also use ground turkey instead, but it will cook differently.
Cheese – Monterey Jack, queso fresco, Colby, and Provolone are all great melting cheeses. Always buy fresh and shred your own cheese. Pre-shredded cheese has a preservative that prevents it from melting properly.
Tortillas – Replace the flour tortillas with wheat, low-carb, or gluten-free depending on your dietary needs.
Salsa – Replace the pico de gallo with your favorite salsa. Create different flavour and heat combinations like roasted tomatillos, habaneros, or even a fruit salsa!
Make your own taco seasoning
If you forgot to grab this at the store, or if you just want something fresh and preservative-free, you can easily make taco seasoning from the spices you already have at home.
Just mix the following together and store in a small jar or airtight container. It will last about a year in your pantry.
4 tablespoons chili powder
2 tablespoons cumin
1 tablespoon each: paprika, salt
1 teaspoon each: garlic powder, dried onion, oregano, black pepper
Applebee's quesadilla burger calories
This recipe makes two whole quesadilla burgers to serve 4. Each serving, which is half of a burger, has 550 calories. The actual dish at Applebee's is 1400 calories by contrast, so I've saved you a massive amount of calories to be able to enjoy this restaurant favourite at home!
What to serve with a quesadilla burger
Nothing goes better with a burger than fries. Use your favourite frozen variety or make your own – it's super easy!
You can also try my Airfryer Sweet Potato Fries for something a little different. Get these started while you're cooking the burger and let the air fryer do the work while you use the stove.
Some other side options are:
Salad or coleslaw
Veggie sticks (dip them in more of that Mexi-ranch sauce!)
Chips and salsa
Guacamole
Storing and reheating
It's best to assemble your burger when you're ready to eat it. Refrigerating and reheating creates an unpleasant texture in the dish.
But you can easily prep your ingredients and store them separately until you're ready to put everything together!
Shred the lettuce and cheese and store in zip top plastic bags or airtight containers. It will stay fresh in the refrigerator for a few days to a week.
The Mexi-ranch sauce can also be made ahead of time and stored for about a week as well.
Precooking and storing hamburgers
If you want to have several patties ready-to-use, follow the instructions for cooking the hamburger in this recipe.
Cool and wrap each individual hamburger patty well before placing in the refrigerator. They will keep for about 3 to 4 days.
Then, either bring to room temperature or microwave for about a minute before continuing the recipe.
Can you freeze it?
Freezing the assembled quesadilla burgers is not a great idea. Unfortunately, it causes texture issues.
But you can freeze the hamburger patties for future use! Wrap them individually in plastic wrap or foil, place in a freezer bag, and store for up to 4 months.
You can also freeze shredded cheese for up to 3 months.
Defrost in the refrigerator for a few hours before building the burgers.
Want to Learn How to Meal Prep? Join Dinner Prep Pro!
Our meal planning service removes the guesswork and helps you get dinner on the table in 15-20 minutes each night thanks to our prep ahead checklists. It takes just one hour of ingredient prep on a Sunday!
More restaurant copycat recipes
Meal prep tools
I get all my grass-fed ground beef from Butcher Box, conveniently delivered to me frozen.
Get a meat thermometer to make sure your burger is cooked through
Applebee's Quesadilla Burger
This Applebee's Quesadilla Burger is the perfect restaurant copycat made lighter at home, right down to the Mexi-ranch sauce!
Print
Pin
Rate
Servings: 4 servings
Calories: 550kcal
Ingredients
1 lb extra-lean ground beef
1/2 tsp each salt & pepper
4 large flour tortillas
2 cups grated cheddar cheese
1 cup store bought pico de gallo
1 cup iceberg lettuce
Mexi-ranch sauce
2 tbsp ranch dressing
2 tbsp sour cream
1 tsp taco seasoning
Instructions
Mix ground beef with salt & pepper then form into 2 large round patties. Add to a skillet over med-high heat and cook for 3 minutes per side. Meanwhile, mix ingredients for Mexi-ranch sauce together in a medium-sized bowl.

Remove burgers from heat. Add 1/2 cup cheese to one tortilla, then layer on pico de gallo. Place burger on top, then add another 1/2 cup cheese and finish with another tortilla. Repeat process one more time to form a second quesadilla.

Fry one quesadilla at a time in a large frying pan covered with a lid over med-high heat for 3-4 minutes per side, flipping very carefully. Once cheese is melted, remove from heat.

Lift the burger off of each bottom quesadilla to drizzle in Mexi-ranch sauce and add a layer of lettuce. Cut each quesadilla in half, then serve and enjoy!
Video
Nutrition
Calories: 550kcal (28%)Carbohydrates: 25g (8%)Protein: 41g (82%)Fat: 31g (48%)Saturated Fat: 16g (100%)Cholesterol: 135mg (45%)Sodium: 1121mg (49%)Potassium: 519mg (15%)Fiber: 1g (4%)Sugar: 8g (9%)Vitamin A: 960IU (19%)Vitamin C: 4mg (5%)Calcium: 459mg (46%)Iron: 4mg (22%)