These Applebee's Chicken Wonton Tacos are the perfect copycat, filled with honey-garlic chicken and zesty slaw in a crispy wonton shell.
Ingredients and substitutions
Chicken
Chicken breasts – if you prefer dark meat, you can use boneless chicken thighs instead.
Hoisin sauce – if you don't have hoisin sauce, you can use bean paste or 2 tbsp honey and 1 tbsp soy sauce mixed together.
Sesame oil – you can try using a neutral cooking oil like olive oil or avocado oil instead.
Soy sauce – tamari or coconut aminos are the best substitutes for soy sauce.
Garlic – freshly minced garlic is best but the jarred variety will work as well.
Ginger – use 1 tsp. of ground ginger powder if you don't have any fresh ginger on hand.
Asian-inspired slaw
Coleslaw – chop up some red or green cabbage instead (although buying the bagged coleslaw is easier).
Green onions – chives or shallots would be the best substitute here.
Sesame oil – swap out for a neutral oil like avocado or canola oil.
Rice vinegar – white wine vinegar or apple cider would also work.
Soy sauce – tamari or coconut aminos are the best substitutes for soy sauce.
Honey – try using agave syrup or brown rice syrup instead for a bit of sweetness.
Toppings
Wonton wrappers – if you want to make these tacos low-carb, use lettuce wraps instead.
Sweet chili sauce – make your own using a blend of hot sauce and honey.
Chopped cilantro – leave this out altogether if you don't have any cilantro.
Sesame seeds – both white and black sesame seeds would work here.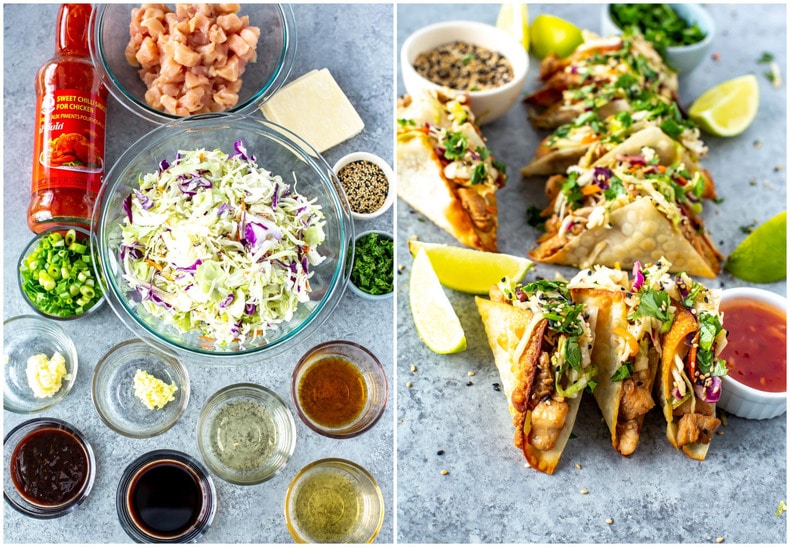 Skip the Ads and Get Right to the Recipes!
ZERO ADS on over 600 recipes!
Weekly Meal Plans, Grocery & Prep Lists
Bonus eBooks
How to make Applebee's chicken wonton tacos
Mix together the slaw.
Spray the wonton wrappers.
Bake until crispy.
Marinate the chicken.
Sauté until cooked through.
Assemble your tacos and enjoy!

More topping ideas
These are little appetizers, but if you have a sharp kitchen knife and are good at mincing, consider adding some of these other toppings:
Minced mushrooms
Minced bamboo shoots
Grated carrot or parsnip
Kohlrabi (German turnip) cut into matchsticks
Plum sauce
Sriracha sauce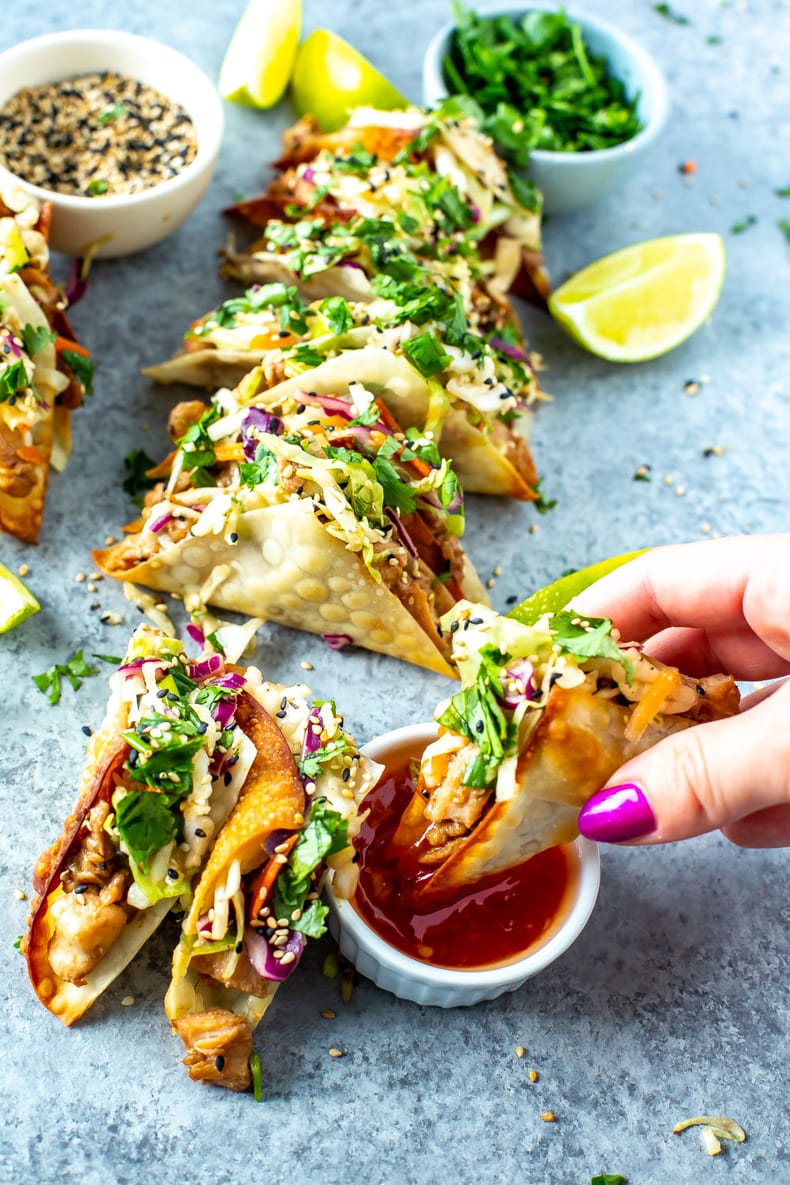 Frequently Asked Questions
How many calories are there in Applebee's chicken wonton tacos?
There are just 350 calories per serving in this recipe, significantly less than at Applebee's! One serving is made up of four tacos so you're looking at just 88 calories per taco. If you were to order the original dish at Applebee's, you're looking at 570 calories per serving – and the serving size is likely smaller.
Where can you find wonton wrappers?
If you shop at an Asian market, wonton wrappers will be easy to find. They are usually in the refrigerated foods section. At traditional grocery stores, they are typically in the refrigerated section of the ethic food aisle. Otherwise, look in the produce section. They might be near the spice roots (like ginger), or near the refrigerated salad dressings.
How many carbs are in this recipe?
This recipe has 33 grams of carbs per serving. The wonton wrappers are part of what make these tacos so delicious, but if you're looking for a low-carb option, you can always swap out the wonton wrappers for lettuce wraps.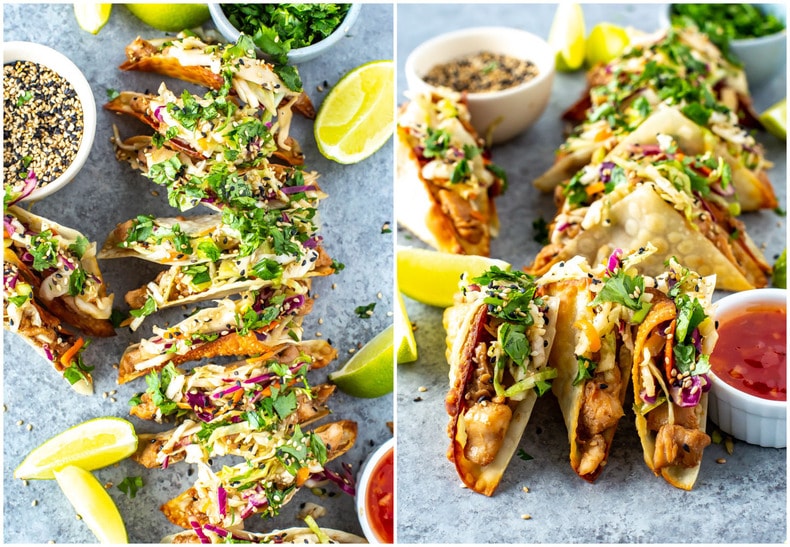 Storing and reheating
Anytime you combine hot and cold foods together, it can be tricky to reheat them without losing some flavour, texture or both. Because of this, these appetizers are best eaten on the day they are made.
If you do have leftover chicken that you want to keep to enjoy later, store it in a covered container in the refrigerator for 3 to 4 days. You can always bake the wonton shells fresh again in the oven.
Freezing the chicken
Unfortunately, fully assembled, chicken wonton tacos do not freeze well. However, you can definitely freeze the chicken by itself!
After cooking the chicken, be sure to allow it time to cool down before you transfer it to freezer-safe storage containers. Once frozen, the chicken will last in the freezer for up to 3 months. Let it thaw in the fridge overnight then reheat it in the microwave or in the oven before assembling your fresh tacos.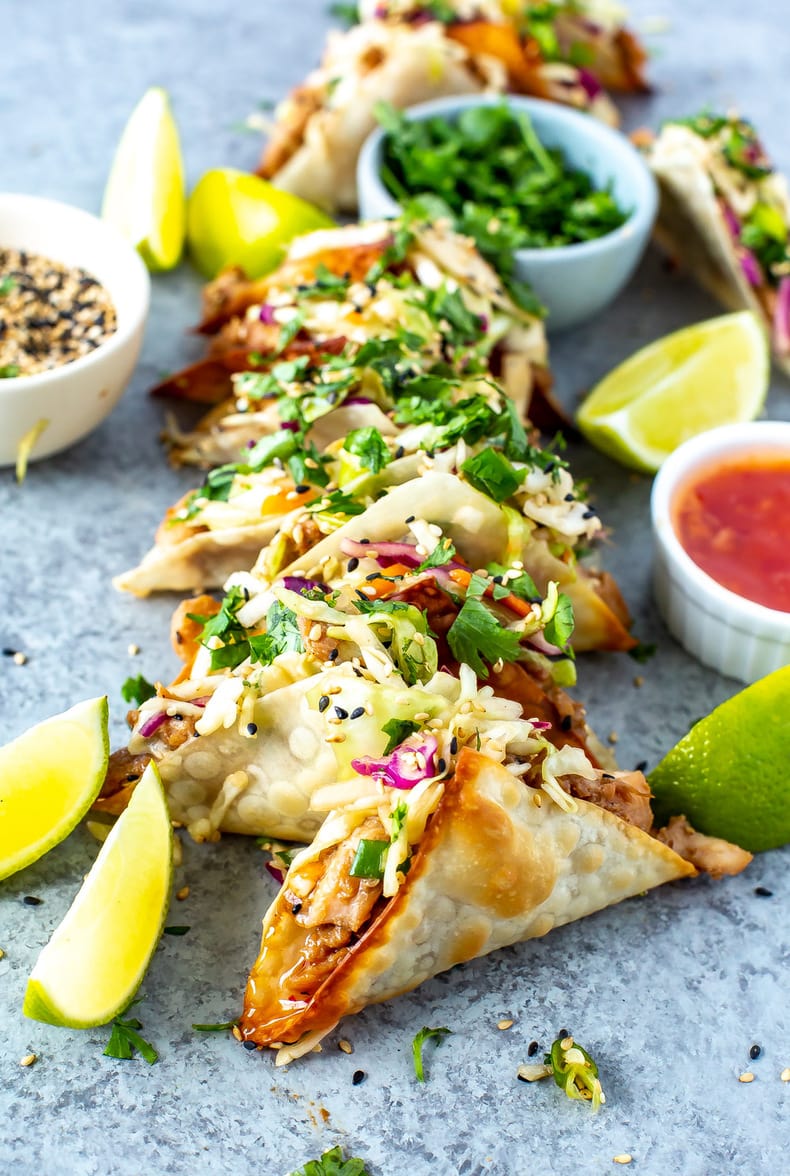 Wanna Learn How To Meal Prep?
My meal planning service, Dinner Prep Pro, removes the guesswork and helps you get dinner on the table in 15-20 minutes each night. My meal prep checklists only take 1 hour each week!
More Applebee's copycat recipes
Meal prep tools for this recipe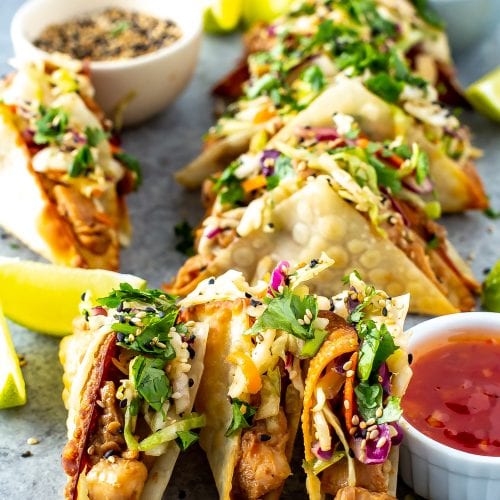 Applebee's Chicken Wonton Tacos
These Applebee's Chicken Wonton Tacos are the perfect copycat, filled with honey-garlic chicken and zesty slaw in a crispy wonton shell.
Print
Pin
Rate
Click Here to Remove Ads
Servings: 4 servings
Calories: 350kcal
Ingredients
Chicken
2 chicken breasts, finely diced
2 tbsp hoisin sauce
1 tbsp sesame oil
1 tbsp soy sauce
2 cloves garlic, minced
1 tsp minced fresh ginger
Asian-inspired slaw
1 bag coleslaw
4 green onions, thinly sliced
1 tbsp sesame oil
1 tbsp rice vinegar
1 tbsp soy sauce
1 tbsp honey
For tacos + toppings
16 Wonton wrappers
Sweet chili sauce, to serve
Chopped cilantro, to serve
Sesame seeds, to serve
Instructions
Preheat oven to 375 F. Spray wonton wrappers with cooking spray or brush with a bit of olive/canola oil, then drape over the side of a 9×13 baking dish. Bake for 7-8 minutes, watching closely closely so they don't burn. Take wonton shells out of the oven, then gently pull them apart while they are still pliable so that they are more easily filled with toppings. Bake another 7-8 minutes until crispy.

Mix diced raw chicken in a large bowl with hoisin sauce, sesame oil, soy sauce, garlic and ginger. Heat a large skillet over high heat and saute chicken for 7-8 minutes, tossing frequently until cooked through.

Meanwhile, mix ingredients for coleslaw together in a large bowl.

Add chicken mixture to wonton shells, then top with coleslaw, drizzle with sweet chili sauce and sprinkle with cilantro and sesame seeds. Serve and enjoy!
Video
Notes
Substitute the chicken breasts for boneless skinless chicken thighs. Make your own sweet chili sauce using a combination of hot sauce and honey. Add in extra toppings like grated carrot or minced mushrooms. For a low-carb option, use lettuce wraps instead of wonton wrappers. Store the leftover chicken in the fridge for 3-4 days or freeze it for up to 3 months.
Nutrition
Calories: 350kcal (18%)Carbohydrates: 33g (11%)Protein: 30g (60%)Fat: 11g (17%)Saturated Fat: 2g (13%)Cholesterol: 75mg (25%)Sodium: 957mg (42%)Potassium: 696mg (20%)Fiber: 4g (17%)Sugar: 11g (12%)Vitamin A: 264IU (5%)Vitamin C: 45mg (55%)Calcium: 76mg (8%)Iron: 2mg (11%)
Join The Girl on Bloor Premium!
ZERO ADS!
Weekly Meal Prep Checklists
Bonus eBooks