These Seared Scallop Tacos with Pineapple Salsa are served on corn tortillas with pickled red onions and a delicious cabbage slaw.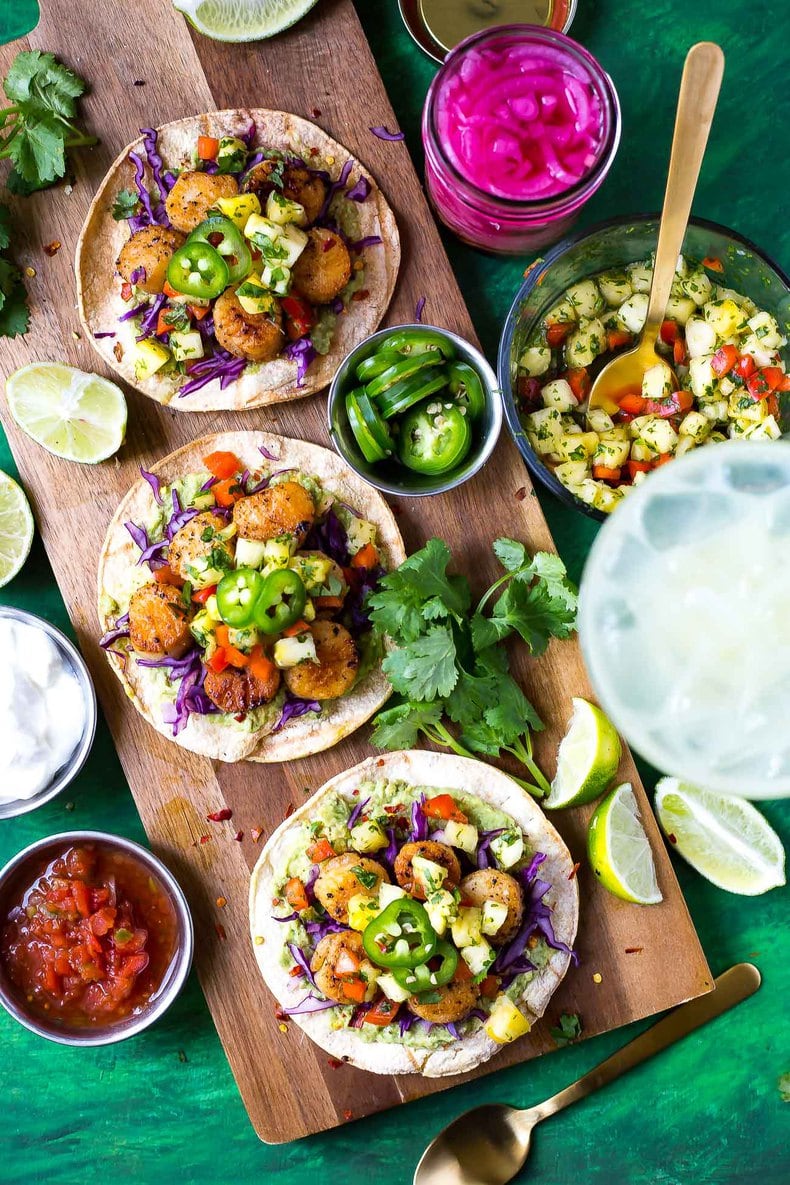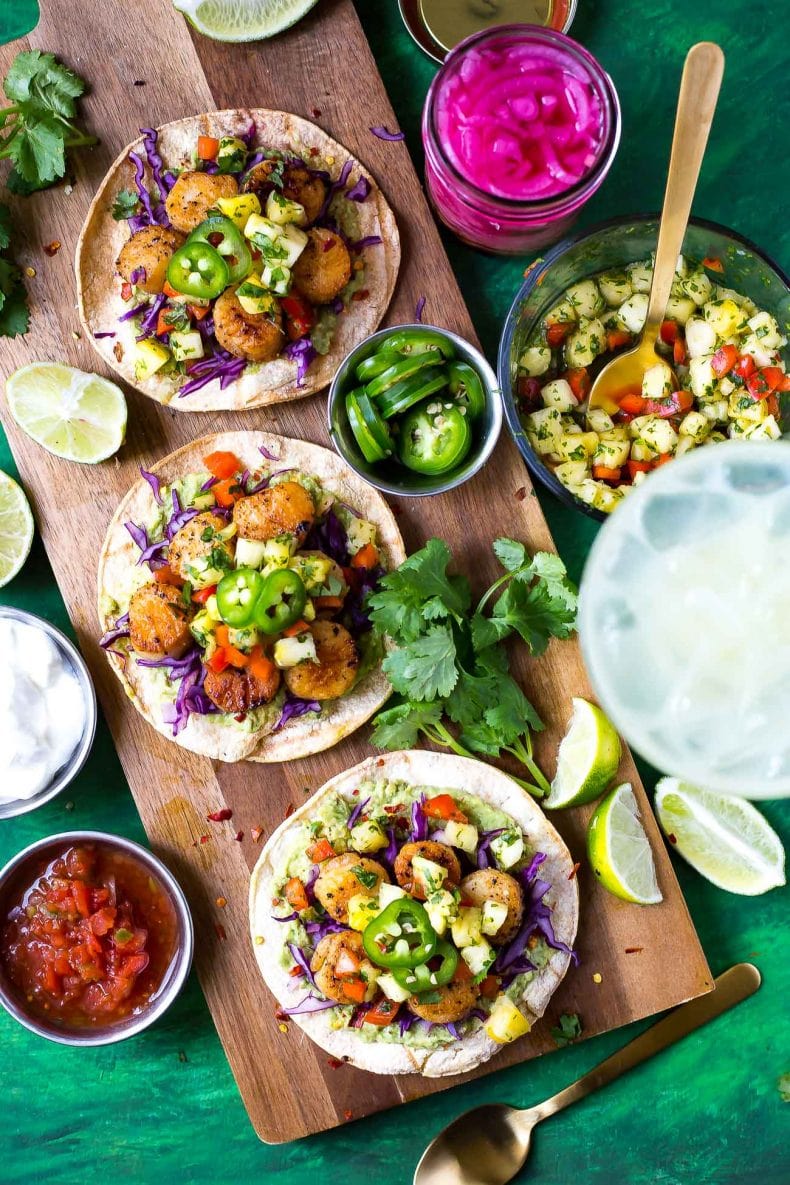 Ingredients and substitutions
Olive oil – any neutral oil like grapeseed oil, canola oil or vegetable oil.
Scallops – scallops are the star of this recipe but if you're not a fan, feel free to use shrimp or another seafood.
Corn tortillas – flour tortillas, hard shell tacos or lettuce wraps would be a great replacement.
Red cabbage – a coleslaw mix or your favourite greens can be used in place of red cabbage.
Jalapeno peppers – use pickled jalapeno peppers or remove the seeds to limit the heat of the peppers. Remove them altogether if you don't like spice.
Quick Guacamole
Avocado – make homemade guacamole or use a store-bought version.
Garlic – fresh or jarred minced garlic would both work. You can also try using a bit of garlic salt, just make sure to leave out the rest of the work.
Lime – fresh or bottled lime juice would both be good. Lemon juice will work in a pinch.
Salt – to taste.
Pineapple salsa
Pineapple – mango or peach would be a great replacement in this salsa.
Red pepper – use green peppers or another bell pepper colour if you're not able to use red bell peppers.
Red onion – leave them out entirely or replace with yellow or white onions.
Lime juice – fresh or bottled lime juice will both work.
Cilantro – fresh parsley will also work in place of cilantro.
Salt – to taste.
Skip the Ads and Get Right to the Recipes!
ZERO ADS on over 600 recipes!
Weekly Meal Plans, Grocery & Prep Lists
Bonus eBooks
How to make this recipe
Make the guacamole and pineapple salsa.
Sear the scallops.
Heat up the tortillas.
Assemble your tacos and enjoy!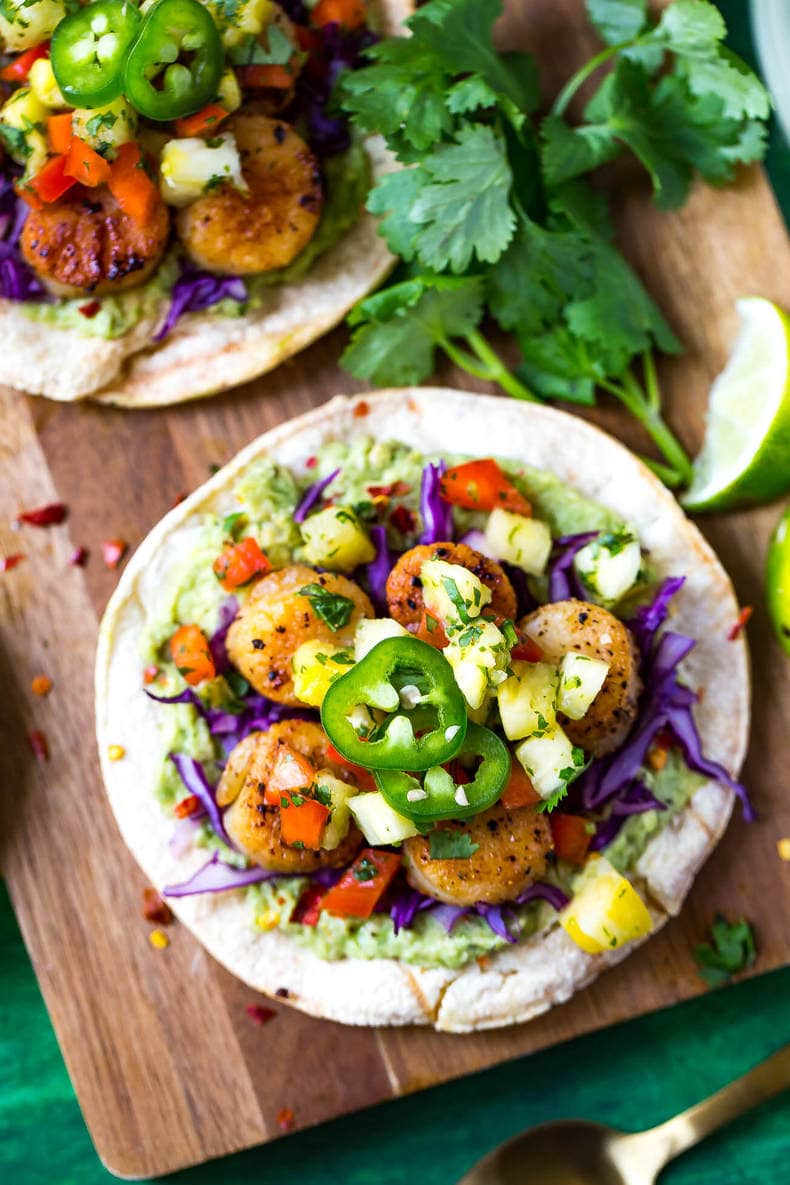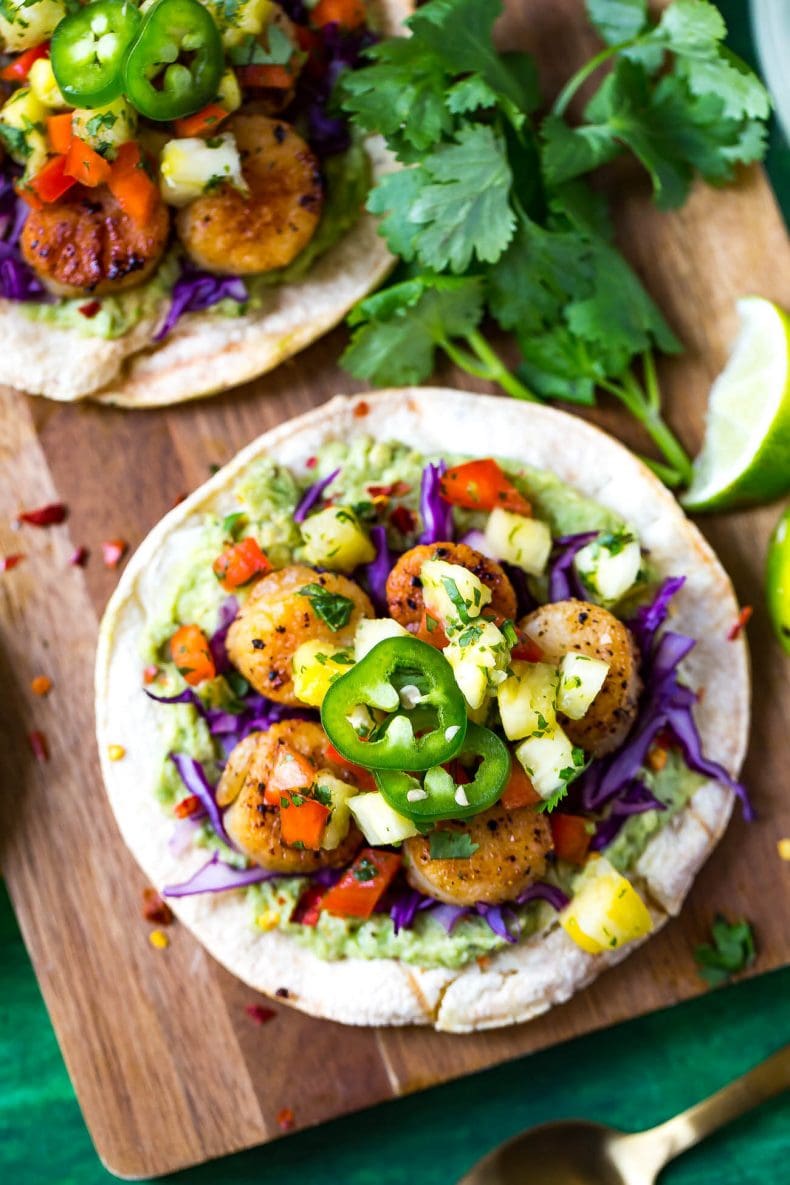 The best taco toppings
You can mix and match your toppings to include whatever you're craving. If you have extra veggies kicking around the fridge, this is also a great recipe to clear out your vegetable crisper with!
Here are some great topping ideas:
Lime wedges
Pickled red onions
Cilantro
Salsa or pico de gallo
Sour cream
Spicy mayo

Frequently Asked Questions
What fish makes the best tacos?
I love making these tacos with scallops – but if you're not a fan of scallops or don't have any on hand, you can also try using shrimp, mahi mahi, halibut or any other kind of fish.
How should scallops be cooked?
The best way to cook the scallops for this recipe is to sear them in a frying pan over high heat for 1
minute per side.
How do you make pineapple salsa?
Pineapple salsa might sound intimidating, but it's actually so easy to make! All you have to do is mix together one cup of diced pineapple, one diced red pepper, one diced red onion, one tablespoon of lime juice, a third of a cup of chopped cilantro and half a teaspoon of salt.
Storing and reheating
You can store the leftover scallops in the fridge for up to 2 days and the taco toppings in the fridge for up to 5 days. To reheat the scallops, it's best to reheat them in the oven or on a skillet. If you're reheating them in the oven, stick them in there for 5-10 minutes at 350° Fahrenheit.
When you're ready to enjoy the tacos the next day, warm up the corn tortillas and the scallops then assemble with the cold toppings.
Freezing the scallops
Since cooked scallops don't have a long shelf life, you can freeze them for later! Transfer the cooked scallops into an airtight containers or freezer bag and store them in the freezer for 2-3 months. When you're ready to enjoy them, heat them in the oven at 275° Fahrenheit directly from frozen until fully warmed.

More taco recipes
Meal prep tools for this recipe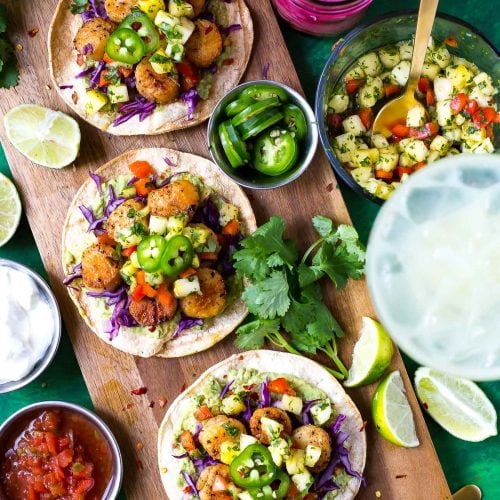 Seared Scallop Tacos with Pineapple Salsa
These Seared Scallop Tacos with Pineapple Salsa are served on corn tortillas with pickled red onions and a delicious cabbage slaw.
Print
Pin
Rate
Click Here to Remove Ads
Servings: 6 servings
Calories: 336kcal
Ingredients
1 tbsp olive oil
30 scallops
18 corn tortillas
2 cups red cabbage, thinly sliced
2 fresh jalapeno peppers, sliced
Quick Guacamole
1 avocado
1 clove garlic minced
2 tsp lime juice
1/4 tsp salt
Pineapple Salsa
1 cup pineapple, diced (you can use canned, frozen or fresh – I used fresh in this recipe)
1 red pepper, diced
1 small red onion, diced
1 tbsp lime juice
1/3 cup cilantro, chopped
1/2 tsp salt
Extra toppings
Lime wedges
pickled red onions
Extra chopped cilantro
salsa
sour cream
Instructions
Make guacamole by mashing avocados and mixing all ingredients under the guacamole heading together. Mix pineapple salsa ingredients together and set aside.

Meanwhile, dry scallops using clean paper towel and season with salt and pepper. Heat olive oil in a medium-sized frying pan over high heat. Add scallops to pan once oil starts smoking, searing on either side for 1 minute (set a timer – you'll thank me later!)

While scallops are cooking, heat corn tortillas in the microwave for 1 minute or so until soft and pliable.

Remove scallops from heat onto a paper-towel lined plate. Spread each tortilla with a bit of guacamole, then top with red cabbage, scallops, pineapple salsa and other toppings. Serve and enjoy!
Notes
Use mango or peach for the salsa instead of pineapple. If you don't like scallops, use shrimp or another kind of seafood for these tacos. Store scallops in the fridge for up to 2 days. Reheat in the oven for 5-10 minutes at 350° F. Freeze the scallops for up to 3 months. Reheat from frozen at 275° F.
Nutrition
Calories: 336kcal (17%)Carbohydrates: 50g (17%)Protein: 15g (30%)Fat: 10g (15%)Saturated Fat: 2g (13%)Polyunsaturated Fat: 2gMonounsaturated Fat: 6gTrans Fat: 1gCholesterol: 18mg (6%)Sodium: 632mg (27%)Potassium: 651mg (19%)Fiber: 9g (38%)Sugar: 7g (8%)Vitamin A: 1074IU (21%)Vitamin C: 67mg (81%)Calcium: 96mg (10%)Iron: 2mg (11%)
Join The Girl on Bloor Premium!
ZERO ADS!
Weekly Meal Prep Checklists
Bonus eBooks