These Miso Sesame Tuna Rice Bowls are filled with seared ahi tuna, stir fry veggies in a savoury miso sauce, jasmine rice and sliced avocado!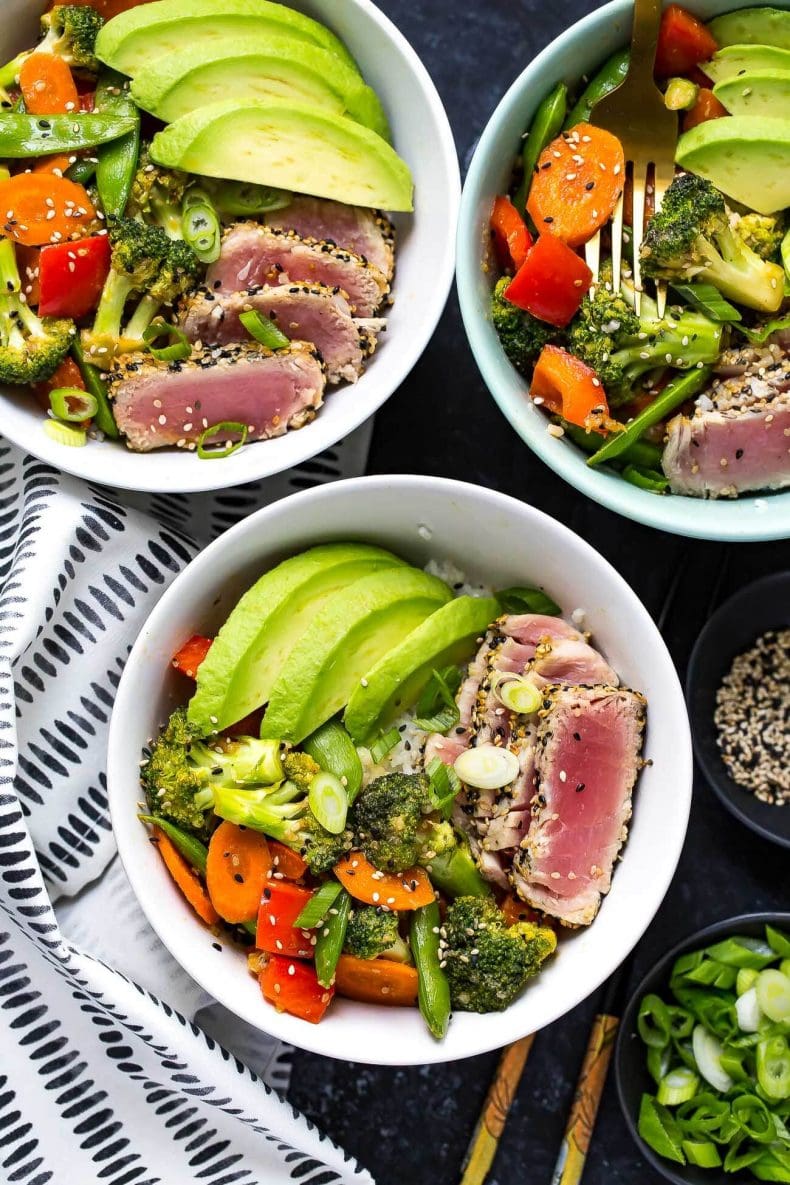 Your faithful weeknight stir fry recipe is in serious need of a makeover, and I'm here to help!??
Say hello to these mouth-watering Miso Sesame Tuna Rice Bowls – they're the perfect pick-me-up after a long day, and won't take you forever to throw together. In fact, these delicious colourful bowls come together in just 30 minutes! While they aren't high maintenance, they WILL feel like you've treated yourself to a restaurant-quality dinner. And that's in part because I've stolen this recipe idea from Jack Astor's!
Okay, stolen is a very strong word. I mean, I don't even know the exact recipe for their sticky-sweet and salty miso sauce that I just died over when I tried this bowl last summer. All I know is their version of this tuna bowl costs $18.99 and comes with about 5 or 6 slices of seared ahi tuna so ain't nobody got time for that…?
I absolutely love adapting recipe ideas from restaurants and turning them into healthy dinners. As long as you're familiar with the flavour profiles, they are relatively easy to recreate at home. This ain't the cheapest dinner you will ever make yourself considering the miso paste, ahi tuna and avocado are all kind of pricey ingredients, but they're certainly a treat and you can make a larger amount for yourself than the version you'll get at the restaurant.
If you're looking to keep costs low, I recommend buying frozen tuna steaks (you can usually find 2 or 3 in a bag at the grocery store for like $10) and then using one steak per two bowls. I would hope avocados would be on your grocery list already anyway?, but if you find them too pricey you can also eliminate them from these bowls, or use half an avocado per two bowls and save the rest for another meal. I really recommend including some though because there is nothing like the smooth texture of the avocado and tuna slices eaten together with a little bit of soy sauce.??
I'm ALL about texture when it comes to my food. It can seriously make or break a meal. My friends and I were talking about this at dinner the other night, saying that you can have the best tasting thing in the world but if the texture is off-putting you won't wanna keep eating it. It really factors into what you like and dislike in the world of food more than you think.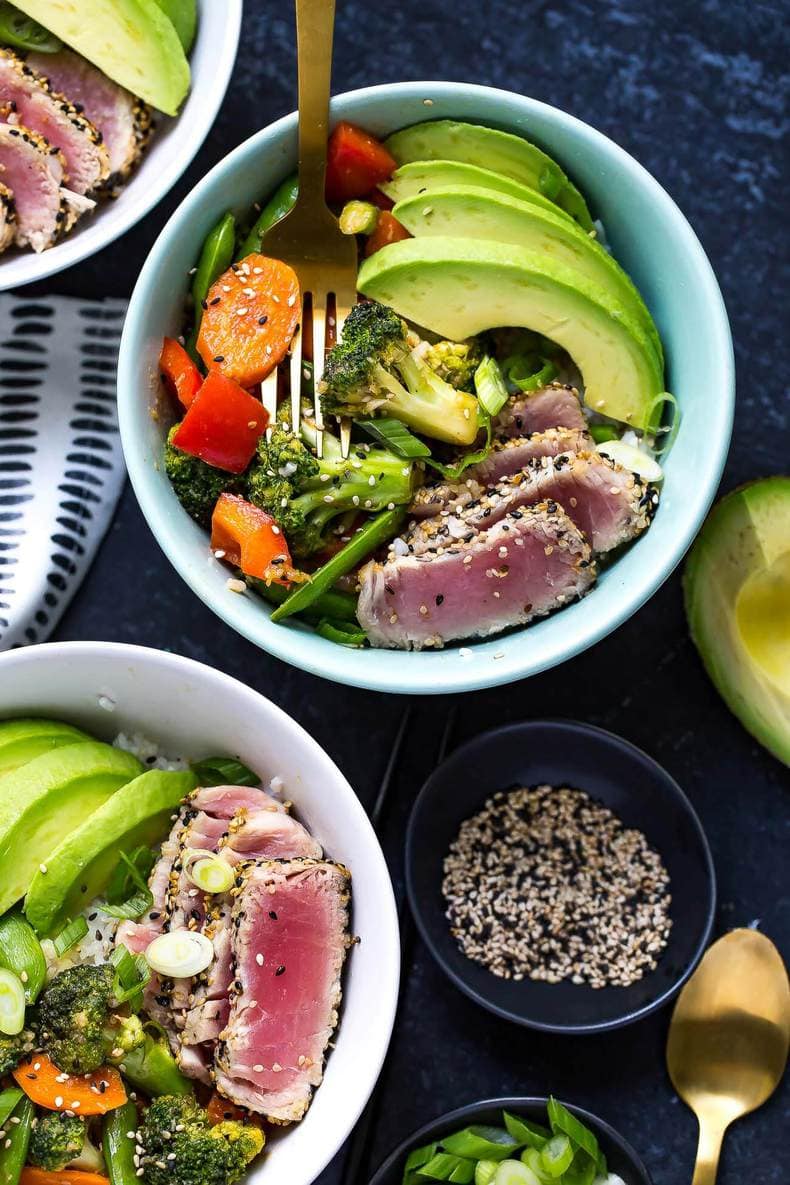 Miso paste is a Japanese cooking staple made out of fermented soybeans and has a really salty, creamy taste that pairs perfectly with the honey and soy sauce in this recipe. You know miso soup? The key is all in the miso paste! According to The Kitchn, there are four different kinds of miso pastes and you may encounter one or all of them in the organic refridgerated section of your local grocery store, though red and white are the most common. I found mine where the kimchi and sprouts and all that other weird stuff is.
White miso has a definite sweet taste that is perfect for stir fry sauces, miso soup, glazes, marinades, salad dressing and more, while the red has more umami taste supposedly and can easily overwhelm a dish. Miso paste is definitely expensive, and something you can skip on if you don't have on hand. I definitely won't make you go out and buy it just for this recipe while you never use it again. I hate recipes like that, that make you think that they're necessary and then $10 later you're walking out of the store regretting your expensive foodie taste.??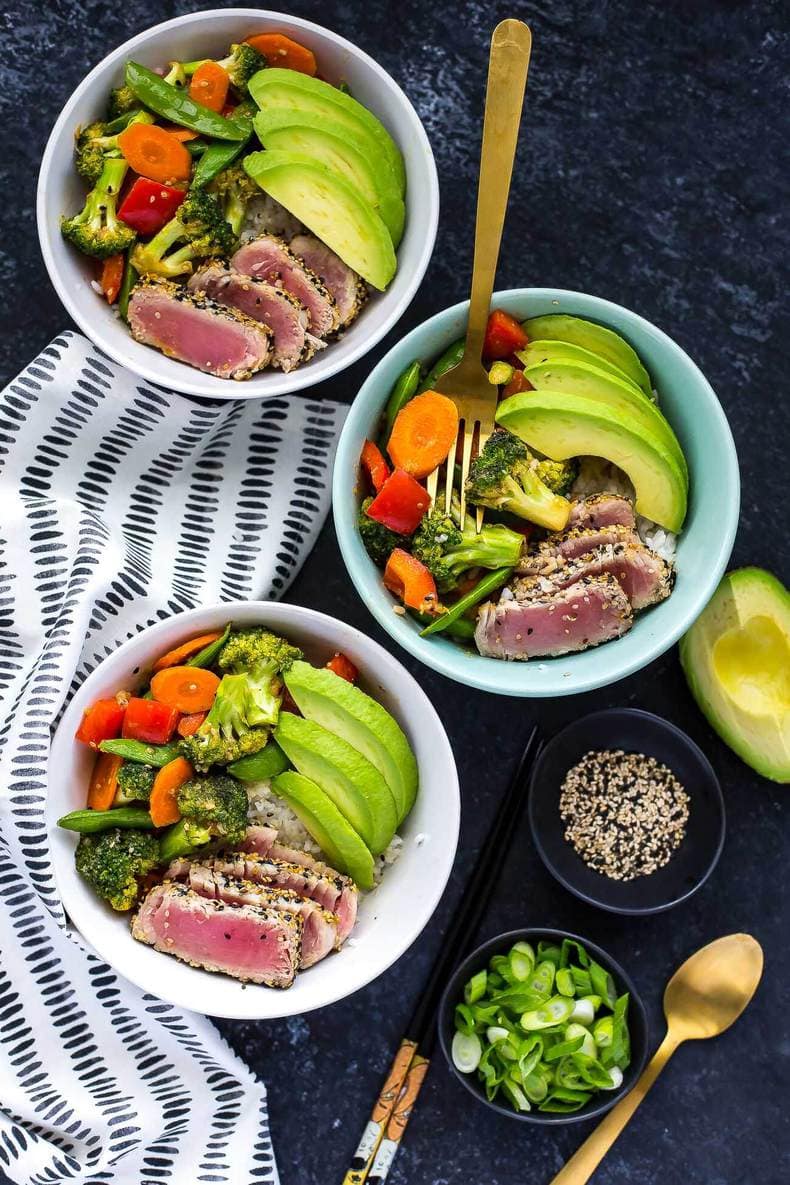 If you like stir fries, or you wanna experiment with different marinades and dressings this summer, or even want to try your hand at miso soup and think you will use the miso paste more than 2 or 3 times, then I highly recommend you get your hands on some and use it in this recipe. If you're a foodie like me, you may already have some on hand in the fridge (hey girl, I see you!!!). The good thing about this stuff is that it's fermented, so it can stay in the fridge for months. I think I had my last container for over a year and it was fine. Although, I'm no expert on how long miso paste is supposed to last so please don't copy me and take my word as gospel LOL.
For stir fry veggies, I went a bit simple here and used some stuff I had laying around in the fridge, as I usually do. Broccoli, carrots, red pepper and sugar snap peas. We have a snap pea overload in our house right now because I'm working with Mann's on some new recipes – I ain't complaining. Let's just add them to everything! And also, how amazing are they served as veggies and dip? I put them in everything from stir fries like this to other fancy bowls to snacking on them raw.
And no, this post in particular is not sponsored. I'm just giving you some behind the scenes action of my fridge while working as a pro recipe developer. I've always got way too much stuff in there!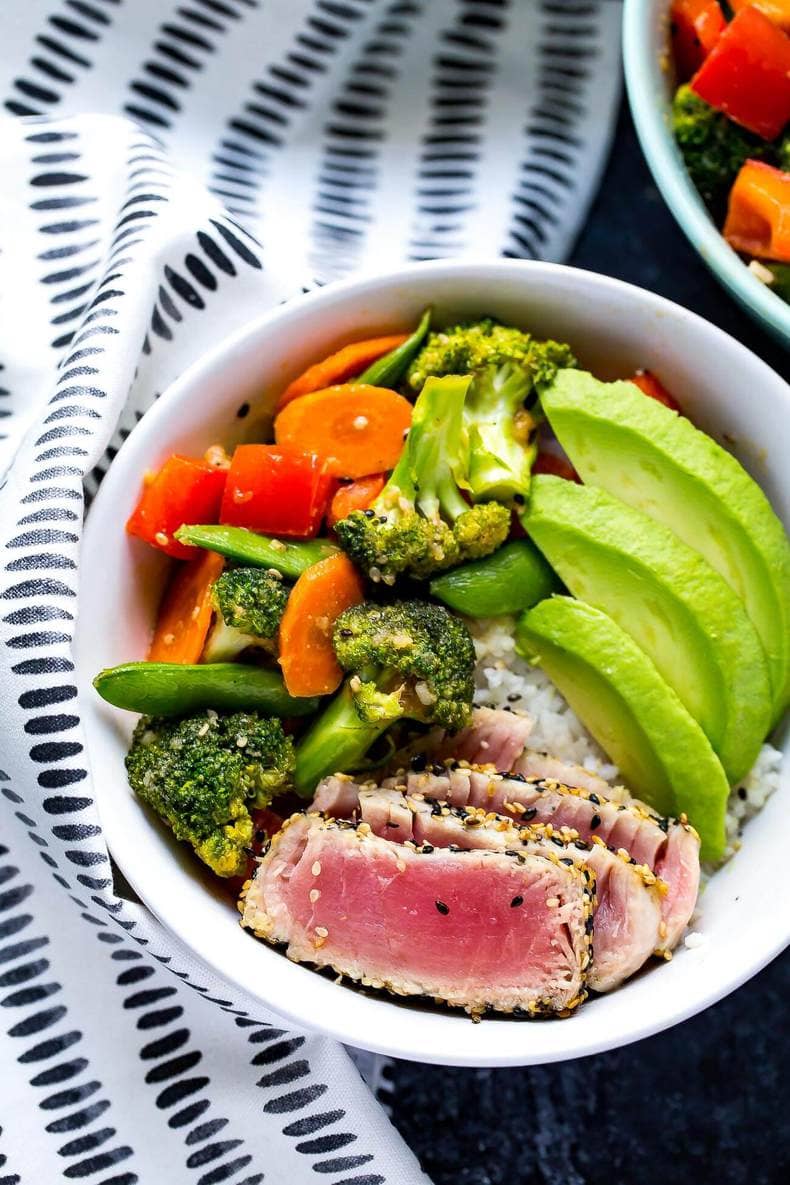 Here are some other great veggie and topping ideas for these Miso Sesame Tuna Rice Bowls:
Baby corn (OMG! My fave)
Bok choy or spinach
Peanuts
Mushrooms
Zucchini
Water chestnuts
Red/napa cabbage
Green beans
Snow peas
Celery
This is a truly Monday night dinner in that you're gonna clear out the fridge, eat the healthy shit you were planning on eating the week before and save the planet from food waste. Really, you're doing a public service with your dinner tonight if you think about it. You're welcome!??
Will you be making these Miso Sesame Tuna Rice Bowls? 
I promise they're worth the extra little bit of cash – a 30 minute meal that's also restaurant-worthy? Yep, that sounds like a good end to your work day.
If you try any of my recipes be sure to let me know on Instagram, Twitter, Facebook or in the comments – I'd love to see what you come up with!?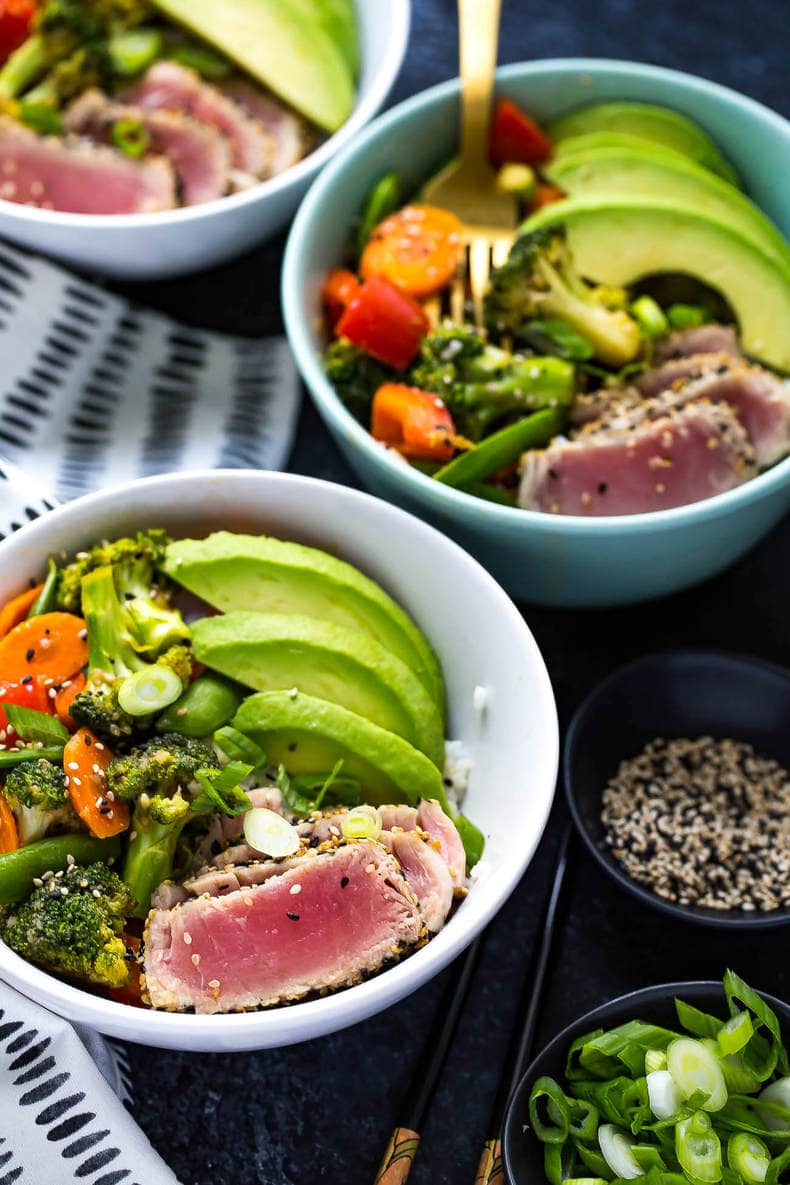 Miso Sesame Tuna Rice Bowls
These Miso Sesame Tuna Rice Bowls are filled with seared ahi tuna, stir fry veggies in a savoury miso sauce, jasmine rice and sliced avocado!
Print
Pin
Rate
Ingredients
2

tuna steaks

1

tbsp

olive or coconut oil

2

tbsp

sesame seeds

1

cup

cooked jasmine rice

1

head

broccoli, cut into florets

1

carrot, thinly sliced

1

red pepper, diced

1

cup

snap peas

1

avocado, sliced

3

scallions, sliced
Miso sesame sauce
2

tbsp

sesame oil

2

tbsp

soy sauce

2

tbsp

water

2

tbsp

honey

1

tbsp

white miso (soybean) paste (if you don't have miso paste, sub in 2 tbsp soy sauce)

2

cloves

garlic minced

1

tsp

sriracha (optional)
Instructions
Cook jasmine rice according to package directions in a rice cooker or on the stovetop (usually 1 cup rice and 1 1/4 cup water). Prepare veggies and whisk ingredients together for miso-sesame sauce.

Coat piece of tuna in sesame seeds and season with a bit of salt. Set aside.

Add veggies to a large skillet, cooking over med-high heat with half of the sauce.

Meanwhile, heat olive/coconut oil over high heat in a small skillet. Once oil starts to smoke, add tuna to the pan, cooking for 45 seconds each side (time this on your phone or a kitchen timer). Sear the ends of the tuna for a couple seconds. You basically want to get a good sear on either side and then lightly cook the ends. Remove from heat and cut into thin slices against the grain with a very sharp knife.

Add jasmine rice to each both, then add stir fry veggies. Top with fresh sliced avocado and divide tuna. Garnish with sesame seeds and scallions. Pour reserved sauce (if any) and/or soy sauce overtop of tuna and serve!
Nutrition
Calories:
498
kcal
|
Carbohydrates:
43
g
|
Protein:
30
g
|
Fat:
25
g
|
Saturated Fat:
4
g
|
Polyunsaturated Fat:
7
g
|
Monounsaturated Fat:
12
g
|
Cholesterol:
32
mg
|
Sodium:
764
mg
|
Potassium:
1196
mg
|
Fiber:
10
g
|
Sugar:
15
g
|
Vitamin A:
6715
IU
|
Vitamin C:
196
mg
|
Calcium:
159
mg
|
Iron:
4
mg