This Healthy One Pot Pumpkin Alfredo with chicken, roasted red peppers and crispy sage is a lighter fall-themed version of the classic dish.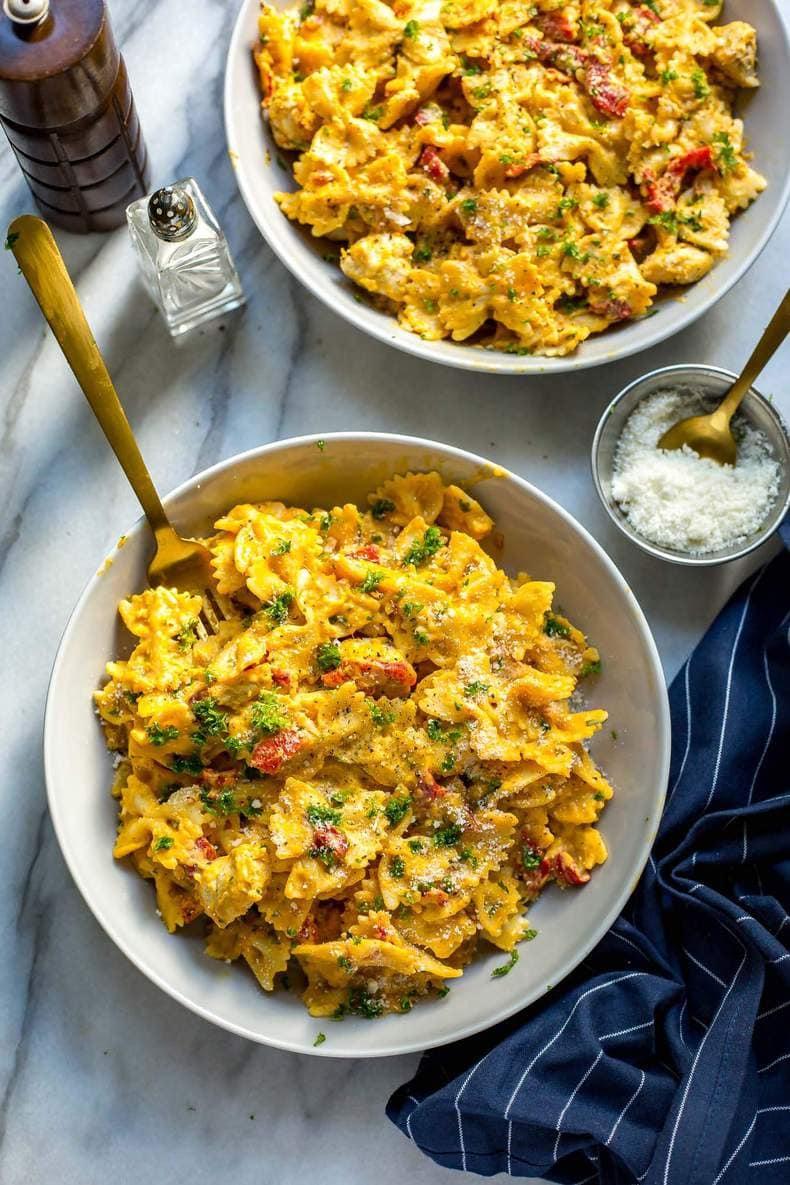 Ingredients and substitutions
Bowtie pasta – feel free to try any pasta shape in this recipe!
Olive oil – use any neutral cooking oil you have on hand like canola or avocado oil.
Chicken breasts – boneless skinless chicken thighs would also work, but have a higher calorie count. You can also leave this out altogether for a vegetarian option.
Butter – swap out for a dairy-free butter substitute of your choice.
Garlic – I find that freshly minced garlic has the best flavour. In a pinch, use jarred minced garlic.
Flour – almond flour would also be good.
Evaporated milk – whole milk or 2% milk can be used instead but the pasta won't be as creamy.
Heavy cream – you can leave this out, I just find that it makes the pasta super creamy without adding a ton of calories.
Pumpkin puree – feel free to forego the pumpkin puree to make this a regular alfredo pasta.
Salt & pepper – to taste.
Parmesan cheese – I suggest using real parmesan cheese to get that amazing flavour.
Roasted red peppers – leave this out altogether or add in other veggies like sliced red onions, sautéed bell peppers, mushrooms or chopped spinach.
Sage leaves – fresh parsley would also add some contrast to this dish or you can leave the herbs out altogether.
How to make pumpkin alfredo
Cook then drain the pasta.
Sauté the chicken.
Make the sauce.
Add everything together.
Toss to coat, serve and enjoy!
What to do with leftover pumpkin puree
You only need 1/2 cup of pumpkin puree for this recipe, so you'll be left with quite a bit afterwards depending on the size of can you purchase. The pumpkin adds a bit of sweetness and makes the alfredo sauce super creamy, so it's definitely worth adding! If you'll be using the leftovers within a couple weeks, you can store the leftover puree in a glass container in the refrigerator or even just put plastic wrap overtop of the can.
I go through a lot of pumpkin puree in the fall because I like to make things like pumpkin muffins, cookies, breads, etc. I even stir it into pumpkin spice lattes or add it to my morning oatmeal! There are so many ways you can incorporate pumpkin puree into other recipes so it won't go to waste.
You can also freeze any leftover pumpkin puree for up to 3 months. This way you can use it far in the future for a taste of fall in the middle of winter!
Frequently Asked Questions
What do you put in alfredo to make it taste better?
I like making this alfredo sauce using evaporated milk, heavy cream and pumpkin puree for added flavour. The canned evaporated milk cooks up a bit creamer than regular milk and the 2 tablespoons of cream adds a bit more richness and flavour to the sauce. Plus, the pumpkin puree gives your dish an amazing fall flavour!
Why add pumpkin to pasta?
In addition to being super delicious (and definitely on-brand for fall), pumpkin is highly nutritious,  rich in vitamin A and full of antioxidants. It's a great way to make your alfredo sauce a little bit healthier and sneak a veggie into your food. Give it a try!
How many calories are in this recipe?
This pumpkin alfredo recipe has 519 calories per serving. It's definitely a more indulgent dish, but it has less calories than if you were to make it using all heavy cream instead of evaporated milk.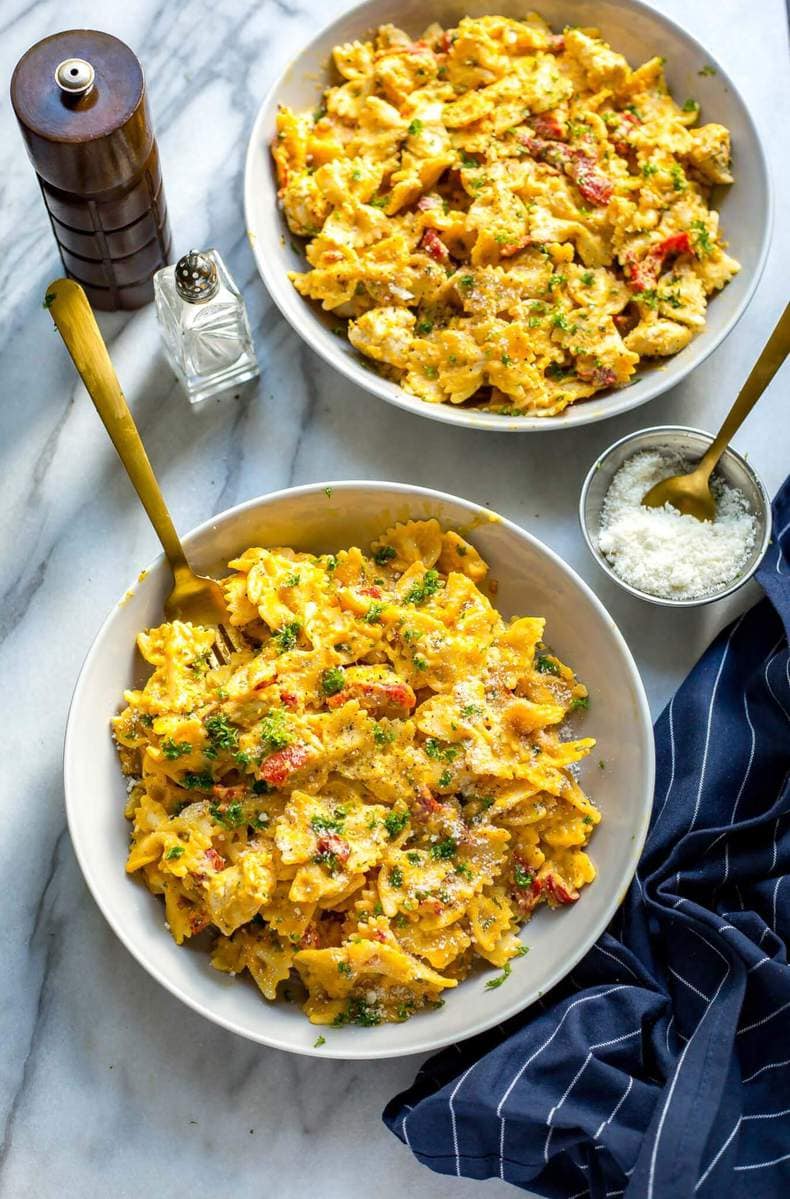 Storing and reheating
This pumpkin pasta serves 6, so you will likely have leftovers. Luckily, this pasta is great for meal prep and will last in the fridge for up to 5 days.
When you're reheating this dish, make sure to add in 1-2 tablespoons of milk, cream or water. If it's a dairy-based pasta, I like to use whatever dairy I was using for the recipe because you totally gain back that creamy flavour while ensuring the pasta doesn't dry out. Just add a bit of liquid, microwave for 2-3 minutes, sprinkle on some fresh parmesan and you've got a dish that's good as new.
Freezing this recipe
You can freeze this pumpkin pasta! Store individual portions in glass containers in the freezer for up to 3 months. When you're ready to reheat, pull a portion out of the freezer, sprinkle some milk, cream or water over top and then microwave for 6-7 minutes, stirring halfway through the cooking time.
Wanna Learn How To Meal Prep?
My meal planning service, Dinner Prep Pro, removes the guesswork and helps you get dinner on the table in 15-20 minutes each night. My meal prep checklists only take 1 hour each week!
More pumpkin recipes
Meal prep tools for this recipe
Healthy One Pot Pumpkin Alfredo
This Healthy One Pot Pumpkin Alfredo with chicken, roasted red peppers and crispy sage is a lighter fall-themed version of the classic dish.
Print
Pin
Rate
IN A CYCLE OF EATING POORLY?We've got you covered with our free Routine Revamp mini course! You'll receive 8 lessons and free coaching with us! Register👇
Join Routine Revamp!
Servings: 6 people
Calories: 519kcal
Ingredients
1 lb bowtie pasta
1 tbsp olive oil
2 chicken breasts, diced
1 tbsp butter
2 cloves garlic minced
2 tsp flour
1 1/2 cups evaporated milk
2 tbsp heavy cream
1/2 cup pumpkin puree
1 tsp salt
1/2 tsp pepper
1/2 cup parmesan cheese, grated (plus more for serving)
1/2 cup roasted red peppers
8 sage leaves, finely chopped
Instructions
Heat a large pot of salted water to boiling. Add pasta and cook for 10-12 minutes until al dente. Drain and set aside, then dry out pot with paper towel.

Add olive oil and chicken to pot, sauteing for 5-6 minutes until chicken is browned. Remove chicken from heat and set aside.


Add butter to pot. When melted, add garlic, sauteing for 30 seconds, then add flour. Add evaporated milk, cream and pumpkin puree, whisking as it thickens up. Add salt & pepper and parmesan cheese, whisking well to combine.

Add cooked pasta, chicken, sage and roasted red peppers to sauce, tossing to coat and cooking over medium heat for 2-3 minutes until everything is heated through.
Video
Notes
Store the leftover pumpkin puree in the fridge and use it to make pumpkin loaf, muffins, lattes and more. Feel free to add in extra veggies like sliced red onions, bell peppers, mushrooms and spinach. Keep the leftovers in the fridge for up to 5 days. Sprinkle some liquid over top then reheat in the microwave for 2-3 minutes. Freeze this pumpkin alfredo for up to 3 months. Reheat from frozen in the microwave for 6-7 minutes, stirring halfway through the cooking time.
Nutrition
Calories: 519kcal (26%)Carbohydrates: 66g (22%)Protein: 31g (62%)Fat: 14g (22%)Saturated Fat: 6g (38%)Cholesterol: 79mg (26%)Sodium: 727mg (32%)Potassium: 700mg (20%)Fiber: 3g (13%)Sugar: 9g (10%)Vitamin A: 3546IU (71%)Vitamin C: 8mg (10%)Calcium: 200mg (20%)Iron: 2mg (11%)
Don't wait until January to eat healthy!Sign up for our free Routine Revamp mini course!
Join Routine Revamp!