This Broccoli Chicken Alfredo Skillet is a delicious, 30-minute weeknight pasta dinner made with a lighter, healthier alfredo sauce.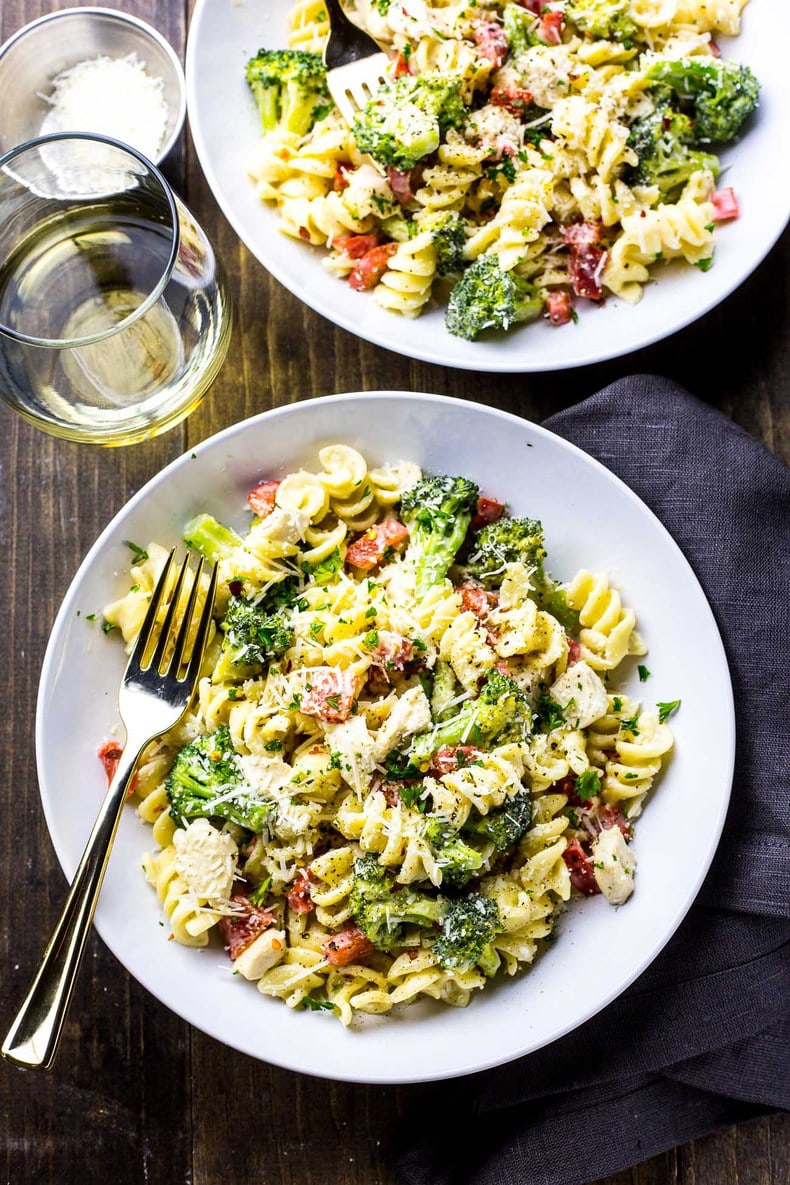 Can I just tell you how much pasta means to me on a cold winter night?
A steaming hot bowl full of carbs is exactly the way I like to end the middle of the work week. Like, you've made it so far. You can keep going as long as you have delicious food, like this Broccoli Chicken Alfredo Skillet.
Honestly, I really love when you can minimize dishes in the kitchen. I spend so much freakin' time each day doing them that I feel as though I don't actually spend any time in other areas of my home. But I digress…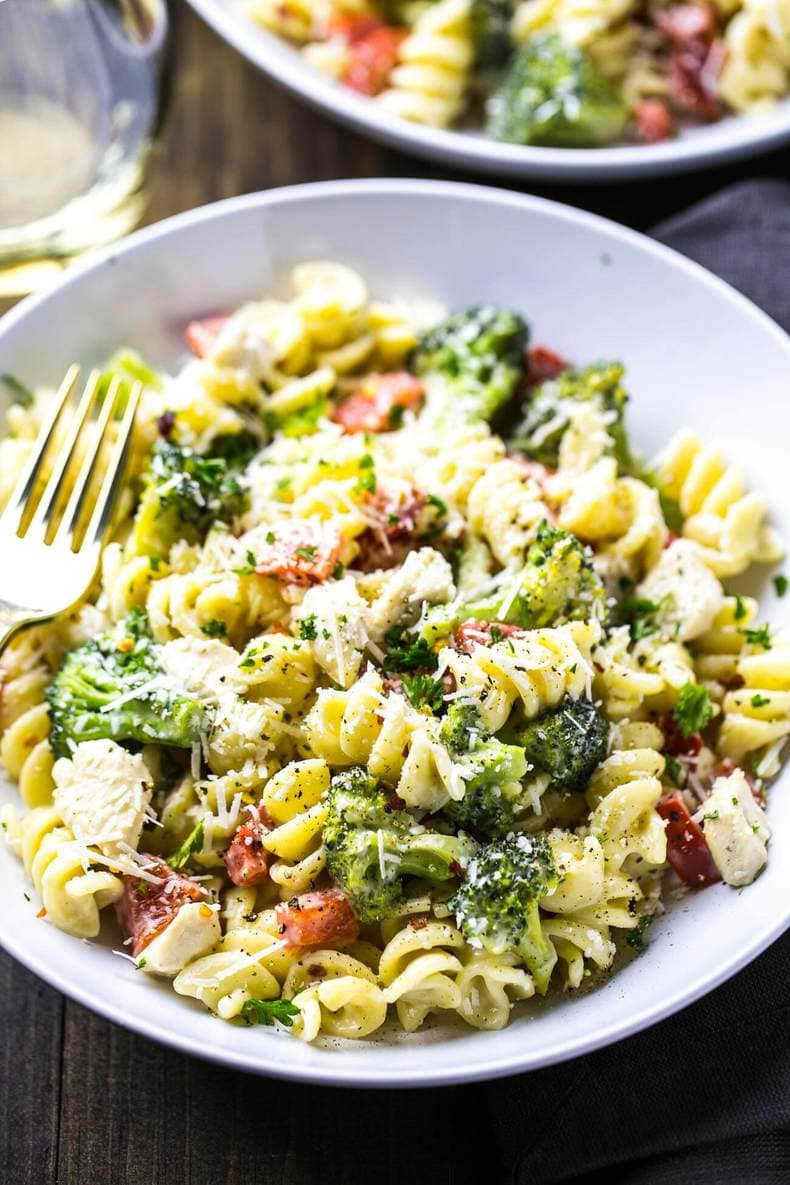 While I can't promise you that this is a true one pot meal, it *ALMOST* is. You boil the pasta and soften the broccoli once the pasta is done cooking, then you cook the chicken in a separate skillet at the same time. Set the chicken aside, wipe out the skillet and make the sauce. Add the chicken, pasta and broccoli back in. Maybe wash the pot the pasta cooked in so once you're done cooking all you have left to clean is the big skillet. See, it's practically a one pot meal, okay?
And boom, dinner's ready!
I don't know about you but pasta – specifically, covered in cream sauce or pesto or spicy arrabiatta-tomato sauce – is one of my go-tos when I'm completely stumped on what to make for dinner. It's so quick and easy, and it's honestly a no-brainer.
If I could eat pasta everyday, I just might. It's so filling, you can add any sauce in the book, it goes well with a ton of different veggies and proteins. I liken the whole pasta creation process to an art. Finding the right combo of ingredients is a fun experiment, and it all just tastes so amazing and comforting.
What I have a love-hate relationship with though is the sheer amount of calories in pasta and the food coma that usually ensues afterward. Like, you really need to eat this stuff at night, just before bed. I swear, the Italians have it right with their 11pm dinners.
Well, this Broccoli Chicken Alfredo Skillet is tossed in a lighter alfredo sauce so you can feel just a little less guilty about your pasta consumption.
I mean, maybe you shouldn't indulge in this every night.
And to keep the integrity of alfredo sauce in check (there's nothing more I hate than bland alfredo!!!), I did have to use a bit of heavy cream. And no, I didn't use low-fat milk. But hear me out. It's not like this light alfredo sauce recipe is made up of a whole carton of cream and a whole brick of fresh parmesan. We have compromised here. And I believe compromise is important in life.
With this recipe, you can have your cake, and still enjoy it too. 😉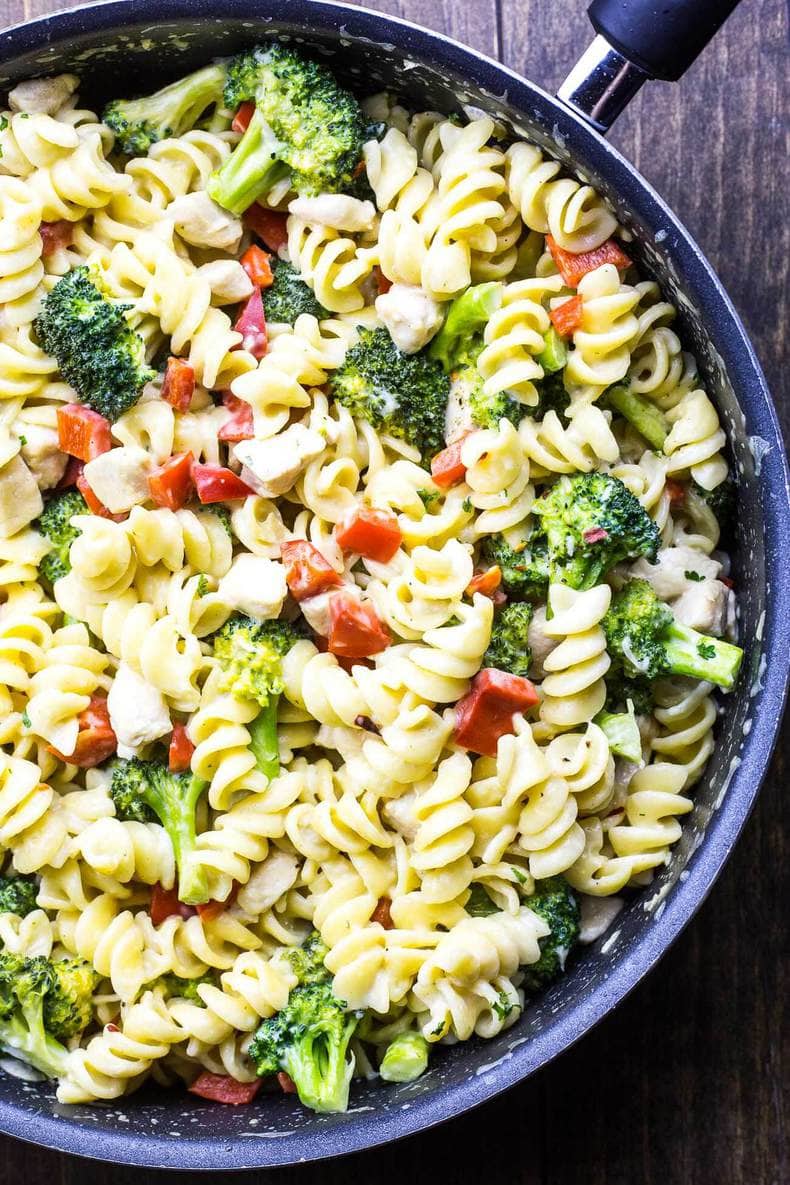 Here are my secrets to a perfect light alfredo sauce:
Use a little bit of butter, and LOTS of garlic
Go easy on the flour – you want a thick sauce, but not one that tastes like there's a filler in there
Use 2% milk – it's still lighter than whole milk but really gives you the creaminess that skim milk won't (plus skim milk is more likely to curdle – yuck!!!)
Use a tiny bit of cream. Yes, I have listed 1/4 cup here in this recipe, however when you divide it among six servings, it really isn't that much!
Use FRESH parmesan – like really, don't buy that pre-shredded crap. It won't give you the same creamy sauce and it will taste inauthentic

I also want to emphasize that as usual, you can feel free to switch up the proteins in this recipe or the veggies. Really, you can use whatever you happen to have on hand. Throw in some sauteed mushrooms, sundried tomatoes, red onion, fresh tomatoes, peas…go nuts!
This is also a great recipe to switch up seasonally. It's actually very similar to my shrimp primavera recipe, but with the more comforting aspects of winter. Wait, does that make sense? I don't know. Why don't you just stop reading already and get into the kitchen and start making this?
And send me leftovers when you're done!
Will you be making this Chicken Lasagna Alfredo Skillet?
What are some of your favourite ways to enjoy pasta? I'm always looking for different sauces to try or freezer-friendly recipes to pull out after a long day!
If you try any of my recipes be sure to let me know on Instagram, Twitter, Facebook or in the comments – I'd love to see what you cook up 🙂
Broccoli Chicken Alfredo Skillet
This Broccoli Chicken Alfredo Skillet is a delicious, 30-minute weeknight pasta dinner made with a lighter, healthier alfredo sauce.
Print
Pin
Rate
Ingredients
1

tbsp

olive oil

2

chicken breasts, diced

340g

rotini pasta

1

head

broccoli, cut into florets

2

tbsp

butter

4

cloves

garlic

2

tbsp

flour

2

cups

2% milk

1

cups

chicken broth

1/4

cup

cream

1

tsp

salt

1/4

tsp

pepper

1/8

tsp

nutmeg

1 1/2

cups

freshly grated parmesan cheese

1

red pepper, diced
Instructions
Boil pasta according to package directions. Once pasta is finished cooking and right before draining, add broccoli, stuffing down into water. Remove from heat and let sit for 1 minute or so before draining. Set aside.

Meanwhile, while pasta is cooking, heat olive oil in large skillet over med-high heat. Add chicken and saute for 4-5 min until browned. Remove chicken from pan and wipe clean.

Add butter and let melt over med-high heat. Add garlic and saute for 30 seconds. Add flour, and whisk. Add milk 1/2 cup at a time, whisking to combine. Sauce will start to thicken. Add chicken broth after you're finished adding milk. Continue whisking. Add cream, salt and pepper, nutmeg and parmesan cheese. Whisk to combine.

Add chicken back into skillet, along with cooked rotini and broccoli. Toss to combine. Add red pepper and stir well. Cook for another 4-5 min until all veggies are softened.

Garnish bowls of pasta with red chili flakes, pepper, freshly grated parmesan and fresh basil if desired. Serve and enjoy!
Nutrition
Calories:
527
kcal
|
Carbohydrates:
26
g
|
Protein:
38
g
|
Fat:
30
g
|
Saturated Fat:
17
g
|
Polyunsaturated Fat:
2
g
|
Monounsaturated Fat:
10
g
|
Cholesterol:
97
mg
|
Sodium:
1421
mg
|
Potassium:
314
mg
|
Fiber:
2
g
|
Sugar:
3
g
|
Vitamin A:
1200
IU
|
Vitamin C:
51.2
mg
|
Calcium:
810
mg
|
Iron:
2
mg