This Starbucks Violet Drink recipe is the PERFECT copycat, & comes together with 3 ingredients: hibiscus tea, berry juice & coconut milk.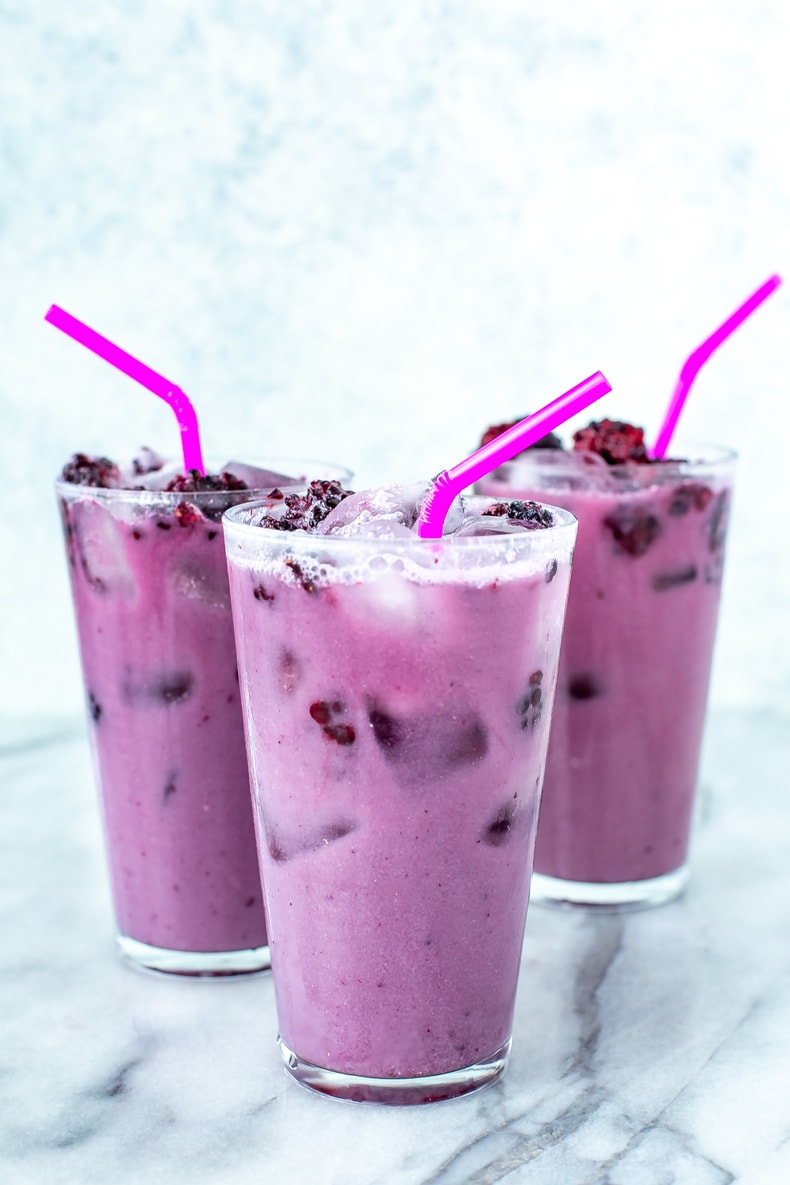 How to make this purple drink
This drink is SUPER easy to make at home – you'll want to make it over and over once you see how quickly it comes together! Here's how to make it:
Make the herbal tea
Add blackberries to a large glass.
Add a handful of ice on top.
Pour in your tea and juice.
Add coconut milk.
Mix together well and enjoy!
Ingredients in Starbuck's violet drink
The ingredients to make this drink are relatively simple – no running to the store for weird ingredients. And the ingredient list is short too! Here's what you need on hand:
herbal hibiscus tea (mixed berry tea will also work)
mixed berry juice
coconut milk
freeze-dried, fresh or frozen blackberries
ice
Ingredient substitutions
Hibiscus tea – Because of its health properties, hibiscus tea is relatively easy to find in any health store or specialty grocery store. It's also in major grocery stores, usually next to the herbal berry teas. If you're unable to find it, you can make your own using dried hibiscus flowers. Other alternatives are rose petal tea or Celestial Seasonings Red Zinger tea, which has hibiscus flowers in it. You can also use mixed berry herbal tea.
Freeze-dried fruit – Ideally, you will want to use blackberries to duplicate the flavour of the Starbuck's drink. That being said, there's no reason that you can't use another variety of freeze-dried berries like blueberries, strawberries, etc. Frozen blackberries also work great with this drink as they will defrost and add more flavour to the drink as you enjoy it. Finally, fresh berries will also work.
Coconut milk – Truthfully, other than coconut cream, there aren't really any other dairy free substitutes that will give you the creamy thick consistency of coconut milk.
Although the taste will be different, you can use any type of milk or non-dairy milk to make the drink. Using heavy cream or half & half will give the creaminess that coconut milk does. Also, adding a drop or two of coconut extract will be a good way to get the coconut flavour that you want. You can also use almond milk, soy milk or oat milk.
What does the violet drink taste like?
This tea-based drink is very fruity and tropical, thanks to the coconut milk and blackberries. The flavour is sweet but also a bit tart, so it's the perfect choice for a refreshing summer drink!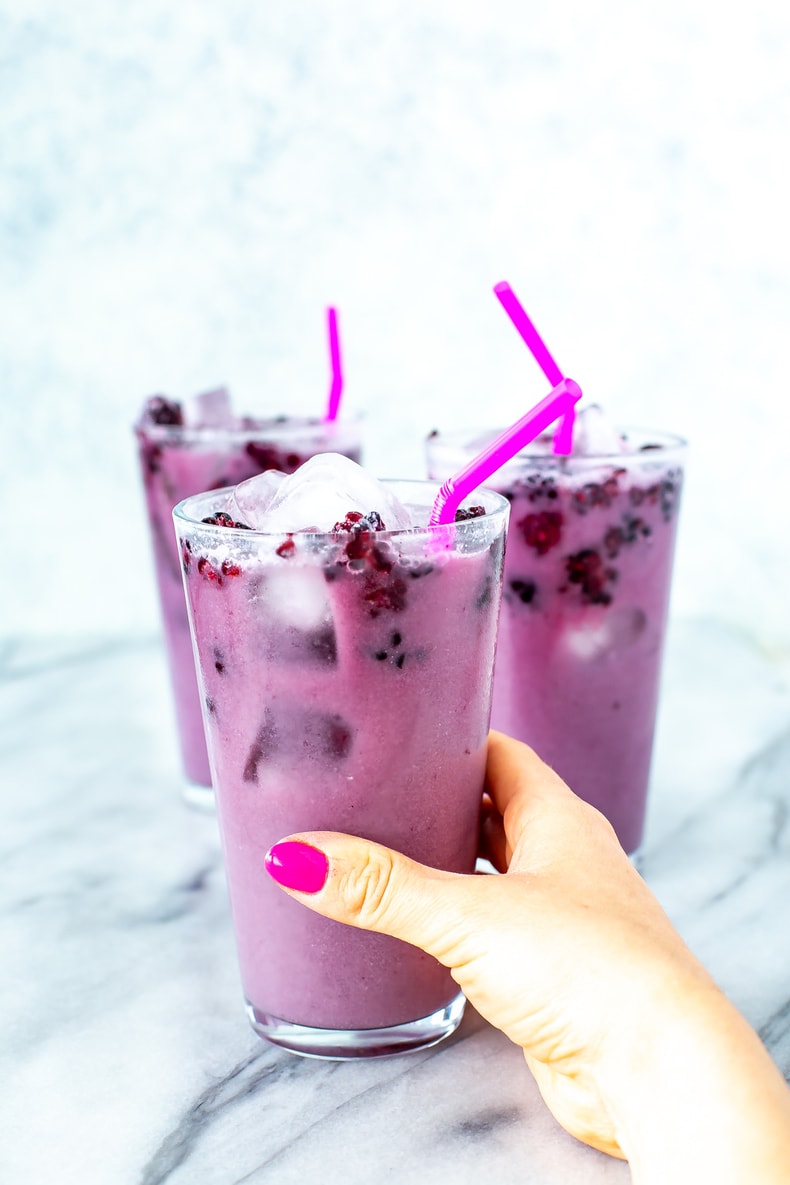 Making it keto
The key to making the drink keto-friendly is to omit anything with added sugar.
Fortunately, the ingredients for this recipe are pretty keto-friendly as is! Just be sure to use unsweetened coconut milk. Also, check the label on whatever berry juice you use to be sure that there are no refined sugars. You can also just use tea in place of the berry juice to avoid any added sugars.
Hibiscus tea is not only keto-compliant, but it's also very good for you! It's full of antioxidants and doctors say that it's good for heart health. Plus, it's supposedly helpful as an aid for weight loss and also good for your liver.
Finding the freeze-dried blackberries
Freeze-dried fruit is pretty easy to find in stores, especially because of popular tea drinks like this one. Look in your grocery store's dried fruit aisle. If you're unable to find them, you can buy freeze-dried blackberries online from several different retailers including Amazon and Walmart. These are the freeze-dried blackberries I use. Again, feel free to use frozen or fresh blackberries if you're having a hard time finding freeze-dried ones.
Calories in this drink vs Starbucks
There isn't a huge difference in the calorie count for my version of the violet drink versus the Starbucks violet drink.
As shown below, the recipe will make approximately 2 cups (16 oz.) and there are just 95 calories for that 16 ounce portion size.
In comparison, according to the brand's website, 16 ounces (the Grande size) of the Starbucks violet drink has 110 calories.
Making a pitcher full
Adjusting the ingredient amounts to make a pitcher full of the drink is easy; there's just a little math involved.
For example, let's use a pitcher size of 48 ounces. We know that one serving as shown in the recipe card makes 16 ounces.
So, dividing 48 by 16 gives you an answer of 3.
Next, multiply each of the ingredients by 3 to see how much of each one you'll need. In this case, you'll need 3 cups of tea, 1.5 cups of berry juice, 1.5 cups of coconut milk and about 1/3 cup of freeze-dried berries. You can mix everything together in your pitcher and then pour it into serving glasses.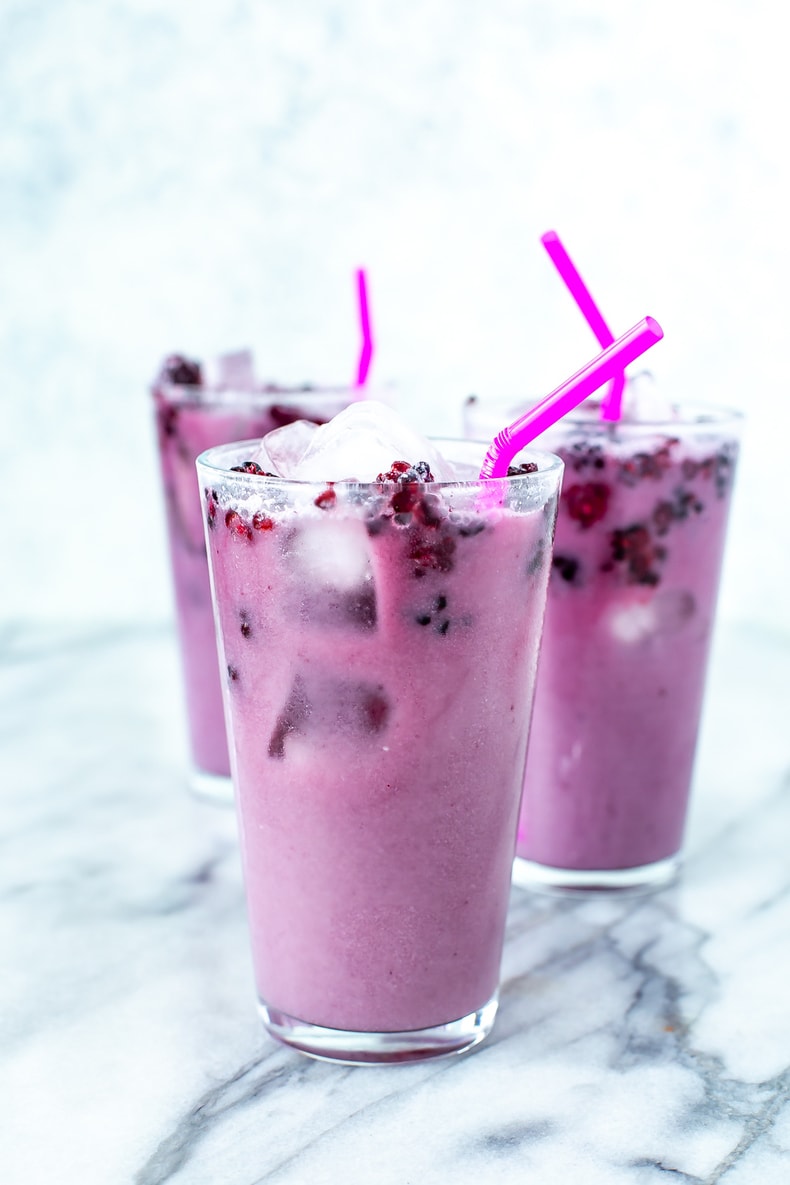 More Starbucks recipes
Meal prep tools for this recipe
Starbucks Violet Drink
This Starbucks Violet Drink recipe is the PERFECT copycat, & comes together with 3 ingredients: hibiscus tea, berry juice & coconut milk.
Print
Pin
Rate
Ingredients
1

cup

hibiscus tea

1/2

cup

berry juice

1/2

cup

coconut milk

2

tbsp

freeze-dried, fresh or frozen blackberries

1

handful

ice cubes
Instructions
Add dried blackberries to a large glass, then a handful of ice.

Top with cooled hibiscus tea, berry juice and coconut milk. Serve and enjoy!
Video
Nutrition
Calories:
95
kcal
|
Carbohydrates:
20
g
|
Protein:
1
g
|
Fat:
2
g
|
Saturated Fat:
2
g
|
Sodium:
10
mg
|
Potassium:
185
mg
|
Fiber:
1
g
|
Sugar:
19
g
|
Vitamin A:
57
IU
|
Vitamin C:
12
mg
|
Calcium:
59
mg
|
Iron:
1
mg