This Mango Dragonfruit Refresher is JUST like the version at Starbucks, and the ingredients are easier to find than you think!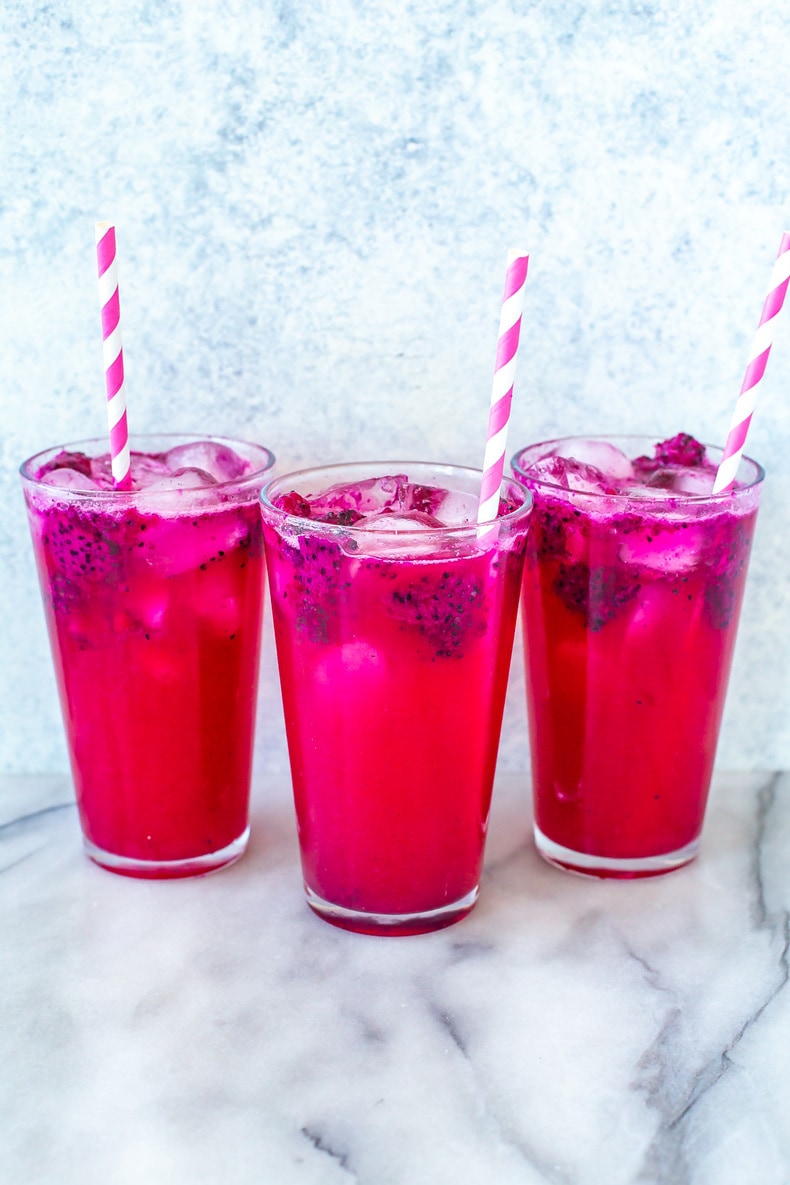 How to make a Mango Dragonfruit Refresher
This drink is so easy to make and comes together in less than 5 minutes! Here's how to put it together:
Assemble your ingredients.
Add dragonfruit pieces to the bottom of a tall glass, and the dragonfruit powder.
Add ice.
Add in grape juice, mango juice and lemonade.
Stir well, then serve and enjoy!
Optional last step: to make it a dragon drink, add coconut milk then serve and enjoy.
Ingredients in this drink
This drink is mostly a mixture of different fruit juices which results in a delicious summery drink that you can enjoy at any time of the year. The freeze-dried dragonfruit pieces and the powder are both optional items you can easily order online – other than that it's just a few simple ingredients.
Here's what you need on hand:
freeze-dried dragonfruit pieces, or fresh red dragonfruit pieces (buy some freeze-dried dragonfruit online)
white grape juice
mango juice
lemonade
dragonfruit powder (used mostly for colour)
Ingredient substitutions
Dragon fruit: If you have never tasted this tropical fruit, you are in for a real treat! You can make the drink using freeze-dried dragon fruit pieces or fresh red dragon fruit pieces.
White grape juice: There aren't exact substitutes for white grape juice. However, if you don't mind the slight difference in taste, feel free to use apple juice. Or, use white wine and make a delicious, refreshing mango dragon cocktail!
Lemonade: To lower the sugar in your refresher, look for sugar-free lemonade. Or, you can use sugar-free lemon or lemon-lime soda pop.
Dragon fruit powder: This ingredient is optional, and used mostly for colour. It can be left out entirely, or you could use one drop each of red and blue food colouring to give the drink a purple hue.
Coconut milk: If you have a coconut allergy, feel free to use half & half or a combination of heavy cream and milk of your choice. As a result, the calorie count will be much higher than using coconut milk. If you don't want to make it dragon drink and just enjoy the refresher, leave the coconut milk out altogether.
Does this drink have caffeine?
While my version of the mango dragon refresher doesn't have caffeine, the Starbucks refresher does.
If having caffeine in the drink is important to you, you might want to consider adding some green tea extract or caffeine tablets to your drink.
Is it healthy?
While they certainly aren't the healthiest drink out there, as far as coffee shop drinks go, refreshers like this one are on the healthier side. They are low in fat and typically have less sugar than a frappucino and other heavy calorie drinks topped with whipped cream.
Freeze-dried vs fresh dragonfruit
Until Starbucks came out with refreshers, I had no idea how many varieties of fruit are available in freeze dried form!
The popularity of the drinks has made it easier than ever before to find freeze-dried dragon fruit. This being said, if you are unable to find a local source for it and you don't want to order it online, using fresh dragon fruit is another option.
Fresh dragon fruit can usually be found in the produce section of large grocery stores, near other tropical fruits like kiwi and mango.
Cost of homemade drink vs Starbucks
The cost of making refreshers at home versus buying them at Starbucks can vary quite a bit. Honestly, it depends on the cost of the ingredients in your area.
For example, the cost of dragon fruit is much higher in cold weather areas, where the fruit cannot be grown locally. But even so, you can make several drinks at home for the cost of one from Starbucks!
Depending on your location and the size you order, Starbucks charges between $3.95 and $5.00 for a 16-ounce (grande) size.
Mango dragonfruit refresher calories
With only 87 calories per serving, my recipe is just slightly less in calories than the Starbuck's version. Due primarily to the fruit juice sugars, 16 ounces (grande size) of the Starbucks dragonfruit refresher has 90 calories.
How much sugar is in this refresher?
Most of the sugar in the ingredients for our version of the refresher comes from fructose. These are naturally occurring fruit sugars and at least not refined sugar. There are 25 grams of it in one 16-ounce serving.
Wanna Learn How To Meal Prep?
My meal planning service, Dinner Prep Pro, removes the guesswork and helps you get dinner on the table in 15-20 minutes each night. My meal prep checklists only take 1 hour each week!
More Starbucks recipes
Meal prep tools for this recipe
Starbucks Mango Dragonfruit Refresher
This Mango Dragonfruit Refresher is JUST like the version at Starbucks, and the ingredients are easier to find than you think!
Print
Pin
Rate
Click Here to Remove Ads
Servings: 1 drink
Calories: 87kcal
Ingredients
2 tbsp freeze-dried dragonfruit pieces optional, or use fresh red dragonfruit pieces
1 tsp dragonfruit powder optional, used mostly for colour
1 handful ice
1/4 cup white grape juice
1/4 cup mango juice
1/4 cup lemonade
Instructions
Add dragonfruit (either freeze-dried or fresh) and dragonfruit powder to the bottom of a tall glass, then add ice. Add in grape juice, mango juice and lemonade. Stir well, then serve and enjoy!

To make it a dragon drink, add 1/4 cup coconut milk then serve and enjoy.
Video
Nutrition
Calories: 87kcal (4%)Carbohydrates: 26g (9%)Protein: 1g (2%)Fat: 1g (2%)Saturated Fat: 1g (6%)Sodium: 8mgPotassium: 173mg (5%)Fiber: 1g (4%)Sugar: 25g (28%)Vitamin A: 690IU (14%)Vitamin C: 23mg (28%)