This is the Best & Juiciest Turkey Burger Recipe. It's super healthy and packed with flavour – add your fave toppings and some secret sauce!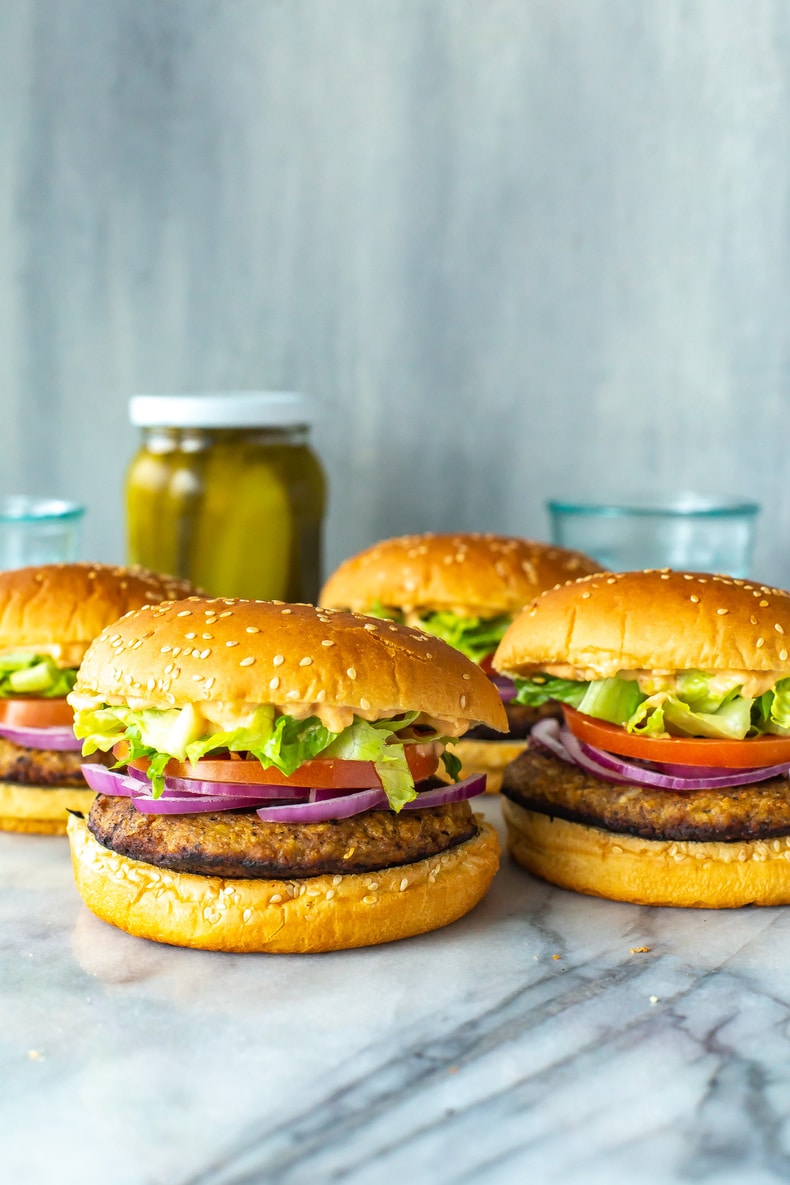 Ingredients and substitutions
Burger patties
Ground turkey – you could also try making these burgers with ground chicken or ground beef.
Breadcrumbs – panko or crushed up potato chips would also be good. If you're using potato chips, skip the rest of the salt.
Egg – you can leave out the egg, but it helps make the patties a lot firmer.
Yellow onion – white onion or shallots would also work.
Garlic – freshly minced garlic is best. In a pinch, used jarred garlic or garlic powder.
Worcestershire sauce – use a combination of soy sauce and ketchup for a similar flavour.
Dijon mustard – stone-ground mustard is the best substitute here.
Paprika – cayenne would also be good or you can leave this out altogether.
Salt & pepper – to taste.
Toppings
Burger buns – use your favourite burger buns or lettuce wraps for a low-carb alternative.
Cheese slices – any kind of cheese slices like cheddar, mozzarella or Swiss would be good.
Lettuce – iceberg, romaine and bibb lettuce are all popular choices for burgers.
Tomato – leave this out altogether or swap out for another veggie of your choice.
Red onion – white onion is another good option or you can leave off the onions if you're not a fan.
Pickles – if you don't have any pickles, relish will provide a similar flavour.
Special sauce
Light mayo – regular mayo will work but has a higher calorie count.
Ketchup – you can try using a bit of BBQ sauce but it will have a different flavour.
Relish – chop up some dill pickles instead.
Dijon mustard – stone-ground mustard would be the next best thing.
Garlic powder – onion powder can be used interchangeably.
How to make a turkey burger
Assemble your ingredients.
Mix together the burger patties.
Form equal-sized patties.
Cook in a skillet.
Prep the sauce and any toppings.
Assemble your burgers and enjoy!
How to keep your burgers from falling apart
The key to creating burgers that don't fall apart is to use a binder. For this recipe, one raw egg and some breadcrumbs will hold the ground turkey together.
Here are some more tips to keep your burgers from falling apart:
Chill or freeze the patties before you cook them: The colder the burgers are, the better they will stay together after they hit the heat.
Don't overwork the meat mixture: Not only does overworking the mixture cause burgers to lose structure, but it also makes for dry burgers.
Use wet hands to form the patties: This will help the patties to take form more easily before you place them on the grill or in a skillet.
Flip them less: When you cook the burgers, resist flipping them more than once during the cooking time.
Frequently Asked Questions
How many calories are in a turkey burger?
This burger recipe uses a pound of ground turkey and will make 4 patties. If you make them according to the recipe below, one burger will be approximately 423 calories, which includes the bun, 2 tbsp. special sauce and toppings. Compare that to a regular burger and you're saving over 150 calories. Not too shabby!
What is it made of?
Like the name suggests, a turkey burger is made of ground turkey! You'll also need breadcrumbs and egg so the burgers stick together and then a variety of ingredients for added flavour. For these turkey burgers, I added in yellow onion, minced garlic, Worcestershire sauce, Dijon mustard, paprika, salt and pepper.
Is it healthier than a hamburger?
As long as the ground turkey you use is at least 95 percent lean and the bird was fed well before butchering, turkey is usually a healthier option than ground beef. Also, turkey is lower in cholesterol and saturated fat than beef.
Storing and reheating
If you have any turkey burgers left, wrap the patties in plastic wrap or store them in a Ziploc bag for up to 5 days. You'll want to store the buns, toppings and special sauce separately.
There are a few different ways you can reheat your burgers without drying them out:
On the grill: Freeze the cooked patties before reheating them on a grill. Then, spritz them with some water as they cook. This will keep them moist and juicy!
In the oven: Place them in a baking pan with a teaspoon of water then reheat them in the oven at 350° Fahrenheit until cooked through.
On the stovetop: Place the burgers in a preheated skillet. Add a teaspoon of water to the skillet, cover the pan and cook until the patties reach an internal temperature of 165° Fahrenheit.
Freezing this recipe
You can freeze these burgers raw or cooked in a freezer-safe Ziploc bag or glass container for up to 3 months. If you're freezing them raw, make sure to keep a piece of parchment paper between each patty so they don't stick together. When you're ready to make your burgers, you can reheat or cook them from frozen using your preferred method.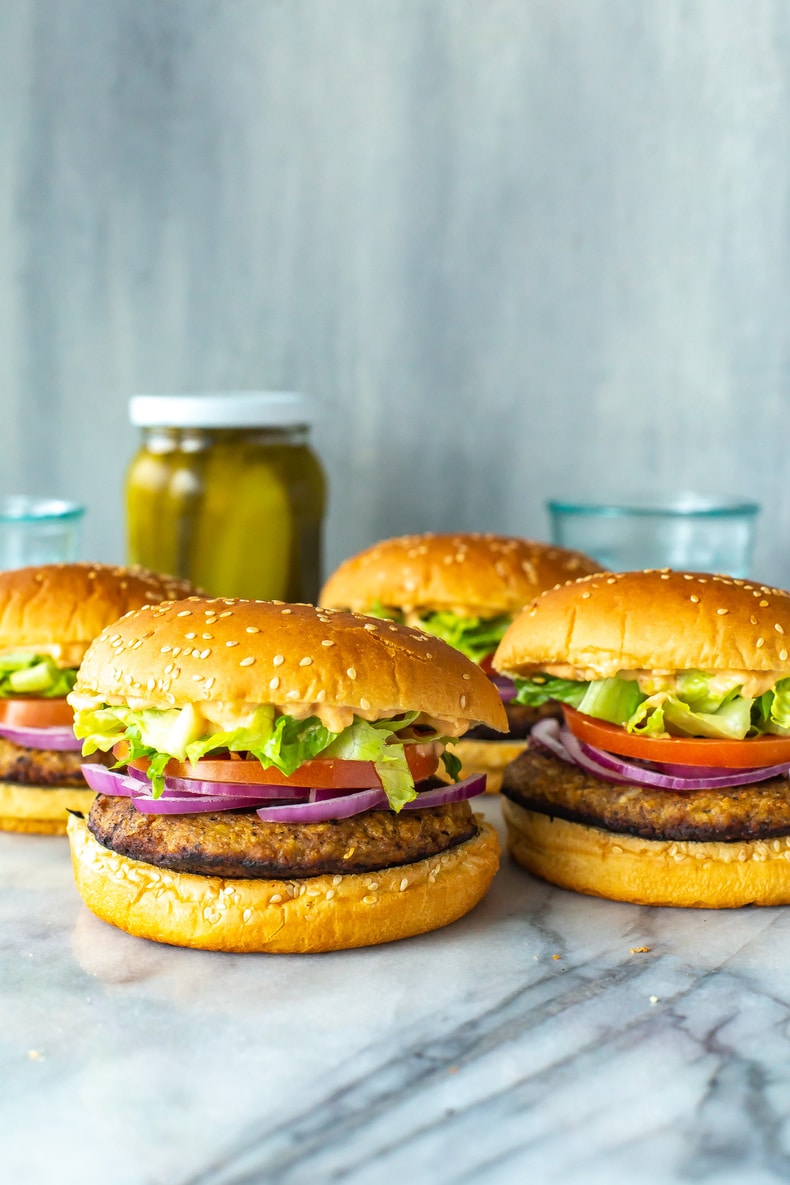 Wanna Learn How To Meal Prep?
My meal planning service, Dinner Prep Pro, removes the guesswork and helps you get dinner on the table in 15-20 minutes each night. My meal prep checklists only take 1 hour each week!
More yummy burger recipes
Meal prep tools for this recipe
The Best & Juiciest Turkey Burger Recipe
This is the Best & Juiciest Turkey Burger Recipe. It's super healthy and packed with flavour – add your fave toppings and some secret sauce!
Print
Pin
Rate
IN A CYCLE OF EATING POORLY?We've got you covered with our free Routine Revamp mini course! You'll receive 8 lessons and free coaching with us! Register👇
Join Routine Revamp!
Servings: 4 people
Calories: 423kcal
Ingredients
Burger patties
1 lb ground turkey
1/3 cup breadcrumbs
1 egg
1 yellow onion, grated
1 clove garlic, minced
1 tbsp Worcestershire sauce
1 tbsp Dijon mustard
1 tsp paprika
1 tsp salt
1/2 tsp pepper
Topping ideas & assembly
4 burger buns
Cheese slices
Lettuce
Tomatoes
Red onion, sliced
Pickles
Condiments such as mayo, ketchup, relish, mustard, etc.
Optional special sauce recipe
1/2 cup light mayo
1 tbsp ketchup
1 tbsp relish
1 tsp dijon mustard
1 tsp garlic or onion powder
Instructions
Mix ingredients together for burger patties in a large bowl, then form into equal-sized patties.

Heat 1 tbsp olive oil in a large skillet over med-high heat. Add burger patties and cook for 4-5 minutes per side until cooked through (meat thermometer should read 165 F in the middle of burger).

Meanwhile, mix together ingredients for special sauce if desired, along with other toppings.

Add burger patties to buns (can toast for 1 min if desired), along with desired toppings then serve and enjoy!
BBQ instructions
Preheat BBQ to med-high heat (400 F). Mix ingredients together for burger patties in a large bowl, then form into equal-sized patties and spray each side with cooking spray.

Grill burgers for 7-8 minutes until fully cooked all the way through (should register 165 F in the center). Serve with buns and toppings. Can toast buns on the grill for 1 min each if desired.
Video
Notes
NOTE: Nutritional info is for 1 burger with bun and 2 tbsp special sauce; this does not include toppings or cheese. Without special sauce, burger is 317 calories. Cheese will add 110 calories, while vegetable/pickle toppings will add minimal calories. Try out different topping ideas like tzatziki sauce, grilled veggies, jalapenos or salsa. Make sure not to overwork the patties so they don't fall apart. Store the leftovers in the fridge for up to 5 days. Reheat on the grill, in the oven or on the stovetop. Freeze these burgers raw or cooked for up to 3 months, then cook or reheat from frozen.
Nutrition
Calories: 423kcal (21%)Carbohydrates: 37g (12%)Protein: 34g (68%)Fat: 15g (23%)Saturated Fat: 3g (19%)Cholesterol: 108mg (36%)Sodium: 1324mg (58%)Potassium: 523mg (15%)Fiber: 2g (8%)Sugar: 7g (8%)Vitamin A: 412IU (8%)Vitamin C: 3mg (4%)Calcium: 111mg (11%)Iron: 3mg (17%)
Don't wait until January to eat healthy!Sign up for our free Routine Revamp mini course!
Join Routine Revamp!