These Mediterranean Portobello Beef Burgers are a healthy BBQ recipe topped with garlic herb cheese, roasted red peppers and basil mayo.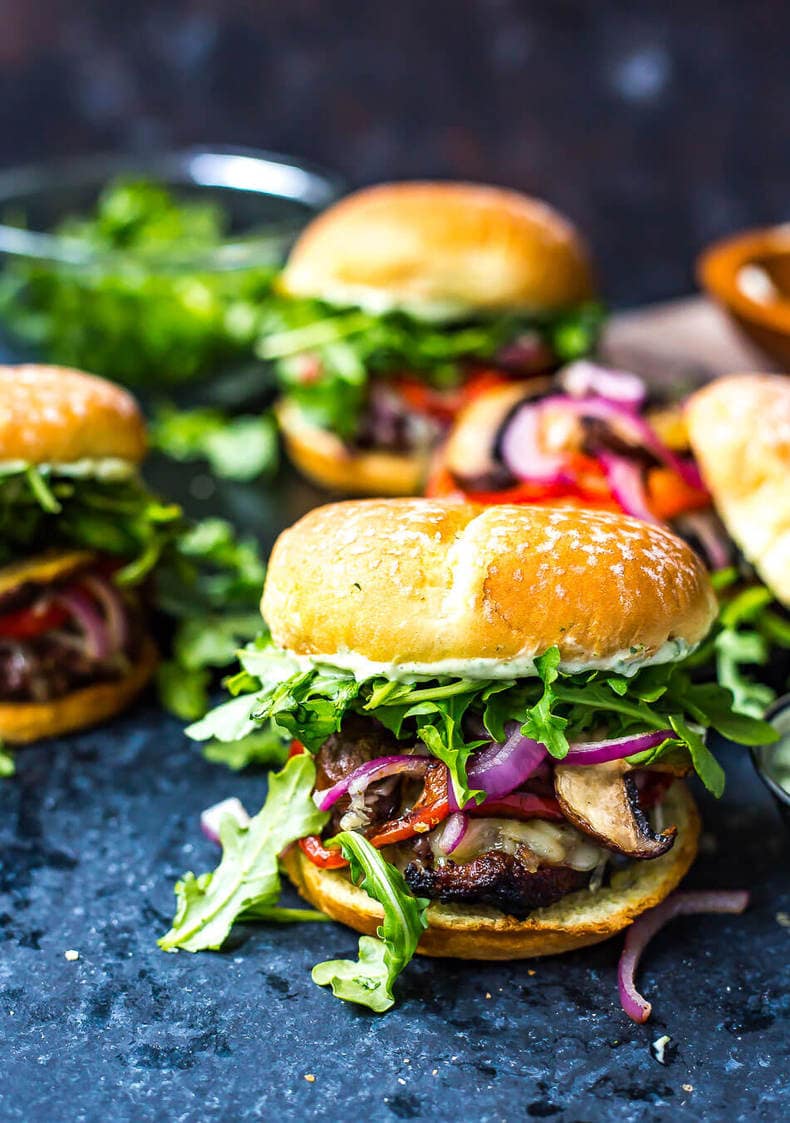 Ingredients and substitutions
Olive oil – any neutral oil like sunflower oil, avocado oil or peanut oil will work in place of olive oil.
Garlic and herb cheese – this will add great flavour to the burgers. Use grated white cheddar cheese in place of garlic and herb cheese.
Red bell pepper – use any other bell pepper colour or use another mild pepper like poblano peppers.
Portobello mushroom – portobello mushrooms are a burger patty size, but you can slice and sauté other mushrooms (like shiitake or cremini) and add them as a topping instead.
Red onion – replace with white or yellow onion or leave out entirely.
Arugula – spinach or lettuce would also be good.
Burger buns – regular burger buns, brioche buns or ciabatta buns would all work.
Burger patties
Extra-lean ground beef – ground turkey, ground chicken or ground pork can also be used to create the burger patties.
Portobello mushroom – feel free to use another type of mushroom instead.
Breadcrumbs – rolled oats, unsweetened corn flakes, crushed potato chips or crumbled crackers can also be used.
Yellow onion – use red onion, white onion or sweet onion in place of yellow onion.
Egg – soaked chia seeds, oatmeal or breadcrumbs can be used to replace the egg.
Dijon mustard – use yellow mustard or brown mustard instead.
Garlic powder – garlic salt is a great substitute here.
Salt & pepper – to taste.
Basil mayo
Light mayo – plain unsweetened Greek yogurt or sour cream can be substituted for light mayo.
Fresh basil leaves – basil is important to make basil mayo. You can use mint leaves or cilantro but the mayo will have a different flavour.
Lemon juice – fresh or bottled lemon or lime juice can be used.
How to make this recipe
Roast the veggies.
Make the burger patties.
Grill the burgers.
Cook the portobello mushrooms.
Make the basil mayo.
Assemble your burgers and enjoy!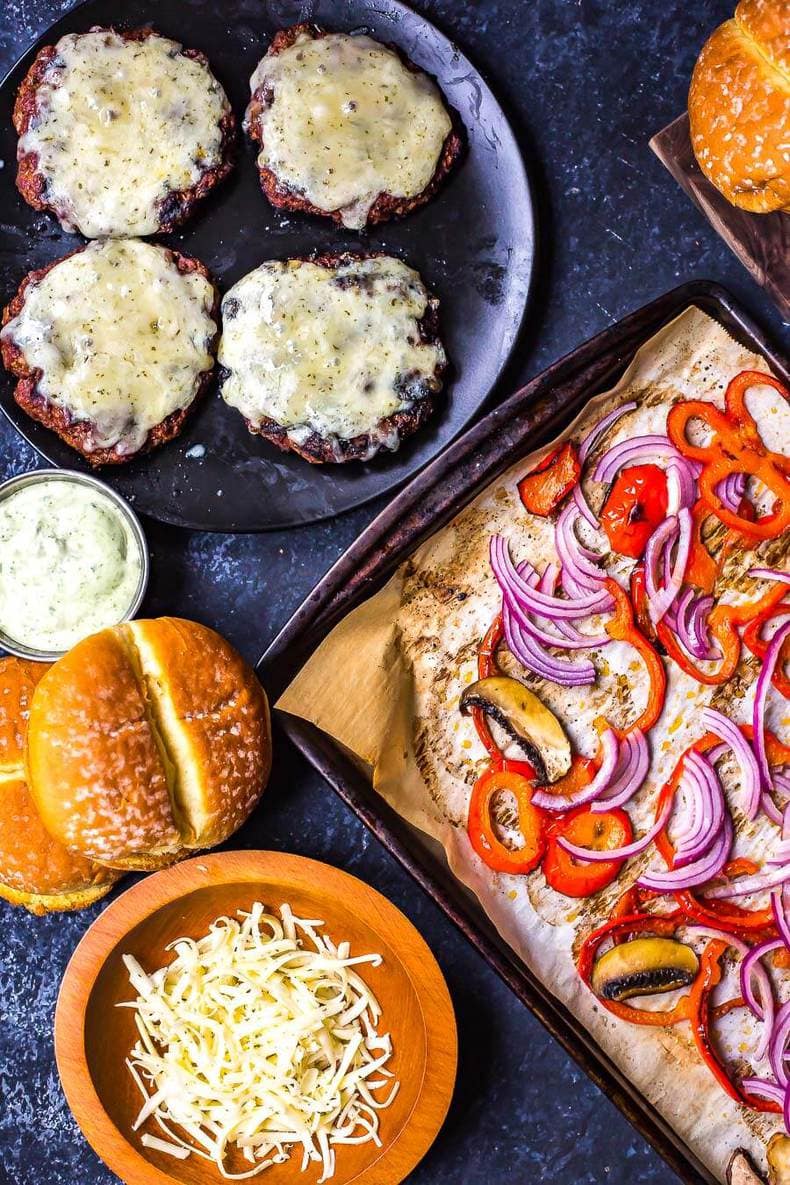 Removing the Portobello mushroom gills
Mushroom gills are edible but they can create a very bitter taste to the recipe. That's why I always suggest removing the mushroom gills from Portobello mushrooms! To remove the mushroom gills, hold the mushroom in one hand and then use a spoon to scrape out the brown scaley part of the mushroom. Make sure to remove the stem as well!
After removing the gills, wash the mushroom again to make sure it is entirely clean and then pat it completely dry before cooking.

Frequently Asked Questions
What's the best beef to use for burgers?
I like using extra-lean ground beef for two reasons – it's healthier and lower in calories (so I can enjoy my burger guilt-free) and it still comes out nice and juicy.
How should I season the ground beef?
These burgers are super flavourful – all you have to do is mix together some salt and pepper, garlic powder, Dijon mustard, egg, yellow onion, breadcrumbs and Portobello mushrooms.
Why are my burgers falling apart?
There are a couple of reasons why your burger could be falling apart. Make sure your BBQ is set to medium-high heat, as cooking it at too low a temperature could result in the burger falling apart. You might also have overhandled your patties while forming them. To make sure your burgers don't fall apart, I recommend chilling them in the fridge before adding them to the grill.
Storing and reheating
Reheating a burger can be pretty tricky. With all of the toppings and a bun, it's pretty difficult to do. To avoid a soggy burger, assemble your burgers as they're being eaten so you can store the ingredients separately in the fridge and reassemble them later.
Extra burgers can be stored separately and this will ensure a much better leftover burger experience. The burger patties and toppings will all keep well in the fridge for 3 to 5 days in airtight glass containers. You can reheat them in a skillet on the stovetop or on the grill for a couple of minutes.
Freezing the beef patties
Freeze extra beef patties by stacking them with a small piece of wax paper or parchment paper in between. This makes it easier to separate the frozen patties.
Place the stack inside of a freezable container or a freezer-safe Ziploc bag. They'll keep well for 3 to 4 months. When you're ready to eat, grill them from frozen – just keep in mind they might need to cook for longer.
Wanna Learn How To Meal Prep?
My meal planning service, Dinner Prep Pro, removes the guesswork and helps you get dinner on the table in 15-20 minutes each night. My meal prep checklists only take 1 hour each week!
More homemade burger recipes
Meal prep tools for this recipe
Grab some glass meal prep bowls if you plan on storing the leftover patties.
I get all my grass-fed ground beef from Butcher Box, conveniently delivered to me frozen.
Mediterranean Portobello Beef Burgers
These Mediterranean Portobello Beef Burgers are a healthy BBQ recipe topped with garlic herb cheese, roasted red peppers and basil mayo.
Print
Pin
Rate
IN A CYCLE OF EATING POORLY?We've got you covered with our free Routine Revamp mini course! You'll receive 8 lessons and free coaching with us! Register👇
Join Routine Revamp!
Servings: 4 burgers
Calories: 580kcal
Ingredients
1 tbsp olive oil
1/2 block garlic and herb cheese, grated or white cheddar cheese
1 red bell pepper, sliced
1 portobello mushroom, sliced
1 medium sized red onion, sliced
1 package Arugula
4 burger buns
Burger patties
1 lb extra-lean ground beef
1 portobello mushroom, finely minced
1/3 cup breadcrumbs
1 small yellow onion, grated
1 egg
2 tsp dijon mustard
1 tsp garlic powder
1 tsp salt
1/2 tsp pepper
Basil mayo
1/2 cup light mayo
1/2 cup fresh basil leaves
1/2 tsp lemon juice
Instructions
Preheat BBQ to med-high heat. Make basil mayo by blending mayo, lemon juice and basil together in a Magic Bullet or using an immersion blender.

Mix ground beef, minced portobello, breadcrumbs, onion, egg, dijon, garlic powder and salt and pepper together in a large bowl, then form into 1/2 inch thick burger patties.

Place burger patties gently on grill, or cook in a skillet for 4-5 minutes per side.

Meanwhile, saute red pepper and red onion in a skillet with some olive oil over med-high heat, seasoning with salt and pepper.

In the last two minutes or so of cooking time, add cheese to burgers and lightly toast buns on the BBQ or in a skillet. Remove and serve burgers topped with veggies, arugula and basil mayo. Enjoy!
Notes
Swap out the ground beef for ground turkey or pork. Scoop out all the mushroom gills to avoid a bitter aftertaste. Make sure not to overhandle your burger patties or they can fall apart while cooking. Assemble your burgers as you eat them, then store any leftovers separately in the fridge for up to 5 days. Reheat on the stovetop or the grill then assemble your fresh burgers. Freeze the patties with a piece of wax or parchment paper in between for up to 3 months, then grill from frozen.
Nutrition
Calories: 580kcal (29%)Carbohydrates: 40g (13%)Protein: 40g (80%)Fat: 28g (43%)Saturated Fat: 11g (69%)Polyunsaturated Fat: 6gMonounsaturated Fat: 10gTrans Fat: 1gCholesterol: 145mg (48%)Sodium: 1373mg (60%)Potassium: 824mg (24%)Fiber: 4g (17%)Sugar: 9g (10%)Vitamin A: 1462IU (29%)Vitamin C: 43mg (52%)Calcium: 336mg (34%)Iron: 6mg (33%)
Don't wait until January to eat healthy!Sign up for our free Routine Revamp mini course!
Join Routine Revamp!