These Ultimate Twice Baked Potatoes are just like the ones from the steakhouse, stuffed with bacon, cheddar, scallions and sour cream.
Ingredients and substitutions
Russet potatoes – I find that russet potatoes are best for baking but you can use white potatoes instead.
Butter – feel free to swap out for your favourite butter substitute or even milk.
Onion powder – finely-diced fresh onion will work in a pinch.
Garlic powder – fresh minced garlic would work as well.
Sour cream – light sour cream, cream cheese or plain Greek yogurt are the best substitutes here.
Cheddar cheese – use any type of cheese you want like jalapeno jack or Swiss cheese.
Turkey bacon – pork bacon would also work here but has more calories.
Scallions – chives or finely diced white or red onion would also be good.
Salt & pepper – to taste.
How to make twice baked potatoes
Bake and scoop out the potatoes.
Make the creamy filling.
Blend until smooth.
Stuff the potatoes.
Top with cheese and bake for 15 minutes.
Sprinkle with bacon and scallions then dig in!
More filling ideas
You can mix up the flavours to whatever you're craving! You can stir them into the creamy filling, add them on as a topping or both. Here are some of my favourite filling and topping ideas:
Southwest: Mix in taco seasoning, black beans, ground beef and salsa. Top with avocados and sour cream.
Greek: Add chicken, olives, red onions and red peppers and top with feta and Greek yogurt.
Pizza: Mash with tomato sauce and parmesan cheese. Top with mozzarella and pepperoni.
Leftovers: Add any leftover chicken, steak or protein with chopped vegetables and your favourite seasonings like Cajun, pesto, curry or ranch.
Frequently Asked Questions
What is a twice baked potato?
A twice baked potato is a delicious side dish (or main course if you add in some protein). You bake the potatoes first, then scoop out the flesh, mix it with a bunch of other yummy toppings, re-stuff the potatoes and bake them again!
How long should I cook them for?
For these twice baked potatoes, you need to bake the potatoes for 45 minutes or until they're fork-tender. After you've added in the filling, you'll need to bake them for another 15 minutes or until the cheese is melted.
How do I scoop the potatoes?
Before scooping the potatoes, make sure they've cooled for at least ten minutes. Slice them in half lengthwise, then scoop out the flesh, leaving about half an inch around the skins. You don't want to scoop out too much flesh, or they'll fall apart.
Why are they falling apart?
If your twice baked potatoes are falling apart, it's likely because you've scooped out too much of the flesh. Make sure to leave half an inch around the skin so they don't fall apart.
Storing and reheating
Store any leftover potatoes in a sealed container in the refrigerator for up to 3 days. Just make sure all those yummy toppings don't fall off.
You can reheat them on a plate in the microwave or put them on a baking sheet and bake them for 20-25 minutes at 350° Fahrenheit.
Freezing twice baked potatoes
These are perfect to freeze for easy meal prep later. Just be sure to let the filling cool before you stuff the skins.
Freeze the potatoes individually on a baking sheet or wrap them separately in plastic wrap. Store them in a freezer-safe storage bag or container for up to 3 months.
To cook them from frozen:
Preheat the oven to 350° Fahrenheit.
Place the skins on a lightly greased baking sheet and cover with aluminum foil.
Bake for 45 minutes.
Uncover, add toppings and bake for another 15 minutes or until the cheese melts and the potatoes are hot – don't over-bake them!
Wanna Learn How To Meal Prep?
My meal planning service, Dinner Prep Pro, removes the guesswork and helps you get dinner on the table in 15-20 minutes each night. My meal prep checklists only take 1 hour each week!
More delicious potato recipes
Meal prep tools for this recipe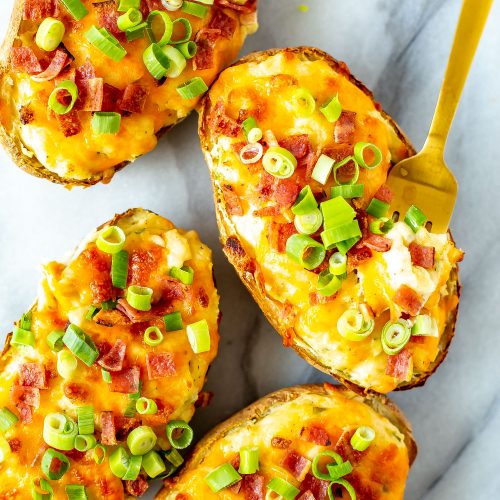 The Ultimate Twice Baked Potatoes
These Ultimate Twice Baked Potatoes are just like the ones from the steakhouse, stuffed with bacon, cheddar, scallions and sour cream.
Print
Pin
Rate
FEELING BURNED OUT?We've got you covered with a December self care plan! Sign up for weekly habit audits, 3 weeks of meal prep plans, weekly goal setting printables + live calls!👇
Join our December ✨Feel Good✨ Challenge!
Servings: 4 servings
Calories: 234kcal
Ingredients
2 Russet potatoes
1 tbsp butter
1 tsp onion powder
1 tsp garlic powder
1/2 tsp salt
1 pinch pepper
1/2 cup sour cream
1/2 cup cheddar cheese
4 slices turkey bacon, crumbled or regular bacon
4 scallions, sliced
Instructions
Preheat oven to 450 F. Bake potatoes for 45 minutes until fork tender. Meanwhile, fry bacon in a pan on the stove.

When potatoes are done, let them cool for 10 minutes. Slice potatoes in half lengthwise and scoop the flesh into a large bowl, being careful to leave about a 1/2 inch of flesh around the skins.

Add butter, onion powder, garlic powder, salt &pepper, 1/2 the cheddar cheese and 1/2 the scallions to the potato mixture. Blend with a hand mixer or immersion blender until creamy.

Spoon the mixture back into the potato skins. Top each with remaining cheddar cheese and bake for 15 minutes until cheese is melted.

Remove potatoes from oven, then top with bacon and remaining scallions. Serve and enjoy!
Video
Notes
NOTE: Nutritional info is for turkey bacon; add 88 calories if using pork bacon. Switch up the filling to include whatever you're craving or have on hand. Swap out the sour cream for cream cheese or plain Greek yogurt. Store any leftovers in the fridge for up to 3 days then reheat in the microwave or the oven for 20-30 minutes at 350° Fahrenheit. Meal prep these potatoes by freezing them ahead of time for up to 3 months.
Nutrition
Calories: 234kcal (12%)Carbohydrates: 22g (7%)Protein: 7g (14%)Fat: 14g (22%)Saturated Fat: 8g (50%)Cholesterol: 38mg (13%)Sodium: 458mg (20%)Potassium: 541mg (15%)Fiber: 2g (8%)Sugar: 2g (2%)Vitamin A: 529IU (11%)Vitamin C: 9mg (11%)Calcium: 156mg (16%)Iron: 1mg (6%)