This is the Best Ever Turkey Tetrazzini! The cheesy and creamy pasta dish with mushrooms and peas makes leftover turkey delicious again.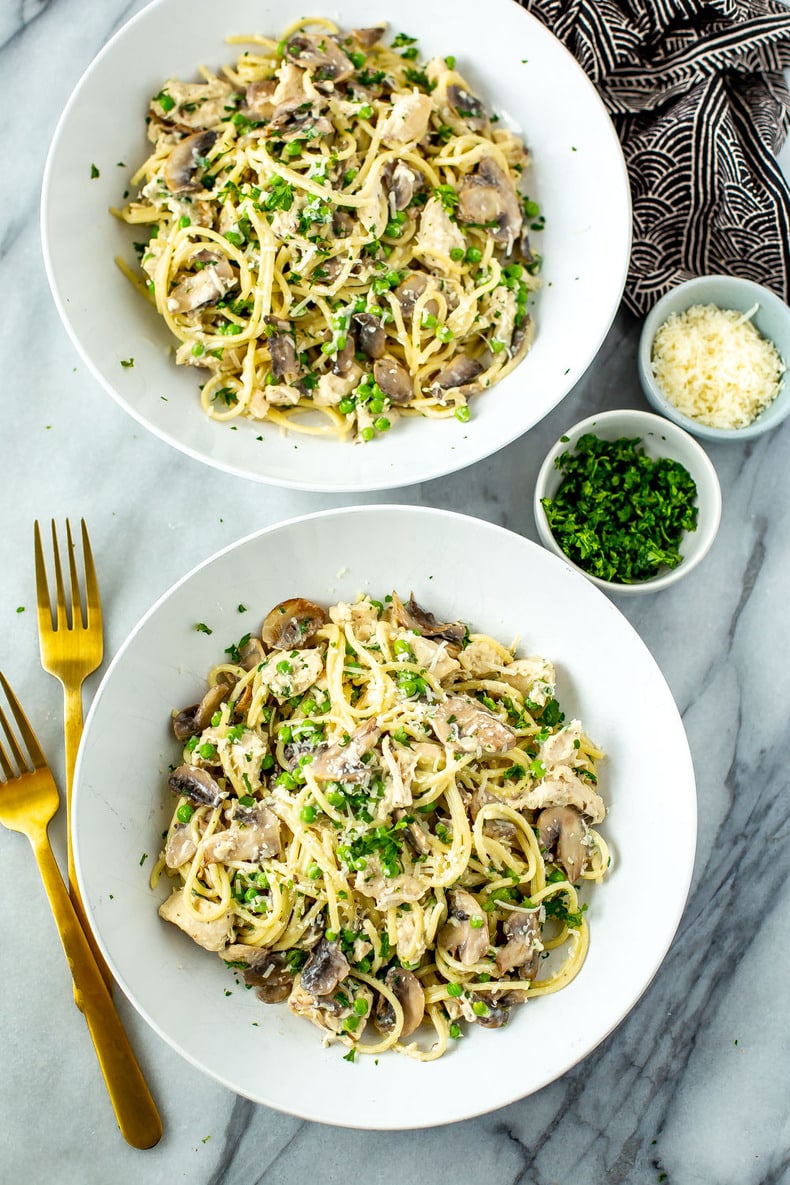 Ingredients and substitutions
Spaghetti – try egg noodles, linguine or angel hair pasta instead. You can also use any leftover pasta you might have.
Leftover turkey – you can use leftover chicken or fresh boneless chicken instead.
Button mushrooms – substitute for baby portobello/cremini mushrooms or a small can of drained mushrooms. You could also leave the mushrooms out altogether.
Butter – use 1 tbsp. olive oil or coconut oil instead.
Garlic – fresh minced garlic is best but ¼ tsp. garlic powder would also work.
Flour – use your favourite gluten-free flour substitute or arrowroot to help thicken the sauce.
Dry white wine – while wine adds amazing flavour to the sauce, you can also use chicken broth, vegetable broth, milk or a non-sweetened milk substitute.
Heavy cream – half and half or sour cream will help make the sauce nice and rich with less calories.
Salt & pepper – to taste.
Parmesan – use cheddar, gruyere or mozzarella instead (just keep in mind it will change the flavour).
Frozen peas – peas are classic to this dish, but almost any frozen veggie blend can be used instead.
Fresh parsley – leave this out altogether if you don't have any on hand.
Skip the Ads and Get Right to the Recipes!
ZERO ADS on over 600 recipes!
Weekly Meal Plans, Grocery & Prep Lists
Bonus eBooks
How to make turkey tetrazzini
Cook the pasta.
Sauté the mushrooms.
Make the sauce.
Add everything back into the pot.
Toss to combine.
Serve and enjoy!

Adding more veggies
It is so easy to add extra veggies to this dish. Really, any vegetable you like can be added when you add the mushrooms.
Some of my favourite options include:
Broccoli
Cauliflower
Zucchini
Carrots
Celery
Peppers
Onions
Green beans
Chop some fresh vegetables up into bite-sized pieces and sauté up to 2 cups of veggies with the mushrooms. You may need to make more sauce if you add more than that.
If you have leftover cooked veggies in the fridge, you can add them straight in with the mushrooms.
Frequently Asked Questions
Why is it called turkey tetrazzini?
The creamy pasta dish tetrazzini is named after Italian opera singer Luisa Tetrazzini. There are several origin stories when it comes to tetrazzini – it's thought to have been invented at the Palace Hotel in San Francisco when Luisa Tetrazzini made her opera debut, but others say the dish was first created at the Knickerbocker Hotel in New York City.
What is it made of?
Turkey tetrazzini is a great way to use up your turkey leftovers. It's made of leftover turkey (or chicken), spaghetti noodles, a creamy sauce typically made with heavy cream, mushrooms and frozen peas. It's super creamy and so delicious.
What should you serve on the side?
This dish is a meal in and of itself – you've got protein, veggies and carbs all in one dish. If you want to serve something on the side, I'd suggest a nice green salad or some crusty bread.
Storing and reheating
Keep any leftovers in an airtight container in the fridge for up to 5 days. Reheat for 1-2 minutes in the microwave – I recommend sprinkling some water over top first so the pasta doesn't dry out.
You can also reheat tetrazzini in a casserole dish. Just bake it in the oven for 20-30 minutes at 325° Fahrenheit. Sprinkle on some parmesan and dig in!
Can you freeze turkey tetrazzini?
Yes! If you have a lot of leftovers or you just want to prepare this dish ahead of time, you can freeze tetrazzini for up to 3 months in an airtight container.
Thaw the tetrazzini in the fridge overnight and bake for about 30-40 minutes until it is hot and bubbly at 350° Fahrenheit.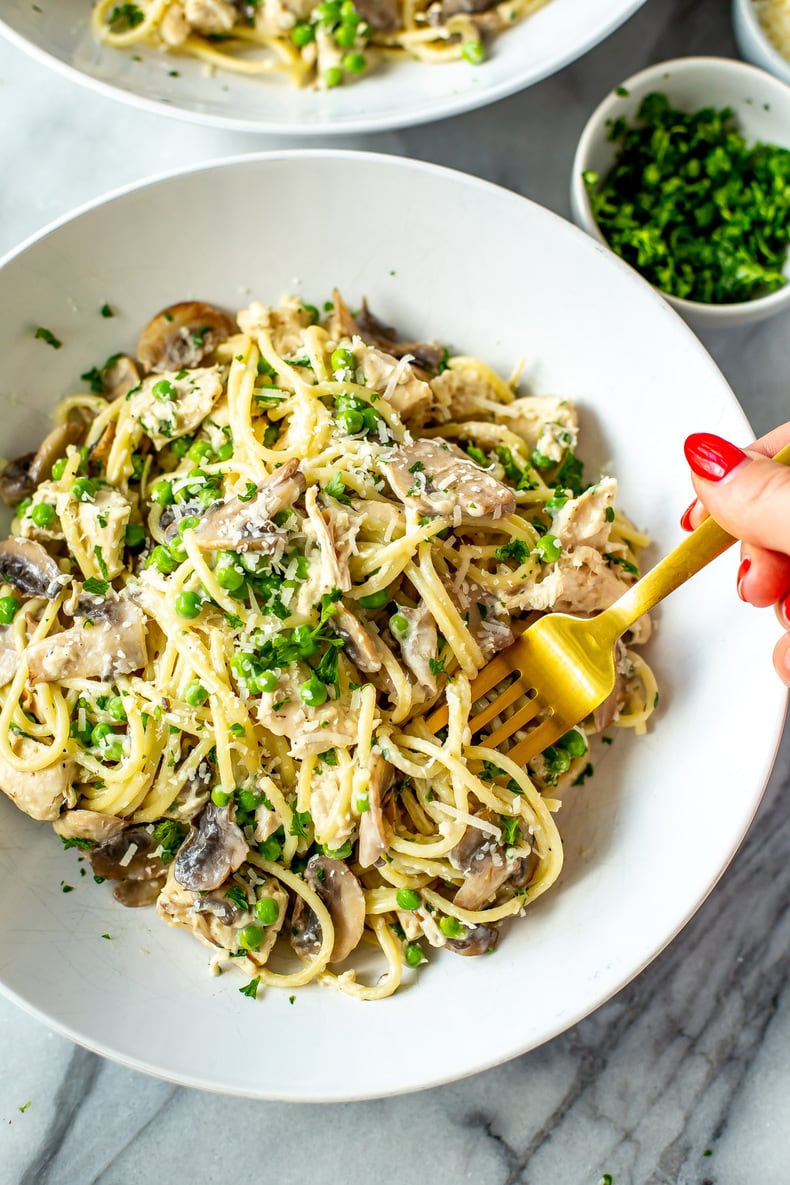 Wanna Learn How To Meal Prep?
My meal planning service, Dinner Prep Pro, removes the guesswork and helps you get dinner on the table in 15-20 minutes each night. My meal prep checklists only take 1 hour each week!
More tasty pasta recipes
Meal prep tools for this recipe
Grab some glass meal prep bowls if you plan on turning this pasta into meal prep.
I get all my free-range chicken from Butcher Box, conveniently delivered to me frozen.
Best Ever Turkey Tetrazzini
This is the Best Ever Turkey Tetrazzini! The cheesy and creamy pasta dish with mushrooms and peas makes leftover turkey delicious again.
Print
Pin
Rate
Click Here to Remove Ads
Servings: 6 servings
Calories: 527kcal
Ingredients
1 lb spaghetti
2 cups leftover turkey or chicken
8 oz button mushrooms, sliced
1 tbsp butter
2 cloves garlic, minced
1 tbsp flour
1/2 cup dry white wine
1/2 cup heavy cream
1/2 tsp salt
1/4 tsp pepper
1/2 cup parmesan cheese, grated
1 cup frozen peas
Fresh parsley, for garnish
Instructions
Cook pasta in a large pot of salted boiling water for 7-9 minutes until al dente. Drain, reserving 1 cup of the pasta water and set aside.

Meanwhile, saute mushrooms in a large skillet with a little bit of butter for 3-4 minutes until they release liquid and are cooked through. Remove from heat and set aside.

Once pasta is removed from pot, add it back to heat and melt butter. Add garlic, sauteeing for 30 seconds until fragrant. Whisk in flour, then add wine. Simmer for 2-3 minutes until slightly reduced. Stir in pasta water, heavy cream, salt & pepper and parmesan cheese, bringing to a boil.

Add pasta, leftover turkey, mushrooms and peas, tossing well to combine and cooking for 2 minutes or so until heated through.

Garnish with parsley and extra parmesan cheese, then serve and enjoy.
Video
Notes
Swap out the heavy cream, white wine and flour for a can of mushroom soup instead. It's a great way to cut down on prep time! Use 2 cups of shredded rotisserie chicken instead of leftover turkey. Store the leftovers in the fridge for up to 5 days. Reheat in the microwave for 1-2 minutes or in the oven for 20-30 minutes at 325° F. Freeze your turkey tetrazzini for up to 3 months. Defrost in the fridge overnight then reheat in the oven for 30-40 minutes at 350° F.
Nutrition
Calories: 527kcal (26%)Carbohydrates: 64g (21%)Protein: 33g (66%)Fat: 14g (22%)Saturated Fat: 8g (50%)Cholesterol: 81mg (27%)Sodium: 523mg (23%)Potassium: 575mg (16%)Fiber: 4g (17%)Sugar: 4g (4%)Vitamin A: 616IU (12%)Vitamin C: 10mg (12%)Calcium: 146mg (15%)Iron: 2mg (11%)
Join The Girl on Bloor Premium!
ZERO ADS!
Weekly Meal Prep Checklists
Bonus eBooks