This Linguine Chicken Tetrazzini is a delicious Eastside Mario's copycat filled with roasted garlic mushrooms, bruschetta and grilled chicken!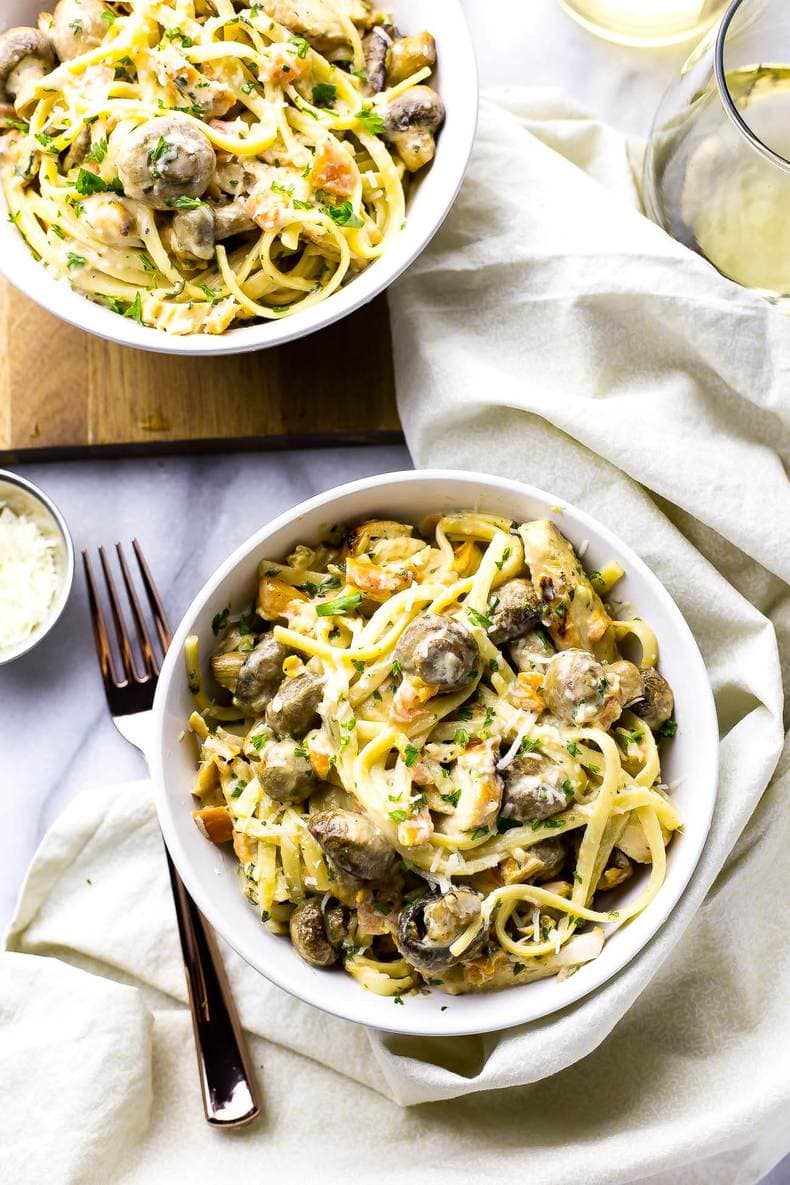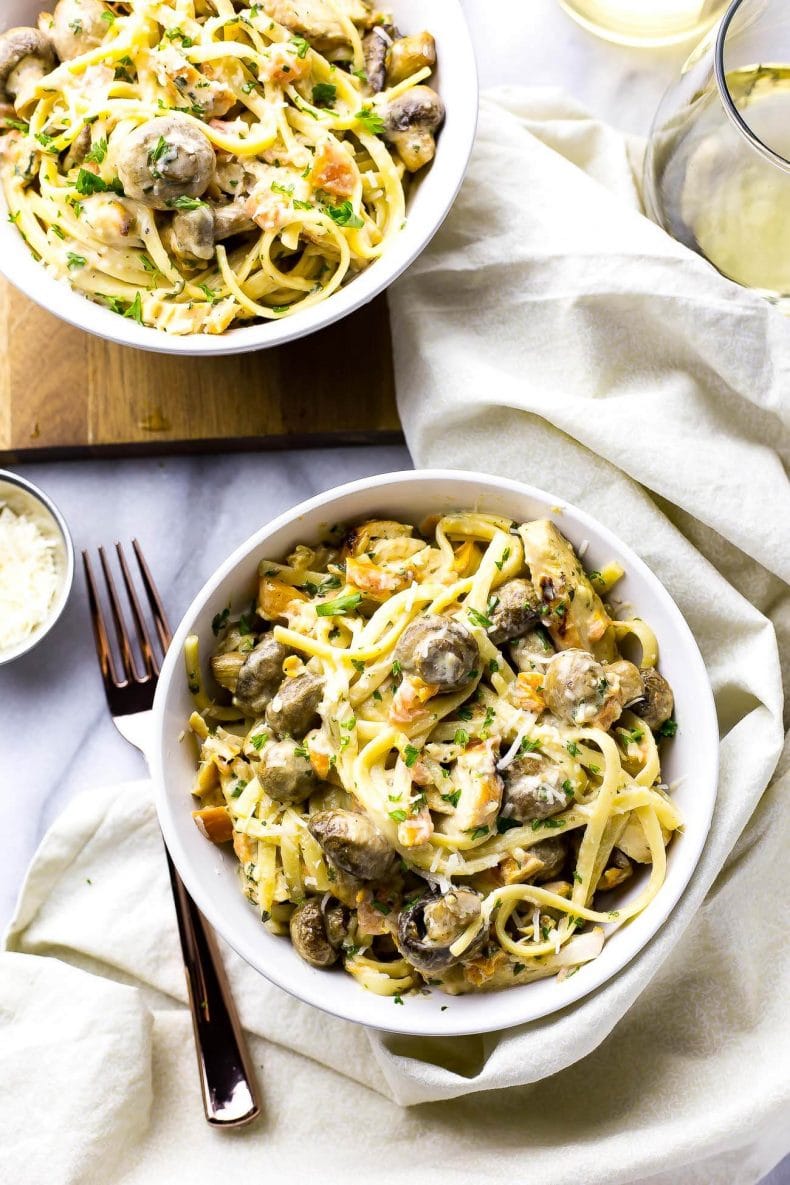 Snowmaggedon is apparently coming for the Greater Toronto Area and Hamilton, so you better run out and grab all the ingredients for this super cozy Linguine Chicken Tetrazzini ASAP.
I'm diverging from my normal healthy meal routine to bring you the most delicious pasta recipe ever. It's really rich, it's probably loaded with fat and calories, but it's WELL worth it, and I had to document it for the little old blog. I mean, what is life without a bit of balance, right???And this Linguine Chicken Tetrazzini recipe is a copy cat of one of my fave restaurants, East Side Mario's. Well, it used to be my fave pasta place…as a kid…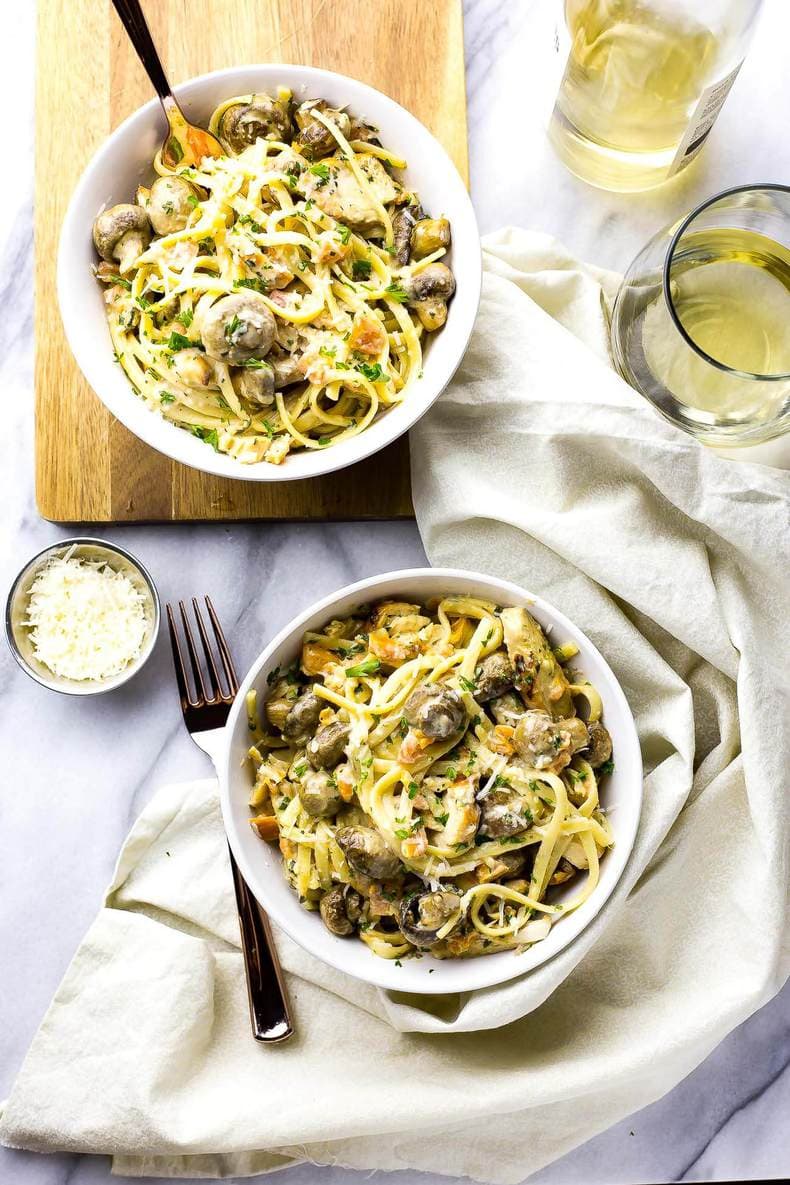 Actually, if I remember correctly they even used to have frozen TV dinners of this stuff. My friend's mom would drive to the States and load up the family's second freezer with all kinds of delicious frozen food. Back then the States had so many different kinds of food that just wasn't available in Canada, especially when it came to junk food.
And yes, honestly, as a kid, I would liveeeee for TV dinners. They were kind of like a special treat considering my mom would never buy any. You know when something that is off-limits becomes even more appealing than it really is? That was the case for me and packaged foods at home.
So needless to say whenever I had sleepovers at my friend's house, we got into the TV dinners hard. Here we were at her cute little house in the country traipsing out to the garage where the second freezer was picking out East Side Mario's TV dinners to eat in our pajamas while watching Saturday morning cartoons or Simpson's re-runs.
This was clearly before I really cared about counting calories or exercising or making sure I was eating enough fruit and veg and trying to be all healthy-like. Do we all think of our pre-teenage food memories this fondly??
Well, today I'm bringing you the real deal. The legit, rich-as-hell, creamy Linguine Chicken Tetrazzini copy cat from East Side Mario's, and this stuff is mind-bogglingly delicious.???
Probably because there's two whole cups of cream in there, which both inspires and intimidates me at the same time.
But also because there's grilled chicken, bruschetta, and a little thing I like to call garlic roasted mushrooms, which should probably have their own recipe post on my blog considering the giant mushroom fan I am.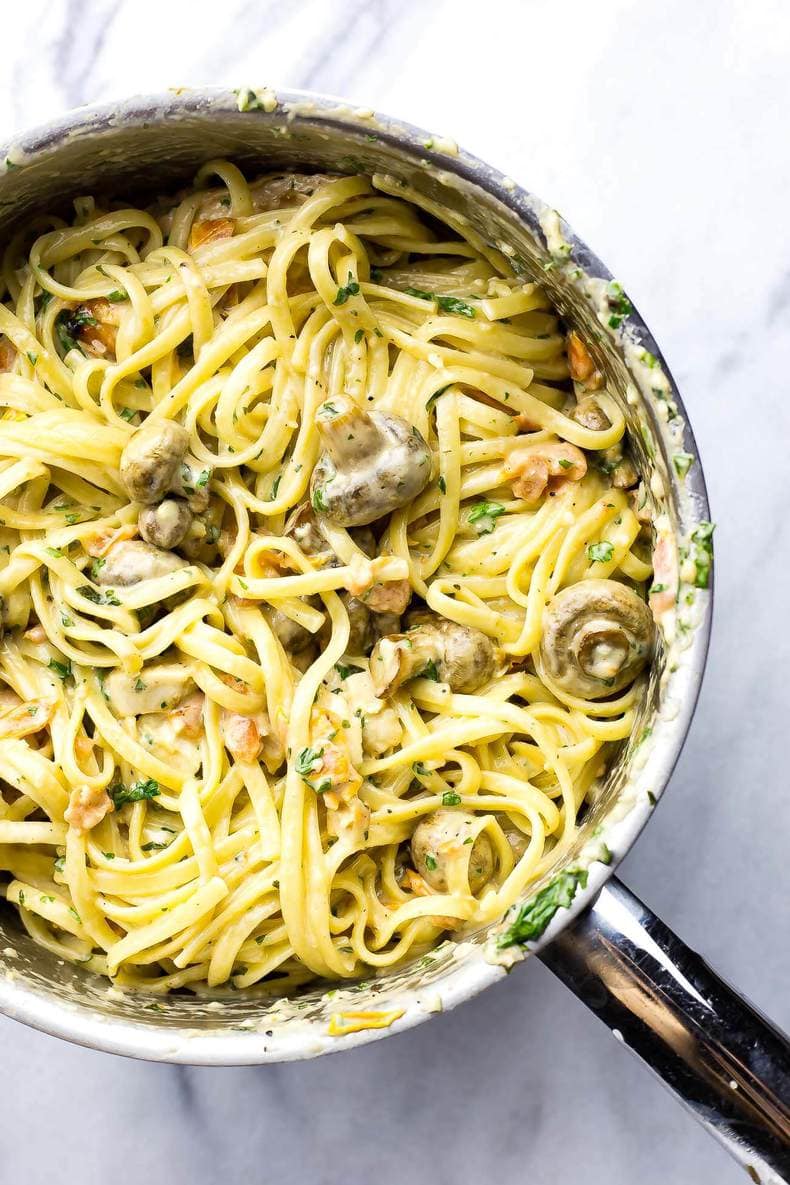 In fact, I don't think any other pasta dish will ever be complete again without the addition of these magical mushrooms. I might have popped about 7 or 8 into my mouth while in the middle of creating this recipe because they're just so hard to resist. And all that's standing between you and them is about 25 minutes, a bit of olive oil and some garlic.
Simple, yet absolutely genius.?
I know I'm posting this recipe on a Monday when technically we should all be thinking about healthy diet resets and getting back to routine and all that, but sometimes you really just need to have a little fun to look forward to at the end of a Monday.
I mean, it's really up to you if you wanna save this bad boy til Friday or Saturday, or date night or a fancy dinner party or what have you. It will definitely go over well with a crowd.
But I'm not going to judge you if you've had a rough day, and all you want is a big pot of steaming hot, creamy alfredo sauce and garlicky, juicy bruschetta, grilled chicken and these fab roasted mushrooms. These are most certainly my Monday goals as well.??
This isn't even the first time I've done bruschetta and pasta together as a meal. In fact, if you're craving everyone's all-time favourite appetizer I can guarantee you that there a million ways to turn this crowd-pleaser into a meal. This is just one more excuse for me to eat more bruschetta.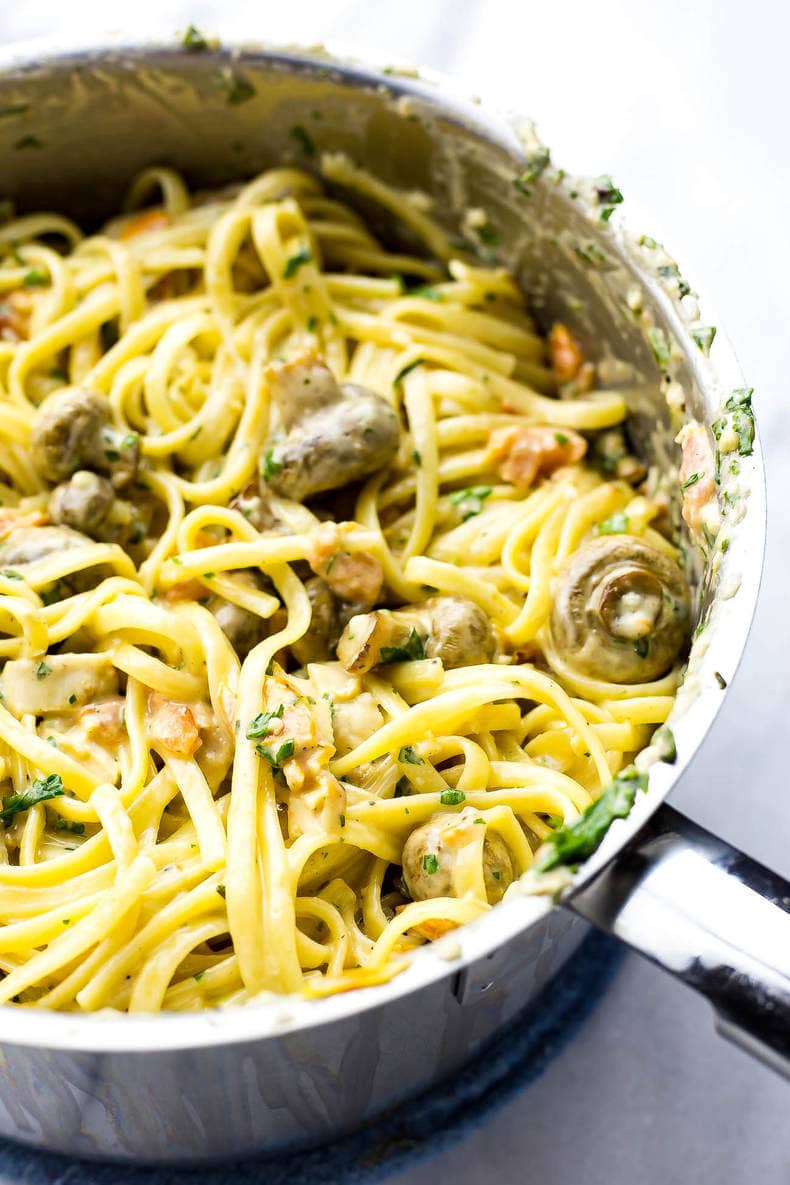 Will you be cooking up some of this Linguine Chicken Tetrazzini?
I promise you that this will quickly become your new favourite pasta recipe. I have already had family fight over it, and now I have to make it again fairly soon if I don't want anyone to hold a grudge against me and the ways I choose to divy up leftovers. *Sigh*, the life of a professional home cook, right?
If you try any of my recipes be sure to let me know on Instagram, Twitter, Facebook or in the comments – I'd love to see what you create!?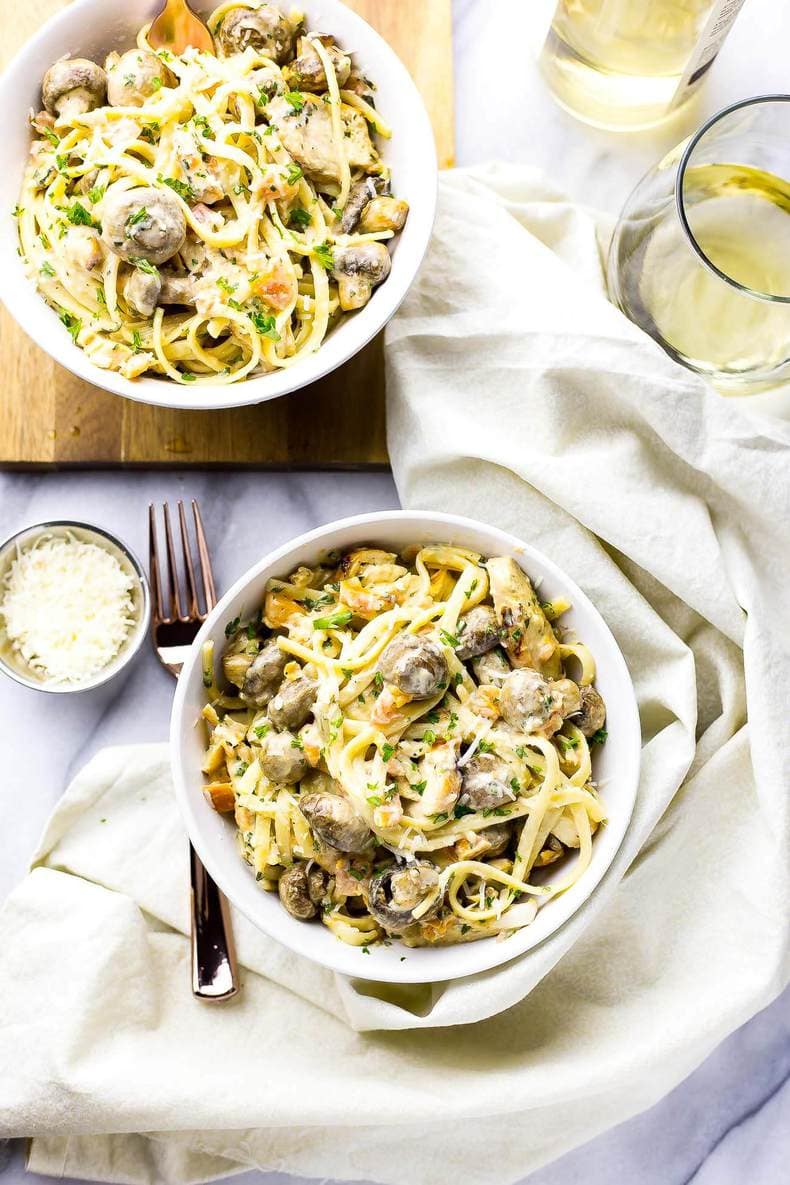 Linguine Chicken Tetrazzini
This Linguine Chicken Tetrazzini is a delicious Eastside Mario's copycat filled with roasted garlic mushrooms, bruschetta and grilled chicken!
Print
Pin
Rate
Ingredients
1

lb

chicken breasts

1

tbsp

olive oil

16

oz

small button mushrooms

2

cloves

garlic, minced

2

tbsp

butter

2

tbsp

flour

1

cup

2% milk

2

cups

heavy cream

1

cup

freshly grated parmesan cheese

1

tsp

salt

1/2

tsp

pepper

375

g

linguine

1/3

cup

chopped parsley
Bruschetta
4

plum tomatoes, deseeded and diced

1

tbsp

olive oil

1/2

tsp

balsamic vinegar

4

garlic cloves, minced

1/4

cup

chopped fresh basil

1/2

tsp

salt
Instructions
Preheat grill to med-high. Add chicken and grill for 7-8 min per side. If not using BBQ, preheat oven to 425 F. Place chicken in a small oven-safe dish and cook in oven for 20 min. Once chicken is cooked, let cool then slice across the grain into bite-sized pieces.

Meanwhile, make bruschetta by mixing all ingredients under the bruschetta heading together.

Preheat oven to 450 F and toss olive oil, mushrooms, garlic and a little bit of salt and pepper in a large bowl. Transfer to a parchment-lined baking sheet and bake for 25 min, stirring every so often. Mushrooms can be made ahead of time and refrigerated for up to 3 days.

Cook pasta for 8-9 minutes until al dente and then drain. Meanwhile, melt butter in a medium-sized saucepan. Add flour and whisk to combine. Slowly stir in milk, whisking along the way. Add cream and stir. Wait until mixture comes just to a boil, then add cheese, salt and pepper.

Drain pasta, and add to cream sauce. Add bruschetta, garlic roasted mushrooms, and sliced chicken, tossing to combine. Cook mixture for another 3-4 min until all ingredients are hot. Remove from heat and stir in parsley. Serve and enjoy!
Nutrition
Calories:
788
kcal
|
Carbohydrates:
58
g
|
Protein:
36
g
|
Fat:
46
g
|
Saturated Fat:
25
g
|
Trans Fat:
1
g
|
Cholesterol:
182
mg
|
Sodium:
1030
mg
|
Potassium:
916
mg
|
Fiber:
3
g
|
Sugar:
7
g
|
Vitamin A:
2102
IU
|
Vitamin C:
13
mg
|
Calcium:
329
mg
|
Iron:
2
mg