This easy Linguine Chicken Tetrazzini is a perfect East Side Mario's copycat with juicy chicken, delicious bruschetta and the creamiest sauce!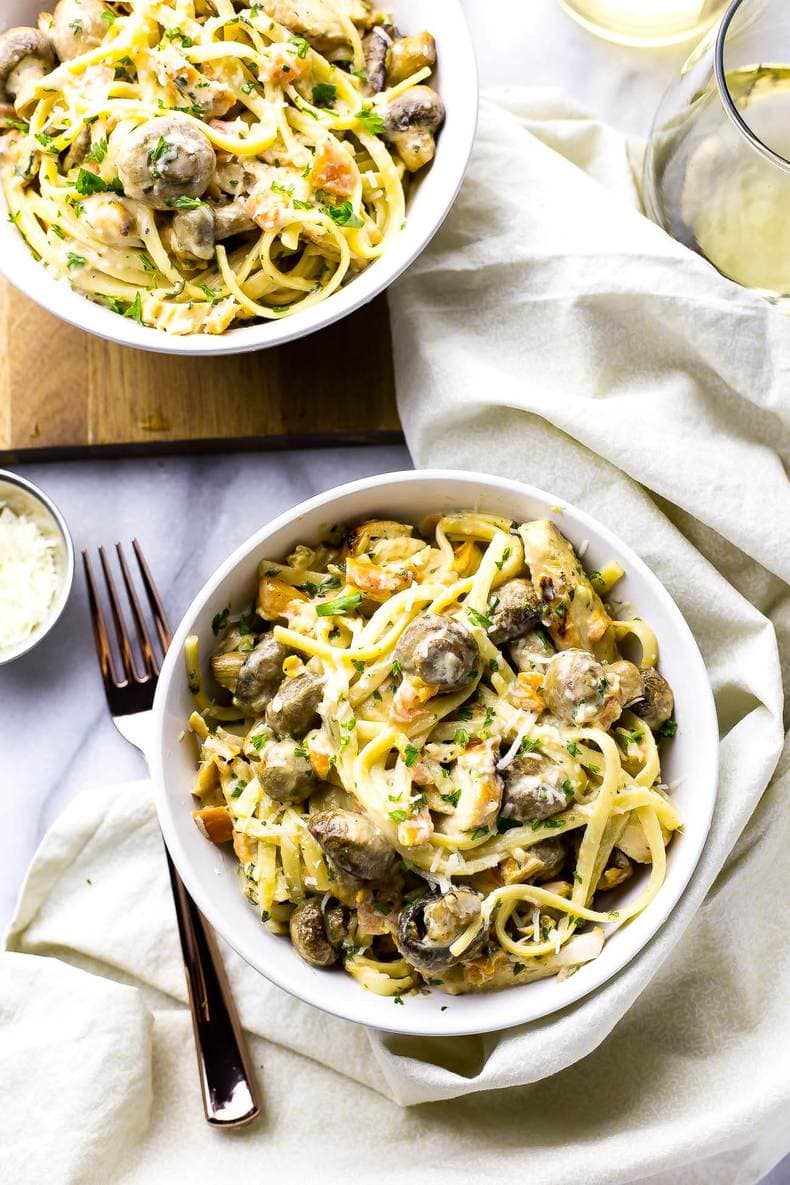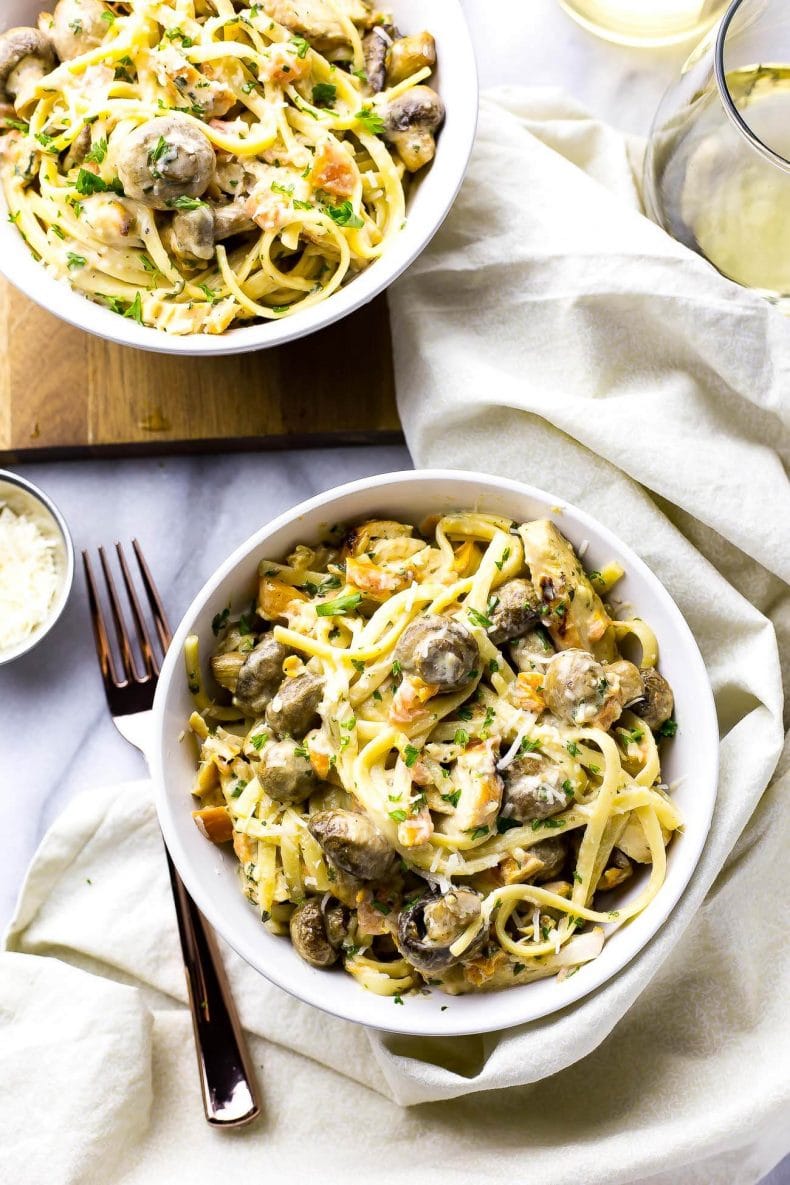 How to make this recipe
Grill or bake the chicken and slice it into bite-sized pieces.

Make the bruschetta.

Bake the mushrooms.

Cook the pasta until it's al dente and then drain.

Make the cream sauce then add the pasta, bruschetta, mushrooms and chicken.

Toss to combine and cook until hot.

Remove from heat and stir in the parsley. Serve and enjoy!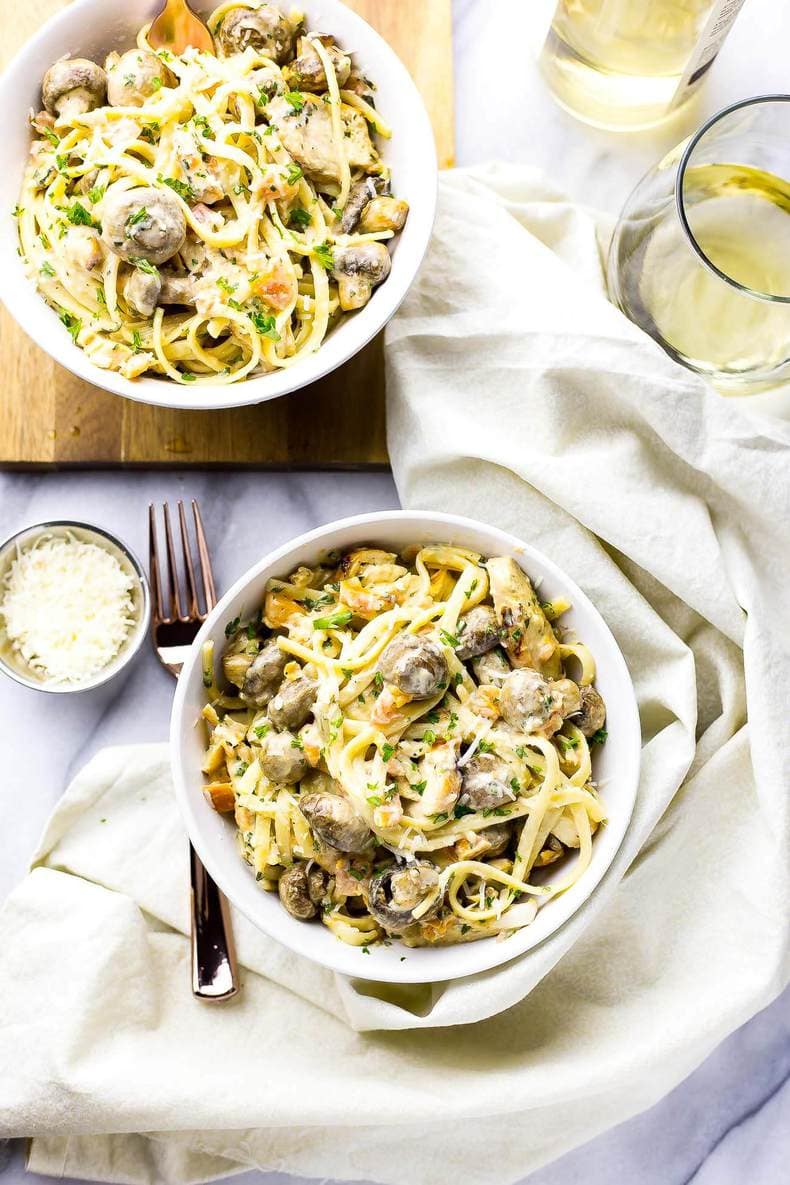 Ingredients and substitutions
Chicken breasts – chicken thighs will also work well in this recipe and may even offer a juicier cut of meat.
Olive oil – any neutral oil can replace olive oil in this recipe. Some neutral oils you can use are avocado oil, sunflower oil and canola oil.
Button mushrooms – in a pinch, chopped up cremini mushrooms will also work well in this recipe.
Garlic – fresh or jarred minced garlic, garlic powder or garlic paste can be used in this recipe.
Butter – replace the butter with any butter substitute or a neutral oil.
Flour – cornstarch, rice flour or potato starch can also be used to thicken the sauce.
Milk – use any milk variety of your choice. Substitute with a nondairy milk if that's all you have on hand.
Heavy cream – half and half will also work well in this recipe or extra milk with added butter.
Parmesan cheese – shredded parmesan cheese is preferred for this recipe.
Salt & pepper (to taste)
Linguine – another pasta noodle that can be used is fettuccine, tagliatelle or a spaghetti noddle if you're in a pinch.
Parsley (to garnish)
Bruschetta
Plum tomatoes – cherry tomatoes, roma tomatoes or an heirloom tomato will also work to create your bruschetta.
Olive oil – another neutral oil can be used in place of olive oil if necessary.
Balsamic vinegar – red wine vinegar, lemon/lime juice, or caramelized red wine vinegar can be used in place of balsamic vinegar.
Garlic – use fresh or jarred minced garlic.
Basil – fresh basil leaves are best but dried basil will also work. Feel free to leave this out if you're in a pinch.
Salt (to taste)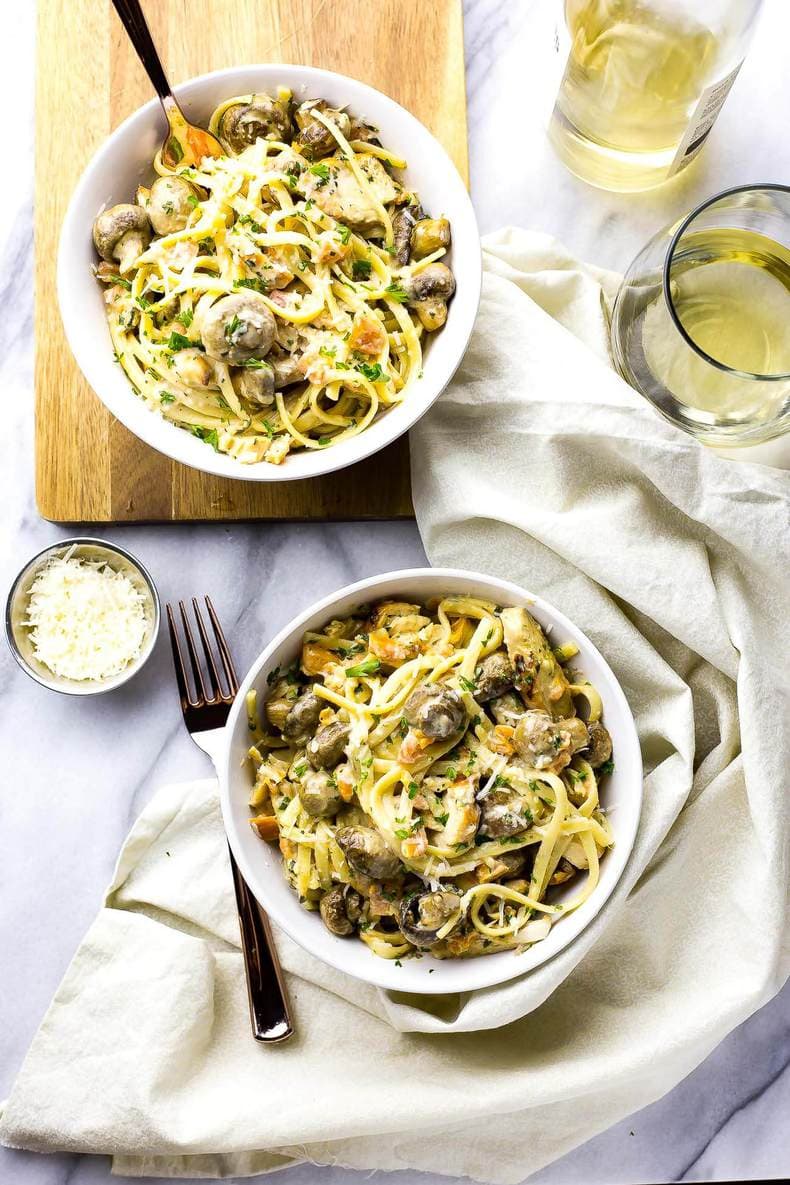 What is chicken tetrazzini?
Chicken tetrazzini is a delicious pasta dish made with chicken, roasted mushrooms and a creamy buttery sauce. This recipe is a copycat version of the linguine chicken tetrazzini East Side Mario's is famous for.
What to serve with chicken tetrazzini
Because this dish is heavier, I like to serve it with a side salad for some added greens and veggies. If you're going for ultimate comfort food, you can also serve some garlic bread on the side!
Storing and reheating
To store this dish, keep any leftovers in an airtight container in the fridge. This dish will last in the fridge for up to 5 days making it an amazing meal prep option for your weekly lunches/dinners! Store your leftovers together in one container or in individual servings in a few containers for reheating. To reheat, heat for 1-2 minutes in the microwave.
Freezing this dish
If you have a lot of leftovers, or want to prepare a freezer meal for a busy day, you can freeze this tetrazzini for up to three months in an airtight container. When the dish has cooled down completely, transfer it into airtight containers as individual servings. Storing the pasta as individual servings makes this dish much easier to reheat and enjoy.
To reheat from frozen, bake it in the oven for 30 minutes at 375 degrees F or microwave on high for 5-6 minutes. Alternatively, move the dish to the fridge the night before to thaw and then microwave for 1-2 minutes until fully warmed.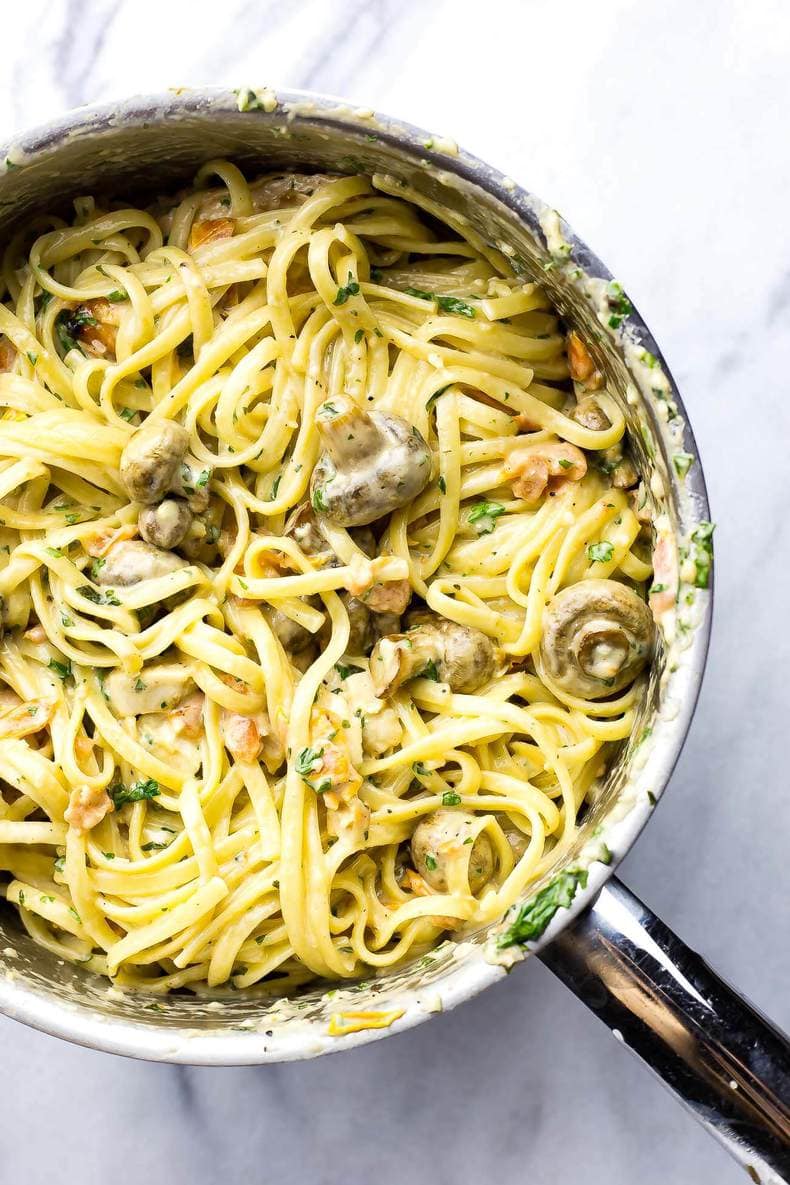 Wanna Learn How To Meal Prep?
My meal planning service, Dinner Prep Pro, removes the guesswork and helps you get dinner on the table in 15-20 minutes each night. My meal prep checklists only take 1 hour each week!
More delicious pasta recipes
Meal prep tools
Grab some glass meal prep bowls if you plan on turning this pasta into meal prep.
I get all my free-range chicken from Butcher Box, conveniently delivered to me frozen.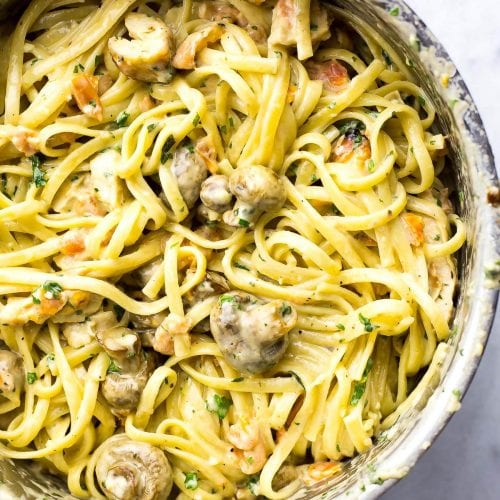 The Creamiest Linguine Chicken Tetrazzini
This easy Linguine Chicken Tetrazzini is a perfect East Side Mario's copycat with juicy chicken, delicious bruschetta and the creamiest sauce!
Print
Pin
Rate
IN A CYCLE OF EATING POORLY?We've got you covered with our free Routine Revamp mini course! You'll receive 8 lessons and free coaching with us! Register👇
Join Routine Revamp!
Servings: 6 servings
Calories: 788kcal
Ingredients
1 lb chicken breasts
1 tbsp olive oil
16 oz small button mushrooms
2 cloves garlic, minced
2 tbsp butter
2 tbsp flour
1 cup 2% milk
2 cups heavy cream
1 cup freshly grated parmesan cheese
1 tsp salt
1/2 tsp pepper
375 g linguine
1/3 cup chopped parsley
Bruschetta
4 plum tomatoes, deseeded and diced
1 tbsp olive oil
1/2 tsp balsamic vinegar
4 garlic cloves, minced
1/4 cup chopped fresh basil
1/2 tsp salt
Instructions
Preheat grill to med-high. Add chicken and grill for 7-8 min per side. If not using BBQ, preheat oven to 425 F. Place chicken in a small oven-safe dish and cook in oven for 20 min. Once chicken is cooked, let cool then slice across the grain into bite-sized pieces.

Meanwhile, make bruschetta by mixing all ingredients under the bruschetta heading together.

Preheat oven to 450 F and toss olive oil, mushrooms, garlic and a little bit of salt and pepper in a large bowl. Transfer to a parchment-lined baking sheet and bake for 25 min, stirring every so often. Mushrooms can be made ahead of time and refrigerated for up to 3 days.

Cook pasta for 8-9 minutes until al dente and then drain. Meanwhile, melt butter in a medium-sized saucepan. Add flour and whisk to combine. Slowly stir in milk, whisking along the way. Add cream and stir. Wait until mixture comes just to a boil, then add cheese, salt and pepper.

Drain pasta, and add to cream sauce. Add bruschetta, garlic roasted mushrooms, and sliced chicken, tossing to combine. Cook mixture for another 3-4 min until all ingredients are hot. Remove from heat and stir in parsley. Serve and enjoy!
Nutrition
Calories: 788kcal (39%)Carbohydrates: 58g (19%)Protein: 36g (72%)Fat: 46g (71%)Saturated Fat: 25g (156%)Trans Fat: 1gCholesterol: 182mg (61%)Sodium: 1030mg (45%)Potassium: 916mg (26%)Fiber: 3g (13%)Sugar: 7g (8%)Vitamin A: 2102IU (42%)Vitamin C: 13mg (16%)Calcium: 329mg (33%)Iron: 2mg (11%)
Don't wait until January to eat healthy!Sign up for our free Routine Revamp mini course!
Join Routine Revamp!