This Black Pepper Chicken is like the dish at Panda Express, and the sauce is easy to make with ingredients from your pantry.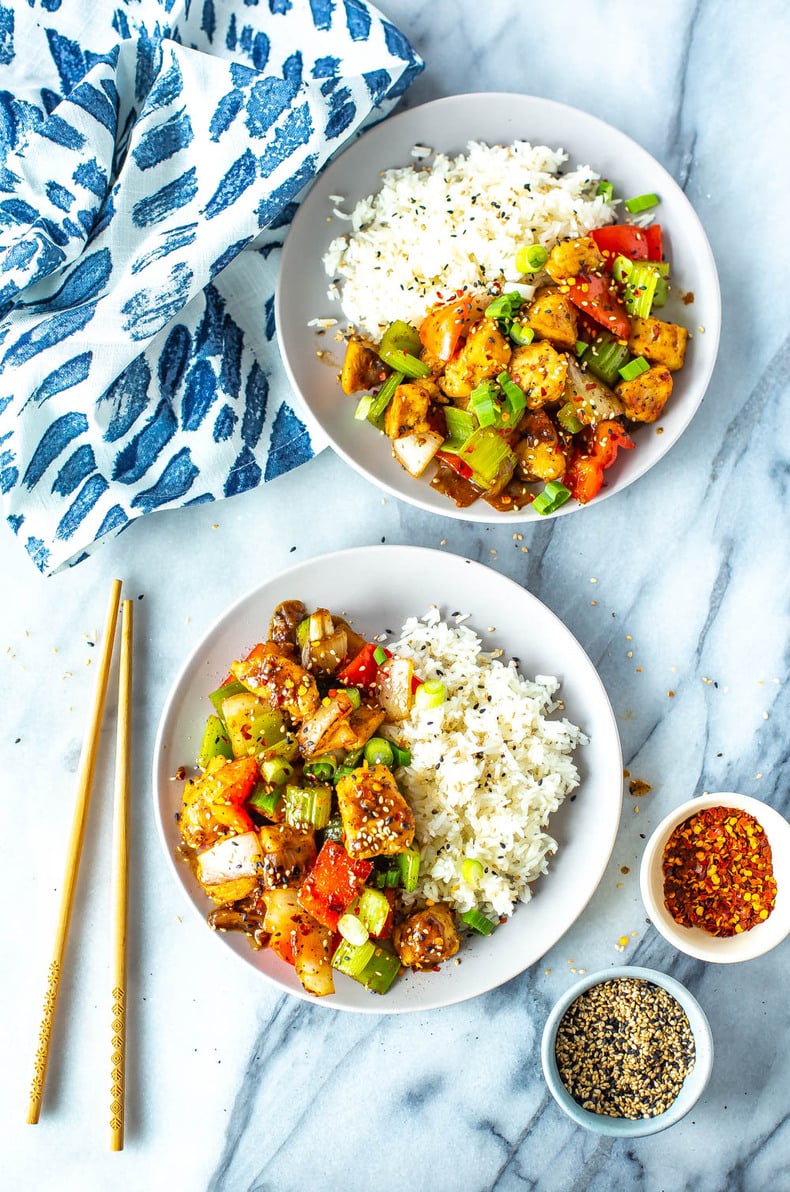 Ingredients in this Panda Express dish
For the chicken
Chicken breasts, cut into bite-sized pieces
Cornstarch
Yellow onion, chopped
Celery, chopped
Red or green bell pepper, chopped
Garnish (optional): scallions, sesame seeds, chili flakes
Stir fry sauce
Hoisin sauce
Soy sauce
Garlic
Black pepper
For the rice
Water
White rice – use your favourite variety
Butter
Salt
Ingredient substitutions
Chicken – You can substitute chicken breasts with boneless chicken thighs. Depending on the size of the thighs, they may take a little longer to cook
Onion – Swap the yellow onion for white or red onions
Olive oil – Substitute another neutral oil, like canola, vegetable, or avocado
Hoisin sauce – Choose a gluten-free variety if needed, or use oyster sauce
Soy sauce – Using tamari or coconut aminos will make this recipe gluten-free
Garlic – Replace fresh cloves with 2 teaspoons minced
Rice – Because the rice cooks separately from the rest of the dish, you can make any variety you like. White rice is most common, but the dish will taste just as delicious over brown or even wild rice.
Vegetables – Use any vegetables you'd like, such as broccoli, carrots, cauliflower, baby corn, zucchini, bok choy, mushrooms and more
What does black pepper chicken taste like?
This Panda Express favourite is a lighter, healthy chicken dish. The chicken has a coating of thick, flavorful sauce.
It's a little bit spicy and tangy, with lots of garlic flavor. Because the spice comes from the black pepper, it's not too overwhelming.
How to make this dish
Season the chicken and coat in cornstarch. Before you start cooking the chicken, you'll want to toss the chicken in cornstarch, make the stir fry sauce and start cooking the rice.
Cook the chicken. Add oil to the pan to prevent the chicken from sticking. Also, wait until the oil shimmers before adding the chicken, then cook until browned.
Add vegetables to the pan. Continue cooking the chicken and vegetables for several minutes, until the onions are translucent and the other veggies are soft.
Add stir fry sauce to the pan. Stir the sauce to combine it with the other ingredients.
Thicken the sauce by allowing everything to cook for a couple of minutes.
Serve in bowls over rice and enjoy!
Making the rice
I like to cook rice using a rice cooker. Other options are to cook it in a saucepan on the stove top, in a rice steamer basket, or even in the microwave. Another easy method is to make Instant Pot rice.
Regardless of which cooking method you use, Just be sure to cook according to the appliance and/or package directions.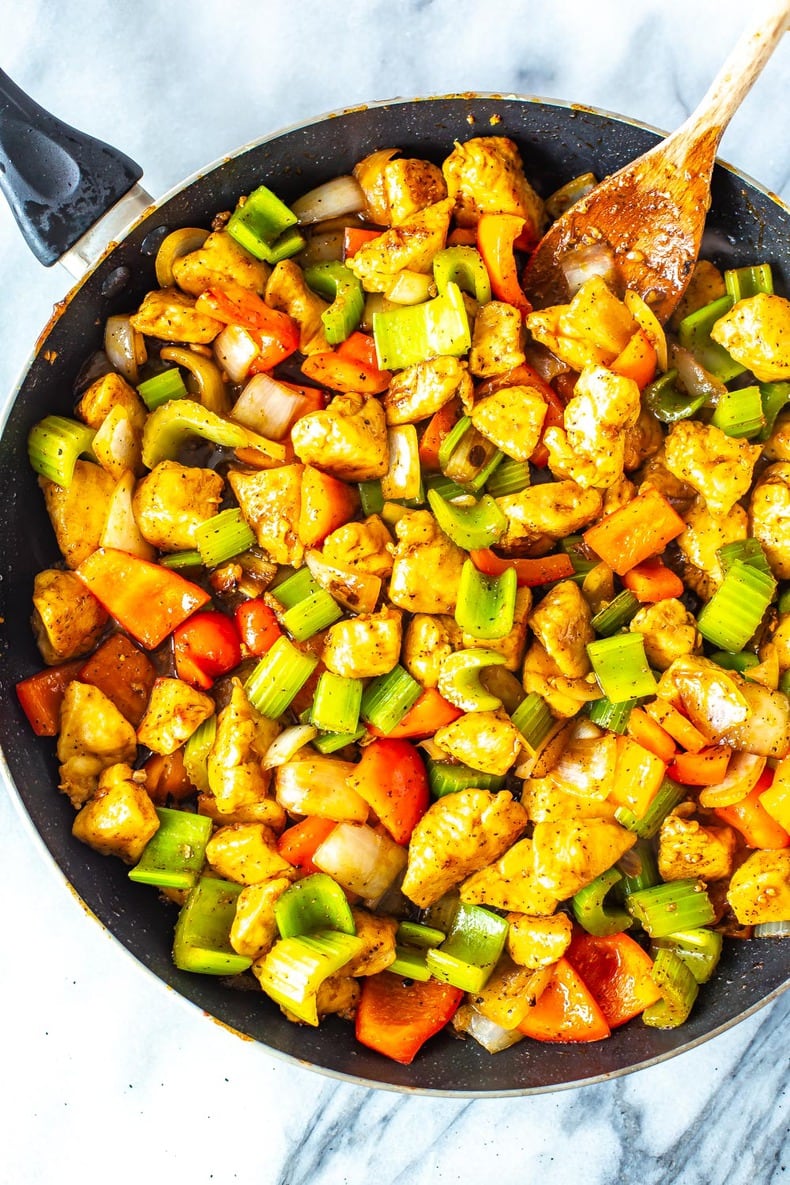 Making this recipe low carb
The easiest way to make this recipe low carb is to not serve it with rice. Instead, use more vegetables and turn it into a delicious stir fry.
Here are some ideas for delicious, healthy, low carb veggies to add to the chicken:
Spiralized vegetables like zucchini or sweet potato noodles
Shredded sauteed cabbage
Zucchini or yellow squash
Mushrooms
Another option is to replace the white rice with cauliflower rice.
Storing and reheating
Transfer any leftovers to an airtight container and store it in the refrigerator.
The chicken and vegetables will last for 4-5 days, while the rice can be stored for up to a week.
Reheat your leftovers in the microwave until warmed through. Before reheating, it helps to sprinkle a little bit of water over everything to keep the chicken and rice from drying out.
Can you freeze this recipe?
Yes, this recipe is freezer friendly!
Because the vegetables in it are firm, they won't get mushy when they thaw from frozen. The rice will need to be stored separately though.
Store the cooked chicken and vegetables with the sauce in freezer bags or airtight containers. It will store well in the freezer for up to 3 months.
When you're ready to use, thaw in the refrigerator for a few hours or overnight. Then reheat and serve.
Freezing and reheating cooked rice
It's easy to freeze rice for leftovers or to use in other recipes. Here's how to do it:
Cool the rice – Spread out over a baking sheet in an even layer.
Store in ziploc bags – Divide the rice into the amounts you'll be using to make thawing easier.
Freeze – Use within 2 months for best texture.
To reheat, break the frozen rice into chunks inside the freezer bag.
Transfer the rice to a microwave safe bowl, then cover tightly with plastic wrap and microwave for a few minutes until fluffy.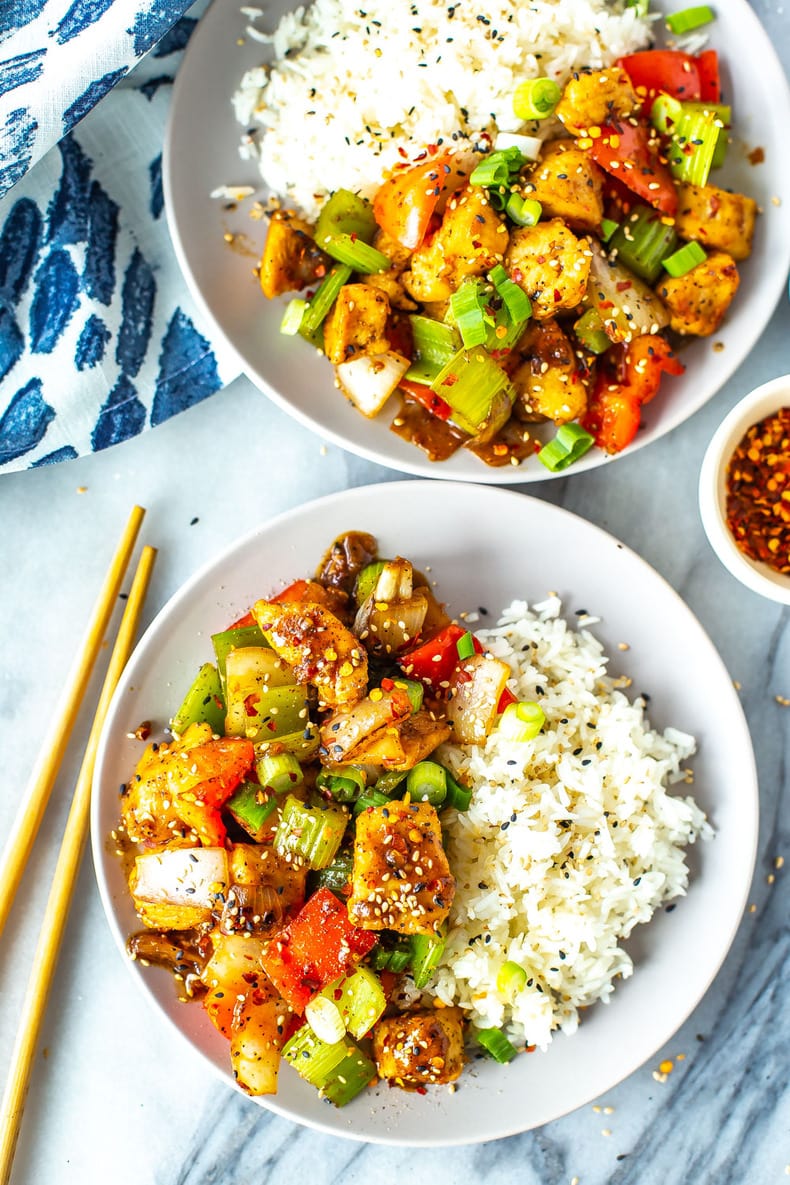 Wanna Learn How To Meal Prep?
My meal planning service, Dinner Prep Pro, removes the guesswork and helps you get dinner on the table in 15-20 minutes each night. My meal prep checklists only take 1 hour each week!
More Asian-inspired recipes
Meal prep tools for this recipe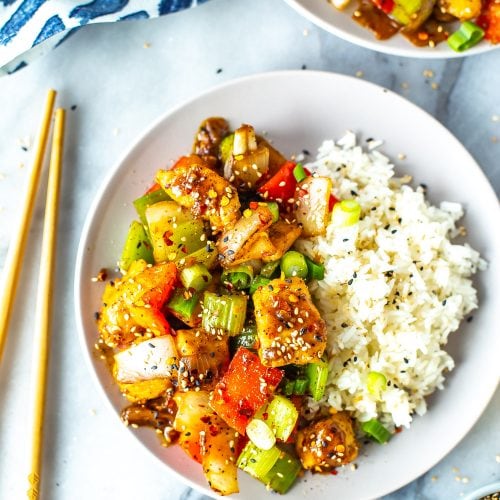 Panda Express Black Pepper Chicken
This Black Pepper Chicken is like the dish at Panda Express, and the sauce is easy to make with ingredients from your pantry. 
Print
Pin
Rate
Click Here to Remove Ads
Servings: 4 servings
Calories: 417kcal
Ingredients
1 tbsp olive oil
1 lb chicken breasts
1 tbsp cornstarch
Salt & pepper, to taste
1 yellow onion, chopped
4 celery stalks, chopped
1 red or green pepper, chopped
Scallions, sesame seeds & chili flakes, for garnish (optional)
Stir fry sauce
1/4 cup hoisin sauce
2 tbsp soy sauce
4 cloves garlic, minced
2 tsp black pepper
Rice
1 3/4 cups water
1 cup white rice
1 tsp butter
1 pinch salt
Instructions
Mix ingredients together for stir fry sauce, then cook rice in a rice cooker.

Season chicken with salt & pepper, then toss in cornstarch. Add olive oil to a large skillet over high heat, then add chicken and saute for 3-4 minutes until lightly browned.

Add onion, celery and red pepper, sauteeing another 4-5 minutes until veggies soften. Mix in stir fry sauce, then cook another 2 minutes until it thickens.

Serve chicken over rice and garnish with scallions, sesame seeds and chili flakes. Enjoy!
Video
Nutrition
Calories: 417kcal (21%)Carbohydrates: 53g (18%)Protein: 30g (60%)Fat: 9g (14%)Saturated Fat: 2g (13%)Cholesterol: 76mg (25%)Sodium: 973mg (42%)Potassium: 719mg (21%)Fiber: 3g (13%)Sugar: 8g (9%)Vitamin A: 1176IU (24%)Vitamin C: 43mg (52%)Calcium: 50mg (5%)Iron: 1mg (6%)